Top Gear: Race The Stig adds new cars and more in new update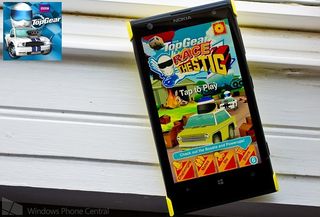 Top Gear: Race The Stig, an endless driver game based on the mute driver in the popular Top Gear BBC TV series, just received a new content update today for both its Windows Phone 8 and Windows 8 versions.
The object of the game is to drive your vehicle a car's length ahead of the one being driving by the Stig while also dodging a ton of traffic and collecting gold nuts at the same time. This new update adds three new helmets for the player character to wear and more importantly three new cars to drive, including the Top Gear Taxi and the Escapade SUV.
There are also some new obstacles to avoid and more challenges to complete. Finally, the player can actually purchase the Stig's own Muscle car for use in the game.
You can download the free Top Gear: Race the Stig game right now for Windows Phone 8 in the Windows Phone Store and for Windows 8 in the Windows Store (opens in new tab).
Windows Central Newsletter
Get the best of Windows Central in your inbox, every day!
Top Gear is hilarious! I wish this game was more asphalt 8-ish, I'd definitely get it if it were!

Did you see the Top Gear trio (minus the Stig) go to Burma & Thailand? Hilarious... Myanmar not Burma, sorry...

They've done Burma as well. India, Burma, Vietnam, East Coast (twice), North Pole, Middle East, Africa and probably one or two more.

Yeah, they've started here in Georgia, bought three used cars and headed to the Middle East http://www.youtube.com/watch?v=S1vTUrkJXOw


I haven't played this in a while. I just got the update. I'll check it out again. For some reason though, it never seems to hold my interest despite my general love for Top Gear.

On another note, does anyone know how we can see apps that we have uninstalled? I'd like to find a calender that which WPC suggested that encourages you to share dates like International Cat Day or whatever, but I've forgotten the name of the app! It's not 'Holidays' though...

If you've got WP8.1 dev preview, just go to the my apps section of your store.. It shows all the apps you've ever downloaded on your MS account

I love you!! God, I keep forgetting about the bottom menus on these apps sometimes. Thanks mate nice one... So simple when you know...

Don't mention it! By the way, what is the name of the app.. I'd like to check out out.

I'll look & get back to you. I have 194 apps & it wasn't immediately obvious lol

Thanks.. Email me please.. frans.marx@yahoo.com

KeepIn Calendar... It tells you about national holidays... International Holidays & those little daft days like today is Independents Day right? Well it's also Sidewalk Fried Egg Day!!

Thanks.. Will check it out

Did they fix the steering? It was so unresponsive and inconsistent that I just couldn't play it :(

It crashes and reboots my phone :/

The best bit in the new update is the taxi cabs dropping out of the sky. Never actually see that in NYC, but it adds some new dreams to the game.