Start flipping pages with our top magazine apps for Windows 8/RT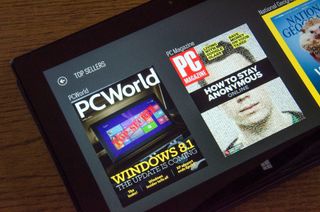 When you pick up a tablet for multi-media consumption, it may be a safe bet that a good magazine app will be on your Start Screen. From our forums, Windows Phone Central member rkeenan wants to know your suggestions for a good magazine application for his Windows RT tablet.
In addition to carrying around his Windows tablet, rkeenan also carries around his Galaxy Note 8 (which he'd like to get rid of) to access his Google Play subscriptions. Let us take a look at a few magazine apps from the Windows Store that might help rkeenan cut his ties to the Galaxy Note.
Zinio
Although rkeenan stated that he needs Harvard Business Review and could not find it on Zinio, fellow forum member, kcaneiro, was able to find the magazine subscription series quite easily – you can access that periodical, if interested, by clicking here.
The Zinio application for Windows 8 is one of our favorite pieces of software to grab many of the popular magazine titles and easily have them downloaded to your tablet when available. The catalog includes over 5,000 different magazine titles from around the globe and includes prominent titles such as National Geographic, Popular Science, Vogue, Maxim, and more.
Magazines are displayed in "full color and high resolution" with the easy ability to manipulate what you are reading using multi touch gestures. Periodicals also include Table of Contents along with the ability to bookmark and view articles within a text view for easy reading. You can download the app from the Windows Store by clicking here (opens in new tab).
Nook
While Amazon's Kindle app lacks support for magazine subscriptions – Barnes and Noble's Nook app is able to get the job done. Not only can the Nook app download magazine subscriptions, but you also get the ability to download a free 14 day trial of any publication.
Whether you are looking to read books, comics, or magazines, the Nook app is ready to provide you with a comfortable reading experience. In our comparison between Nook, Kindle, and Amazon – we felt that Nook was one of the better reading experiences on Windows 8 tablets.
Nook also has popular magazine options including Time, People, Sports Illustrated, and more. You can choose to sign in via a Microsoft account or Barnes and Noble account – so no need to create extra accounts if you do not wish to.
Lastly, the application has a patented "ArticleView", which they state is a feature allowing readers to "focus on an article and quickly move between articles". You can download the app from the Windows Store by clicking here (opens in new tab).
Next Issue
Another choice, recommended by kcaneiro from our forums, is the Windows 8 app, Next Issue. This application is only available within the United States and a credit card is required to use it, but you can try it out free for up to 30 days.
Next Issue brings forward a pay per month subscription to access an unlimited "all-you-can-read" experience; the software claims to have over 100 of America's "most-read magazines". Titles include Esquire, Fortune, The New Yorker, Vogue, Rolling Stone, Wired, and more.
There are two levels of payment if you wish to use Next Issue as your primary source for magazines. The cheapest option is $9.99 a month for access to 124 magazines, which gives you access to "the most-read monthly magazines". For $14.99 a month, you can gain access to 135 magazines that include popular weeklies such as People, The New Yorker, Time, and more.
The obvious issue with this app might be the price. If you choose to pay $14.99 a month, that will cost $180 a year – that is the same price of approximately 15 12-month issues. If you choose to pay $9.99 a month, that will cost $120 a year – roughly the same price of approximately 6 12-month issues. We are not saying that Next Issue is a bad subscription model, but if you choose to go with it, we recommend that you are someone who reads quite a high number of periodicals yearly.
Next Issue also makes sure to include "enhanced digital editions, optimized for tablets", these enhanced editions are said to include videos, bonus photos, and interactive features. You can download the app from the Windows Store by clicking here (opens in new tab).
Flipboard
While Flipboard is not the typical magazine application, we found it necessary to include it in a roundup of other apps that allow you to view magazines.
If you are not familiar with the popular Flipboard application, it allows you to create a personalized magazine based on the content you find most important. You can import up to 12 various social networks including Twitter, YouTube, Facebook, Google+ and more, along with popular news sources and RSS feeds.
Not only does Flipboard allow you to retrieve content from your favorite sources and combine them into one convenient magazine, the app will allow you to interact with content that you find; if you are browsing some posts that have been pulled from Facebook or some recent snaps that have been pulled from Instagram, you can like and comment away to your heart's content.
Flipboard becomes your one stop app for news surrounding the world and your personal life. You can also subscribe to magazines custom created by professional curators and fellow Flipboard users. You can download the app from the Windows Store by clicking here (opens in new tab).
Conclusion
There are quite a few ways to grab magazines for your Windows 8/RT tablet. If you are looking to grab more traditional publications, we recommend checking out and download Zinio or Barnes and Noble's Nook app. Next Issue is also an excellent choice, but we recommend it mainly for those who consume a large number of publications. If you are looking to create a custom magazine based on your life, we strongly suggest picking up Flipboard from the Windows Store.
Did we not mention one of your favorite magazine apps? Let us know your favorites in the comments below!
Bonus Question: What is (or was) your favorite magazine to read?
Get the Windows Central Newsletter
All the latest news, reviews, and guides for Windows and Xbox diehards.
I thought it was going to be flipboard for Windows phone when I saw the toast. :(

One of a broken promises.

It's not that serious people..get a grip!

Me too. Who cares about Windows 8.

We want Flipboard for Windows Phone!! Stat!!

MY name... But who cares!

I wish Next Issue was available for Windows Phone. I subscribe to Entertainment Weekly paper edition which includes a digital subscription too. Would be nice to be able to read it on my phone since I pay for it.

I tried Zinio and after purchasing an issue found it could not be downloaded on Windows 8 app only iPad and Android tablet. There is no indication of this from the app although it is noted when using their website. Good customer service though, I asked for a refund and got it. Nook is my most used, good pricing and the app works great.

Next Issue is also available in Canada. Pretty sure it's owned by Rogers. I love it.

I was going to mention that too, Next Issue is advertised like crazy on Rogers owned channels

When will yhey ever bring Flipboard for Windows Phone? Dafuq.

Not a fan of Zinio.. The text is awful on my Surface. I read NewScientist and admittedly haven't tried other publications because the experience with that magazine was so bad.

Nice article, however, your information is incorrect. Next Issue is available in the Canadian market so it is not US exclusive. To answer the bonus question, our favourite magazine to read is still MacLean's...just an awesome magazine.

Magazine Banzai. Pocketmags have no WP version.

Frankly Zinio is appalling. Look at the Windows 8 store reviews. It has always been terrible and is rarely updated. For that reason alone I let all my five subscriptions lapse and have never bothered to try it on my Lumia. There is a huge potential market for an entrepreneur to lock down a quality magazine app.

Where I live, the online price isn't much different to the shelf price of some magazines. I lay blame squarly on the publishers

I get Entertainment Weekly, Newsweek and Men's Health on the Nook app and read them on Surface 2. The app works well and I really like the "Article View". I recently bought the three graphic novels of Game of Thrones on Nook and noticed the Nook Windows 8 app formats the image better on Surface 2 screen than the Nook app on my Android tablet.

Do these apps allow you to download issues and read offline? I fly a lot and that feature would be key.

i use pressreader and it does. it even downloads new issues as soon as they are available so you dont have to open the app to get new content. i think zinio does the same

Nook app downloads magazines just like ebooks, so they can be read offline.

Nook isn't available in most countries though

you guys didnt mention pressreader. more newspaper oriented than magazine but still a very good app.

Good old Nook... Still available practically nowhere

Talking about Zinio - I installed it yesterday, and I was absolutely shocked at the poor quality of the magazine visuals. Extremely pixellated with so much blocking and ringing; I swear they compress the magazines down to 10% of their size when delivered. The visual quality was so poor it impedes on the experience of reading it in the first place. Absolutely no way to go back to that again. As for the official magazine Windows 8 apps the publishers supply - you subscribe and the app still expects you to pay for your magazines, even after syncing the subscription to it! Looks like I've not had much luck at all lately :)

I've used Zinio for years, but I'm moving all my subs to nook as their quality and usability is waaay better - zinio's mags are all slightly blurred, even when zoomed in.

I'm heavily biased but have a look at News Republic. It's a news app developed for Windows 8.

Hi, I'm trying to install Zinio, but when open the link of the app, the Windows Store opens in the main screen, and if I search for the app doesn't appears (there's a lot of apps that can't find through the store, only in the web). Any suggestion or advice.. Thanks.

a interesting and great tool to create an online pdf page flip book is here in this article.I really like it and i think that some people are have fun with this software tool.