Top Rated Food and Dining Apps for Windows Phone
Windows Phone Central App Roundup: Food and Dining Apps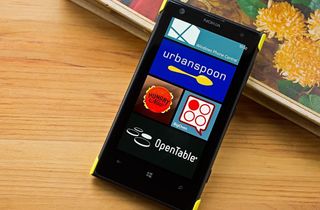 We all have been there. It is time to eat and you have no clue what you are in the mood to cook or cannot think of a place to go. Luckily, there are plenty of Windows Phone apps to help point your appetite in the right direction. The Windows Phone Store has a large assortment of apps that will help us locate restaurants or find a recipe that will hit the right spot.
Today we have tapped four of the top rated Food and Dining apps for this week's Windows Phone Central Roundup. These apps mainly deal with finding a place to grab a bite to eat on the go or selecting the right place when you are in the mood for a sit down meal. However, for good measure, we do toss in one Windows Phone app to help you find a tasty recipe for those times you prefer to stay home and cook in.
BigOven (free)
BigOven is a four-star app that delivers over 250,000 recipes to our Windows Phones. Register with BigOven (free) and you can add your own recipes into the collection.
BigOven's Main Pages
BigOven's main pages are straightforward with pages that include:
Recipes: Here is where you can search the recipe database, find recipes based on ingredients, check out the recent raves (popular recipes and return to your recently viewed recipes.
Members Kitchen: When you register with BigOven your member page will be where you can view your favorites, view the recipes you want to try soon, check in on recipes you've posted, access the RecipeScan and create a grocery list.
About Us: Here is where you will find links to view the About screen, offer feedback to the developer, review the app and how to sign up for a BigOven Pro membership ($19.99 annually) which will remove the ads and unlock a few premium features.
Elsewhere: This page has links to the BigOven glossary, BigOven's Facebook page and a help section.
The RecipeScan feature is an easy way to convert those handwritten recipe cards into electronic form. All you do is snap a picture of the recipe with your Windows Phone camera, upload it to BigOven and the text is converted into a recipe that will be added to your collection. However, this feature isn't free and will cost as low as $.59 per recipe. The free app does give you three credits to let you try the feature out and if you like it, you can buy more credits here at BigOven's website.
BigOven Recipe Listings
On the recipe end of things, BigOven has a huge database of culinary delights that are searchable by keyword. I wouldn't have minded seeing a category breakdown of the recipes but keyword search will do. I do like the "Use up Leftovers" feature where you enter three ingredients and BigOven will generate a selection of recipes based on those entries.
Recipe pages offer an overview of the recipe that includes an ingredient list and cooking directions, photos of the dish submitted by members, any reviews on the dish, and any nutritional information on the recipe (available for BigOven Pro members). Recipes can be added to your Favorites and Try Soon lists, shared with friends, and the ingredients added to your grocery list.
All totaled, BigOven is a nice recipe app for your Windows Phone. It doesn't have a snazzy appearance but at the core provides a respectable number of recipes and features. The BigOven app is a free, ad-supported app and available for Windows Phone 8 and 7.x devices. The standard membership with BigOven is free and unlocks the kitchen page but is not required to access the recipe database. The BigOven Pro membership is running $19.99 annually and will remove the ads from the app and open up a few premium features.
You can find BigOven here in the Windows Phone Store.
Urbanspoon (free)
Urbanspoon is a Windows Phone 8 app that delivers a database of over 800,000 restaurants to help you find the best place to dine while on the road or while in your hometown. The app has the ability to search by cuisine type, price, as well as what establishments are open at the time.
Urbanspoon's Main Pages
The layout for Urbanspoon has main pages that include:
Discover: This page lets you search by the hottest restaurants in your area, check out the newest places near you, view the top Urbanspoon picks, view the bargain gems, reserve a table, view picks from a local Urbanspoon user and view the local winners/nominees from the James Beard Foundation (national restaurant award).
Cuisine: For the times you know what style of food you're in the mood for this page breaks down the restaurants by cuisine style. From breakfast to seafood to Italian the breakdown covers over seventy different cuisine styles.
Price: On a budget? This page will send you to restaurant listings based on the price of meals and includes Cheap Eats, Moderate, Higher Price and Fine Dining categories.
What's Open: Here you have a breakdown of restaurants based on the time of day that include breakfast, lunch, dinner and late night establishments.
Menu: This page offers options to browse the full listing of restaurants, the ability to change your location, and a shake feature that will randomly select a restaurant. You also have access to your favorite listings, your wish list for dining, and a log-in option for your Urbanspoon account.
Along the bottom of the main pages you will find button controls that will give you access to the Shake feature, view nearby restaurants, launch a keyword search and activate voice commands. Voice commands include "I am hungry", "We are hungry" and "Kids are hungry". You can fine-tune the voice command responses in the apps settings which are accessible under the three-dot menu off the main pages.
Urbanspoon's Menu, Restaurant Listing and Information Pages
Your search results for restaurants will deliver a list of restaurants that meet your search criteria and are nearby. There is a map view control button available and you can sort the results as well. Individual restaurant listings will include:
About Page: Lists a ratings summary, the local address, contact number, price range, menu (if available) and hours of operation.
Info Page: Again the address, phone, and website information for the restaurant.
Reviews Page: Lists any reviews from critics, blog posts and Urbanspoon users.
Photos Page: A gallery of photos of the restaurant taken and submitted by Urbanspoon users.
Along the bottom of the restaurant listings page you will find control buttons to review the restaurant, add it to your favorites, add it to your wish list and share the restaurant with friends. Up under the three-dot menu you can submit edits to Urbanspoon on the restaurant's information. The only thing missing from the restaurant listing is the ability to generate driving directions to the restaurant. You can tap on the address of the restaurant to pull it up on a map view but there is no means to generate directions.
Overall, Urbanspoon offers a vast amount of restaurant listings that can be filtered down to meet just about everyone's needs. It is a free app available for Windows Phone 8 and you can find Urbanspoon here in the Windows Phone Store. For those who prefer a larger screen, there is a Windows 8 version of the Urbanspoon app. It too is free and you can find it here in the Windows Store.
Hungry Now (free)
Hungry Now is an easy to use Windows Phone app for the times you need to satisfy your fast food cravings. You won't find any five-star restaurants with Hungry Now but instead, the app focuses on over thirty popular fast food establishments; restaurants such as McDonalds, Subway, Burger King, Wendy's, Chick-fil-a, and Jack in the box.
Hungry Now's Main Page and Settings
The main page for Hungry Now is a map view of your current location with your favorite fast food locations pinned to the map. At the bottom of the map are four filters you can use to single out four of your favorite restaurants, access to Hungry Now's settings and access to the About screen.
Hungry Now's settings allow you to customize your favorite filters/preferences, turn on/off your Windows Phone location services, and turn on/off the app's audio. To change your fast food preferences, just tap/drag the restaurant icon to one of the four button locations at the bottom of the settings screen.
Hungry Now's Restaurant Information
In tapping a restaurant pin from the map view will pull up a bubble window detailing the address of the restaurant, distance from your current location and links to generate driving/walking directions using your favorite Windows Phone navigation app. If you tap the rotating "i" symbol in the upper left corner of the bubble window, you will find the restaurants telephone number.
Hungry Now covers fast food restaurants in over ninety countries and is a handy app to have while on the road. I am sure many have been traveling down the Interstate curious which exit has a Dunkin Donuts, Taco Bell, Pizza Hut or another of your favorite fast food joints.
Hungry Now is a free app that is available for both Windows Phone 8 and 7.x devices. You can pick up your copy of Hungry Now here in the Windows Phone Store.
OpenTable (free)
OpenTable is a Windows Phone app designed to help you reserve a table at more than 20,000 restaurants in the U.S., Mexico and Canada. Reservations can be made through your OpenTable (free) or Facebook account or reserved as a guest.
The app itself has main pages to let you search for an open table, a map view of locations with open tables in your area, a page reflecting your OpenTable account activity, and a page displaying your recently viewed restaurants.
OpenTable Main Pages
Up under the three-dot menu from the main pages you will find access to your settings, links to OpenTable's help pages, access to the About Screen and the ability to set OpenTable as your lockscreen app.
Restaurants can be searched by keyword or browsed from a list of those establishments in your area. The restaurant pages include:
Summary Page: Displays general information on the restaurant, available reservation times and a map view of its location.
Information Page: A more descriptive accounting of what you can expect from the restaurant. You can add your own review of the restaurant and view the dining menu (if available) from this page.
Food Spotting Page: Photos submitted by OpenTable users from the restaurant.
Along the bottom of the restaurant pages are four control buttons that will let you add the restaurant to your favorites list, generate driving directions to the restaurant, share the restaurant's information with a friend and pin the restaurant to your Windows Phone Start Screen.
OpenTable Restaurant Listings
When you are ready to make a reservation, you'll need to log into your OpenTable account (that has to be created at OpenTable's website or as you register as a guest), Facebook account or in some cases, reserve the table as a guest.
OpenTable may not be for everyone but I can see it coming in handy for making reservations on the fly or while traveling out of town when you aren't as familiar with what fine dining is available. OpenTable is a free app that is available for Windows Phone 8 and 7.x devices.
You can find your copy of OpenTable here in the Windows Phone Store. You also have a Windows 8 version of OpenTable that you can find here in the Windows Phone Store.
Best of the Bunch?
It is really tough to recognize one of these four apps the best of the bunch. Hungry Now is an easy app to find a place for a quick bit to eat when you're traveling uncharted lands while Urbanspoon covers a wider variety of dining options. BigOven has plenty of appetizing recipes and OpenTable may help get you out of a jam when you forget to make reservations for that special night. All four cater to somewhat unique needs and all four perform admirably.
Keep in mind these are but four of the top rated Food and Dining apps available in the Windows Phone Store. You have others that perform just as well such as Yelp!, Domino's Pizza, All Recipes and we should not forget about a new food app on the rise, Bing Food & Drink.
Bottom line, there are plenty apps available to help you feed your appetite. Most are free which makes them easy to try. If you've stumbled on a food and dining Windows Phone app that you just can't live without, speak up and let us know in the comments.
Get the Windows Central Newsletter
All the latest news, reviews, and guides for Windows and Xbox diehards.
George is the Reviews Editor at Windows Central, concentrating on Windows 10 PC and Mobile apps. He's been a supporter of the platform since the days of Windows CE and uses his current Windows 10 Mobile phone daily to keep up with life and enjoy a game during down time.