Top Rated Windows Phone Holiday apps and games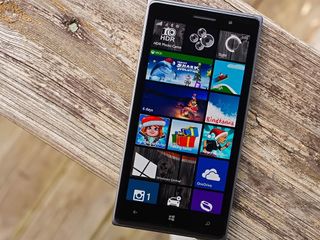 Windows Central Roundup: Popular Windows Phone Holiday Apps and Games
Tis the season to be jolly and there are a boatload of Windows Phone games and apps available in the Store to help bring in the Holiday Spirit. From apps that countdown the time to games that feature the jolly old elf, the Windows Phone Store is quickly seeing Holiday apps and games popping up on the shelves.
We scoured the Windows Phone Store aisles for a handful of the top rated Holiday apps and games for this week's Windows Phone roundup. We'll also toss in a few games that are popular year round but recently received an update to give the title a little Holiday spirit.
To avoid being repetitive, all the titles in this week's roundup is available for low-memory devices.
Talking Santa
Talking Santa is a wondrous Holiday app for our Windows Phone. The app presents you with an interactive Santa that you can treat to a helping of cookies and milk, smash with a humungous snowball and pose for greeting cards. You can also speak into your Windows Phone microphone and have the Santa mimic what you say.
The novelty app has a few settings that include a child mode that scales things down slightly to make the app more child friendly. You also have the option to turn on/off a violence setting. When turned on you can slap and punch Santa around by swiping and tapping your Windows Phone screen. You can even tickle Santa and get a jolly old laugh out of him.
When the child mode is turned off, you can record the animations and any phrases you have Santa repeat and then share the .mpg file with friends by email or SMS as well as upload them to Youtube or Facebook.
Talking Santa is a fun Holiday app to have in your Windows Phone library and can be surprisingly addictive. While technically an app, Talking Santa has more of a game like feel. The app is a free, ad-supported title with an in-app purchase opportunity to remove the ads for $.99.
Sleigh
Sleigh is a fun endless jumper game for Windows Phone that has you guiding Santa and his sleigh over an endless range of mountains. Game play is similar to what you will find with Rainbow Rapture or Penguin, where you tap the screen to make Santa dive down the mountain's slopes and release the screen to have him sail through the air.
The more air Santa catches, the more energy he has and the further he will travel. As you would guess, the goal of Sleigh is to see how far you can guide Santa before he runs out of steam. Along the way, you will find presents lying around that can be collected for extra points.
Sleigh is a simple Windows Phone game that has its fair share of challenges. It's been a popular seasonal Windows Phone game for some time and will appeal to both young and older gamers. Don't be surprised if you find yourself rising up in your seat as you send Santa into the Stratosphere.
Christmas Ringtones
Christmas Ringtones hopes to be your one stop source for Holiday ringtones for your Windows Phone. The app includes over 70 ringtones that can be downloaded and saved to your Windows Phone.
Ringtone choices include Carol the Bells, Deck the Halls (the Chipmunk version), Let it Snow and several variations of Jingle Bells. The interface is simple with a host of control buttons lining the bottom of the screen that will allow you to preview the ringtone, save the ringtone to your Windows Phone and to download more ringtones from the developer.
Where is Santa?
Where is Santa? is a novelty app for your Windows Phone to help your kids keep track of Santa's progress on Christmas Eve. It might even help you get your children to sleep if they can see how close he's getting to the house.
The app will plot Santa's course across the globe utilizing millions of Santa tracking stations. Two control buttons are present on the map view. One to center the map on your location that will display Santa's estimated time of arrival and one to find out where Santa is currently located. Once you scan for Santa, his location will update every sixty seconds.
Where is Santa? can be a handy app to have around when curious young minds begin to wonder when the jolly old elf will arrive at their house.
Christmas Time Pro
Need a countdown timer to remind you how little time you have left to shop for presents? Or to remind the kids how much longer they have until the trip to Grandma's house.
Christmas Time Pro is simply a Windows Phone app that will show you how many days, hours, minutes, seconds and milliseconds it is until December 25th. The app is a very simple app that supports all three sizes of Live Tiles and offers a small selection of decent looking background wallpapers.
Bang Bang Monsters: Christmas Edition
We took a look at Bang Bang Monsters some time ago and found it to be a fun variation of the Windows Phone tower defense games. The game's premise is that you play the role of a farm girl who is tasked with defending her herd of sheep from an invasion of alien monsters.
A special edition of the game was released in the Windows Phone Store recently that gives the game a Christmas theme. You still have the five gaming modes (survival, challenge, party, hardcore and multiplayer) and over fifty level of play and tons of weapons. The Christmas edition adds snowfall, decorative lights, a Santa's hat and a freeze ray to the mix. I wouldn't mind seeing a Zombie Santa boss but as is, the Christmas Edition is a nice Holiday version of the game.
The only downside to Bang Bang Monsters: Christmas Edition is that there is not a trial version available. The full version will not break the bank at $.99 but it would have been nice to see the first few levels of the Challenge Pack available in a trial version. I think that Bang Bang Monsters is worth the $1 price tag but I can understand why some gamers would pass on it without a trial version.
Hungry Shark Evolution
Hungry Shark Evolution is a fantastic game and this isn't the first roundup this game has found its way into. The premise of Hungry Shark Evolution is simple. You play the role of the shark and have to swim the ocean blue eating everything in sight.
How Hungry Shark Evolution got its foot in the door of this Holiday roundup is with a recent update, Holiday elves are available on the menu. When your shark gobbles up an elf, you are transported to the frozen waters of the North Pole where you can dine on penguins, candy canes and other frozen delicacies.
Hungry Shark Evolution is a great gaming title any time of the year and Ubisoft did an excellent job of giving the game a Holiday twist.
Subway Surfers
Subway Surfers is one of the top endless runner games in the Windows Phone Store. You play the role of a hooligan surfer who must stay one step ahead of an angry train yard inspector. The game is often updated throughout the year, which sends the game to new global locations that have included Paris, Cairo and New Orleans.
The Holiday update sends the game to London where the train inspector has been replaced with Santa Claus. The train yard has been decked with assorted ornaments giving the game a nice Holiday appearance. Additionally, you will find weekly hunts for Holiday presents, partner with Buddy the Snowman and unlock a snowflake snowboard.
Subway Surfers is an entertaining game throughout the year and the London version nicely delivers the Holiday spirit to the game.
Angry Gran Run
While Angry Gran Run is a fun game outside the Holiday Season, the developers added a few festive features to get Gran in the Holiday Spirit. The endless runner game has Angry Gran ducking, dodging and jumping a wide assortment of Holiday items such as presents, candy canes and Christmas tree ornaments.
You also have a snowman, gingerbread man and Santa Claus characters you can unlock to further the Holiday theme with Angry Gran Run. The only thing missing is having "Grandma got run over by a Reindeer" as the background music.
All of the titles in this week's roundup are sure to give your Windows Phone a Holiday feel. Some may be more tuned towards those with younger Windows Phone users but some can be fun for all ages. If you try one of the Santa apps, give Talking Santa a try. It'll make you laugh and you can create some fun Holiday email greetings with Talking Santa.
As with all our roundups, we have likely overlooked someone's favorite app or game with that Holiday flavor. In a nutshell, there is just too many choices for one roundup and if we have missed your favorite Holiday title, feel free to toss out your recommendation below in the comments. Here's hoping everyone has an enjoyable and happy Holiday Season!
Get the Windows Central Newsletter
All the latest news, reviews, and guides for Windows and Xbox diehards.
George is the Reviews Editor at Windows Central, concentrating on Windows 10 PC and Mobile apps. He's been a supporter of the platform since the days of Windows CE and uses his current Windows 10 Mobile phone daily to keep up with life and enjoy a game during down time.