Top Speed: Drag & Fast Racing Review - For the Speed Demon in all of us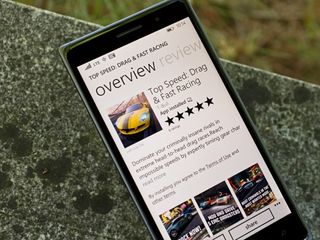 The collection of drag racing games in the Windows Phone Store seems to be on the rise with Top Speed: Drag & Fast Racing joining the line-up last week.
Top Speed is a universal game that has 69 cars to buy and race, 20 criminal kingpins to defeat and five city districts to race in. Cars have a broad range of upgrades and custom paint jobs that will become available as you win races and earn a little cash
Overall, Top Speed: Drag & Fast Racing comes across as a quality addition to the drag racing genre of games available for our Windows Phones and Windows 8 devices. The game is available for low-memory Windows Phones.
When you first launch Top Speed: Drag & Fast Racing the game will walk you through a series of races that serve as a tutorial to cover the basics. As new features become available, additional tutorials will become available.
The main menu for Top Speed will have your gaming stats running across the top of the screen and button links to various gaming features. You also have a hidden menu in the left corner of the main screen that will give you access to your achievements, player profile and settings. Top Speed's settings are brief and cover sound and music controls.
From left to right your gaming stats include your current vehicle being raced, you gaming cash balance, your fuel levels and your gaming level. Top Speed will start you out with just enough gaming cash to buy and entry-level car to race. From there you are on your own to earn cash during game play.
Each race will require a unit of fuel. Top Speed starts you out with ten fuel units that will replenish over time. You do have the option to extend the fuel meter by five units ($2.49) or have unlimited fuel ($3.99) through in-app purchases.
The button links on the main menu include:
Car Dealer: For the times you have saved up enough cash to buy a new car to race. The 69 cars are divided amongst five tiers, each requiring a certain experience level before you can race them.
Customize: Here you can change the paint job of your car or add decals to give your ride a little flair. Either customization will cost you a little gaming cash.
My Cars: Your portal to your garage where you can select which car you'll be racing.
Upgrades: As you move up the ladder and face faster opponents, you'll need to improve key aspects of your cars. Top Speed will let you upgrade the tires, nitrous booster, exhaust, engine, transmission, turbo and chassis. All at a progressive cost.
The other button link will send you to your racing menu. Here you will find four racing options and the option to hire a mechanic to increase your odds of winning a race. Racing is conducted from a profile view of the cars (as opposed to behind the wheel) and the four races include:
Boss Battle: Race against the twenty bosses that populate the city. These aren't "one and done" style battles and you will have to beat each boss multiple times before they will admit defeat.
Ranking Race: Race for speed to see how your times compare to other Top Speed racers.
Street Race: Quick racing to help earn a little cash. You can choose the difficulty of these races to increase the cash available for winning.
Most Wanted: Daily races where you are given a police car to race against some of the most wanted criminals.
Regardless of your race, the mechanics of the game are universal. The game screen has your instrument gauge at the bottom of the screen. You start the game by tapping on the accelerator trying to keep your RPM needle in the green zone. If you do, you'll begin the race with a little edge in momentum.
Once the 3, 2, 1 countdown completes, your acceleration is automatic and all you have to control is changing gears. You have an up-shift button next to your RPM gauge that you will tap as the gauge's needle reaches the green area. The better your timing, the quicker your car goes.
Should you need a little boost of speed, your nitrous button (if equipped) sits to the left of the instrument display. As you upgrade your nitrous in the Upgrade menu, the duration of this booster will increase.
At the conclusion of the race, your cash rewards are based on whether you win or lose the race as well as your perfect start and shifts. You can also get bonus cash if your car is customized with certain decals.
Overall Impressions
Drag racing games have slowly become a crowded field in the Windows Phone Store. Top Speed: Drag & Fast Racing is a welcomed addition to this genre of games. However, the game may struggle to stand out from other popular drag racing games such as Drag Racing or CSR Racing.
The graphics with Top Speed are top notch and your opponents can be tough nuts to crack. I like the Most Wanted races to give the game a little variety. I just wish you didn't have to wait so long in between races.
While I'm not a fan of the token system for game play, Top Speed does offer you enough fuel points to keep you busy for a good while. You also have the option to remove the fuel system with the Unlimited Fuel purchase. Personally, I would rather have a trial version, then pay $.99 to $1.99 for the full game and do away with the fuel point system.
Overall, Top Speed: Drag & Fast Drag Racing is a fun, entertaining game for your Windows Phone or Windows 8 device. I do think the game plays out better on the Windows Phone but the larger screen of a Windows Tablet does make the graphics shine a little brighter.
Get the Windows Central Newsletter
All the latest news, reviews, and guides for Windows and Xbox diehards.
George is the Reviews Editor at Windows Central, concentrating on Windows 10 PC and Mobile apps. He's been a supporter of the platform since the days of Windows CE and uses his current Windows 10 Mobile phone daily to keep up with life and enjoy a game during down time.