Top Windows Phone 8.1 Start Screen Apps
By George Ponder last updated
Windows Phone Central App Roundup: Windows Phone 8.1 Start Screen Apps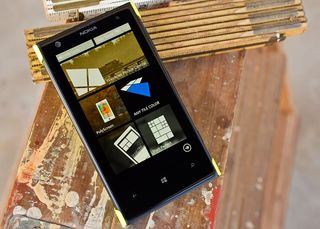 While the Windows Phone Start Screen has never really sucked wind, the features the Windows Phone 8.1 update brings to the table takes the Start Screen to a new level. We still have Live Tiles that can deliver bullets of information to keep us up to date on everything from the weather, our schedule, stock prices, sports scores and more.
But with Windows Phone 8.1, our ability to customize our Start Screen has increased with transparent tiles, custom background images and the option of adding a third column of tiles to devices who previously lacked this feature. This week's roundup will focus on Windows Phone apps that will help you make the most of your Windows Phone Start Screen. From adding transparent tiles to creating a custom tile color, these apps can help you make your Windows Phone a little bit more your own.
Group Tiles (Free)
Group Tiles is a Windows Phone app for those who like to have a little more organization to their Start Screen. Group Tiles does not create an app folder but rather a Live Tile label to help you group and identify collections of Live Tiles.
For example, if you have a large collection of photography apps pinned to your Start Screen you can create a photography tile that will better distinguish this group of Live Tiles.
The interface is simple and straightforward with tools to:
Choose your Live Tile style from a collection of preset styles or create your own style.
Add text to the Live Tile
Add icon graphics
Customize the color scheme (or make it transparent)
Group Tiles has support for Wide, Medium and Small tiles but you have to pre-determine the size you want created. While you cannot adjust the tile size from the Start Screen, if you modify things within the app those modifications are automatically reflected once you save the tweaked design.
Live Tile creations can be backed up to your OneDrive and the free app is limited to a maximum of three Live Tiles. When you reach that limit, you can purchase the upgrade to the Unlimited Group version for $.99.
Group Tiles is an interesting app and can bring a little customized organization to your Windows Phone 8.1 Start Screen. Group Tiles is a free app (again limited to three Live Tiles) that you can pick up here in the Windows Phone Store.
Start Perfect (free trial/$.99)
Start Perfect may very well be your one stop shop for customizing your Windows Phone 8.1 Start Screen. Start Perfect is from the developers of Transparency Tiles (which is included) and offers a healthy collection of tools to help you tweak and transform your Start Screen to match your style.
Start Perfect's interface is simple and spread out across several pages that include:
Apps: While many developers have updated their apps and games to support transparent Live Tiles, some have not. This page has a respectable listing of transparent Live Tiles for various apps that have not been updated yet.
Settings: Need to pin a Windows Phone 8.1 setting to your Start Screen?
Website: How about a Live Tile to give you direct access to a particular website?
Blanks: If you need to add a spacer between groups of Live Tiles or just need a little elbowroom to show off your background image, here's your tool. A flip bland tile options is also available.
Labels: Much like Group Tiles, this tool allows you to create label tiles that can be used organize your Start Screen.
Fills: Prefer a solid colored background? Start Perfects Fills Tool will let you customize solid background color that will basically create a new theme color when displayed through transparent tiles. You also have the option to use a gradient color or create a poly background as well.
Tints: The Tints Tool allows you to apply a colored tint to your background image.
The only thing missing from Start Perfect would be a source for background images. It is really a nice collection of customization tools for Windows Phone 8.1. There is a free trial version available for Start Perfect with the full version running $.99. You can find Start Perfect here in the Windows Phone Store.
PolyScreen (Free)
PolyScreen is a low-poly style wallpaper generator. Low-poly style meshes together quantities of polygons that vary in size and color (or shades of color) that can make for a vibrant, unique background image for your Windows Phone 8.1 Start Screen. The wallpapers can also give your Lockscreen a little pop as well.
The layout for PolyScreen falls in line with most Start Screen apps, simple. You have four control tiles lining the bottom of the screen with a preview of your creation filling the screen. The control tiles are as follows:
Editor: This button pulls up your color palette options, adjust the size and padding for your polygons and add noise to the image. The color palette has options to pick your accent colors, generate a random color range, customize your color range and access the full brewer for colors.
Randomizer: I'm not exactly sure what to call this button (second from the left) but it seems to randomize the polygon pattern while maintaining the size and padding.
Download: When you have things just right, you can name the image file and download it to your Pictures Hub.
Rate/Review: The last control tile sends you to PolyScreen's Store listing to rate and review the app.
An undo button is also present and located in the upper left corner of the screen. The developer is actively updating this app and we should see a Hexadecimal reader in the color picker and HD imaging with future updates.
PolyScreen is a simple means to add a unique, colorful background image to your Windows Phone 8.1 Start Screen. PolyScreen is a free app that you can find here in the Windows Phone Store.
Any Tile Color (Free)
It doesn't get much more simpler than Any Tile Color. This Windows Phone app lets you choose a color either from a color picker or by entering the color's Hex Number and a background image is generated using that color.
While not perfect, Any Tile Color is a simple way to create a pseudo-theme color using transparent tiles. Background images are saved to your Pictures Hub where they can be chosen in your Windows Phone 8.1 settings as a background image.
Easy as pie.
Any Tile Color is a free app and you can find Any Tile Color here in the Windows Phone Store.
Any Standouts?
The one thing all four of these customization apps have in common is simplicity. All four Windows Phone 8.1 Start Screen apps are easy to use and requires little effort to add personalization to your Start Screen.
Each approaches things a little different with Start Perfect being the more comprehensive option. If you want to minimize the number of Start Screen apps installed on your Windows Phone, Start Perfect is well worth the $.99 price tag.
PolyScreen is a neat little app and with a little patience, you can create some rather nice looking background images. Any Tile Color is a simple way to create a background image that mimics a custom theme color.
Group Tiles is an interesting app that may not appeal to everyone though. It will be interesting to see if the developer can come up with additional Live Tile sizes (word is they are working on it). I could see a wide tile that is half the height having appeal to label groups of Live Tiles.
Along with the four highlighted Windows Phone apps, here are a few more apps that can help you customize your Windows Phone 8.1 Start Screen.
The number of Windows Phone 8.1 Start Screen apps seems to grow daily and if we have overlooked your favorite app, let us know below in the comments.
George is the Reviews Editor at Windows Central, concentrating on Windows 10 PC and Mobile apps. He's been a supporter of the platform since the days of Windows CE and uses his current Windows 10 Mobile phone daily to keep up with life and enjoy a game during down time.
I do too even though it can be a bit laggy sometimes...

polyscreen i think better than other

but it looks like s5 startscreen...

Non of the above has install!

Same here. If I want to customize, I have a wealth of more substantial graphics tools to use, that I don't need to deal with these novelties.

Yeah. I thought it was just me but nothing there interests me. Polyscreen is ugly and childish and the others just waste space for me. You start to sacrifice functionally for fluff.

Yup. Just waste of space and time.

I really like the 9th pic background but I think it looks better on amoled screens only.

HeaderTiles is much better than GroupTiles.

We need moving them support in lock screen....

Start perfect says custom website icons in latest update but there is no option in app

The option is there. I've set up custom icons myself. Are you sure you're on the latest update?

Yep latest update, only options are identical to before this update and always result in a star icon, I am not choosing any image as I want transparent tile, just adding url and name then pinning, plus I don't have those exact dimension images on my phone anyway

You can, but it only worked when I made icons for both sizes and not just one. For some reason they are double sided with a blank side and a side with your icon. I was so excited to use it with transparent icons but it doesn't work for me. No matter what file type I use the transparent parts always comes out white. Hopefully they add a tutorial or fix it if it's not working properly. Nice app though.

I made transparent background icons on my computer with a photos editor. It's quite easy that way and I have custom icons for my websites that still maintain a transparent tile.
The option is there. It's not quite fair for you to say that it isn't.
Edit: http://i.imgur.com/uv6Lwi7.png
You can see my transparent website tiles at the bottom, in between the WPCentral app and IE11. There are 4 websites I pin, using the small tile size. Resizing the tile also maintains transparency, regardless of the size of the tile. Also, using the small tile size will prevent the tile from flipping to a blank transparent tile.

Show me where the choice for a custom icon is http://i.imgur.com/GOALEir.png

It's right under the text no for inputting the tile name. Just hit the Wide Image label to select your wide tile icon and the Square Image label to select your square tile icon. Just make sure to place a custom icon for both, or neither will show. You do have to make sure your icons are a specific pixel dimensions, though.

Ah ok thanks, I see, I didn't expect to have to make my own icons, I was looking for a set of pre-made icons in the app

You should go to the Start Perfect thread started by the dev and request more stock icons for people who don't want to have to create their own icons. The dev is really good and listens to feedback.

Wait, were you expecting more stock images than just the star icon? There aren't, but that isn't what is meant by custom icons. Custom icons let you use your own images as icons. What you want would be more stock images for icons, if that is the case. Custom icons is already possible.

Yea true custom Icons like we have now is great, but yes I was looking for more stock icons other than the star which is why I thought there were no custom icons, I just assumed the wide and square tile buttons were to change the entire tile background, not the icon - I see how it works now, just wasn't what I expected. - I was expecting a button to open a set of icons the way that chat apps have a set of emoticons etc

Yeah, totally understandable. You should make a request to the dev.

Will do, thanks for the help :)

Ok ok something about to go down!

GoLockscreens is worth looking at too...

I hope WPCentral revisits all of these apps when 8.1 rolls out to the rest of us. It's not like we can download them right now or anything.

Any particular reason regarding on why are you waiting for 8.1 roll out as oppose to updating right now? I can't honestly think of a single one...

+1. Get registered with the MS developer app then update to 8.1 right now. Simples

Nearly all of us are rocking the dev preview

If you are looking for beautiful startscreens from other #WinPhans, please try out this picture album (PicEx) via Picturex. If you have any questions or suggestions for our app, we are happy if you contact us. Thanks

Im bringing my contribution to startscreen apps hopefully this weekend. I will anounce it at "Developer Spotlight" but you can as well search the store for exyaized in a few days. Stay tuned!

Will check it out for sure! :)

I have every one of these and I simply love them.

I use Perfect Start. It's great. The only thing I hate is the blank/transparent tiles it creates will lead us to a blank page if we tap them.

After reading this, we need these for GRD 1:
1. Accent chooser like Win 8
2. Group tiles with labels like Win 8
3. Large tile size like Win8
4. More Tool tip options ( Uninstall, etc) when holding tiles like in Win8 Basically we need functionality present in Win 8 for WP 8.

I don't know what does WPCentral have against it, but Skinery Themes is better than any of these and has been around since before 8.1.

It's because they review apps that they like, not apps they think readers will like. There's a difference.

I like PolyScreen, but it kinda lost its appeal once I noticed the poly-screens on the Samsung commercials. I snagged some art from Wikipedia for my start and lock screens, and found very good results easy to achieve. I'm sure I'll be back to playing with PolyScreen in the future, especially if it gains a feature to import and poly-ize a photo.

Which is the app that lets you make your lock screen transparent?

None. Just make a screenshot of your start screen and use that as your lockscreen.

Missing this http://www.windowsphone.com/s?appid=5da6027a-83a0-4242-a85a-97835e0f8747

The battery apps/tiles are pretty useless with the current os restrictions, for the fact that with heavy use I could easily drain 20-30% of the battery before the tile actually updates. I personally have the battery saver tile pinned that shows the icon of the battery left. If they updated that to also show a percentage it would be much more useful.

I disagree. If I want to see the current percentage I can simply tap the tile to refresh it. Also, MS have lifted the 30 minute restriction to one minute now with 8.1

Tap to refresh will work. Otherwise will update every 20 mins. But the 1 minute restriction is not real. It is still 20 (maybe 15 not sure). Those clock apps that update every minute do it by scheduling tile static images to show up each minute. Static updates can happen every minute, this works with time because it is predictable and you can generate static prints (kind of snapshots) for every minute in the future, but battery level is not predictable hence is not possible, need to wait 20 mins for the system to allow the app to query the level and build the appropriate tile adhoc.

Accent Builder is my favourite, although it isn't featured in this article

thank wpcentral!!!!! I got start perfect when you featured it a couple weeks ago. I didn't even trial it I was sold its a wonderful app...!! sometimes people wouldn't even find out about these great apps unless you did features on them...THANKS!! I'm going to check out group tiles and the poly app now they look interesting...keep up the great work! also I know you can't do it alone so thanks to all the users who submit suggestions to wpcentral about great apps.

Question? Can you have your photos or Bing wallpapers to cycle on your start screen??

That's a great idea but I can't see it possible at the moment

Polyscreen rocks but crashes too much at the moment

I recommend an app called Gradient. Obviously it's for making gradient wallpapers. It lets you choose multiple colors and it's free!

You guys might want to check out Pattern Startscreen. Here's the link: http://www.windowsphone.com/en-us/store/app/pattern-startscreen/9374fbed-c1fb-4253-9c4e-5b124ef48dce

Try out Transparent Icons to create see-through icons and group tiles. http://www.windowsphone.com/s?appid=0d994742-a5ec-469a-8a5f-a22c7428ee36

Try 8.1 HD Tiles app which offers around 200+ 1080p HD transparent icons. http://www.windowsphone.com/s?appid=7adff6ba-1bab-4b4d-9b74-83699130252f

HD 8.1 Tiles the best and no.1 :D

Try OneStart which can generate dream-like coloful background. http://www.windowsphone.com/s?appid=7860ee13-3666-4a15-9464-2a678e2f4f15
Windows Central Newsletter
Get the best of Windows Central in in your inbox, every day!
Thank you for signing up to Windows Central. You will receive a verification email shortly.
There was a problem. Please refresh the page and try again.