Our top Windows Phone apps for keeping up with March Madness
Windows Phone Central App Roundup: March Madness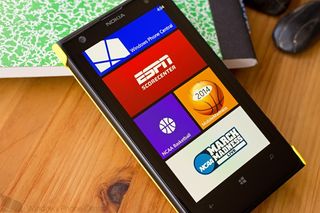 The NCAA Men's Basketball Championship Tournament kicks off in a few days and we have a few Windows Phone apps that might help you keep up with all the on and off court action.
The Tournament is one of the most exciting sporting events and one where office pools and calling in sick are common place. We have a short roundup filled with apps to keep up with the scores, keep up with your tournament bracket, and catch a few games with.
Note: Yesterday was selection Sunday where the official tournament bracket was released. While most of these apps appear to have been updated overnight, some may need a little while longer before updating to reflect the current tourney information.
ESPN ScoreCenter (free)
There's very little argument that ESPN is the worldwide leader in sports and the ESPN ScoreCenter app funnels ESPN's sports coverage to our Windows Phone.
The app delivers scores, videos, news articles, standing, analysis, in-game stats, game casts and more from college sports and professional sports leagues. This time of year, the ESPN ScoreCenter app includes a section dedicated to the NCAA Men's Basketball Tournament.
Just go to the ScoreCenter's My Sports page in the settings (found up under the three-dot menu) and choose the "add a sport" option. Under the category of basketball, NCAAM you will find an option for NCAAM – NCAA Tournament. Choosing this option will add tournament pages to your "Choose a Sport" menu (little circle in the upper left corner of the main page).
The NCAAM Tournament pages include scores, news, standings, and video highlights from the games. Scores for completed games will include a recap of the game, stats, videos, and a discussion area. Games in progress will have a live feed highlighting all the action.
ESPN ScoreCenter is a feature rich Windows Phone app that not only delivers a mound of information during the NCAA Men's Tournament but also for other sporting events and seasons as well. It is a free app that is available for both Windows Phone 8 and 7.x devices. You can find your copy of ESPN ScoreCenter here in the Windows Phone Store.
Additionally, there is the ESPN App that is available for Windows Phone 8. It is a free app and you can find the ESPN Windows 8 app here (opens in new tab) in the Windows Store.
MobileMadness (free)
One feature of March Madness is office pools involving tournament brackets, predicting the outcome of all the games. Even if you don't bet in an office pool, it is likely that you fill out a tournament bracket just for the fun of it.
MobileMadness is a Windows Phone app that has been around for a few seasons now that lets you fill out a tournament bracket, catch live and final scores of the games and have your bracket predictions updated automatically.
The app is laid out about as simple as it can get. You have main pages displaying your bracket, live scores and final scores of tournament games. While I like the simplicity of MobileMadness, it would be nice to have the ability to share your brackets or export them in Word (or similar format) so you can print them off. For that you'll need to download the Windows Phone app Brackets (see link at the end of the roundup).
MobileMadness is a free app that is available for both Windows Phone 8 and 7.x devices. You can pick up your copy of MobileMadness here in the Windows Phone Store.
NCAA March Madness Live (free)
NCAA March Madness Live is the newest Windows Phone app and is the official app for the basketball tournament. The app not only provides the ability to check in on scores, view video highlights, catch the latest news items and track social activity but you also have the ability to stream coverage of all 67 tournament games.
You'll need to log in with your television provider and a three hour live video pass will be available to catch games that air on TBS, CBS, TNT and truTV. The CBS games will not require a paid subscription.
Even if you don't opt to take advantage of the live streaming features, the NCAA March Madness Live app has a ton of features to help your survive the Big Dance. There is the Capital One NCAA March Madness Bracket Challenge where you can test your bracketology against others, enjoy game alerts for your favorite teams, view and join in on Tournament Tweets, and check out all the player and game stats.
The "bracket" control button at the bottom of NCAA March Madness Live's main pages will pull up an up to date tournament bracket that will have game times, scoring updates and in tapping a particular pairing, you will pull up pages for that particular game. Pages that include the video stream, team stats, box scores and more. You can also set notifications for particular games to alert you that tip off is nearing.
In just tinkering with the app for a short time, it does come across as a very comprehensive and impressive March Madness Windows Phone app. The one downside to NCAA March Madness Live that we picked up on is that you can't create or modify your Capital One bracket within the app. You can create your account, create a bracket and join a group within the app but to fill out your bracket you will need to go to the Capital One March Madness website. Once created, you can view your bracket from within the app but still lack the ability to modify the bracket. This may be a glitch in the app and if so, hopefully one that can be fixed before Thursday.
Another downside to NCAA March Madness Live is that the app is restricted to the U.S. Market.
The NCAA March Madness Live app is free and available for Windows Phone 8 and Windows 8 devices. You can find the Windows Phone 8 version of NCAA March Madness Live here in the Windows Phone Store and the Windows 8 version here in the Windows Store. (opens in new tab)
Bing Sports (free)
Bing Sports hasn't been around for too terribly long but, as with other Bing products, is an impressive sports information app for our Windows Phone.
Much like ESPN ScoreCenter, Bing Sports covers a wide range of sports that includes collegiate and professional sporting leagues. This will include NCAA Men's basketball.
While Bing Sports lacks a dedicated section for the NCAA Tournament, it will cover the action within its NCAA Basketball category. Just go to the My Sports page of the app's main pages, choose the "+" control button at the bottom of the page and choose NCAA Basketball from the list of sports the app covers.
NCAA Basketball pages will include a page showing the games scheduled for the day, top news stories, video highlights, the AP top 25, and the Coaches Poll. Information on individual games includes team line-ups, game summary, and stats. The NCAA Basketball category can also be pinned to your Windows Phone Start Screen for easy access.
Bing Sports is a free app that is available for Windows Phone 8. You can find Bing Sports here in the Windows Phone Store. Bing Sports is also available for Windows 8. You can find that version here in the Windows Store (opens in new tab).
Honorable Mentions
All four of apps in our March Madness roundup do a good job of things and are well worth considering.
I like how the ESPN ScoreCenter has an area dedicated to the tournament and MobileMadness comes across as an easy way to build and monitor your tourney bracket. It is the first year for NCAA March Madness and it will be interesting how this new Windows Phone app will be received.
Along with the four apps in the roundup, there are a few other Windows Phone apps you may want to check out. They include:
If you have a favorite Windows Phone app to help you keep up with March Madness, sound off in the comments below.
Windows Central Newsletter
Get the best of Windows Central in in your inbox, every day!
George is the Reviews Editor at Windows Central, concentrating on Windows 10 PC and Mobile apps. He's been a supporter of the platform since the days of Windows CE and uses his current Windows 10 Mobile phone daily to keep up with life and enjoy a game during down time.
One thing that really bothers me about WP is that the sport apps are really just pretty bad compared to iOS or Android. Most apps have tiles that don't even work and if they do have push notifications they're ones that come and if you open it, it doesn't even take you to the right page. Just opens the app. Hoping the MLB at bat app that is coming out soon is much better but I'm not expecting it

Which apps specifically don't work? I use ESPN hub app and it provides notifications based on my settings and when I do tap on the notification it takes me to the results of the specific team I requested a notification for. I can't speak for any other apps but that one works great for me.

ESPN's app is disappointing, I stopped using it months ago after trying very hard to make it work.
It drastically needs an update.
....
NCAA March Madness Live app is disappointing simply because it kicks out to the browser to make/view your own bracket. Worst of all, in IE mobile mode it's impossible to create your bracket and even in desktop mode it functions very poorly, but is at least possible to do.
Brackets are a huge part of MM and not having it work perfect and in the app sucks. Game streaming will be awesome though... hopefully.

Goal live scores is one of my favourites

ESPN's app stopped showing epl table.

Subway surfers just updated on my 820 and its not new levels added.Has 512mb support been added? Posted via the WPC App for Android!

Na and we dont need that game now. I downloaded that game b4 on my phone by deploying. It was working very well. I played njoyed deleted it and realised that theres life beyond subway surfers. We dont need that game now. Lets move on

Is it a March Madness update?
Forums, bro, forums.

I find twitter better because scores of every sports are updated on time.

I really liked 'Mobile Madness' last year. It was excellent for just setting your Brackets and keeping up with them. While clunky dealing with brackets I think 'March Madness Live' will be good at watching the games, being alerted to your teams scores, when they play, and news, etcetera...

Mobile Madness doesn't offer a free version. It's $1.99, but worth the money in my opinion.

Was just about to comment the same. Not free to try either...

MobileMadness says it is $1.99 and not free.

Still waiting for the Watch ESPN app...

ESPN needs to update the app...

Any MM apps that work with yahoo?

I'm more interested in April madness, like WP 8.1 and new Lumias madness :)

I think the writer should have checked all the apps before recommending to the general public . The Espn app is horrible compared to IOS , the espn fc and espn cricket is also dissapointing compared to Android , the score mobile and WWE app are all below average so if u r a sports fan windows phone does not have any decent app other than bing sports

And Bing sports is decent at best. No live tiles for individual sports or teams and no toast notifications either.
Windows Central Newsletter
Thank you for signing up to Windows Central. You will receive a verification email shortly.
There was a problem. Please refresh the page and try again.