Top Windows Phone Games from the WPCentral Team
By George Ponder published
Windows Phone Central Game Roundup: WPCentral Team Favorites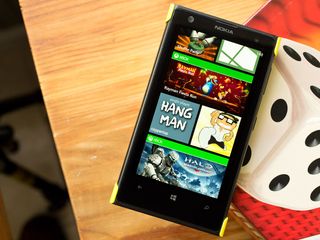 Every week we try to roundup a collection of top apps and games for our Windows Phones based on store ratings, overall popularity and your recommendations. After receiving a tip from WPCentral reader Juilian asking what are the best games for Windows Phone, instead of just listing the top rated games in the Windows Phone Store we decided to approach it from a different angle.
This week's roundup is based on recommendations from our motley crew as to what the top Windows Phone games are. These titles are simply ones we have enjoyed playing and would gladly suggest them to others. With this roundup, we will highlight a small collection of our favorites and follow up with a supplemental list of even more gaming titles we think highly of.
While we have a healthy list of suggestions, if we have overlooked your top Windows Phone game, feel free to toss out your recommendations in the comments below.
Rayman Fiesta Run
Rayman Fiesta Run is an Xbox Windows Phone platformer game that has you racing Rayman through, over, and under numerous obstacles to eventually face three bosses.
Rayman Fiesta Run has over seventy-five levels of play. You slowly progress your way across the gaming map, successfully navigating each platform level. The further you go, the more challenging the levels become. The first few levels are rather easy but it doesn't take long until you face monsters and dangers that will ruin Rayman's day.
Game play is simply laid out with a directional pad in the lower left corner and your punch controls in the lower right. The goal is simple, get Rayman to the finish line without getting him squashed, eaten, gorged, or otherwise destroyed. Along the way, you can collect Lums (firefly-like creatures) that can be used to purchase power-ups and rewards.
As with the other Rayman titles, Rayman Fiesta Run is an addictive platformer for Windows Phone 8 (including the low-memory devices). The only downside to Rayman Fiesta Run is that there is not a trial version available. The full version will run you $1.99 and you can find Rayman Fiesta Run here in the Windows Phone Store. Fiesta Run is also available for Windows Phone 8 devices and you can find that version here in the Windows Store. (opens in new tab)
Halo: Spartan Assault
Halo invades our Windows Phones with Halo:Spartan Assault, an Xbox LIVE title that has you battling your way through thirty action packed missions against the Covenant. The game interface is fairly straightforward with options off the main menu to start your missions, play the tutorial, access the settings, and view your gaming records (achievements, medals, leaderboards, etc.).
You play Halo:Spartan Assault from an overhead view, controlling your Spartan squad through enemy territory. Movement controls sit in the bottom left corner of the screen and weapons controls sit in the right corner. Just as with the Xbox 360 game, your weapons have ammunition limits and you can collect enemy weapons to use as your ammunition dries up.
If you are a Halo fan and need a mobile fix, Halo:Spartan Assault will do the trick. Graphics, while a little on the tiny side, are fantastic and game play can be on the intense side. There is no trial version available for Halo:Spartan Assault and the full version is currently running $1.99. The game is available for Windows Phone 8 (including low-memory devices) and you can find Halo:Spartan Assault here in the Windows Phone Store.
If you prefer game play from a larger screen, there are two versions available for Windows 8. You can find Halo:Spartan Assault here (opens in new tab) ($1.99) and Halo:Spartan Assault Lite (free) here (opens in new tab) in the Windows Store.
Trine's Hangman
Trine's Hangman ranks up there as one of the best word games for Windows Phones. In simple terms, it's a game of hangman but there is a lot more to Trine's Hangman than being a simple game of hangman.
As you solve puzzles, you earn points that will rank you online against other Trine's Hangman players. As you play, you will see your current world ranking adjust as your cumulative score grows so will your world ranking. Your scores are backed up with Trine's servers so if you change Windows Phones you won't lose progress.
Add custom backgrounds, bragging web pages that you can share, a data setting to minimize your data usage, the ability to look up the words on Wikipedia and a local two-player mode, multiple account support and Trine's Hangman has quit a bit of meat on the bone. On top of all that, the puzzles can be wickedly challenging.
Trine's Hangman also has one of the best video game trailers out there.
Trine's Hangman is available for both Windows Phone 8 and 7.x devices. There is a trial version for Trine's Hangman Pro with the full version running $1.49. You also have a free version of Trine's Hangman Pro that is ad-supported. You can find Trine's Hangman Pro here (or via the QR Code) in the Windows Phone Store and Trine's Hangman here in the Store.
Level 22
Level 22 is an adventure game where you have to help Gary, an office worker who has overslept, sneak into work without being noticed. The challenge is that he works on the 22nd Floor and has to reach his office without being seen. The game starts you off in the basement parking garage and there are plenty of side-missions to keep you busy as you work your way to the 22nd Floor.
You can hide in closets, crawl through air vents, and booby-trap the photocopiers as a distraction. Gary does have the help of a co-worker who will try to steer him in the right direction. Should Gary be seen by anyone, the game is over. It is a surprisingly addictive game that requires a gentle touch and a bit of strategy.
Graphics have a slight Leisure Suit Larry feel to them and overall, we've found Level 22 to be an enjoyable adventure game for Windows Phone 8 (not available for low-memory devices). There is a free trial version available for Level 22 and the full version is currently running $.99. You can find Level 22 here in the Windows Phone Store.
Even More Recommendations
If the games listed above aren't your cup of tea, don't worry. We've got a few more suggestions to offer.
Sparkle 2 (trial/$4.49): Sparkle 2 is the sequel from the creative gaming developer 10Tons that has you challenging the darkness by destroying orbs before they fall into the dreaded abyss. Think of the game Zuma but with a fantasy storyline quest and you'll come close to Sparkle. The game has over 90 levels of play and three gaming modes to keep you plenty busy. Sparkle 2 is available for both Windows Phone 8 and 7.x devices. (Store Link)
Chaos Rings (trial/$9.99): One of the more pricey recommendations but this Xbox title is an impressive RPG game for Windows Phone 8. The game presents a tale consisting of four different scenarios that revolves around a combat tournament. Graphics are outstanding, game play full of challenges, and while pricey, if you like RPG games Chaos Rings is worth a try. (Store Link)
Traffic Racer ($.99): Traffic Racer is another simply, yet challenging game for Windows Phone 8 (yes that does include low-memory devices). You have to race your car through highway traffic all the while earning cash that can be used to upgrade your ride or buy a new one. The 3D graphics are great and the car controls operate smoothly and realistically. Traffic Racer has nineteen different cars to choose from, four environments to race through and four game modes. I could be that need for speed fix you've been looking for without the risk of getting ticketed. (Store Link)
2048 (free): There are several versions of this puzzle game available in the Windows Phone Store. We've received a few tips on this particular version plus our own Sam Sabri has gotten hooked on it. You are given a grid with a pair of "2"s that you must combine. As you swipe around to join these numbers, more numbers appear on the grid. When two tiles with the same number touch, they merge into one tile with the new sum value. You continue to merge the tiles until you reach the value of 2048. 2048 is an addictive, puzzling game that is available for Windows Phone 8 and 7.x devices. (Store Link)
Angry Birds Go! (free): While all the Angry Birds collection of games has a certain level of appeal, Angry Birds Go! steps out of the game's comfort zone, removes the birds from the slingshot and places them behind the wheel of a race car. Some of the Pigs are available to race as well. Angry Birds Go! has five worlds to race through, each with four types of challenges and boss races that will unlock new characters to race. The one downside to the game may be the abundance of in-app purchase opportunities. Regardless, Angry Birds Go! is an entertaining game for Windows Phone 8 devices (not available for low-memory devices). (Store Link)
Jetpack Joyride (free): This Xbox LIVE gaming title has you playing the role of Barry Steakfries who has to navigate through a wide assortment of dangers in this endless runner game. To keep everything interesting, Jetpack Joyride has mission objectives to conquer and several customizations that you can purchase with the coins you collect during game play. Jetpack Joyride is available for Windows Phone 8 (which includes low-memory devices). (Store Link)
SongArc (free): If you like rhythm and music games, SongArc is one of (if not the) best options available for Windows Phone 8 and 7.x devices. Game play is simple to pick up and you can use music files from your Windows Phone or from an online collection. You play the song and tap the screen at key points when the notes (colored shapes) cross a barrier on the screen. The game has a Guitar Hero feel to it but a lot more visual. (Store Link)
Star Wars: Tiny Death Star (free): Ever dream of managing your own Death Star? If so, check out Star Wars: Tiny Death Star. It is a time management game where you manage and expand your own little globe of destruction. You have to make sure all the residents are happy, the shops are prosperous and the Emperor is pleased with your progress. While it may not be your typical fast-pace Star Wars action game, Star Wars: Tiny Death Star is an entertaining, challenging gaming option for Windows Phone 8 (including those low-memory devices). (Store Link)
Subway Surfers (free): Endless runner games have become rather popular in the Windows Phone Store. They are easy to play but a challenge to master. Subway Surfers has you helping a cast of characters escape from a grumpy Subway Inspector and his dog. You duck, dodge and jump through various obstacles to stay a step ahead of the Inspector and collect coins along the way that can be used in the games store to unlock characters, costumes and power-ups. With challenging game play and fantastic graphics, Subway Surfers is a prime addition to our Windows Phone gaming library. Please note, while available for Windows Phone 8 it is not available for low-memory devices. (Store Link)
QONQR (free): QONQR (pronounced conquer) is a location based, massively multi-player online game for Windows Phone 8 and 7.x devices. The game has you playing on a global map that has been divided into grids. You choose an allegiance with one of three factions and build up your armies to conquer and control as many grids in your area as possible. All the while, other players in your area are trying to do the same. The game includes over 3 million battle zones that span 250 countries and can be rather addictive. (Store Link)
Wordament (free): Wordament is an addictive word game that is available for both Windows Phone 8 and 7.x devices. The game is a boggle-styled puzzle where you have to connect adjacent letters to create words from. Wordament is also a real-time continuous word tournament where you compete against online players to see who can discover the most words from the same collection of letters. Wordament is an Xbox Windows Phone game with plenty of achievements to pursue. The game can be rather addicting and a great way to pass the time with. (Store Link)
All the titles in this week's roundup are well designed, challenging and often addictive gaming options for your Windows Phone. Some you may have a hard time putting down. If you are still in the hunt for a new game for Windows Phone, any of these titles should make your short list.
Again, if you have a top Windows Phone game that you would like to recommend, feel free to sound off in the comments below.
George is the Reviews Editor at Windows Central, concentrating on Windows 10 PC and Mobile apps. He's been a supporter of the platform since the days of Windows CE and uses his current Windows 10 Mobile phone daily to keep up with life and enjoy a game during down time.
Waiting for 8.1 so that it can be installed in SD card.

Yea, me too, Now we just need a high end phone on Verizon that has SD :/

Good recommendations. Let's not forget Skulls of the Shogun, Crimson Dragon, and the geoDefense games.

Also check Raining Blobs, unique, super addictive and challenging, tetris-like, puzzle game! http://www.windowsphone.com/s?appid=2ca1825a-c015-4c08-bd20-c228cb6c4654 https://vine.co/u/1053031320592302080

Don't forget Burn the Rope. I actually don't know if it runs on WP8 devices (I played it way back on my HTC Trophy), but it's really fun and is pretty unique, especially when you get tired of playing with the touch screen constantly.

It does! Playing it since launch!

Join me in Call of Arena. Fun game. You can even plunder(attack your friends and get their resources) also cross platform :) with alliance war also :) every saturday IGN: biribiri

How do you hold on enemy attack before in B1 playing Halo Spartan. Keep getting blown to bits before I even think of anything!

Appreciate the list, Thanks!

WP seriously needs more quality games. In comparison to iOS the gaming aspect is just ridiculously poor.

Agreed, outside of the board game conversions there is pretty much nothing I have found very compelling to play

Pixel Gun 3D, Modern Combat 4, N.O.V.A. 3, Star Wars: Assault Team, Jetpack Joyride, basically any RPG game, and a lot more. How could you not like any of these games?

I really don't like gaming on small screens, but even I have found some games that I really enjoy on WP. Specifically, Final Fantasy, Mahjong, Doom & Destiny, Wizard's Choice, and of course old Nintendo ROMs. Seriously Nintendo... give up on mobile and release programs for other platforms. We will gladly throw money at you for this!

I disagree. There are only two games that existed on iOS and Android that I can't get on WP. With that said, there are more great games on WP that what I can keep up with.

Yes Android and iOS have more games but WP collection is definitely not "poor". We have some good games here. And how can you forget the beautiful lag free buttery smooth performance of WP OS. That alone is enough to keep me away from Android. And the live tiles keeps me away from iOS.
Games have been trickling in. We sure need to be on par with the others, but the situation is not bad enough to get me off of WP. That said, I can't wait for WP8.1 to show up next week.

C'mon, iOS has tons of great games. WP library is shallow in comparison. Infinity Blade, Bastion, Year Walk, Carmageddon, Dead Trigger, Warhammer Quest, Kingdom Rush, Scribblenauts Remix, Orc: Vengeance, Crazy Taxi, Pitfall, Another World 20th Anniversary, Superbrothers: Sword and Sorcery EP, Walking Dead: The Game, Dead Space, Plants Vs. Zombies 2, Ronin, The Room, Limbo and many, many more. iOS is the main mobile gaming platform.

Out of those you mentioned, 3 are my top picks up:
Dead Trigger, PvZ 2 and Infinity Blade!!! I'll be damned if they (ever) come

Go back to playing then. Never mind us here in WPC.

Don't get me wrong, I love WP, but as a avid gamer and Xbox fan since the first console I would love to have tons of Xbox Live supported games. Let's hope that in the future things start to get a lot better when it comes to mobile gaming.

Wp fans must be really bored for this article to come up. Il check this back after getting wp 8.1

Minon rush is the best but gameloft havent updated them

You forgot Zombie Tsunami, it's really nice game.

I love Zombie Tsunami, beating my friend's score over FB is so fun! :3

Does anyone know the name/brand of the phone's cover in the photo? I've been looking everywhere for one where only the corners are covered to show the sides of the 925, but I can't find it.

It is Nokia's charging cover for the Lumia 1020. Nokia does offer a similar cover for the 925.

Forgetting modern combat,asphalt 7/8,FIFA !!! And btw guys when will the game Real racing 3 published by EA come on wp8 ???

I have been hooked on Zombie Tsunami. Great graphics, fun and challenging. Great for a quick play session.

Take a look at Raining Blobs, it is a super addictive and challenging, tetris-like, puzzle game! http://www.windowsphone.com/s?appid=2ca1825a-c015-4c08-bd20-c228cb6c4654 https://vine.co/u/1053031320592302080

I'm going to check out Rayman Fiesta Run and Level 22. I just found 2048 yesterday and have been playing it pretty much nonstop.

I LOVE QONQR! woo. Okay sorry. That's out now.

Way, way, way to much time spent Qonqring.

My favorites not mentioned above: Hill Climb Racing Angry Birds Star Wars / Rio Strike a Can Breeze Contre Jour Kingdoms and Lords Adventure Town Asphalt 8 Cold Space Crime Inc My Country Paper Flight Academy Spartan Runner Penguin The Machine Where's my Mickey/Perry/Water Flappy Bird Archer Demon Defense Logo Quiz Flow Free Plants vs Zombies Six Guns Alchemy

I have played 80% the game you have written and i can confirmed that they are some of the best i have played(please excluded flappy bird :p)

A list loses its credibility when a logo quiz that's been cloned by a zillion developers makes the cut

tileUp is my version of 2048. It is really well made for the WP platform. http://www.windowsphone.com/en-us/store/app/tileup/bc7475c2-81d2-4ba3-ac...

The only game remaining on my phone. Every other game gets deleted due to boredom.

I prefer alphajax, but same principle

WP has good quality games mostly from microsoft studios. Halo,Hexic,wordament etc. Need kabam,king.com and just the trending games to be ported to WP. We dknt need any fart games on WP from developers who never update their game and just leave the final submission with bugs

Can any one tell me y WP games has more MB than Android games ??

My favourite has been Dungeon hunter 4. The best MMORPG in windows phone store. Been playing it everyday.

1. Mirror's Edge
2. Shoot 1UP
3. Carcassonne
4. Pac-Man CE DX
5. Rocket Riot

I want tentacles on WP8... :(

Personally I'm into 3D shooters and Racing. I will not be happy till we have Real Racing 3. Oh and a side note, those into F1, the app F1.com just got rebranded "Formula DRS" due to patent infringements. But its back on the store. http://www.windowsphone.com/en-gb/store/app/formula-drs/e2239993-211c-436a-a76f-e18697733eeb

Wish Dodonpachi Maximum would come back... That was my all time favorite for WP. Other Shumps just don't live up to that on WP. On another note Asphalt 8 should be there. Best free racer, and awesome graphics.

It seems that the prices for Rayman Fiesta Run and Halo are incorrect in this postings. The links show they are $2.99 and $4.99 respectively. I'll wait until Fiesta Run drops down in prices before I buy it, plus I still have Jungle Run to finish.

I just can't get into rpgs, racing, and 3d shooters on a mobile screen. Between those and micro transaction games it doesn't leave a lot left. I usually just end up browsing the marketplace instead of actually buying something.

For my Lumia 525, I've got myself Dungeon Hunter 4, Kingdoms & Lords, and Mirror's Edge. All are great games. And another that must be included for gamers is Asphalt 8. I like The Sims Free Play too, but it requires an internet connection and I haven't got any SIM yet. :( And with the WP 8 version (waiting for WP 8.1), the first 3 games are enough for me. :D

Chimpact is a superb game that not a lot of people seem to know about. Give it a try, its great and takes ages to complete, Brill graphics too.

Totally agree. I picked up Chimpact on sale, but the gameplay is awesome and well worth $1.99. I still haven't finished, but I try to play at least one level a day - gotta get all the gems!

asphalt 8 and 7 are also awesome

7 is 1.99 is US right now

Bullshit. WP doesn't even have this many apps, let alone the games.

2048 was addictive, I reach 2048 once and immediately removed it. LOL.

Don't forget World at Arms, the best strategy game out there. And best of all, free-to-play. Without money you can keep up with those who pay. Fair and consistent.

If any developers see this message, please make a n64 emulator! I'm willing to spend cash for it. I mean, there's a playstation emulator so I'm sure n64 can run smoothly if a playstation emulator can

But seriously, Level22 is a 23mb game and it requires 1GB or ram?
Dear developer, you are losing a lot of revenue by not optimizing it for 512 Mb ram

Level 22 is a great game, just wish it was a bit longer.

I like that spartan runner game.

Who knows the date for update preview 8.1

Bango!
A new challenging board game .
Can you beat computer on first attempt?
For windows phone 8:
http://www.windowsphone.com/s?appid=ba17eace-87bc-49a3-8f38-dd720a913ec6
Windows Central Newsletter
Get the best of Windows Central in in your inbox, every day!
Thank you for signing up to Windows Central. You will receive a verification email shortly.
There was a problem. Please refresh the page and try again.