Top Windows Phone photography apps from Supporting Computers (a.k.a. the Fhotoroom guys)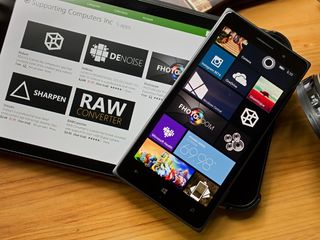 Windows Phone photography has grown by leaps and bounds since the early days of first generation phones like the Samsung Focus and its 5MP camera. While improvements with the hardware end of photography has exploded, software developers have kept pace nicely with this growth offering improvements in camera apps and editing software.
Thomas Lock and Supporting Computers have been in the middle of the photography movement and has built up a small but impressive collection of Windows Phone and Windows 8 photography apps. The most notable title in their portfolio is Fhotoroom, an app that combines photo editing and picture taking with a social network.
We've followed Thomas' success over the years and it really is impressive the amount of attention he gives these apps. Supporting Computers strives to knock it out of the park with the technical aspects of bringing the most out of our pictures. For this week's Windows Central Roundup, we've pulled together a few of Supporting Computers apps to spotlight. Most are universal and some may be more niche oriented, but all can help you with your photo processing skills.
If you have tried any of Supporting Computer's apps, let us know what you think of them in the comments below. Also, remember to rate these apps in the Windows and Windows Phone Store to give the developer a little feedback on their work.
Reduce
As our Windows Phone cameras improve the image files get a little larger and memory space may be stretched thin. Luckily, we do have the option to send images to OneDrive to free up memory but the Windows Phone app Reduce hopes to give you another option.
Reduce is a photo file compression app that shrinks your JPEG files without jeopardizing image quality. Compression can be up to 80% smaller, allowing you to free up a good amount of storage space or reduce the bandwidth needed for sharing photos.
The interface is simple and straightforward. Just tap the big "Choose" button to select the images you need reduced and the image is whisked off to a server for reduction. A folder is created in your Windows Phone Pictures Hub where the reduced files are sent and the temporary files on the server are automatically deleted shortly after the process is complete. The process is relatively quick but is dependent on the original file size and the number of files you choose to reduce at once.
The Windows Phone version worked rather nicely, not skipping a beat once. There is a Windows 8 version that is a little more problematic but the developer is working on ironing out things.
Reduce is a free app for both Windows Phone and Windows 8 devices and comes with 100 free reductions. Once you've reduced your first 100 images, there are reduction packs available through in-app purchase in 300, 1,000 and 2,000 bundles ($.99 to $1.99). This cost is needed to cover the cost of the server, which is necessary due to file system security issues and other variables that make it impractical to process the files from the device.
Reduce comes across as a potentially handy app in situations where storage space is limited, such as what we have on Windows Phones and Windows 8 tablets. There are other options available but when you need the files locally stored, Reduce can help reduce the burden these files have on your storage space.
Fhotoroom
We've watched Fhotoroom develop from a fledgling Windows Phone photography app to one of the best (if not the best) photo editing app available. The app combines a photo sharing network, a camera app and a hefty photo editor into one package. While all three elements are available, they aren't joined at the hip. In other words, you can use Fhotoroom solely for its editor and never touch the social network or camera features.
To participate in the social networking features, you will need to register with Fhotoroom (free) and the features you'll have access to include:
Follow, Like, Comment and Share Photos with Fhotoroom's community of photographers.
Share and learn photo filter recipes.
Share your photos to Facebook, Flickr and Twitter
Create lockscreens from photos shared on the network
The camera app is somewhere in between the native Microsoft camera app and the Lumia camera app. You do have a nice point exposure value feature to let you set the exposure of your image to a specific point in your viewfinder. Additional features include tap to capture, tap to focus, macro/scenic/portrait scenes, self-timer and the camera app can be pinned to your Start Screen for quick access.
Personally, I think the heart and soul of Fhotoroom rests with its photo editor. It includes the basic editing features (cropping and exposure adjustments) as well as a ton of effects filters and pro-styled editing features. Just scratching the surface the editor's features include:
Editing tools include crop, straighten, exposure, brightness, contrast, hue, saturation, sharpen, vignette, grain, black point, white point, fade, temperature, tint, classic vogue, highlights, shadows, H tint, S tint and opacity tools.
39 Preset Filters
Pro tools include Tilt Shift, Add Text, HDR conversion, Tiny Planets, Denoise, Lens Correction, Chromatic Aberration, Pano Rotate, Hue Splash, Double Exposure, Re-Size, Mirror Effect and 41 Texture, Light Effect and Vignette applications.
Over 30 frames with color choices
The editor supports images up to 22MP in size and most, if not all, of the tools are interactive to provide the highest level of control and accuracy. A history of your edits is available with the ability to undo/redo your edits. Edited photos can be saved to your Windows Phone, shared to the Fhotoroom network, universally shared which includes OneDrive support.
Bottom line, Fhotoroom is a solid photography app that is available for Windows Phone and Windows 8 devices. It is an excellent choice for tablets where you may not have the storage space for a larger editor such as Photoshop Elements. It's perfect for quick edits or when you feel like digging a little deeper into things.
The core version of Fhotoroom is a free app in both the Windows Phone and Windows Store. You'll find several options for in-app purchases and a few free add-ons in Fhotoroom's store. The complete collection of add-ons will run you $5.99 but you can choose which add-ons you want to save a little. Fhotoroom is a universal app so whatever you pick up on the Windows Phone end is available on the Windows 8 end of things.
RAW Converter
RAW Converter is the only app in this week's roundup that is only available for Windows 8 devices. Being designed for Windows 10, it will make it to our Windows Phone eventually.
RAW Converter may not appeal to the casual photographer but those who shoot images in RAW format it should come in handy. For those not familiar, JPEG images receive post-processing in the camera before it is saved to your memory card. In comparison, a RAW image file lacks any post production adjustments performed by your camera. Think of it as a film negative for the digital world. The RAWConverter allows you to post process these RAW files and save them as a printable, shareable, viewable format.
The app has support for over RAW file formats from over 600 digital camera models, allows you adjust the image appearance and export it to JPEG, TIFF or PNG formats for printing or electronic use. RAW Converter also has support for FRJPEG service to compress your image files by 10-40% smaller, which can help save on storage space and upload bandwidth.
The RAW file formats supported include .3RF, .DNG, .CR2, .CRW, .ERF, .RAF, .KDC, .DCR, .MDC, .MEF, .MOS, .MRW, .NEF, .ORF, .RW2, .RAW, .PEF, .X3F, .SR2, .SRF, .SRW, .ARW and .IIQ. Manufacturers supported include Canon, Leica, Fuji, Hasselblad, Kodak, Minolta, Sigma, Sony, Panasonic, Olympus, Pentax, Nikon, Nokia and more.
Adjustment tools include brightness, contrast, saturation, exposure, highlights, shadows, black point, white point and hue. While you cannot crop an image, you can rotate and flip it.
You also have the ability to view the metadata information from the file, adjust/view the temperature/tint histogram and use a wizard to automatically set the adjustments. RAW files can be exported as JPEG, PNG or TIFF files and you have the ability to set the quality of the exported JPEG file.
It would be nice if RAWConverter had the option to automatically export the converted file to Fhotoroom for further editing but I have a feeling that feature is somewhere on Supporting Computer's To-Do list. RAWConverter may not appeal to everyone, but if you are looking for a stand alone RAW converter, it does a nice job of things.
Download RAWConverter for Windows 8 (Trial / $4.99)
Fhotolens
Where Fhotoroom is a photo editor, camera app and social network rolled under one umbrella, Fhotolens is a photo editor, camera app and photo manager.
The photo editor is scaled back a bit, the camera app has a little more beef about it and the storage management allows you to sort images every which way but loose. Fhotolens can launch directly to either the camera or editor (you can choose in the settings). The editor begins with a thumbnail display of your images. The display has over 260 sorting options that include sorting by name, date, size, image style and more.
Tapping on an image will send you to the photo editor that has a similar layout to Fhotoroom, just fewer tools. You have the customary adjustment tools such as exposure, contrast, cropping, saturation and temperature. You do have three pre-set filters and can create/save custom pre-sets. There is also an HDR Tone Mapping editor available but it is only available through the camera viewfinder.
Speaking of which, camera features include:
Point EV
HDR capture
Front/Rear camera support
Pinch to Zoom
Manual controls for shutter speed, ISO and EV compensation
Manual 10-24mm zoom
On-screen grid lines
There is an on-screen shutter button as well as support for the physical shutter button (should your Windows Phone have one) and tap to capture an image.
Access to Fhotolens' settings is a little tricky in that you can only access the options from the editing screen or camera viewfinder. I could not find a way to access the settings from the album view. I also found a few stability issues when using the HDR features. Nothing that would be a deal breaker but noticeable.
Images edited or captured with Fhotolens can be shared through your typical sharing methods that includes OneDrive support.
Personally, I think Fhotoroom is the better of the two but I can see the appeal Fhotolens has. The nice thing about Fhotolens is that there is a free trial version available so you can try both before making the choice. The full version of Fhotolens is currently running $.99.
Download Fhotolens for Windows Phone (Trial / $.99)
Get the Windows Central Newsletter
All the latest news, reviews, and guides for Windows and Xbox diehards.
George is the Reviews Editor at Windows Central, concentrating on Windows 10 PC and Mobile apps. He's been a supporter of the platform since the days of Windows CE and uses his current Windows 10 Mobile phone daily to keep up with life and enjoy a game during down time.