Keep on top of Windows Phone Store highlights with AppSpotlights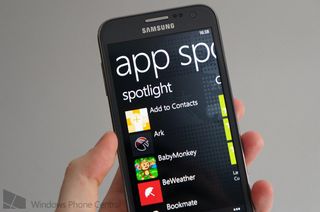 AppSpotlights is an interesting app for Windows Phone. Why, you ask? Because it enables both consumers and developers to remain up-to-date with content on the Windows Phone Store, which is featured in the store spotlights. There are a number of features that cater for the needs of both consumers and developers, which makes the app even more useful. If you're into keeping track of highly-rated content on the store, or wish to be notified as to when your own work is featured, AppSpotlights is definitely worth checking out.
According to the app description on the store, 121 markets are supported and access to more than 2,400 apps is available on a daily basis. Because these apps are specifically chosen for the high reviews consumers leave on the store, those who use AppSpotlights can be more confident when purchasing apps. Three charts are available for users to consult to calculate the most spotlighted apps on the Windows Phone platform. Each app has a record that details when the app was first and last featured, as well as the number of days, appearances and markets.
The app listings also contain a link to the store so users can easily make the purchase (or access the free download) without launching the Store app and searching manually. But what about developers? As noted above, AppSpotlights also sports functionality for developers too:
Be notified when apps are in the spotlights in any markets. Share the news with potential buyers on your favorite social networks.
Obtain a detailed history when your apps were in the spotlight in each market.
Analyze the impact on your downloads when your apps are in the spotlight.
Track the the visibility of your competitors.
Other features that are included in this app include Toast and Live Tile notifications, lock screen integration, as well as fast loading and resume. It's noted that spotlight statistics have been calculated since February 17th, 2013. We've also been provided with a list of apps that have enjoyed the most spotlights, here's a handful:
You can download App Spotlights for $1.99 from the Windows Phone Store (listed for Windows Phone 8 only). The app is reportedly also on sale until April 17th with 33 percent off.
Rich Edmonds is Senior Editor of PC hardware at Windows Central, covering everything related to PC components and NAS. He's been involved in technology for more than a decade and knows a thing or two about the magic inside a PC chassis. You can follow him over on Twitter at @RichEdmonds.
It has the flag of my country

What's wrong Nokia App Highlights?

It's not available to non-Nokia users.

Hi,
Nokia App Highlights display the app chosen by Nokia.
App Spotlights use the spotlighted apps chosen by Microsoft.
ArchieCoder

I'll stick with Nokia app highlights for now

Nokia app highlights and App Spotlights serve two different purposes. One is for showing you what Nokia feels is worthy of your attention. The other is for letting you know what apps Microsoft chose to have in the spotlight for a given period of time. A spotlight is when an app is chosen to be featured in the various premium spots in the app store.
As an app developer, I find App Spotlights to be very useful as it lets me know when and where my apps were featured in the app store. For most people, the main interest will be in looking at the charts to find out which apps are chosen the most by Microsoft to be in the spotlight. You can use the charts as a handy "must-have" app list that will evolve over time. And apparently, you don't need to buy the app to use that functionality, it's right there in the trial.

This app is golden.
For developers, it's extremely interesting to see where your game has been featured and when. It also allows you to gauge different markets a bit by comparing the spotlight information (which you get from this app) to actual sales numbers (which can be seen in Microsoft's app or in the developer portal). Obviously the US spotlights are the most valuable or among the most valuable, but with the information this app provides you get to zero in pretty accurately on the value of every country's spotlight.

For journalists or general public interested in this sort of thing, it's also interesting to look at the top list of spotlights. It pretty much tells you which apps have been promoted heavily by Microsoft. For example, the game with most spotlights is Chimpact, followed by Where's My Water and Crimson Dragon: Side Story. Our very own King Oddball is the 13th most spotlighted game.
There's also a complete history of spotlights of all apps, which is great (since February 17th though, but the very earliest days probably aren't of great importance going forward).
I really wouldn't mind this functionality to be included in Microsoft's own Dev Center app with all the sales data. It'd be cool to automatically see spotlights per sold units ratios, for example.
Windows Central Newsletter
Get the best of Windows Central in in your inbox, every day!
Thank you for signing up to Windows Central. You will receive a verification email shortly.
There was a problem. Please refresh the page and try again.