Toshiba gives Nexus 7 some competition with 7-inch Encore slate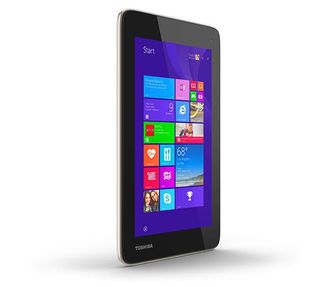 At Computex, Toshiba and Microsoft jointly introduced the first 7-inch consumer tablet to run Windows 8.1, making it the smallest size Windows slate to date. This follows on the heels of Toshiba's 8-inch Encore 2 tablet announcement.
In its blog, Microsoft states that the tablet is "co-developed by Microsoft and Toshiba and in close collaboration with Intel, Goodix and AMI;" the device should be coming at a competitive "value-driven price point" in the coming months. An exact release date was not given.
The 7-inch Encore will likely compete in the same space as Google's Nexus 7, a popular and compact 7-inch Android tablet that comes in at an affordable $200 price point. Given that Toshiba is already pricing its 8-inch Encore 2 at $200, the Encore 7 tablet may come in under $200.
Microsoft had announced at Build that it would remove Windows' licensing costs to devices with screen sizes under 9 inches. This would help facilitate the Encore 7's lower price point.
In addition to the 7-inch Encore, Panasonic is also working on a 7-inch rugged Touchpad FZ-M1 tablet that runs Windows. That device is aimed at the industrial market and was showcased at CES earlier this year.
Source: Microsoft (opens in new tab)
Windows Central Newsletter
Get the best of Windows Central in your inbox, every day!
Chuong's passion for gadgets began with the humble PDA. Since then, he has covered a range of consumer and enterprise devices, raning from smartphones to tablets, laptops to desktops and everything in between for publications like Pocketnow, Digital Trends, Wareable, Paste Magazine, and TechRadar in the past before joining the awesome team at Windows Central. Based in the San Francisco Bay Area, when not working, he likes exploring the diverse and eclectic food scene, taking short jaunts to wine country, soaking in the sun along California's coast, consuming news, and finding new hiking trails.
Excellent, always nice to see some competition for Google.

This is probably the reason that MS decided to pull Surface Mini at the last minute. There is no apparent advantages that Surface Mini can provide more than Encore 7. I doubt that MS can afford to sell Surface Mini at a price less than $200. If Encore 7 weighs less than 0.7 lb and supports pen, I would get one to replace my Dell venue 8 Pro which is a little heavy to hold with single hand for a long period of time.

Yeah but you knew that a surface mini would have looked a lot nicer. The surface designs and build are sexy looking.

Nicer? May be. Sexy? Don't know. It all depends. :-) MS has been co-developing with Toshiba on the Encore 7. So it makes no sense to have MS to release another similar device. Encore 7 could be priced at $149 while Surface Mini would most likely be priced at around $249. It is going to be a tough sell.

Not really if the Surface Mini is 3:2 with the same pen as the Surface Pro 3. I think the problem is that they want it to ship with Gemini, not Desktop Office. So it will wait for Threshold and be realised without the Desktop as a full RT tablet. But until Gemini and the likely advantages it will offer for presentation and creation with the pen, there's no reason to launch it. Let Toshiba take center stage and hit Android where it hurts.

Windows 8 is a complete space hog. I owned two 32gb tablets, one with RT (not anymore) and the other with Windows 8.1 (still have it). Both consumed almost all the space and it's not about the apps. A big chunk is in the WinSxS folder, whereas the next in space-consumption are other Windows files, and files from MS programs (non-Windows). Very little is consumed by apps or my user data (probably 5 Gb and that's it). Both tablets ended up with less than 3 gb of free space after a few months (< 3) of use. I tried resetting, but it didn't make too much of a difference. I don't think I have installed more than 30 apps and they do not consume too much space. I don't even have a lot of personal files in the tablet. MOST OF IT IS CONSUMED BY THE FAT BOY WINDOWS. On top of that, these geniuses at Microsoft eliminated a hack to install apps in the microSD card with Windows 8.1. So, at this point I have a rather useless tablet. I use my Windows 8.1 tablet mostly to check the weather in the morning and my email. Some really light web browsing and for reading news. I have also owned Android 32gb tablets and the difference in space consumption is enormous. After installing dozens or perhaps 100 hundred apps and having pictures, documents, videos, etc., and still manage to have 6 Gb free of space. Android simply wipes the floor with Windows 8.1 and RT in terms of space utilization. Note: to apologizing trolls: I don't give a dime about your fetishes of worshipping MS. It's users like me who push for improvements the one who make the platform move forward, not you. You are just lame fanboys who will deny Windows have any problem or will try to justify mediocrity

Sound and fury signifying nothing.

Keep telling the truth. They think it's hell.

Dude, chill out...... It's not that big of a deal. Does windows take up more space than Android, yes..... Is it an operating system that can run full x86 software, not just mobile apps. It's a given that it's going to take up more space. You can also remove the recovery partition to free up a few gigs, or use cloud storage.

I have Surface RT with 32GB and I still have plenty of 12GB+ space left after a year. Not sure what is filling up your disk.

The OS on this is Win 8 with bing which is a special low footprint version for devices with just 16gb disk.

At the risk of sounding like a fanboy troll, I haven't noticed this issue on my surface rt, DVP8, or any of my other W8 devices. But ill agree that MS needs to release an update fast to let users install apps to SD card. They have already done it for phone so it should be easy to port to windows 8.

Agreed. I was wanting the Mini, not the Pro 3. A Surface Mini has the kickstand. That makes it different enough, plus a type/touch cover. I think the game changer would be offering a 64GB Surface Mini at $249 to undercut the othet guys, plus a free year of Skype Premium, Xbox Music and 100GB OneDrive space.

Dan has said that there was no kickstand on the mini. But, the keyboard helps it stand up.

I don't think that Microsoft is looking to compete with a low end device like this with the Surface Mini. There is room for a sub $200 device as well as something priced closer to $300 if there is some differentiation like higher resolution, digitizer with pen suport, etc. I subscribe to the speculation that Microsoft may be waiting for a touch version of office that would be more appropriate on a device 8" and below to release a Surface Mini.

Exactly. The Surface brand is a premium line as we've seen already. SP3 is not meant to compete with low to mid range devices so it would be logical to assume that the SM would continue this. Perhaps there will be a SP (RT) and SPM (8.1 w/keyboard or pen).

What's the screen resolution?

I have the same question... If it's higher than the 1280x800 crap they've been putting in all these sub-10" Windows 8.1 tablets I might just buy this and my Surface Pro 3

But the Surface Pro 3 is the tablet that can replace your laptop! Why on earth would you want to do that??!11?1?

Because some times you just need something that's just for web searches and leisure.

1280x800 is hardly crap, at least not on the Venue 8 Pro. Vibrant display that looks good, whether for Modern, watching movies, or using the desktop. 10" needs 1080p at least. 8" is fine with 1280x800 IPS.

Not for me. I by no means have perfect vision, and yet at normal tablet viewing distance (around 12 inches) I can clearly see the small pixel lines in my full HD Nexus 7 tablet. Any tablet with a resolution less than that annoys me to no end. Posted via Windows Phone Central App

It's just that once you've gone to a higher resolution/dpi, it's really hard to go back.

I think I read on Engadget that the screen resolution is 1024 x 600. If that's true then this won't be competing with the Nexus 7 in my opinion. I was really hoping for a Surface Mini with 1080 resolution. My main use for 7 inch tablets is reading (books, web and comics) and 1024 x 600 is not ideal. I understand the desire for a cheaper tablet but I'll pass. I have the Thinkpad 8 with 1080 resolution and reading on it is great. I'll gladly pay twice as much for better specs.

Even though I like it... Any thing under 8inch should be RT only...

Yes, coz running desktop app in under 8inch screen is pain. No one will do it unless he/she has small finger.

So don't run the desktop? Having the option isn't hurting those who choose not to exercise it. Also, perception of full windows 8 is simply better than RT, whether or not its warranted.

Why? It has no real benefits other than sandboxing you in a way that could be done with heavy UAC. Its not more battery efficient. And windows 8.1 still runs everything RT runs.

And if it has some kind of display out (mini hdmi etc) or something like Miracast, it can be used with a larger screen anyway.

Windows 8.1 has miracast support.

I think every additional features will take precious space and battery life out of the tablet

I mean you're welcome to say things like that, but the fact of the matter is Intel Atom has been shown to be just as efficient as modern ARM platforms. And Cherry Trail and broadwell are due out in the next few months. The only argument I still see for RT is storage, but with SD cards making a comeback even that is a little rough.

I think there should be like an option to hide it or not. The user can still use Miracast, a Bluetooth mouse and keyboard, and work. I know it seems complex but it is very much possible.

I do this with my venue 8 pro , Miracast works fine and the tab is plenty capable of handling office all my business apps

It is not practical to use Desktop on the 7" tablet. RT is ideal for the small tablet. It is clean and secure. I only hope it would support Interactive Live Tiles in the future. I will use 7" tablet primarily to read and browse while holding it with single hand. MS Reader would be an ideal app to be used on this tablet.

It runs daw music software. Musicians dig full windows and small touch devices. My encore rocks. Full digital sound processing when usb asio driver attached.

I highly disagree. Windows RT is garbage. There are literally no disadvantages to running full Windows 8.1 on an 8" tablet. My Dell Venue 8 Pro running Windows 8.1 runs very fast and has a 10 second boot up time from a cold start. If you want to only use RT apps you can, but the hundreds of advantages of running full Windows include: 1.) Running full Internet Explorer and Chrome with plugin support such as Flash (Flash runs very smoothly on the Venue), Lastpass, and Ad Blocker. 2.) Full Windows USB periphal support, including gamepads, mouse, keyboards and everything else a normal desktop can support. 3.) Full office with wireless printing support. 4.) True persistant background apps and multi tasking. I never use metro versions of Splashtop for instance since every time I task away from it it disconnects me and any audio I may be listening to. Plus the quality of the desktop version is just better. 5.) Access to apps to only exist on full windows, such as Steam with full Home Streaming support (works like a free version of NVidia Shield for all your games in Steam). 6.) Acess to XBMC (which is touch friendly) and all the other great media players only available in full windows which can play any video format under the sun.

Nice to see more MS stuff!

Off-topic: New Nokia clip on Youtube : http://youtu.be/qblgqUvfYZg You can see most of Nokia's apps got an icon revamp AND we seem to have new Office Apps for Word and Excel. Uuuu. Office for WP is coming soon.

Interesting. Too much creative license could also be the case though.

Microsoft should are this commercial! https://www.youtube.com/watch?v=4qBHjzpci0E and it will take away all the peoples fears abouth the appgapp!

Is this real? I just noticed that the mail app icon in the app list showed the number of unread mails. Is that coming?

Hold on, full Window 8 then? Hmm.. appealing, at the same time, is there much actual benefit over RT at this size? In any case, very nice price point.

Issue is more of the perception of the market as opposed to the platform and its functionality

Yup, tend to agree. There are some browser plug ins (if I recall - had a Dell RT but stopped working) that woudl be great to get to RT too though.

If it has video out, there is

This show belongs to Intel, leave it be

Always love seeing more devices in this market segment, but i just couldn't go that small. I absolutely love my 8" Windows tablet, but that's just about the limit to still have something with a workable desktop mode screen size IMO. Any smaller and I think you're giving up a good deal of usefulness unless you plan to dock it on a regular basis.

Do we have to pay for Microsoft Office or will that be part of the package

In that size, it comes with it. Once you hit 10" it's a different story.

Always cool to have more devices. But man, if you are going to make devices with such small screens, they gotta get the bezel size down! They do it so well in phones, why do tablets have to have such fat bezels?

Form factor. Posted via Windows Phone Central App

I think because it's a pain to hold tablets with tiny bezels.

Exactly. Phone were made to be slim as possible for holding on the go. Tablets it's a wider device a and takes more to hold so you don't want you hand cover screen space

Why do they keep using the default start screen layout in their ads. And when is Windows 8 getting transparent tiles?

Why would Windows 8 need transparent tiles? Would be ugly as sin.

Start to smell shit. Just got serious. Posted via Windows Phone Central App

This is why there was no surface mini announcement. It would be directly competing with their partners.

So is this where Microsoft is actually starting to undercut Android tabs when it comes to price? Licensing fees for Android have to cost something. Windows 8.1? Free!

No cost but they need to license Google services in order to have access to play store. Licensing Google services is where Google gets their money.

And then there's the patent licensing too. Microsoft's vast patent portfolio means they have patent coverage with the license and they don't have to pay to play with the ecosystem. That means Windows Phone and Windows 8 with no licensing feee (or reduced fees with the Bing version) are going to be better profit centers for OEMs than Android will be. I expect A LOT more WP handsets and Windows tablets to hit at lower costs. I also think it will help WP because the margins will be better for the OEM, but they can also be better for the carrier and/or the end user. If Samsung. HTC, etc can make more money on WP8 handsets, they will try to move the market in that direction. So if Samsung could make an extra $150M a quarter by shifting their Galaxy sales to WP over time, they will do it. The problem for Google is they have no ability to cut the patent fees since they don't hold the patents. So they could see their marketshare bleed over the next few years. The key is making Windows financially better for OEMs and carriers. Use your large patent portfolio and licensing agreements to indemnify at no cost other than tying into MS services. That means more OneDrive, more Office 365, and more people using Bing (which will help MS' advertizing sales there and allow them to gradually gain market on Google Ads). Google can't do much if OEMs lose faith in Android and Google and decide to do business with the company that can protect them from lawsuits, deliver the OS at no cost to them, and provide better help when updating software, etc. This is just MS' first shot. Threshold will be a massive push as Universal apps really take hold and the idea of your phone being your desktop as well takes hold (Intel Core M in a 6" phone. A phone when nothing is attacked, but it can be docked with KB and mouse attached and a monitor - then it becomes a desktop and the Desktop actually shows up. Android and iOS can't pull that off. Only Windows can.).

Android users aren't going to give up their Gmail and Google services and switch over to Bing/Outlook. Plus the Play Store alone is enough to keep them from switching.

I'm interested in something like this. Could fit in the big pockets of my mountain bike shorts (don't know if it has GPS or not, but would be nice). However, if they're striking for a cheap price point it might not actually be a whole lot smaller or lighter than an 8" W8 tablet. It'll be interesting to compare weight and bezel size.

Having full Win8.1 on it is crucial for me for 1 important reason: VPN Clients. Being outside the US, it is very easy to use one of the many true VPNs like HMA! Pro and watch Netflix, Hulu or simply some Youtube videos that are region bound.

$149 Video:
https://www.youtube.com/watch?v=Ch9BpfhTR8M

No HDMI. :( Looks like the desktop mode would be all but useless then. And Miracast is OK for streaming, but not for working in desktop. WAY too much lag.

Frankly, I rarely use my Venue 8 Pro in Desktop mode. I spend most all my time in Modern. And I have the Active Stylus, which works great on the Desktop (with mouse over ability).

Oh, I prefer modern UI too & pretty much use it exclusively. The problem with no HDMI though is that using the tablet (even in Modern UI mode) on any bigger screen with a keyboard/mouse is pretty much out. Its super nice to have at least the option to do so for those times when a tablet's screen is just too small to do certain things with. Turning a tablet into a "desktop" is personally one of the things that attracted me to W8. iPad & Android tabs can't really do that (or at least do it well). And Classic desktop mode would almost be unusable on a tablet of this size without HDMI ability. Given that the whole idea around Windows 8 being the "one device for all" mentality, it seems to me that HDMI should be more of a requirement for their tablets since that ties in with that idea. Luckilly there's some cheaper 8" 8.1 tablets that have the ability. Currently eyeing the Toshiba Encore & Acer W4.

Love Toshiba but the 8inch Emdoor Tablet at $100.00 with full Windows 8.1 that was announced is where ill be spending a few hundred. http://www.mobilegeeks.com/emdoor-em-i8080-100-tablet-windows-8-1-hands-...

I'd pay an extra $50-75 for that extra GB of RAM and possibly double the internal storage.

Meh....I don't think it will be a serious competitor.

Ok, you have my attention! As long as it isn't running Windows 8.1 RT I'm good. RT is a slightly better version of Windows ME for tablets.

RT is the ONLY way I'd get it.

You every try to navigate Spotify on an 8 inch tablet? It's hell.
I'd do RT all day on a tablet IF Spotify released a Metro app.

I have a Dell Venue Pro and I spend 90 percent of the time on the Metro side.

Would like RT features, but be able to run desktop apps. I don't want to use the desktop, just run the apps. Once/If the store gets all the apps I need, I won't need to use the desktop. Bit essentially my surfaced 2 is under used because of lack of apps. Microsoft needs to fix this somehow, if apps don't come, then through app virtualization or Citrix style published apps.

I've been wondering if I would like a mini tablet to complement my small lumia phone (for carrying convenience) and a Surface Pro 3 (for work - with a docking station). At this price, I will definately get a mini W8.1 tablet to leave laying around the house.

I'm not seeing the point. If the 8" tablet is already in line with the Nexus, and Microsoft is giving the price break for anything under 9".....This thing will have to sell for like $129. Otherwise, why not get the extra inch of screen real estate?

Why should it be $100 less than the Nexus 7?

Ouch. Adding to my theory that Microsoft could be considering phasing RT out.

Haven't they already said that WP and RT will converge? If that could happen within the next year then I wouldn't expect to see another RT device.

i think i'll be getting the 8inch encore or this when its available

No desire for bloated 8.1 Pro.

Bloated 8.1? Its way more optimized than 8.0. I find my tablet using less RAM and much smoother after updating. Anyway nice prices! I will definitely get one for killing time at work. :D

I think he meant to say he prefers8.1RT. Not that he wants pro 8.0

Just bought a Nexus 7 2nd Gen 32gb not long ago... But this is a must have it looks awesome. Wonder how much ram (2gb) and memory (32/64gb) this will have. Will it have a sd slot and hdmi slot? Front and rear facing cameras? If so I couldn't resist it!

With this announcement you would have to think windows RT is dead and rightly so why MS wanted 3 different Os i have no idea. I hope Ms just merge WRT with WP8 and be done with it.

No HDMI, no rear camera, and the screen looks washed out so I am guessing lower resolution... still a lot of room for improvement.

Looking like a fool taking pics with a tablet.

Never got that, phones have better cameras and yet some people insist in recording videos and taking pictures with a tablet...

There is the occasional use I have had in the lab with students, but I guess professional uses aren't a concern :)

I wonder if MSFT did a blue-stacks move but more stable and let you side-load android apps. It would just about moot the complains that the 150K+ apps in the store aren't enough.

This tablet running Blue Stacks for Android gaming would be a terrible experience.

Wow, what a tablet. Defintely worth the price tag. I love my Nexus 7 2nd Generation though only for major games thats not available on Windows yet.

YAY it is the useful tablet not nexus toybox!

It's Toughpad not Touchpad

With that horrible screen resolution? No. Posted via Windows Phone Central App

Looks like the same hardware as the Excite 7" Toshiba launched last week.. If so id say this is a $99-110 price range. No way its anywhere near $200.

It is not a good competitor if doesn't have a full HD screen. Once you have used a HD screen you can't go back to a 1280x800 screen. Posted via the WPC App for Android!