Toshiba introduces the world's first 4K laptops at CES 2014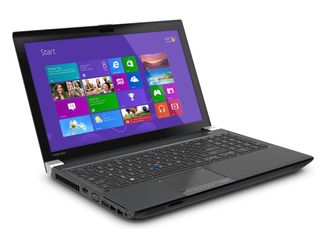 While 3D technology seemed to fall through relatively quickly, the 4K revolution may just be a real thing. This year at CES 2014, Toshiba introduced the world's first laptops with 4K resolution displays. The movement marks a huge milestone for fans of Ultra HD displays and promises to deliver the ultimate entertainment (and even work) solutions.
The first machine with the new 4K display is a slightly chunky Toshiba Tecra W50, but that is okay as this Tecra machine is not meant to be a light and super portable Ultrabook. The new Tecra W50 is a professional workstation aimed at those who might be working with graphic intensive applications such as Adobe Photoshop, Adobe After Effects, and AutoCAD programs. The unit showcases a beautiful 15 inch 4K display and backs its self up with professional NVIDIA Quadro graphics.
If you are simply looking for a machine to dazzle your eyes and don't care much for supreme power, then the second option from Toshiba might be the perfect machine for you. The new Toshiba Satelllite P50t will also feature a 4K display (the exact same one used in the Tecra W50) along with a thinner body and full touch screen support. The unit itself will be available mid-2014.
While we honestly didn't see Toshiba to be the company with the 4K display breakthrough, the introduction of such a high resolution display can truly make Windows 8 shine. It is true that the resolution can make it more difficult to work on the desktop, but when using the Windows 8 UI imagery is simply stunning.
No prices have been announced for either unit as of now, but we are going to guess that Toshiba will be charging a pretty penny for their "World First" 4K laptops.
For more information from CES 2014, stay tuned to our feeds and of course, we will work hard to get a review unit in hands later this year.
What do you think about 4K laptops – too much or candy for the eyes?
Source: Microsoft
Get the Windows Central Newsletter
All the latest news, reviews, and guides for Windows and Xbox diehards.