Toshiba's new Encore 2 Windows tablets come with small price tags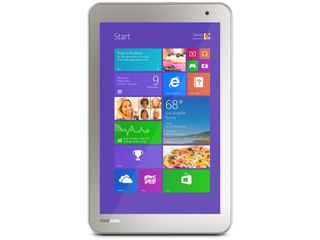 Toshiba has launched two new tablets in the Encore series - the 10-inch and 8-inch Encore 2. While both tablets share the same specs as last year's 8-inch Encore, they feature a slimmer design and a greatly reduced price.
If you weren't paying attention when Toshiba launched the original Encore, here's a quick look at the specs: the tablets feature a screen resolution of 1280 x 800, include a 1.3 GHz quad-core Intel Atom Z3740 CPU, 2 GB LPDDR3 RAM, 16/32/64 GB internal storage variations, a microSD card slot which is expandable up to 128 GB, Wi-Fi 802.11 b/g/n, and Windows 8.1. The 10-inch Encore 2 also features a micro-HDMI port. What has changed in this year's versions is the camera resolution, which has been lowered from 8 MP to 5 MP.
Toshiba claims that both models offer ten hours of battery life and up to eight hours of video playback. The tablets will be available starting July, with the 10-inch Encore 2 set to retail for $249.99 while the 8-inch variant will set you back $199.99.
Get the Windows Central Newsletter
All the latest news, reviews, and guides for Windows and Xbox diehards.
Harish Jonnalagadda is a Senior Editor overseeing Asia for Android Central, Windows Central's sister site. When not reviewing phones, he's testing PC hardware, including video cards, motherboards, gaming accessories, and keyboards.
I will consider it for my nephew.
OFF TOPIC but my friends car is manufactured by Samsung!

They also have an artillery devision: http://samsungtechwin.com/product/product_05_01_01.asp

Threats actually a pretty good price for these specs

True.. the specs are horrible

Will they're good enough for me

Thats what I figured by your first comment

I wouldn't call them "horrible", especially at that price point. I think it will handle what I'd want it to do, entertainment/consumption with some Office word and some photo editing. It will also run my screenplay writing software. It will suit me just fine with those specs at that pricepoint.

Haha im running virtual dj pro on my encore, great experience. Its not hdd so pretty good for the price actually.

If we don't see a cheap Surface Mini RT announced by then, probably buying that 8-inch. Not a big Toshiba fan in general, but $200 for that sounds like the best deal out there (I'm happy with RT, but don't want to go to Android which I know would be better hardware for less).

Well you can still get the venue 8 pro available today for 199. The specs are the same as the 8 inch Toshiba

Is that a sale somewhere right now? And is that sale available in Canada? Aside from some pre-Christmas sales I haven't seen it that cheap.

I'm sorry I should've thought about this, it's available in US only from Micro Center, Newegg, and WalMart

Thanks. Newegg and WalMart don't seem to have them at all on their Canadian sites, and Micro Center won't ship to Canada.

I know MicroCenter here in the US has had the 32GB variant of the DVP8 on "permanent sale" for $199 for a while now.

Oohh. I may pick one up if that's the case

pankaj981 : Well you can still get the venue 8 pro available today for 199. The specs are the same as the 8 inch Toshiba. Posted on May 27, 2014 at 9:58 am - 51 min ago The spec are not remotely the same. The Dell Venue 8 Pro uses Better feetured Atom Z3740D versus Z3735F. "http://www.pcworld.com/article/2158684/toshiba-announces-first-tablets-to-run-windows-8-1-with-bing.html" see Atom differences details or spec sheet here: http://www.cpu-world.com/news_2014/2014042201_Details_of_Atom_Z3735F_and_Z3735G_processors.html Also, these Toshiba new ones has 1GB of memory, lower front / Rear cameras resolution, plus come in 16GB HDD configurations. Veue 8 Pro has full office student and home installed not 1yr expiring office 365 subscription that these new Toshibas has, Venue 8 Pro has screen already fitted for Active N-Trig Pen, these new Encores are not fitted with such. In esscence they are seriously crippled, but, if one's plan is to use it like iPad mini, then it is a good bargain proposition. But, I will take the venue 8 Pro 32GB which I got for $229 and I bought the Pen for $39 any day anytime compared to these Toshiba encores. I would not mind buying the $169 variant for my 8 year old though. I just hope these OEM's cost reduction crippling of Windows tablets does not come back to bite these greedy OEMs in the rear when consumers start finding out what they can not do with them. Funny though, Intel joined the OEM in crippling these devices when you read the CPU datasheet where they stripped the crap out of these Atom Z3735F and Z3735G entry-level SKUs

Thanks for pointing this out, I just read in the article which shows the specs supporting Z3740 and 2GB RAM for the 8 inch, which makes it better than the Venue 8 Pro since the Z3740 is slightly better than the Z3740D on the Venue 8 Pro. According to the specs at PC World, the tablet does have a crippled to bare minimum config to run 8.1. I own a V8P and it has never let me down when needed. Edit: I mis read it again, the article mentions the spces of the current Encore 8 and not the Encore 2

And if these machines really cripple Windows, the fault, according to the "tech bloggers" won't be the machines/OEMs themselves, but the fault of Microsoft/Windows.

Is any Surface product cheap? Cheap is not what the Surface brand is about. The Surface Mini will not be cheap.

Surface and the word "cheap" don't mix. Surface is a premium brand. I bet an 8-inch Surface would be $299-$349.

True. Poor word choice on my part. I should have gone with "good value" as I didn't mean "cheap" in the absolute sense but in the relative sense. If it's 1.5 times the price of this Toshiba but 2 or 3 times as good of a product, a scenario I can definitely imagine, I'll still go for that.

Good price for those specs...

Whoa!
Harish seems like working it up!!

Do those run full windows or rt? Because 16gb on full windows would be unusable. I couldn't even get by with 32gb on my dell venue, the os just kept eating more and more space and I was constantly trying to delete stuff just to keep it working. I had like two apps installed by the end. Talk about useless.

These run the full x86 version, not Windows RT. Yeah, storage would be an issue on the 16 gig variant.

16GB wouldn't be unuseable, if you weren't installing apps, just using included apps (web browser, etc.). I agree that an app-consumer would want/need more space.

You can always move the recovery partition to a removable disk drive and delete it from the tablet, you can get about 20GB free after that

You have options: Disable virtual memory
Disable hibernation
Disable System restore

You could always install files/games to the SD Card as well. I have a 32GB Dell Venue 8 Pro and beyond the Windows Store games, I don't put anything on the C:Drive. Everything is installed to my 64GB Micro SD. I may buy a 128GB card in the future. http://www.youtube.com/watch?v=efDdh1iOC_8 As a side note, the Venue 8 Pro uses the "D" version of the Atom processor and I have read that the non "D' version is more powerful/higher clocked. These are excellent prices for a full Windows 8.1 Update tablet computer.

Won't consider Toshiba anymore. I have an Encore, but there are NO updates and support from Toshiba at all.

The biggest issue I have with this is that most of the users will try running multiple programs and with these devices only having 1 GB of RAM, they will consider the experience a bad one. They'll get a bad reputation and turn away from Windows all together. After my experience with Atom tablets like Dell's and a few others 2GB of RAM and 64 GB local storage should be the minimum.

While I agree with 2GB memory, I think 32GB is more than enough. You can install dozens of apps & games on just 32GB. I have 70+ apps on my 32GB device and have about 5GB free. Music, documents & movies can be stored in the cloud or SD cards.

Just goes to prove that oems have been ripping people off for YEARS! I feel bad for thr people that purchased the earlier Win 8 tablets at VASTLY inflated prices

I think the main reason for this reduced price is the new licensing model from MS making windows free on such devices. Also keep in mind these are the same specs from previous models so you wouldn't expect them to come out at the same initial price.

It takes a while for demand to increase and manufacturing processes to improve. Smaller form factors cost time & money to produce. They have to recoup that cost somehow

Well its only recently MS dropped the license fee from whatever it was prolly $50-70 range to 0. For under 10". Also I did not see anything about office included. That would save space on a 16gb

The prices always come down as new tech comes out and therefore things become cheaper to make. Just like how ten years ago a 1GB USB drive was pushing $100 but now for the same price you can get 128GB. Add in Windows now being free (on the 8" model at least) and the whole package becomes cheaper to make and sell. So, while there is an argument to be made that some prices have been inflated over the years the majority of post-Win8.1 tablets have all been very reasonably priced.

When I was looking for 8" tablets, the Encore seemed to be the more consistent than the Dell Venue 8 Pro and the Lenovo Miix 2. Both had slight touch screen issues (Dell is oversensitive and led to multiple keyboard characters and Lenovo's keyboard had a lot of special characters accidentally being entered). The Encore was a bit thick though, and they seem to have taken care of that. Should make for quite the device now.

I know what my wife and kids will be getting for Christmas. I have the Encore WT8-A32 and love it. Toshiba makes great products now with a great price.

I don't recall a 16GB variant of the original Encore, yet the article suggests that the storage variants are the same as the original. Toshiba's website suggests there are only 32GB and 64GB variants of last year's model: http://www.toshiba.com/us/tablet-finder?family=Encore84%A2&model=8#r...

While attractive in price.... Lacking a pen, many will look elsewhere.

Well, these aren't pro devices are they? While I need a pen for all my devices I wouldn't expect the technology to show up in the cheapest devices on the market. These devices are small consumption devices with the ability to do more if you want them to. The target audience here probably doesn't need nor want anything beyond the modern apps and maybe Office. Certainly the audience for these models won't be booting up Photoshop or AutoCAD (though they could if they wanted to, both run surprisingly well on the latest Atom processors). I see the 10" models as perfect for my parents. At that size and resolution all the text etc. will be larger and easier for them to read plus they can still hop into Office the few times they need it. The bigger omission is a kickstand! I'm truly shocked that none of the OEMs have realised how useful they are.

Might get one. The question - is those spec a guarantee of enjoyable experience when it comes to web browsing and basic apps?

But these have only 1 gig of ram.. In this day and age.. I'll pass.

For windows its enough. For droid any configuration is flop

There are different specs at different pricepoints. You can pay more to get a device with more ram.

I have been using a Lenovo Miix2 8inch for the past 4 months, it has a 32gb and 2gb of RAM and only about 350grams!. Got office 365 installed with minimal footprint and over 50apps, and still have over 12gb on c drive. oh, the 64gb micro sd card got more than enough space for my music and videos. also connected it via a universal pluggable adaptor to my 22inch monitor and keyboard/mouse, and it works like a desktop. works brilliantly for remote access to office on big monitor. love it!

Price will still go down once "Windows 8.1 with Bing" is in place, just a matter of time!

These are the ons with windoows 8.1 with Bing

If only the surface mini were released at 199....

I am sure surface Mini will show up around $200 -> $250

That's in line where the pricing should be for these tablets. The era of the $500+ tablet is coming to an end.

I beg you, do not let the iFruity folks hear you say that, I will deny hearing you say it 3 times.

I would be glad to see the day when windows tablets get as low as android ones

Hopefully slimmer and lighter

I'm still waiting for an 8 inch 1080 windows tablet with a fair price. RT or full windows, doesn't matter to me, i'm not doing anything real important with it. Just want a high quality screen, and honestly i don't think that's too much to ask since comptetitors don't seem to have any trouble making them.

They are getting there. But, gonna wait for cherry trail atom processors. Got a feeling that it is going to get very interesting later this year to early next year.

After a failure to impress the stylus performance on Surface RT, and on Dell Venue 8 Pro - the most important question for me, regarding any mini-Win8 box (a Note device) and actually any regular Win8 tablet, is: how good is the stylus sensitivity? Without a stylus which performs like a pen and paper do, any Win8 tablet is nothing more but another gear to run Angry Birds.

The article mentions that the 10" has an HDMI port.
I have the original Encore 8" and it has HDMI and built-in GPS.
Does the new 8" not have either?
JJ

Correct me if I m wrong.. other sites either dont report about RAM or say 1GB RAM for this table, where as WPC reports 2GB RAM..