Touch Diamond 2 & Touch Pro 2 vs. Touch HD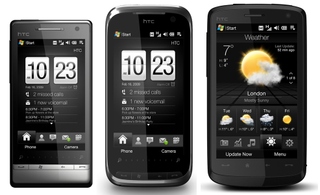 We've never been too shy about expressing our unabashed rage disappointment that the HTC Touch HD never made its way to the United States, at least officially and with U.S. 3G bands on board. So one of the more exciting hardware announcements at Mobile World Congress was HTC and the Touch Diamond 2 and Touch Pro 2, which have the sex appeal of the Touch HD.
Join us inside as we take a side-by-side look at what's under the hood.
Here's the tale of the tape:
Touch HD
Diamond 2
Touch Pro 2
Processor
Qualcomm MSM7201A @ 528 MHz
Qualcomm MSM7200A @ 528 MHz
Qualcomm MSM7200A @ 528 MHz
Operating system
Windows Mobile 6.1
Windows Mobile 6.1
Windows Mobile 6.1
Upgradable to 6.5?
Officially? Unknown
Yes
Yes
Memory
512 ROM/
288 RAM
512 ROM/
288 RAM
512 ROM/
288 RAM
Dimensions
115 x 62.8 x
12 mm
107.85 x 53.1 x 13.7 mm
116 x 59.2 x 17.25 mm
Weight (with battery)
147 grams
117.5 grams
175 grams
Display
3.8-inch
480x800
3.2-inch
480x800
3.6-inch 480x800 w/tilt
Camera
5.0MP
w/autofocus
5.0MP
w/autofocus
3.2MP w/autofocus
Battery
1350 mAh
1100mAh
1500 mAh
Expansion slot
MicroSD (2.0 compatible)
MicroSD (2.0 compatible)
MicroSD (2.0 compatible)
Accelerometer
Yes
Yes
Yes
WiFi
802.11 b/g
802.11 b/g
802.11 b/g
Bluetooth
2.0 + EDR & A2DP
2.0 + EDR & A2DP
2.0 + EDR & A2DP
Headphone jack
Yes
Uses HTC ExtUSB
Uses HTC ExtUSB
All in all, nothing too surprising. Spec-wise, everything's pretty much the same. Same processors (Malatesta notes that the slight difference in model numbers is due to the Qualcomm-Broadcom lawsuit and isn't a performance matter). Same memory — though the Touch Diamond 2 now has room for a MicroSD card. Hooray!
The Touch HD wins on screen size, though just barely. The Touch Pro 2 is tops in battery size. And so on and so forth.
Nothing really unexpected. But it's nice to see HTC release hardware revisions that should bring phones with the big-four American carriers in line with the best HTC has offered elsewhere.
So, who's going to upgrade?
Phil is the father of two beautiful girls and is the Dad behind Modern Dad. Before that he spent seven years at the helm of Android Central. Before that he spent a decade in a newsroom of a two-time Pulitzer Prize-finalist newspaper. Before that — well, we don't talk much about those days. Subscribe to the Modern Dad newsletter!
At first I felt I would definitely upgrade if one of the new devices comes to T-Mobile but after a bit of thought I think I will probabl pass if there is an alternative with a Dpad. Im not convinced the D2 would suit my preference for one-handed use and the Touch Pro2 is too big for me.

I now have the Touch Pro on the Sprint network and think it is a great device. I originally loved the idea of the tilting screen on the AT&T tilt, but did not like the AT&T service. I hope that Sprint will bless us with this wonderful new device later this year. I will be upgrading when they do!

I'm feeling burnt by HTC after purchasing the first Touch Pro and having the company not release any firmware updates to fix some of the more annoying problems people have been experiencing. i.e. GPS lag, keyboard delay in widescreen mode. Sure there's a million tweaks you can make to help smooth things over but I hold HTC responsible at the end of the day. Nonetheless the main reason I wont be upgrading is the lack of hardware innovation, sure a larger screen is nice, but that doesn't do anything to improve upon Qualcomm's lack of graphics acceleration and performance. The Touch Pro was my third HTC/Qualcomm device and far as I'm concerned will be my last. If HTC wants my business and hard earned green they better start delivering like they mean business. Fist major carrier and OEM to deliver a truly next-gen mobile experience i.e. NVIDIA Tegra or the equivalent will score my business in late 2009/early 2010.

I'm very hopeful that VZW comes through with the Touch Pro 2 and does not reduce the ram in anyway as it did with the Touch Pro.

Count me out. I had the Original Touch, upgraded to the Diamond, and now I'm going to wait for a Tegra. The msm7000 series SOC just isn't giving me the performance I want and the battery life I need. The Hardware Video Accel issues are just stupid (legal trouble, lack of drivers due to Qualcomm's greed/HTC stinginess... come on!). I'm done with ATi/Qualcomm chipsets. Snapdragon can take a flying leap. TI's OMAP option doesn't look very impressive either. No 3D. Zii looks like a power hog. Atom is a power hog. HTC, the writing is on the wall... Tegra or bust.

The OMAP is used in Nokia phones like the n95 and it arguably performs much better than anything Qualcomm has to offer.

Marvell, TI and nVidia all seem like better chipset offerings than the constantly under-performing Qualcomm 72xx crap. HTC didn't even make the jump to Qualcomm's Snapdragon platform for these phones (Toshiba did). I have to say, that's really rather disappointing. The new TF3D is nice, and the WVGA resolution is also nice, but it's the same old under-performing processor powering it all. There just isn't enough incentive for an upgrade here.

Your comparison table has an error - the HD has a 3.5mm headphone jack.

Ya know, I knew that but kept telling myself that was just an exhaust port. Table fixed. :)

also if i rememberc correctly the specs on htc's sites lists the 3g as being european again, no mention of the us 3g bands.

Yeah, noticed that and am kinda taking all that with a grain of salt, which is why I didn't throw it in the chart. I just can't imagine the TP2 and TD2 not making it to the U.S.

I still want a U.S. HD...

A lot of people are all panicky about not having a dpad. I used to have an iPaq hx4700 which had the capacitive touch pad instead of a dpad and I left it in mount-touch-pad mode instead of dpad mode all the time for use with remote desktop client. I never really missed not having the dpad and everything is getting even better at being touch operable these days compared with years ago. I too hope verizon doesn't geld this thing like they did my classic touch pro. Since verizon doesn't usually come out with new hardware until at least a year after it's announced and old news for everyone else, I figure that I might be able to upgrade sometime around summer 2010. I definately look forward to it.

Count me out as well. That CPU is just pathetic. Where is the nvidia chip that was promised? Why oh why won't you put 3.5mm jacks on all your devices HTC? WHY? Also, I am pretty sure that the Touch HD DOES have a 3.5mm jack. As Luke pointed out, your chart is incorrect. https://www.windowscentral.com/e?link=https2F2Fcli... "a standard 3.5mm audio jack "

I would still pick the Touch HD if i had a choice......

A friend of mine is getting the HD, she already ordered it and if I could afford one I'd get one too. Right now I'm rocking an iPhone 2G, so the fact the euro HD doesn't have US 3G bands wouldn't bother me (that's what wifi is for =P ).

The only shortfall is the lack of flash light for the camera. If HTC were to include flash light during the official launching of the unit, that would just be perfect. Anyone has any idea of when is this baby going to be officially available in the asian market?

I have a HTC Touch HD and it has a 3.5mm jack ! Big advantage ! but I am disappointed about the old, bad Qualcomm CPU. In new devices I would expect much better hardware then this 2 year old slow stuff. HTC, whats wrong ? Windows mobile 6.5 is complete unimportant, I just care about new hardware (nvidia) and TF3D versions. If HTC decicde to not deliver new manila to "old" hardware like Touch HD, then they don

can you use ur 3.5mm jack for audio? or is it just for data/charging etc?

I think there will be an 6.5 update for the Touch HD because it has the same Disply resolution...

Interesting posts of slow processor performance. I wonder if they'll address that with the HD successor Whitestone. IF HTC is still a bit off they'll lose out to someone else. LG Arena may have potential. When's that due for release? If available today I'd upgrade to the Diamond 2 now on Verizon or ATT. I assume u just use an adapter to get the 3.5 connection. Also saw a recent post that 3G doesn't add much. Means u could get an unlocked HD or Diamond 2 phone & bring it to ATT for a sim card. Right?

So, does that HD's 3.5mm jack has line in? I mean, can you use standard wired headset (mic + headphones)?
As for me I'm on TD and would change it to HD like device (screen and size wise) if it could deliver more video power.

I've been using the HD in the UK for 6 weeks, and it's fantastic. Being a bit pathetic, I've owned a diamond, touch pro, and now (after various Nokias) the HD. ...It's so much better, faster, clearer than the Diamond, I'm convinced it's driven by Voodoo rather than WM6.1. I've played with the Touch Diamond 2, and it's fine, but it still bows before the HD. The TD2 is basically an HD adapted for, um, handbags. In the UK we have TD2 now, and TP2 in a month. But I don't think they'll move the HD as top rooster. I thought I'd use it just for work, emails, etc, but I use it for everything. The browser is great, brilliant for podcasts, SatNav (MUCH better than TP), pictures, you name it.

I'm in between the pro2 and the diamond2. I love the size and camera on the diamond but i equally love the slide out qwerty keyboard on the pro2! I'm not sure which one to get. I'm a little worried that the pro2 is going to be a little too big for me but i am not sure yet. I think I'm just going to have to decide which one i'm getting once it reaches sprint stores. I'll just have to physically see both of the phones and figure it out then. I'm a big fan of HTC and if they made the pro2 with the 5 megapixel camera its a definite buy for me.

I have had HTC phones for the past several years, starting with the 6600 Harrier, the 6700 and now the 6800 TyTN. I have been happy with all of them. They have done what I have needed them to do, which is more than the I Phone is capable of, but less than is necessary to justify having a faster processer and a bigger internal drive. They have been much more flexible than any Blackberry or Palm, and integrates better with all the MS aps then Android ever could. I actually use the MS Office aps that most people don't. That being said, it is somewhat perplexing why HTC has not gone with a faster chip set when the competition is doing their best to better HTC in that regard. Omnia was a good idea, but still not as good over all...no hard key pad, a must with actually using the Suite aps, texting and e-mail, as well as frequent browsing. Even with HTC somewhat dropping the ball on some of the hardware upgrades...or lack thereof, it is still the best of what all is out there if you want an actual hand-held computer and not just a supreme gadget like the I Phone. My next upgrade will be the Touch Pro II when it comes down in price and is offered by Verizon. I was disappointed with the design of the Touch Pro I, but it looks like the Touch Pro II is everything the Touch Pro I should have been...and more. Got to have the hard key pad, which makes it a better choice for me over the HD and D2, with everything else being equal except for the camera rez.

I can confirm that the Touch HD can run wm6.5, I've been running it for the last 24 hours with mostly no problems (mozilla fennec causes it to lock up)

the htc touch hd is awesome, i have had no problem with it, and am looking forwards to upgrading it to the windows 6.5.
anyone knows when that will be available.. thanks..

the australian verson of the touch HD has the 850MHz bandwidth HSDPA. its offered from a carrier called TELSTRA. I got it unlocked and I am using it at this moment with 3g speeds. definitely a nice upgrade from the toch diamond, but the price tag is a premium.

I love HTC phones and had NO iPhone envy whatsoever, but if they want to keep getting my money they need to stick with what was the best thing about them. IMAO, it was by far the BEST Pocket PC phone which is why I purchased my first one. No over glorified MP3 player for me! Of the Smartphones that were out they were the better looking ones by comparison. Others looked so very PDAish to me rather than a cell phone. I have owned the T-Mobile Wing (HTC 4350) and the ATT Fuze(HTC TD). The Diamond is such a sleek and sexy phone that I just had 2 have it and I still prefer it "looks" over all the others as a female. Many just look to business-like for a purse. But I was VERY disappointed in the battery life and now in less than a year am finding myself having 2 replace it because the touchscreen stopped working altogether. HTC customer service sucks big time. To leave the keyboard out of the newer generation of HTC is just plain stupid. ALL touch screens should provide a physical way to navigate as backup (that includes iPhones). For the money, to downgrade the camera is positively maddening. TP2 would have won me over if it looked like the Diamond and kept the 5MP camera. Now I'm stuck wondering is it worth waiting for another generation?!
Windows Central Newsletter
Get the best of Windows Central in in your inbox, every day!
Thank you for signing up to Windows Central. You will receive a verification email shortly.
There was a problem. Please refresh the page and try again.