Satisfy your need for two-wheel speed with Traffic Rider for Windows Phone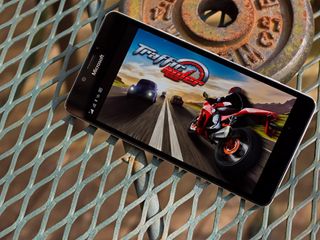 Traffic Rider is a fun, fast-paced arcade game from the Windows Phone Store that has you race through traffic on a nice collection of motorbikes. The game has four gaming modes that include over forty missions in the Career Mode and tons of upgrades and customizations for the bikes.
Graphics are respectable, offering detailed day and night racing variations and gameplay is a nice challenge of your reflexes. It won't take long before Traffic Rider taps into the racing fan in all of us and you find yourself leaning left and right as you guide your bike through traffic.
Traffic Rider has a ton of features and the developers have done a good job of offering an easy-to-follow game layout. Your primary menu is a garage view with your current bike taking center screen. Your gaming stats will run across the top of the screen, including your player level and gaming cash balance. Down below you will find links to the following.
Game Settings: Settings for Traffic Rider include sound/music levels, graphic quality, language support, control options and the option to drive on the left side of the road.
More Games: A convenient link to a listing of other games from the developer.
Garage: Here you can buy new motorbikes, upgrade your current bike and customize your bike's appearance (paint job, decals, etc.)
There is also a link marked "Social" that is a feature still in the works.
Traffic Rider has four gaming modes that are progressively unlocked as you advance in experience. You begin the game with the Career Mode and Endless Mode available. Eventually, you will be able to play the Time Trial and Free Ride modes. The Career Mode has over forty missions for you to tackle ranging from reaching the finish line in a set time, passing a number cars in a set time and other time restricted challenges. Every mission will require you to snake your way through heavy traffic, not only avoiding the cars on the road but the barriers that line the side of the roadways.
The game screen will have your speed, distance and time displayed along the right edge and a progress meter running along the top of the screen. There are three options for controlling your motorbike: tilt, buttons, and handlebars.
I think the Tilt control option is the best and gives you a better feel for the game. The Button controls tend to take a little zip out of the game and the Handlebar option is just cumbersome to control. Plus with the Tilt controls, it's just natural to lean into the turns like you're actually on a motorcycle.
Acceleration can be automatic or you will have a virtual throttle and brake overlaying the bike's handlebars. Just tap on the throttle or brake to activate. With most of the games being time restricted, it is doubtful the brake will get much attention. If you drive over 100kmh and overtake cars closely, you will earn bonus cash.
Gameplay is challenging. You start out with open road for a few seconds and then you hit traffic reminiscent of rush hour congestion. The traffic flow shifts randomly and you will have large trucks changing lanes in front of you, passenger cars slamming on their brakes and other conditions that gives the game another dose of realism.
You begin gameplay driving a small moped and as you earn cash during gameplay, new motorbikes will become available for purchase. These bikes range from dirt bikes to street cruisers to crotch rockets. Do not get discouraged that you will be racing a moped during the early stages of Traffic Rider. This moped has a good amount of zip and reaches the 100kmh mark with relative ease.
Fast and Furious meets Easy Rider
Traffic Rider is a fun arcade game for your Windows Phone. The game is easy to pick up and start playing. Graphics are nicely drawn up and animated with gameplay being challenging. The game definitely has a Fast and Furious feel but from an Easy Rider approach.
The four gaming modes offer you a nice variety and having them progressively unlocked isn't an issue. The controls choices offer you a nice variety of steering controls to match your tastes and the selection of bikes offers a broad range of styles. The only nit I really have with Traffic Rider is that the prices of upgrades and new bikes are a tad on the high side.
Your first mission will reward you with only $50 and to get out of the moped class to a dirt bike will cost you $3,500. Upgrades to your first moped are in the neighborhood of $750 and changing your paint job will run you $500. On the plus side, beyond the first mission awards exceed $1,000, but you'll have to spend almost as much to upgrade your current bike to have a fighting chance at success.
You can buy gaming cash through in-app purchase, but after playing Traffic Rider over the past few days, I couldn't help but think garage pricing could be cut in half and maintain the game's level of challenge.
Overall, if you like racing games or simply are looking for a fun game to fill your need for speed, Traffic Rider is a great choice. The free Windows Phone game does have ad support and in-app purchases.
Download Traffic Rider for Windows Phone (opens in new tab)
Windows Central Newsletter
Get the best of Windows Central in your inbox, every day!
George is the Reviews Editor at Windows Central, concentrating on Windows 10 PC and Mobile apps. He's been a supporter of the platform since the days of Windows CE and uses his current Windows 10 Mobile phone daily to keep up with life and enjoy a game during down time.
It lags sometimes and crash too....(512 ram) :p

But I kept fell off the bike for no reason...

Good game with nice graphics

Another article of this game in Windows Central? -_- The last week already talked about the game in the article: "Traffic Rider speeds its way to the Windows Store" for Jared DiPane.

I was about to say almost the same... I think they are getting paid to post some articles...

Installed it when I saw the previous article on the same. Good game with nice graphics.

There are like nine different versions of this same game in the store with slightly different spelling.

The first one was about its launch, this one is a full fledged review.

Been playing this for about a week now. It's a lot of fun.

Be careful you get the real one, there are dozens of fake copies in the store.

That's right. Support the dev, not the leeches. Publisher should be Soner Kara.

Nah it doesnt matter .. most important is to get fun playing .. no matter Who was The one or The last dev.. Why a guy who made the same game doesn't deserv to have his game downloaded? Just cuz someone did one 1st.. BS .. I'm pretty sure that u have pirated copy of something in ur PC so stfu

Right you are, Oh Wise One. Reward someone for their originality, creativity and hard work? Nah. Just go with the knock off cheaters who repack the hard work of another so they can get ad revenue for nothing other than being slimy. Got Ya. You a mad genius, yo!!!!!

this has gone viral in my university and was hoping for a windows version and here it is... lags a bit on my 525 but what can i expect out snapdragon s4?

Ah, Melbourne Bike Driving Simulator 2016. Now you can fly through the rush hour traffic on the Ringroad just like a real d***. Naw kidding, I'll give it a go, I heard a lot about this game.

Few lags on 830 with medium graphics and even with low, i hope update will fix it

im using medium graphics on lumia 630 and doesnt lag much pretty weird to lag at 830

I hope they will fix it :/ sometimes its hard to play with med graphics

Just tested it on my 830 and it runs fine.

Runs pretty fine on 730 with graphics on medium, but lags with graphics set to high.

I've been playing this game for a couple of weeks and agree with your review.

I gotta say it's better than I thought it would be. Really nice graphics and enjoyable physics.

Love the game...graphics are good...full tp...proud lumia 950 owner :) Posted via the Windows Central App on Limited edition Lumia 950 or Lg g4

There are so many fakes of thid app though

No link!!!! Windows Central has stopped soing that?

I see a hot link and a QR code at the end of the article.

Great game. Thanks for the support.

I love it. I just downloaded it and it fun.

Once again,no download app button in the WP app :(

Why cant i see the download in app anymore?

Just downloaded the game. Nice game & graphic is very good. L640.

Lags on 640, especially with tilting

Lags on my Lumia 930 -_- even on low.... My old Nexus 5 with the same specs handles this game with no issue at all at max.
Optimization is a real issue on windows phone with games have i noticed.