Trolls vs. Vikings, an epic battle rings out from the Windows 10 Store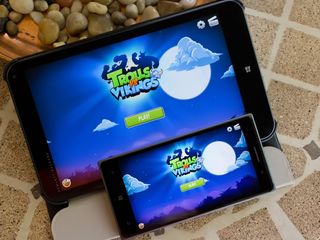 Trolls vs. Vikings has been available in the Windows Store and Windows Phone Store for some time now. While we have already taken a peek at the game, we felt the need to dig a little deeper.
The game places you in the midst of a series of epic battles between Trolls and Vikings. You land on the side of the magical Trolls and must defend your lands from the barbaric Viking invaders. You do so with might and magic, a little strategy and a dash of luck.
Animations are well drawn up, game play challenging and overall we find Trolls vs. Vikings to be a nice combination of tower defense gaming elements and combat games. The game does have a slight addictive pull about it and a fun time waster of a game. It is a universal game available for both Windows Phone, excluding low-memory devices, and Windows computers.
Your Introductory Menu for Trolls vs. Vikings offers up options to access the game's settings, view the video trailer, access the game's shop, link the game to your Facebook page and jump into game play.
Settings offer up options for language choice, sound/music levels, options to connect to your Facebook or Twitter accounts and options to restore purchases. The Trolls vs. Viking's game shop has a host of purchase options for magical items, upgrades, unlocking new trolls and bundled deals. The items for sale in the game store will cost you either gaming cash or are available through in-app purchase.
When you first jump into game play with Trolls vs. Vikings, the game will walk you through a series of battles that are more tutorial in nature. These tutorials cover placing your trolls on the field of combat and cover their individual abilities. Once you complete the tutorial, you will transition to the gaming map where you will have over 70 levels to complete.
The gaming map will not only display the levels available but also provide two links to the gaming store (one directly to buy gold and the other to other purchase opportunities). You also have access to the online leaderboard, your achievement list and an option to link the game to your Facebook account. The game also includes daily quests where you can earn extra gold. The daily quest will be displayed at the top center of the map screen.
Game play is rather simple to pick up. The Vikings typically enter the field of battle from the right side of the screen with your Trolls defending the left. Along the left side of the screen, you will see a row of icons representing the Trolls you can use for that particular gaming level. Creating Trolls to use in combat will cost you a few moonstones and to generate the funds, you will first utilize mining trolls to dig up the shiny rocks that will be used to finance your defenses.
The mining Trolls can defend themselves if attacked, but their main duty is to dig up moonstones. To help defend the Trolls while you build up enough funds to place Trolls with slingshots or brass knuckles, you can help attack the Vikings by dropping boulders on them or launch fireballs at them. You will find icons to launch either the boulders or fireballs in the top right corner of the gaming screen. Just tap the icon and then tap the area of the game screen you want targeted. Supplies are limited with these items so use them sparingly.
As you build up the funds to add more Trolls to the battlefield, placement is simply a matter of tapping the icon of the Troll you want to use and tapping where you want them placed.
At the very bottom of the gaming screen, you will find a progress meter that will show you how many more Vikings you have to defeat. Once you have survived the battle, gold will be awarded and you may earn a mystery card that unlocks additional Trolls. There are over forty different Trolls that will become available as you progress through the game, each having a variety of abilities. You have Zombie Trolls that come up from the ground to snatch the Vikings, magical Trolls that shoot lighting at the Vikings and your slingshot toting Trolls.
Eventually, around the fifth level of play, you will be able to choose which Trolls to use in combat. As you would guess, the onslaught of Vikings becomes more intense as you progress through the game and as you progress the level itself. It will take a combination of Troll defenses and fireball/boulder launches to keep these pesky Vikings at bay.
Overall Impression
For the past few days, I have enjoyed playing Trolls vs. Vikings and found it to be an entertaining gaming option. Game play offers a nice combination of tower defense and combat elements. You not only have the gaming interactions of placing your Trolls but also with launching boulders and fireballs at the Vikings.
While available for both Windows and Windows Phones, I found that as touch friendly as Trolls vs. Vikings is, the game is best played out from a touchscreen device such as your phone or a tablet. The game is entertaining from a non-touch device such as laptop or desktop but game mechanics seem to flow a lot better with touch.
Overall, Trolls vs. Vikings is a wonderful arcade game to pass the time with. Graphics and animations are excellent, game play challenging and there is enough variety with the game to keep things interesting. The game is pulling down about 4. 5 Stars from either Store and if you give Trolls vs. Vikings a try, let us know what you think about the game in the comments below.
Windows Central Newsletter
Get the best of Windows Central in in your inbox, every day!
George is the Reviews Editor at Windows Central, concentrating on Windows 10 PC and Mobile apps. He's been a supporter of the platform since the days of Windows CE and uses his current Windows 10 Mobile phone daily to keep up with life and enjoy a game during down time.
Not a bad game actually! Kind of fills the Plants Vs Zombies 2 gap

Pvz2 ripoff, gets boring after a few games, when will pvz2 come to wp??

5 years? Yeah that sounds about right. *crying*

Heehee, come to think of it, it released for android nd ios 2yrs ago!

From the title I thought it was removed from the store. Haha.

Seems fun at first but then I realized that: 1) The primary mode is WAY too easy. Just spam whatever trolls you have upon recharge and you will win 99% of the levels. By the time I reached the next mode I was already bored with the game. 2) This thing burned though my lumia 920's battery like a torch.

Yes it is a boring game nd consumes a lot of battery
Windows Central Newsletter
Thank you for signing up to Windows Central. You will receive a verification email shortly.
There was a problem. Please refresh the page and try again.