Truecaller for Windows Phone 8.1 adds a new way to save data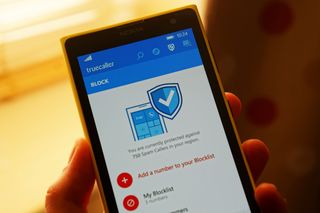 The popular smartphone caller ID app TrueCaller has just been updated on Windows Phone. It includes a way to save data by disabling all images in the app.
Here's the change log for the new 5.2 version:
Reduce data: You can reduce your data traffic by disabling all images in the app
Live titles: See a rotation of Truecaller contacts on Live Tile
Design Improvements: a few small changes to keep app looking fresh
Download Truecaller for Windows Phone (free)
Even for 8.1 too
And Lumia Camera has received update

It's the same change log for 8.1 too.

I guess it is not for Windows 10. Because in Windows 10 Mobile, the version number is already 6.0.1.0. Saw the same mistake in NPU. Please verify and correct the article. Or correct me if I am wrong.

There's no update in windows 10 mobile store.

No update for Windows 10 Mobile

The best w10m app.. Beautiful UI

Has anyone been able to get it to work with caller ID?

Live caller ID not working for me

Yep caller id working for me on w10

Working for me as well. It takes a little longer to pop up than it used to on 8.1, but I just chalk that up to the unfinished build of Win10.

Still can't activate live caller id #640XL

How does this app work? Does it just run in the background and activate every time there's an incoming call?

Yeah, basically. When you're getting a call it will take a minute then eventually ID it if it can, or tell you if it can't, right on the incoming call screen. Really one of the most useful apps I've ever downloaded.

TrueCaller's privacy statement is defintiely not something you'd want to just click-thru without reading. If you let it access your addressbook, you might want to have all your contacts give it a once over as well: TrueCaller Privacy

It's been an useful app but it fills my phonebook with hundreds of contacts. Granted, I Can filter them out but too many contacts slows down the phonebook as well.

You can turn off TrueCaller's spam filtering option to get rid of those.

Now if they would just get it to display caller ID before you answer rather than after.

Shame it still shows my contacts as number available, rather than number. Serious bug

Caller ID still not getting enabled on 640XL. Stays disabled. This really needs to be fixed.

Not working on my Lumia 830 .

Live caller id not working that's so annoying
Lumia 640 XL

After the update it's working again showing caller id.

Live Caller ID not working on my Lumia 640 too, it was working just fine in my previous phone Lumia 720 (previous version)

Hi
I have truecaller 5.3 version installed with Windows 8 on Microsoft lumia 435 dual.
Truecaller is unable to work. It gives unknown error afer registering phone nber and account details.
I tried upgrading to Windows 10 but there came new error " check your internet connection"
Primary storage is phone and I already tried uninstalling and installing again.
Any assistance will be highly appreciated.

Same issue here and has been ongoing for quite a while. Windows 8.1 @ Lumia 1020, Windows 10 latest build @ Lumia 1020, Windows 10 latest build 950 XL. Doesn't work. It asks me to put in my mobile number and I select the correct country and then it tries to send a SMS and it fails. Always.
Windows Central Newsletter
Thank you for signing up to Windows Central. You will receive a verification email shortly.
There was a problem. Please refresh the page and try again.