Turbo Racing League for Windows Phone 8, nothing slow about these snails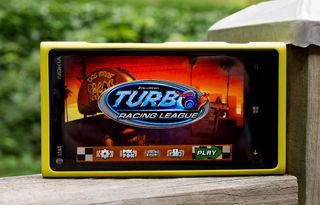 Turbo Racing League is a Windows Phone 8 companion game for the DreamWorks Studio movie, "Turbo (opens in new tab)". The story line behind the movie is about a garden snail who dreams of being a world class racer. Turbo Racing League has you playing the role of the snail, competing across nine different race tracks.
Turbo Racing League has fantastic graphics and animations, game play that doesn't grow stale, and enough upgrades to keep things competitive. As an added bonus, Verizon is sponsoring a $1,000,000 Shell-Out Contest. You have weekly contests to race and the ten fastest racers will earn cash prizes from a pool of $500,000. First place winners from each week will win trip to Los Angeles to compete for $500,00 in cash prizes during a grand finale event.
You can find all the fine print on the Shell-Out Contest here and head on past the break to read more on Turbo Racing League.
The main menu for Turbo Racing League has options to access the settings, head over to the developer's website, view the online leaderboard and play the game. Settings cover steering options, refresh the shopping cart (?), view the credits, email the developer, and mute sound/music.
When you first launch Turbo Racing League, you'll have to create a racing snail. You get to choose body style and choose a screen name for the online leaderboards. There are four classes of racers that are progressively unlocked as you win races.
You will also have the choice of four racing controls. You can use the tilt sensors, use touch controls (left/right sides of the screens steer in that direction), a on-screen joystick or on-screen buttons. The tilt or touch controls seem to work the best. I like the touch controls a little better but you just have to be careful and not let your right finger stray far enough to hit the Windows Phone back button.
One you have your snail ready to go, Turbo Racing League will run you through a series of qualifying races that serves as a tutorial. From there, you race the circuit trying to win all your races and complete daily goals.
Racing is started by swiping up at your snail, who is initially launched from a sling shot. Along the race course you'll find power boosts that hurl your snail along the course. Tomatoes are scattered about the course to collect and use in the upgrade shops. You'll also be awarded tomatoes based on your overall performance for each race.
The race tracks are wonderfully drawn up with jumps that send you along monorail shortcuts, hairpin curves and other surprises.
In between races you can upgrade your snail by customizing their shell through paint, neon lights, spoilers, and shell style. You can also upgrade the snails abilities and change the body color as well. Upgrades and customizations will cost you tomatoes. If you don't collect enough during the races, you can tap on the tomato symbol next to your tomato count to buy tomatoes via in-app purchases. Costs range from $1.49 for 5,000 tomatoes to $79.99 for 800,000 tomatoes.
All in all Turbo Racing League is a fun racing game for your Windows Phone 8 device. A couple of nits though (nothing that destroys the game) include the lack of labels on any of the menu buttons, no means to reset the game (outside reinstalling) and the game is a little bit of a power hog (likely due to the graphics). Also, the lockscreen timer wasn't over-ridden while your in the middle of a race. If you're not careful when using the tilt controls, your screen will go black in the middle of a race. Luckily the game pauses and you can quickly resume things but it's a momentum killer.
Turbo Racing League has great graphics, fun game play and is a super choice if you're looking for a Windows Phone 8 racing game. The $1,000,000 Shell-Out contest isn't a bad touch either.
Turbo Racing League is a free app for your Windows Phone 8 device that you can pick up here (opens in new tab) in the Windows Phone Store.
Windows Central Newsletter
Get the best of Windows Central in your inbox, every day!
George is the Reviews Editor at Windows Central, concentrating on Windows 10 PC and Mobile apps. He's been a supporter of the platform since the days of Windows CE and uses his current Windows 10 Mobile phone daily to keep up with life and enjoy a game during down time.
Framerate issues (sensing a pattern with ported 3D games) on Lumia 920. Good game hampered by stuff like this.. P.S - Good review George, thanks for covering this :)

The game lost all my progress yesterday, after two days of a lot of playing, and that kinda killed it for me. Fun game, but that is a killer bug!

Had the same thing happen to me. Until they fix this issue I would recomend not waisting your time.


The great thing about this game is the Dreamwork studio releasing this game on Windows phone.
They recognized Windows phone as a platform along with iOS and android.

@ That is perhaps the only good thing to say about this game. :)

Very low framerate making this nice game unplayable..
deleted..

Played 3 races and deleted, felt boring.

Five minutes before it was removed of my phone. Dullest racing game ever.

Its not that bad jay.. :)

The game progress is not saved.. After crash... Need update..,

I tried this game a few days ago. It's entertaining but a bit dry. What turned me off was how hard they push in-app purchases to get more coins, or tomatos, or whatever the currency is supposed to be. Your upgrades don't carry over from class to class and fairly quickly they get outrageously expensive. But they're essential because it gets to a point where no matter how well you do you wont be able to win a race. There's some serious rubber banding going on here. The thing that killed it in the end was the crap framerate. It was painful firing up the same game on my iPad 2 and seeing it run at a super smoother 60fps.

Game keep loosing progress. Avoid it

This is running fine on my Lumia 810, and a free racer with no ads, very cool.

This game is awesome. Been playing this game for a week on my l920, so far I have no problem.

don't just rely on the negative comments and see for yourself, for me this is currently the most favourite game on windows phone

When I played it, it felt like an old Hotwheels game.

Runs smoothly on lumia 720 but the graphics is clearly bugged: it looks like being badly rescaled from higher resolutions