Tweet It! for Windows 10 PC and Mobile gets improved notifications and 64-bit support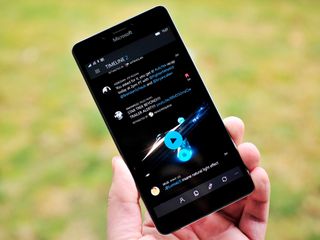 The popular third-party Twitter app Tweet It!, which recently launched a universal app version for Windows 10 PC and Mobile owners, is pushing out a new update that adds quite a few new features and improvements.
Here's what's new in version 2.1:
x64 support added
Improved push notifications
Ability to quickly access your profile (tap on active profile in "accounts" panel)
Auto scroll when new direct message appear
When replying on your own tweet your nickname will not show in tweet
Enhance reading position recovery
Ability to copy link for images, videos and gifs
Improved inline photos
Improved YouTube video playback
Improved profile info viewing with ability to unblock
Improved photos compression when attached to a tweet
Grey (mostly) theme
Improved filters algorithm
Ability to show scroll bar for lists
Ability to disable swype gesture for quick actions
Improved tweet and messages UI
Ability to close additional panels (compose, drafts, settings and others) by tapping outside them
Real-time tweets update animation changed (just blue icon when active, instead of rotating animation)
Fixed issue with onscreen buttons
Smoother swype gestures
Faster UI scaling apply
Tweet it! is still on sale for $2.99, which is 50% off its normal price, from now until December 31.
Download Tweet It! for Windows 10 and Mobile (opens in new tab)
Windows Central Newsletter
Get the best of Windows Central in in your inbox, every day!
Still using official twitter app hoping that it will be updated soon. Most of the third party twitter apps are better that the official one. :(

Would be neat if oficial twitter app just added actionable notifications and right click menu for some shortcuts.

Yes. Actionable notifications would be a great addition.

Lol, Twitter wasn't even the first to update their app with the "like" feature. They're way too late. Not trying to be mean here, but gosh : the twitter 3rd party apps on wp (Aeries, Tweetium, this one..) are great and gorgeous.

If others are better, why use the "official"?

Probably because it's free

Off topic is it safe to update to windows 10 on 512 mb ram phone?

Well if you are having a 630/5 then yes it is safe,otherwise no

It worked good on L620. But performance degraded after some time. I would say its not as good as 8.1. Anyway I am on 640xl and win10, running smoothly. And reverted my 620 back to 8.1

It's safe! Nothing to worry about. It's also better than the previous builds. I'm using L625 and it's working well, including battery performance. However sometimes if it gets overused (like for 3 hours straight) it just freezes and I have to soft reset. But i fixed it by turning off most apps running in the background and I disabled background on start. Works better now with some apps crashing (idk if it's the app or the build) when used too much (tubecast)

Waiting for offical app windows 10 mobile version

Eagrly waiting for win 10 mobile to try it out....

Do this (or any 3rd part client for that matter) properly display quoted tweets? Cuz that's all I'm holding out for currently.

Aeries on 8.1 kind of does. I say kind of because for some of them, it shows it and others, there's just a link in the tweet to the tweet. I'm guessing that Tweetium probably does though.

All 3rd apps that I know, diplay quoted tweets, and also quote tweets.

Try 'Ariesta'! I seem to be the only one to have rated it on the phone version. It's a very complete app with one (major) glitch that it displays very limited twitter handles as part of auto-complete feature.

Would love some screenshots about the new W10M UI

Does any third party app support push notifications from specific accounts like the official app?

Tweetium does when you go 'Pro'.
http://tweetiumapp.com/pro

The developer told,me once on twitter that pro subscription only supports rt,dm,fav and mentions only

Is this yet another Twitter client for Windows Phone that doesn't support Tweet Marker? Tweetium still appears to be the only one.

No tweets on the live tile, doesn't seem to be in their radar either after an email conversation with the developer... which means I wasted time and money.

Fenice has really stepped up their game too!!!

I wrote this on comments in some other sites, but not on this one. Windows blogs have some sick addiction to 3rd party Twitter apps. Not to say it is wrong to report about them. They should and it is cool. But writing about every single update of them and ignoring whole range of other apps is just sick, I don't know how else to call it. I feel especially bad that I have introduced recently ink shortucts in my app File Cards, which is a revolutionary new way to use the ink as interaction method on PC. Somehow this was more important. And if it was just this case, maybe it would be OK, but I am affraid that this is a general policy as far as I can see - that's just another reason for developers to switch to iOS where bloggers and store staff are actually willing to search for something new and interesting...

I just purchased Tweet It!, and I've to say it's great. The UI seems just a bit more polished than the official app (for desktop). One feature I very much want is much tighter integration of twitter with the Windows OS (like how it is with android), in particular, I'd like links to tweets in the emails or some web sites to open in the app rather in the web browser. Can anybody please tell me if this feature is available on any of the apps, and if not, when can we expect it? Is it very challenging to ensure links to tweets open in a designated app? Thanks!

This.
I'm not sure if deep app linking is possible within Windows. Though I'd love to be wrong on this one.

Sure it is possible. Just I think that Android apps call websites which then call deep links. So it is up to every site to implement Windows deep linking.

I'd not known the feature is called deep app linking, so thanks! ☺ I guess, the possibility certainly exists cuz I've seen links to Windows Store apps directly open in the Windows Store instead of in a browser. Mat be, Microsoft coders only need to 'tell' Windows that URLs with twitterDOTcom in them need to open in a twitter app rather than in a browser?

X64 support for mobile also?
Windows Central Newsletter
Thank you for signing up to Windows Central. You will receive a verification email shortly.
There was a problem. Please refresh the page and try again.