Tweetium beta now available for existing owners on Windows Phone 8.1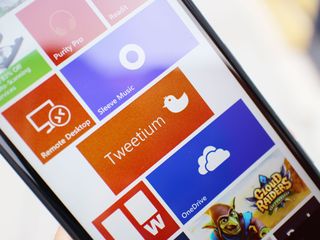 Tweetium is one of the best Twitter clients available for Windows 8.1. Which is why we were really stoked to learn that a Windows Phone 8.1 version of the app was in development. Last week we gave you boys and girls a sneak peek at the upcoming version of Tweetium for Windows Phone 8.1. Today you can get your hands on a beta version of the app. Details below.
Want to beta test Tweetium for Windows Phone 8.1? Of course you do, so hit up the download link below. But first, let's go over a few ground rules.
This beta requires Windows Phone 8.1.
This beta is intended for existing Tweetium owners. Assuming you already own Tweetium from the Windows Store, you will NOT be charged when installing this app from the phone store.
If the store has a Buy button instead of Install, tapping it should tell you that you already own it.
If you're a Pro subscriber via the Windows app, then your Pro subscription carries over as well.
Settings and read states will roam to and from Windows PCs/devices
The app IS lock screen capable and includes live tile functionality (and push notifications for Pro users)
We've been playing with Tweetium for Windows Phone 8.1 for over the past week and really like it. We can't wait for you to join in and check it out yourself.
How do you become a Tweetium owner on Windows 8.1? You buy the app from the Windows Store. We'll include that download link below.
Are you in the Tweetium beta for Windows Phone? Let us know how you're liking it so far! Don't forget to go to the UserVoice page to provide feedback and report bugs during the beta period. Don't forget to hit up Tweetium developer Brandon Paddock (@BrandonLive) on Twitter with any questions or comments.
Get the Windows Central Newsletter
All the latest news, reviews, and guides for Windows and Xbox diehards.
Was just going to tip you guys! Can we expect a video review soon?

A hands-on sure, but we'll save the 'review' for when it's released and out of beta. Here's my review of the beta: Great app so far, really liking it. Tons of promise early on and can only get better from here.

Great to know Sam I'll buy it on your word.

Everytime I read your name you remind me Sam Winchester. Really.

It's fantastic. Finally took the plunge and got Tweetium Pro for the next year, and don't regret it. Glad to have a killer Twitter app on my 920. Plus, Brandon is super great, sent him an email asking a question and was conversing back and forth within minutes.

I have to admit, even as a beta, this is really pretty good. Fast performance.

This thing is top notch loving it, you are correct sir even as a beta it's beautiful.

Performance is very fast. Definitely has some work to put in though. The settings page for example is atrocious.

Yea, I've tried just about all the Twitter apps on WP and this even as Beta is fast and functional. There are some bugs but it is sweet imho and I like it a lot.

Difference between 3rd party and official apps?

That third party charge you but may be better in: Looks, performance and features. Apparently not a lot of people like the Official Twitter App (I don't know why, to me it's fine).

Official is official and hence crap.

Third party apps eventually run out of tokens from twitter and they shut down the shop and go away like Rowi and others. Official app is here to stay as far as Twitter is concerned - all third party apps are temporary.

This is not true. While Tweetium is limited by Twitter in the number of users it can have, there are several reasons this is very different from Rowi and other examples. One reason is that it's a paid app. It is currently nowhere near approaching the token limit, though eventually become an issue (not for years at the current rate), it will just mean the price will have to start going up. Because service-based features like push notifications are part the Pro purchase (which is more or less a subscription model - you pay $8 for a year of service), I plan for the app and Pro services to continue to be maintained and invested in even after the token limit causes new purchases to slow or stop. It's also possible that with enough pressure, Twitter will eventually make an exception as they have for certain high-profile apps on other platforms. I wouldn't count on that, but it's always possible.

The difference is that 3rd party apps dont work anymore when they are to popular because of the way twitter authorizes with a twitter token. So at the end you will need to use the official app

Please read my reply to the commentor above. Main point though is that there is no danger of Tweetium hitting that any time soon... And that it will continue to be supported even after the limit is eventually hit (thanks to income from Pro subscribers).

Wow nice!!!! Its very nice. I hope he brings landscape mode over to this app!!!

Can we buy now on windows 8.1 to be a part of beta on wp or is it just for user who have already bought?

Of course you can buy the app now to join the beta.. But please keep in mind the Windows Phone version is beta and don't leave a bad review on account of it.

It will only be fair to leave the correct review even if for beta. Most things on WP is beta. But if beta doesn't get review what's the point of it being in the store? eg Instagram.

This app is NOT in the store. It is only accessible via the special link shared with existing owners. That is why it is unfair to leave me a bad review if you gain access to the link and choose to pay for the beta. Instead I just ask that you send the feedback to me so I can address it for the official release. *Then* if you still think it's a bad app, you can leave your negative review (but of course I hope you won't want to!).

Downloading now! Absolutely love this app on Windows 8.1!

Allo !!!! No search options ????

Search shows on my 1520. I think smaller screens will have an update soon to show the search UI.

Flip your phone sideways and there will be room for search, pins etc :) (Tried with 1020)

Yeah that's a workaround until the next update (probably tomorrow).

Very helpful, good stuff !!!!

FYI, the update with the fix for search on smaller screens should be hitting the store now.

No trending options!!!!
A lot is missing but very nice UI

Trending topic support is coming soon.

Even though it is a Beta version this app is amazing !

Already had my login info! WHAT.

TURN DOWN FOR WHAT? That's the power of Universal Windows apps or something.

Hehe, yup. It was just pretty awesome.

data sync with Outlook account?

Presumably you use Tweetium on Windows. Universal apps can roam data across all platforms, including your auth token :-) (note that passwords are never stored or roamed by the app, just the OAuth token)

Brandon, I made the post "in a good way." Awesome apps and keep it up!

Nicely done, I use it on my PC and tablet.

Any idea if this will be free when its out of beta?

3$ for a twitter app? LOL

+7.99 to get push notification. The definition of a ripoff.

How else would you expect me to pay for all the servers needed to provide those? I can't possibly offer push notifications to everyone today even if I wanted to do it as charity. If Twitter didn't restrict site streams it would at least be possible (but would still cost me every month for the necessary servers - but at least I wouldn't need as many). You also get a lot more than that for the price of Pro, including multiple account support, Newseen integration, and TweetMarker support (which also costs me $$ every month based on number of users). Along with some other cool advanced features coming down the pipe.

Yeah, but I don't care about all that other junk... I just want to know when I have a notification... Surely that shouldn't cost me $8 a year... How about either making the app $5 instead of $3 or something and including push notifications...

The main point is that because the servers cost me money every month, it needs to be a recurring payment model. Otherwise when I hit the token limit there will be no revenue to pay the server costs. It's already only $8 a year. That's about 66 cents a month. I'd you use the app daily, I don't think it's that much to ask. And remember it works across PC, tablet, and phone for the same price.

$4 maybe, not $8... Once you hit your token limit you'll have quite a lot of money coming in there... Servers don't cost that much...

WOW! The people who will tell you what you should charge for your hard work and the expense to run your business, smh... If its not worth it to you, fine but don't act like he's a thief, just don't buy it. Now personally, I think it's a steal. Great app on Windows 8 and now WP. I use it daily and for that it's worth a couple of pennies a day.

Remember the store takes 30%. And maintaining servers, debugging/troubleshooting issues, and investing in improvements all takes time. Until recently the only pricing option was $5 for 6 months, and that had a pretty decent attach rate all things considered. The price is now lower if you buy 1 year, *and* it now covers phone as well. I think it's a good value. Not everyone needs Pro though, so the vast majority will pay $3 once and be happy with that.

You should do a trial version at some point. Obviously you need the time to get this one out of beta, but once you get it off the ground a trial version would be nice!

Valid reason. Well bud MS also not provides their most o of the games for free because they want money, so why this developer give you a free app, plus he had a valid reason too.

Best twitter app on both OS's. I was happy to pay the $10 to get the app & premium.

The icon is ugly. Seriously.

For those who have a little experience, which is best Tweetbot (in iOS) or Tweetium (in WP8) ?

No comparison ..tweetbot is way better. It's been around for a while and the app is almost perfect, and you pay only 2.99 with everything included, no subscription needed like Tweetium.

Wow. this is why we can't have nice things. Tweetbot has a MUCH larger userbase and was in before Twitter instituted token limits on apps. AND they made a totally new app that you had to REPAY for with Tweetbot 3. 5 bucks for the first one and 5 for the second one after a year. You have to pay for quality one way or another. To answer the original questioner. This is the smoothest and best looking twitter app on windows phone. It feels amazing, and is the first app that I would compare to the top iOS twitter apps. Conversation views are amazing and integrated.

TweetBot also charges separately for iPhone and iPad. Also they can afford to do certain things differently because they get more support from Twitter.

Really digging this app so far. Love how the UI elements and fonts are all pretty small, lets me see alot of stuff on my 1520

Can i join the bera by buying this app directly from WPStore?
Oh, wait, but, $3 for app and $7 for push notif? I'm fine with metweets. (but, if it's $3 plus push notif. Gonna buy it)

Yes. Even I had the same question. Sam, Daniel ?

MeTweets doesn't do push notifications does it?

It does. And the push notif is better than the official one.

Ah that's the one that does them via a server that polls every minute. That means they aren't instant, and only cover certain things (no favs, RTs, new followers, etc), and might cause you to hit rate limits a lot. Tweetium's are instant, and offer notifications for new followers, RTs, favorites, and gives you lots of options like tile vs toast, and whether to only notify for people you follow or everyone, for each kind of notification. MeTweets also doesn't have a complete conversation view (and the one that's there behaves very strangely). But to each their own :-)

Never noticed MeTweets does it every minute. The notifications in metweets seems to be pretty instant to me. Faster than all twitter apps I've got (basically everyone except tweetium) and even shows new mentions quicker than the site.

Awesome, currently downloading. Worked great noticing my windows 8 purchase

Beautiful app to bad they build in the 7.99 for push

Forgot to mention its 7.99 for 12 months

And it gets you more than that. Visit http://tweetiumapp.com/pro for details about what's included and why it costs extra.

Just updated to the Beta, looking forward to testing.

I am user of the app on Windows 8, and am now using the beta. The app is great, and love that it is a universal app that means one purcahse across platforms. Now some on here are not liking the subscription model for notifications. You have to remember that many twitter apps are leaving after they hit the twitter token limit. These apps have a maximum number of users they are allowed to have before Twitter shuts them down. The subscription model is going to allow the app to continue with develotpment and updates post Tweetium hitting that token limit. There have been many great apps like Metro Twit, and Falcon Pro (android) that have just ceased after they can't make any more money. If this is a model that allows devs to support a product, I am happy to support it. They need to try something!

As much as I love the social network of Twitter they really suck copious amounts of balls.

We don't know that this model = endless development. Any developer can turn back and blame twitter that tokens are now gone, their hands are tied and they didn't make enough money to keep the app going. Shop shut.

Okay, but we DO know that without financial support these 3rd party Twitter clients are 100% likely to shut down. Dev's that screw their users tend to not get many second or third chances.

Yes! Gonna try it now since I am a existing user :))

I feel like most of the detailed lock screen stuff is underappreciated/underrated. Imo, not enough devs use them, and that should change. This includes the lock screen itself. Not enough apps replace the lock screen I think.

Great beta! Smooth and fast. Good themes to use and a lot of options for customize. But, is there a way to turn off streaming?

Not currently. The stream is only active while the app is running, and should in general consume less bandwidth than manually refreshing. The UI only adds new tweets when you're scroll to the very top (and then it only adds them at most every 20 seconds, not while scrolling or having a thread expanded, composing, etc).

Wow, with this explanation I'll don't worry (but I get a refresh limitation because the API limits, this is why I ask). But is a fabulous code implementation, this is why I pay for the app and the one-year suscription. Keep with your amazing work!

My heart bleeds everytime a cool paid app makes an entry on WP. Can't buy apps with my Maestro Debit Card in India. Is there any other way I can buy apps on WP? Please help if anyone knows

I also wanna buy but can't

Sign up for Paypal. You can use maestro card on that.
I think those people who are complaining about the subscription service want something for nothing. Small developers have to pay for their servers etc. Unless they are trust fund kids, how do you expect them to finance a premium Windows Phone experience for you. Twitter imposed token limits which saw off some major development and some brilliant apps. This developer has taken the time to respond to comments on this article and his reasons are valid. So please stop complaining. If your stunning windows phone loses all its brilliant apps you will end up without a good experience and then you will moan even more. WhatsApp charges after the first year. I know several people who have paid the subs to keep the service.

PayPal is not available in India. So can't use that. I would love to buy apps and support the developers, but there is no way to buy apps on windows phone store in India (if one is using a Maestro Debit Card)

Can you not add a Microsoft gift card to your account using Wallet on the phone?

Even Microsoft Gift card doesn't accept Maestro Debit Cards.

Can't you buy one from a shop, or order online? Then add the code from the back scratch off panel to your account using Wallet or browser.

I hope the final release is free, because I don't have a Windows 8 computer.

Hi Brandon, I don't currently use tweetium and I'm more than happy to pay the $8 a year :) but if I purchase the beta, would I need to pay again for the full release? Cheers

Nope! If you buy it now it will automatically update to the release version when it's available, for free. You'll also immediately have access to the Windows 8/RT version (it's the same Universal App).

I do not like the in app purchase I think it would be better to buy only and permanently the push notification. For example I do not own 7 accounts neither I use tweet marker. In that case you could buy the periodical subscription but I just need the push notification.

Push notifications are the most expensive thing for me to provide (and take the most work to maintain). I don't see a say to offer them without a timed purchase / subscription model.

Fast, good performance. Replacing my default twitter app!

Am so glad I bought Tweetium the other day. Love this app. Beta works just fine.

Medoh or tweetium? Which one I should prefer to buy???

I would recommend Twabbit. Better design, image handling, smother scrolling and most of all more stable.

Mehdoh. I've been using it since WP7, I've tried others but always go back. Now the extra instagram and sound cloud integration has been took out it's pretty speedy.

Nice app for both Windows and Windows phone. But paid subscription to have notifications in a paid app? Yes, I've bought it, but I don't like the way it goes...

OK, so I bought it. I know it is only beta for now,but it still needs some work to do. I like the UI and fonts. Hard to manage list, not remember my position,always scroll to top. Is this newseen art preview works for Windows Phone? I'm thinking about buying PRO Tweetium,but I only use Windows Phone.

This is how a modern app should look like. When Changing features and settings it doesn't require to exit app. Seamless sync between surface and phone. Hope other big name apps take some clues. People will pay if developed with modern design in mind

I will buy this if you can give me 2-3 reasons that why it is better than another twitter client Mehdoh(which I am currently using) , Other than it being an universal app
Thanks

160₹ for twitter app thats too costly. I am happy with official twitter app how ever it is!

Obviously I'm biased (it's my app), but I'd point to the conversation view and the general UI design as big advantages over what I've seen of Mehdoh. For Pro users, having instant push notifications and great multi-account support is a big win as well. Of course, the Universal App aspect is a good selling point for many :-)

I don't get why you would bother when you know it will run out of access tokens on Twitter. No offence to the dev, the app looks great. Maybe one day Twitter will revise their policy but probably not...

You should read the developer's posts in this comment section (Brandon Live). He addresses this.

Does it address how more and more of Twitter's API isn't public as they shift their business model? It isn't going to get any better, unfortunately.

Too much costly.... Its about 300 pak RS

Are you forgetting 7.99$ for Push Notifications?

Really fast app, runs very smooth. I'm not sure if the screenshots from this article are from the Windows 8 version, but I wish it looked like that on my phone. It looks sort of bland. But, obviously it's only a beta so I know it just gets better from here!

Those are from the phone version, though I have tweaked things a bit in the update that went out today (and may further, based on feedback). Which theme are you using?

Payd app for tweeter? Really? never lol

The only problem with the app is the emoji. Can't you make it normal? Looks weird with no colour

Hmm... Hadn't noticed that. They work correctly on Windows, but are showing up colorless on Windows Phone. Will look into it.

All I want is for notifications to work and ability to share via twitter. Twitter app doesn't work and Tweetium wants $7.99/yr for notifications :-(

Plus when it hits the token limit, twitter will remove it!

Do U think so? Probably there will not to much tokens because it is paid? Or I'm just naive?

Twitter will not remove it, they just don't allow any new users to sign up. Devs remove their apps on their own because they can't make any future money once token limit is hit. That is why Tweetium is going with a subscription model, so there is an ongoing monetary source to keep developing the app.

Master Chaos5 - That is completely untrue. Please stop posting things like that. Twitter is not capable of removing my app, and that's not how the token limit works.

Its good to see new apps arive in the store but Where is Cyan MS? Are your"LL only letting "developers" have all the fun haha!

This is a great client, I'm glad I bought it for Windows 8.1 too.

Tweetium has replaced the official on my Windows Phone 8.1 1520. Well worth the money! Keep up the good work, Brandon! You have my support.

I'll stick with the official one that works great for me (with push notifications) and it's free but appreciate the hard work. :)

Does it have social integration with the people hub in WP8.1? If so, instant buy for me. I'm guessing not as it's not mentioned in article or comments. I appreciate that Tweetium is has great reviews for being a first class Twitter client, but I'd prefer to scan my social timeline stream via people hub in first instance then jump to a Twitter client app for more advanced functionality. Official Twitter app doesn't currently have integration (closed beta does) so I'm looking for a third party solution.

Is there a search function on this app?

In landscape mode, you'll see the search function in the upper right corner.

Yes. It was missing on some devices in the first beta release, but today's update fixes that.

This app is amazing and Windows 8. So glad it came to WP8!

Hey Brandon, is there the ability to pin people to the start screen from the app?

Saving an image takes the whole day. Too stressful. And after all the patience i am shocked that tweetium cannot make longer tweets. Thats poor. Why was i waiting for it.?