Sneak peek at Tweetium for Windows Phone 8.1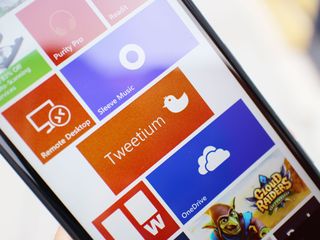 Ready for your first look at Tweetium on Windows Phone 8.1? Tweetium is currently one of the most popular Twitter clients in the Windows Store for those on Windows 8.1. Tweetium is being made for Windows Phone 8.1 to be a Universal Windows app. We'll do a video hands-on soon, but wanted to share you a few details with you and let you know how to join the beta.
While the official Twitter app for Windows Phone was finally updated last week with a few new features, it still doesn't have as many 'pro' features as some of you would like. Enter Tweetium for Windows Phone 8.1. If it's like the Windows 8.1 version, it will be a killer app and a must for Twitter users. Check out our big review of Tweetium for Windows 8.1 to learn more about that app.
Quick details about Tweetium on Windows Phone 8.1
Tweetium for Windows Phone 8.1. will be universal Windows app. Features between Windows 8.1 and Windows Phone 8.1. will be very similar.
The UX for phone isn't final
Settings and read states roam to and from Windows 8.1 and Windows Phone 8.1 versions
Pro support in the Windows 8.1 version is available in the Windows Phone 8.1 app
How to join the Tweetium for Windows Phone 8.1 beta
You probably really want to take this app for a spin right? Developer Brandon Paddock (@BrandonLive) has plans to have a larger, public beta in the near future. Right now the app is available to a small pool of private beta testers. Make sure you're following the Twitter account for Tweetium app if you want to be notified when the public beta begin
Follow Tweetium app (@TweetiumWindows) on Twitter to be notified to join the beta and get additional details.
What do you think of the app so far from the screenshots? Personally I'm already a huge fan and can't wait to see progress on Tweetium for Windows Phone 8.1. It's my go-to Twitter app on Windows 8.1 and is already looking solid on Windows Phone.
We'll keep you posted on the development on Tweetium for Windows Phone 8.1. Check out the Windows 8.1 version to get a feel for the app.
Windows Central Newsletter
Get the best of Windows Central in your inbox, every day!
I'm not familiar with Windows 8 Tweetium, does it have scheduled tweets like Tweetdeck?

Hope it has real time notifications.

It does. Nice app on Windows Phone 8.1 even in this early beta.

Yeah, about that, why haven't most recent apps that got updated to WP8.1 support, like 6tag, 6snap, WPCentral, etc have push notifications? I thought WP8.1 opened that API to everyone?

What do you mean? They do.

Push notifications=update every second/minute.

Push notifications are NOT update every second/minute. Push notifications are something totally different. This updating every minute thing is FUD that spread from Reddit.

Erm, push notifications update as items arrive. Not sure where you got your info. Maybe you are thinking of toast notifications, which is what most WP apps have, and which is why I was asking Sam why many apps still use toast notifications.

Push notifications do not "update" every second/minute. They're instant-ish. Background tasks pull information. Push notifications send information from a server to the client app. There is no second/minute update period with push notifications. Both can display toast notifications, that's just a form of notification, totally separate to push or pull. As is updating the live tile. What you're thinking of is the post that was on Reddit, and spread further, that said that apps in 8.1 can update their tile every minute/second. What actually is different is that apps can have multiple background tasks in 8.1, and if you space them out, it can look like its updating more frequently.

The base app has a live tile via a background task / polling. If you buy the Pro add-on ($8 a year) you get real-time push notifications.

Thanks for the great Windows app Brandon. Just paid for Pro this past weekend!

I love Tweetium on Windows 8.1!!! Can't wait for the phone version!

Same here. By far the best Twitter client for Win 8, been anticipating the WP version since he first started hinting at it after BUILD.

Can't wait, best twitter app on Windows. Twitter client for WP stinks, even worse for WP8.1

The new update for the WP version makes it pretty good but I'm waiting for 8.1 features to be implemented. The windows version is terrible like you said.

Nothing wrong with the official app at all. Perfectly good. Just doesn't update live tile and notifications more than 1. STILL.

And it can't display long conversations, rarely opens to the right place from a notification or from pinned searches, often fails the first try to launch as a share target, isn't a share target for things when it should be, doesn't share read states or any settings with the Win8 app, doesn't support embedded instagram/twitpic/onedrive/etc photos, weirdly jumps way back in time randomly, makes you pull-to-refresh 20 times to catch up on mentions if you have many new ones, doesn't update the DM view while you're in it, doesn't linkify phone numbers in DMs, doesn't let you select text to copy and paste, has broken auto-complete for multiple account users, sometimes gets confused and displays data from the wrong account after switching, wastes tons of screen space, is quite slow especially considering it always shows old data on startup, is updated like.once a year... Okay, I'll stop. Hopefully you get the idea :-)

I love Tweetium on my Surface and have been waiting (impatiently) for the phone release. Can't wait, I've tried numerous Twitter apps and none ever really make me happy, but I have no doubt this one will.

I have this unique problem that the uninstall option for twitter is absent, even inside the storage sense, it gets greyed out. So everytime the official app messes the time (sometimes it sets the newest tweets as 12hrs ago), I HAVE TO DO A HARD RESET. YES, A HARD RESET, SOFT DOESN'T WORK I'M SO PRESSED Now I guess I have hopes not to use that app again, I hope Tweetium slays! PS Basing on the screenshots, I think it could use some UI cleaning.

Man cant wait for Tweetium to come to WP 8.1, looks really awesome!

Is there any White theme?

Yes. Plus your settings sync. So I just changed to the white theme on Windows 8.1 version of Tweetium and now the phone version is the same. Apps made for Windows Phone 8.1 and Windows 8.1 are awesome ;)

Oooh man can I be a part of the public beta??? :D

This is my go to Twitter app on my Surface RT. After an initial use of it I bought the full app (it literally took minutes). Absolutely love this app. I am following them on Twitter so I hope I can be a part of the Beta.

Brandon, will current Pro users of the Win8 version get the WP8 version free (assuming you charge for it), or will it be a separate purchase?

The article says he is making it into a universal app. Thus, you only pay once.

Both the app purchase and the Pro add-on are shared across phones and PCs/tablets, so if you are a Pro user on Windows, you'll be able to just install the phone version and you'll be set! (assuming you use the same MS account for the store).

Wonderful, thank you guys for answering.

while i love and use tweetium all the time on my RT, i do not like how we have to pay yearly, even if its only 5 bucks to recieve real time notifications.

Well running those servers costs me money every month. Have to pay the Azure bill somehow :-)

of course, i understand. gotta get money for your hard work. not sure right now, but i should give the Pro a try. appreciate the app greatly

I want the private beta!! :D good job for the work you put until now!

It's a great app on Windows 8.1. It makes Twitter official app garbage.

For those using the beta version of this app, does it create a second tweet automatically like MeTweets does? Also, can you tweet the album cover of the song you are currently listening to?

OMG, YES! I LOVE THIS APP ON MY SURFACE! :D

Is this a twitter app for WP that will allow us to start typing a twitter handle/hashtag and be able to choose from a list whether we follow or not like on iOS/Android? Been looking for an app with that option

I love Tweetium in Windows 8.1. It would be a stroke of genius if the WP app would work in a similar way.

Nice
Is Tweetium similar to Tweetbot in iOS ? Which is best ?I know a lot of people who want Tweetbot in Windows phone

This is the type of stuff that keeps me wanting to use Windows phone. Some of the major apps might be crap, but the content by the developers is just so world class you just want to stay around. This is not just one of the best twitter clients on any platforms. It's one of the best apps period.

everything looks nice except for white borders around buttons i hate it on WP

Worth the money for pro. My most used app on my tablet, and sure to be the same case on my phone.

Does it have an interactions tab with all your connections in one place like proper Twitter?

It's raining UNofficial goodness! ;)

This is a very nice app for twitter though its still in beta.
The UX is just too appealing and the additional features which the official one lacks.
Thumbs Up (Y)

If this is work like tweet deck thn it is awesome

Best twitter app on Windows 8! Can't wait for it to appear on phone

Been using the default twitter client for WP, it works good but, there are limits that I can use vs using IE on a PC Is this client that much better than the default client ? I'll be honest, just got into twitter about a year ago and never tried anything else..

I pray it does not cost. Cuz I'm loving the interface of this Tweetium app. Even more than the official twitter app

This app is a bad joke, just like its sister app on Windows 8. I have never seen an app that does not offer notifications and multiple account support even in its heavily overpriced PAID Version. I would expect this from a paid app. Besides: the FREE native twitter app has both. The user Interface of Tweetium is completely overloaded and just spills things on the screen without any care. But, not enough: to get notifications and multiple account support, you are invited to in-app purchase a SUBSCRIPTION! This kind of rib off is very hard to top. I wonder what has been done to authors who frenetically support this app and regularly write hilarious things about this app and support this modern way of piracy. And, folks: the beta is neither limited, nor private: as always in Tweetium, you just need to pay for the Windows App to be included. The idea behind is very simple: the more often you get upset about missing notifications (and this is the case if you use it on more devices), the more likely it is that you buy a subscription. The developer is more of a marketing guy than an app developer. In case, you did not know: one can get reimbursed by the store if you have made a mistake while purchasing an app.