Check out Tweetium, the best Twitter app available on Windows 8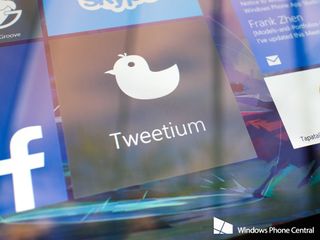 The official Twitter app on Windows 8 sucks. It hasn't seen an update in months and it doesn't even fully take advantage of the unique new features in Windows 8.1. It's just not that great, which is unacceptable for an app and company with over 2,000 employees and a market cap of $31.44 billion. Twitter claims north of 230 million users and we think those users on Windows 8 deserve a great Twitter app. Thank heaven for Tweetium.
There are a handful of third-party Twitter apps in the Windows Store, but we're confident to say that Tweetium is the one worth downloading. The app launched in mid-December and has pretty decent at first. Since then the app has picked up 15 updates in the Windows Store. That's an infinite number of times that it's been updated compared to the official Twitter app for the same time span. With each update Tweetium became better. And unlike most updates we encounter, Tweetium wasn't just fixing bugs. Each update that came out brought new features. Don't believe us? Go read the changelog for Tweetium over the past two months.
Brandon Paddock (@BrandonLive) is the developer behind Tweetium and he's been doing some kickass work with the app. He listens to user feedback and you can see a lot of requests implemented in those updates to Tweetium. A little over a week ago Tweetium hit version 2.0, since then we're finding less reasons to use any other Twitter app on Windows. Here's what you get with Tweetium:
Modern flow layout – combines the best of information density and rich media support
Flexible design that adjusts to portrait, snap and all various window sizes
Smart streaming-based feeds with robust connectivity and suspend/resume handling
No need to refresh manually
Post new tweets with fast username auto-complete
Photo upload support – including pasting image data and files directly into tweet composer
Lists support, with the ability to pin favorites for quick access
Search for users and tweets
Rich embedding of several third-party media types
Powerful conversation and DM support with rich, streaming-based conversation view
Multi-window support – open multiple full instances or break out specific tabs
Over a dozen color schemes
Automatic roaming of color scheme, pinned lists and read states
Live tile displays new mentions and DMs
Full integration with the Share charm for sharing to and from Tweetium
Quickly jump to your last seen tweet for your timeline, lists or searches
Multiple account support (Pro purchase)
TweetMarket support (Pro purchase)
Feature packed right? And every week it seems a little something gets added to Tweetium. We'll be the first to admit that we didn't dig the horizontal timeline at first, but it grows on you as you use the app. The app works great in any orientation or snapped state. Though we are finding ourselves using it mostly snapped to the side in Windows 8.
Tweetium streams your timeline, mentions and more in real-time. Which makes it invaluable as a ticker if you snap it to the side. You can see in the screenshot above how I'm literally typing this article and watching my Twitter timeline in as updates fly in. Super handy and Tweetium still looks great snapped. And I never need to manually refresh my Twitter stream, unlike in the official Twitter app. In the timeline, tweets are throttled and batched together so they don't come more often than every 20 seconds. This helps to keep the view stable so you don't miss a ton of tweets at once.
Tweetium supports all the typical Twitter features you'd expect, which is always appreciated in any third-party app. But it's the little extra features that you typically won't find in most Twitter clients that help put Tweetium over the top, especially on Windows 8.
We really like all the media types that are supported and embedded into Tweetium. As of right now it supports Twitter images, TwitPic, Instagram, SkyDrive/OneDrive, Imgur, YouTube and Vine. Which means you'll never need to open the web browser for viewing any of those images or videos if a tweet contains them.
Features that make Tweetium the right choice for power users
Another handy (and now indispensable) feature in Tweetium? The ability to mute users or hashtags. Is your timeline filled with tweets about some event or happening if you have no interest in? Say the Oscars are happening and you don't want to read a single tweet about the Oscars. You can mute the hashtag #oscars for a day. Or if there's a particular individual in your timeline that is getting annoying you can mute them for one hour, one day, one week or forever. When you mute a person or hashtag you won't see that person or hashtag in your timeline.
We're having a hard time thinking of any other Windows 8 app that can slip into multiple windows. Like Internet Explorer, Tweetium can have more than one windows open at a time. Which is crazy awesome. It supports multiple accounts, that's not unique to Tweetium, but it's how you use multiple windows to control those multiple accounts that make it a killer feature. Right now I have a windows open for my personal account (@samsabri) and another for monitoring the Windows Phone Central account (@wpcentral), which is great because in any other Twitter app you'd need to actively switch between the two accounts. Check out the screenshot above to see the two Tweetium Windows in action controlling separate accounts. There are a few bugs right now when using multiple-windows with more than one account, but a fix is coming out soon for that.
Tweetium also features support for Tweet Marker. That's a cross-platform web service for syncing your reading positing between multiple Twitter clients. On Windows Phone we've seen apps like Rowi (RIP) and Mehdo support it. It's a great feature for making sure your Twitter experience carries from app to app.
Both Tweet Marker and multiple account support are features of Tweetium Pro. When you buy Tweetium Pro you're able to add 5 different Twitter accounts to the app and enable Tweet Market sync. Future updates to Tweetium will net Pro users a few more features like push notifications and more. Tweetium Pro is a $4.99 in-app purchase that lasts for six months. It doesn't automatically renew, but after those six months are up you can purchase Tweetium Pro again to regain the features.
Everything else Tweetium does is available in the base app. The in-app purchase enables pro users to get the features they want. Plus Twitter now limits the number of copies of apps that third-party developers can offer. Adding multiple accounts to Tweetium will reduce the number of additional Tweetium downloads available to other users. Tweetium Pro enables Brandon to continue to develop and add no features to Tweetium without working for free. It's a win-win for everyone and we're happy Tweetium Pro users.
Want to take Tweetium for a spin? You can grab it in the Windows Store (opens in new tab) for $2.99 (free trial available).
Tweetium is our favorite Twitter app for Windows 8. If you have any questions just ask us below and we'll do our best to help you out. Enjoy!
Windows Central Newsletter
Get the best of Windows Central in in your inbox, every day!
This app is great. It is updated frequently, beautiful and works well in all snap sizes and portrait mode! It holds its own against any twitter app I've used on android or iOS.

I've been using this app for more than a week now. it really is the best and fastest Twitter app for Windows 8. Heck, it's even faster than Tweetdeck for desktop.

I absolutely LOVE Tweetium. It's probably the best Twitter app I've ever used on any platform. The rich design and features keep me hooked.

I love Tweetium, it's the best twitter app hands down, using it right now snap to the side on surface 2.

Dang, tell us what you really think about the official Twitter app :-)

The official Twitter app for Windows Phone is great. The official Twitter app for Windows 8.1 is useless, though, since sharing has been completely broken, with no sign of a fix.

Windows phone version of tweetium? Perty please?

All I can say at this point is I'm looking into it :-)

Make it happen and my children are yours for experimentation. Cheers :¬)

I love you. Email me your address, and I will mail you my first born, and my girlfriend.

Please Brandon, do think about a Windows Phone Version. In less than a week this gas become one of my favorite MS Surface Apps and I'd love to see similiar functionality on my Lumia 1520.

The official Twitter app is more than enough for me.

But it doesn't have that full Metro goodness.

For me too. You know what Sucks? No customs notificationtones in the WPCentral app.

If only it was available for Windows Phone also :/

Sam. Why is it that official apps upon been released on WP fail to upgrade? Please can you reach out to twitter, There is a conspiracy going on against WP. This has to stop. WP users are the same as everyone else. We are human.

I've been using the official Twitter app on my Lumia and Nexus phones, my iPad, and my SP2, so I've never used 3rd party apps, probably because they look "different". But I will do the free trial on this. Thanks!

Official Twitter sucks in Windows 8/RT. Missing a lot of features.

Only feature I miss is "Quote Tweet", other than that, official Twitter is great for me on Win8.

This is by far the best twitter app!! Need it on WP8 next then my life will be complete for ten minutes lol

Is it really that much better than metrotwit? That's what I use now its really good have zero complaints.

Scrolls horizontal, versus vertical.

Hmm I guess I'll check it out.

GOOGLE CHROME KILL IT WITH FIRE!!!

Thank you for this article. My Twitter experience on Windows 8.1 has been mediocre. Can't wait to try this out!

Wow Sam, laying down the law with those first couple of paragraphs. You're exactly right. Twitter not updating their app is the epitome of laziness.

Metrotwit is still the best. I have to disagree on this one.

I like MetroTwit as well, but I'm always having trouble getting it to sync. This happens especially when the app is resumed, etc. It's like the app doesn't register when I press the refresh feed button. Like I said, I think it's almost perfect but falls short in a bad way.

This app is fantastic and I can also say the developer is just amazing. I corresponded with him about a month ago regarding some features and had an amazing experience. He was really quick to respond, explain the situation, and the features appeared in the next update. I'm a university lecturer and now recommend this to my students as well. It's awesome. As for a WP8 app, bring it on. I'm still in mourning for Carbon which was my favorite. I use Twabbit now, but can't wait for a WP8 version of Tweetium and will switch immediately. Thanks Brandon! DavidM

No timeline on a live tile option, I'm not interested.

Actually there is such an option! You can choose either the main timeline or a pinned list to cycle its most recent 3 tweets on the live tile. You enable it via the Settings charm under Preferences. Also supports giant tiles :-) I use it with my "Friends" list.

Oh this is for w8 not wp8 lol

Looks like a mess to me.
Update: installed it, and tried it out, the UI made allot more sense to me when actually trying it out. Goes to show I should shut my mouth until actually trying it out. To bad Wpcentral doesn't show the default look in there screenshots though!

Swearing, really? Not very professional, what I expect in the comments, not the article itself, let's keep it classy.

Stop slinking to the level of your clients guys and keep it clean.

The Connect section doesn't show when my tweets have been favorited? That's a bit of a deal breaker for me. Is there any way to enable this, like the official Twitter app?


Hi there. If someone favorites your tweet while the app is running, it will show up in Connect. Unfortunately, Twitter does not provide an API to get access to favorites of your tweets while the app is not running. I've been looking at some more roundabout ways to accomplish this, but for now this is one unfortunate limitation Twitter has imposed.

Hi Brandon maybee i found a bug. when i have connect to 2 accounts and show them in multiple window mode (one window in one account and the other account in different window) i see tweets from other account in one account and vice versa. and i also can retweet this tweet in the different account. Very confused to me. 2 bug is that the app crash if you have multiple window mode and do a manual refresh. EDIT App Crash also on second account if you in one window mode. I have windows 8.1 German System 64 bit Intel.

Hi there. You're right that there are a few bugs with multj-window plus multi-account. Sam actually noted this in the post. Fortunately, I've fixed.up.this scenario and the next update containing those fixes is already pending certification in the store (which means it will likely arrive on Monday). I am sorry to hear you've encountered these problems! If you encounter any other issues, or find any problems.with this scenario.after the next update, please do let me know. You can find support info and contact information at http://tweetiumapp.com/support

Hands down best, fastest Twitter app... I was MetroTwit guy, went from trial to buy in 30 sec

Hell yes. And I love that you can hide the back button.

Dan, what's going on with the tweet it! app lately. Updates seem a little slow in coming, and can't find a good companion you tube app to figure out how to use music share, keyboard swallows option to post pic. . Not to great to multi task on phone. Now I find you supporting another tweet app? What gives?

We all can say that unofficial app developers are more hardworking then offcial ones

So is there anything wrong with Search in the Store?
I searched Tweetium but found nothing in the Store. Had to follow the link to get to it. Anyone advise?

Hmm, that's troubling. I'm able to find it via search here. Is it possible you have the Store set to only show apps in a certain (non-English) language? There's a setting related to that in the Settings charm, though I'm not sure how or if it affects search results. If not, would you mind sharing which country/region you're in? And do you see the app if you go into the Social section of the store? (should be near the top of Top Paid or the All Apps lists for Social, at least in the US). That way I can report more details to the Windows Store support folks.

I just use the browser for Twitter (and Facebook, WPCentral, and most other websites and web-based services) and it works perfectly. The website is the official Twitter app, if you ask me. I don't understand why a binary executable app is necessary to use a website on a full OS like Windows 8.x with many full-featured browser choices. Apps for websites do make more sense on phones and low-powered iOS/Android tablets, but not so much on Windows 8.x devices.

You should take the free trial for a spin. I'd like to think I've created an experience that's both more delightful and productive than the stock Twitter experience. If you do give it a try, I would love to hear what you think!

WP8 version would be fantastic

Kind of looks like Tweetdeck, the app for the Chrome browser

Is this some sponsered post? Honestly, I think the official Twitter is pretty good.Only thing I'm missing is the ability to view full conversation as seen on twitter website. About tweetium,
- No need to refresh manual : This is not something to be called a feature, if you can't choose when to refresh, obviously, you are gonna miss most of the tweets when you were offline.I prefer the freedom to choose when I want to refresh the feed. The black layout of this app doesn't make it feel like twiiter. I <3 official Twitter app. Thanks!

Hi there. I'm the developer of Tweetium and this is absolutely not a sponsored post (I am sure Sam would.disclose such things, and have yet to spend a single cent on any marketing, in fact). The default.theme for Tweetium 2.0 is white, but there are several options. There is a manual.refresh option, but if you use the app I think it will become apparent that this is never needed. The app remembers where you left off and lets you jump straight there if you're a "read everything" kind of person, and this is really a separate issue from the question of refreshing. The official apps (on both WP8 and Win8) require you to pull to refresh several.times to catch up if you have many new mentions or search results, and very often show you the same out of date tweets several.times when launching the app. This is why I list the lack of manual.refresh steps as a feature. The 1 day trial is free so there's no harm in giving it a try! If you do, I'd love to know what you think :-)

Also please forgive the random periods... typed that on my Lumia 1020 which has a shattered screen as of last night =/

I don't think the official Twitter app is as described in this somewhat one sided article... I wouldn't pay for any social media app, but certainly not where there is a credible official offering... I would ask my fellow subscribers to take note that Windows Phone Central, while a credible source of information for our devices, has money to make, advertising paid apps...

Without a doubt this is the best twitter app for the Lumia 2520, I'm so glad the developer made it. Would be good to be able to edit your profile on it, but im nit picking, if u have a surface or 2520 get this!

What do people think vs tweetro??

I think it's kind of outrageous to make you pay twice just to get 2 accounts. I like the app ok but I can't figure out how to keep a person's profile open while I look at other stuff. Just odd. And I am not paying again just to get two accounts.

Hi there. Multiple accounts cost extra in many Twitter apps because Twitter has imposed limits on the number of users who can ever log into a given app (though some older apps are apparently "grandfathered in" and not subject to this limit). In the case of Tweetium I've priced the app comparatively low, but instead of charging extra for each additional account as some do, I created the Pro option so more serious users/enthusiasts can support the app (even once the token limit is reached). In addition to easy use of multiple accounts, Pro includes TweetMarker support, and will also be where I add any new features that require ongoing costs to me (i.e. push notifications). I think this pricing model provides a good balance between making the app very affordable for casual users and offering strong value for power users who rely on it every day.

Oh, and if you want to keep someone's profile open, you can right-click (or press-and-hold) on any link or tab in the navigation bar, and choose "Open in new window". You can also CTRL+click to open links or tabs in new windows.

Technically you do not have to pay twice since there is a free trial.

Heard about Tweetium back on an episode of the Surface Geeks podcast. Immediately bought it for $2.99 and loved it so much that I dropped another $4.99 on it for pro to get my multi user access. Needless to say it was my app of the week on our next episode of the STLTechTalk podcast when we had David McCabe on. Great work by developers like this need rewarded for creating special experiences to help encourage others that quality apps are appreciated.

I'm starting to feel a little slow on this now, but I'm unable to find the what's trending section on this app. Am I missing something here or is this not a feature included?

Hi there. There isn't a trending section in Tweetium just yet, but it is on the list of requested features on the UserVoice page. It doesn't have a lot of votes yet, so you should add yours! (I would link directly to it, but it won't let me post this comment with that link, sadly) The closest thing in the app now is the "news" tab which uses my own service (from my news app Newseen) to show you recent tweets from people you follow where they've mentioned popular news topics of the day. However, full support for Twitter's trending topics should make it to the app in the coming weeks. Thanks for checking out my app!

bought the 2.99 version. How/where do I get the Pro version?

Hi there. You can find information about Pro and the purchase button by going to the Settings charm and selecting "Tweetium Pro". You can also get there from account settings. Hope that helps!

Can anyone tell me how to send a DM to a following user? It's probably staring me right in the face but it's eluding me atm. cheers

the whole windows 8, 8.1, 10 ... flavor of the month, whatever - can be summed up by the uselessness of something called 'the charms' - they provide and support absolutely no function whatsoever that is not already available - the ONLY time they do not randomly pop up on your screen is when you are actually trying to access one of them and the sheer desperation of underachievers programming it so it can't be disabled reeks of desperation
Windows Central Newsletter
Thank you for signing up to Windows Central. You will receive a verification email shortly.
There was a problem. Please refresh the page and try again.