Check out Tweetium, the best Twitter app available on Windows 8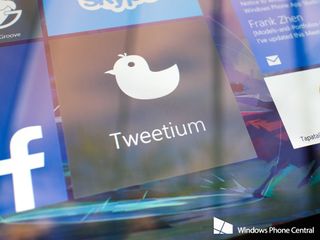 The official Twitter app on Windows 8 sucks. It hasn't seen an update in months and it doesn't even fully take advantage of the unique new features in Windows 8.1. It's just not that great, which is unacceptable for an app and company with over 2,000 employees and a market cap of $31.44 billion. Twitter claims north of 230 million users and we think those users on Windows 8 deserve a great Twitter app. Thank heaven for Tweetium.
There are a handful of third-party Twitter apps in the Windows Store, but we're confident to say that Tweetium is the one worth downloading. The app launched in mid-December and has pretty decent at first. Since then the app has picked up 15 updates in the Windows Store. That's an infinite number of times that it's been updated compared to the official Twitter app for the same time span. With each update Tweetium became better. And unlike most updates we encounter, Tweetium wasn't just fixing bugs. Each update that came out brought new features. Don't believe us? Go read the changelog for Tweetium over the past two months.
Brandon Paddock (@BrandonLive) is the developer behind Tweetium and he's been doing some kickass work with the app. He listens to user feedback and you can see a lot of requests implemented in those updates to Tweetium. A little over a week ago Tweetium hit version 2.0, since then we're finding less reasons to use any other Twitter app on Windows. Here's what you get with Tweetium:
Modern flow layout – combines the best of information density and rich media support
Flexible design that adjusts to portrait, snap and all various window sizes
Smart streaming-based feeds with robust connectivity and suspend/resume handling
No need to refresh manually
Post new tweets with fast username auto-complete
Photo upload support – including pasting image data and files directly into tweet composer
Lists support, with the ability to pin favorites for quick access
Search for users and tweets
Rich embedding of several third-party media types
Powerful conversation and DM support with rich, streaming-based conversation view
Multi-window support – open multiple full instances or break out specific tabs
Over a dozen color schemes
Automatic roaming of color scheme, pinned lists and read states
Live tile displays new mentions and DMs
Full integration with the Share charm for sharing to and from Tweetium
Quickly jump to your last seen tweet for your timeline, lists or searches
Multiple account support (Pro purchase)
TweetMarket support (Pro purchase)
Feature packed right? And every week it seems a little something gets added to Tweetium. We'll be the first to admit that we didn't dig the horizontal timeline at first, but it grows on you as you use the app. The app works great in any orientation or snapped state. Though we are finding ourselves using it mostly snapped to the side in Windows 8.
Tweetium streams your timeline, mentions and more in real-time. Which makes it invaluable as a ticker if you snap it to the side. You can see in the screenshot above how I'm literally typing this article and watching my Twitter timeline in as updates fly in. Super handy and Tweetium still looks great snapped. And I never need to manually refresh my Twitter stream, unlike in the official Twitter app. In the timeline, tweets are throttled and batched together so they don't come more often than every 20 seconds. This helps to keep the view stable so you don't miss a ton of tweets at once.
Tweetium supports all the typical Twitter features you'd expect, which is always appreciated in any third-party app. But it's the little extra features that you typically won't find in most Twitter clients that help put Tweetium over the top, especially on Windows 8.
We really like all the media types that are supported and embedded into Tweetium. As of right now it supports Twitter images, TwitPic, Instagram, SkyDrive/OneDrive, Imgur, YouTube and Vine. Which means you'll never need to open the web browser for viewing any of those images or videos if a tweet contains them.
Features that make Tweetium the right choice for power users
Another handy (and now indispensable) feature in Tweetium? The ability to mute users or hashtags. Is your timeline filled with tweets about some event or happening if you have no interest in? Say the Oscars are happening and you don't want to read a single tweet about the Oscars. You can mute the hashtag #oscars for a day. Or if there's a particular individual in your timeline that is getting annoying you can mute them for one hour, one day, one week or forever. When you mute a person or hashtag you won't see that person or hashtag in your timeline.
We're having a hard time thinking of any other Windows 8 app that can slip into multiple windows. Like Internet Explorer, Tweetium can have more than one windows open at a time. Which is crazy awesome. It supports multiple accounts, that's not unique to Tweetium, but it's how you use multiple windows to control those multiple accounts that make it a killer feature. Right now I have a windows open for my personal account (@samsabri) and another for monitoring the Windows Phone Central account (@wpcentral), which is great because in any other Twitter app you'd need to actively switch between the two accounts. Check out the screenshot above to see the two Tweetium Windows in action controlling separate accounts. There are a few bugs right now when using multiple-windows with more than one account, but a fix is coming out soon for that.
Tweetium also features support for Tweet Marker. That's a cross-platform web service for syncing your reading positing between multiple Twitter clients. On Windows Phone we've seen apps like Rowi (RIP) and Mehdo support it. It's a great feature for making sure your Twitter experience carries from app to app.
Both Tweet Marker and multiple account support are features of Tweetium Pro. When you buy Tweetium Pro you're able to add 5 different Twitter accounts to the app and enable Tweet Market sync. Future updates to Tweetium will net Pro users a few more features like push notifications and more. Tweetium Pro is a $4.99 in-app purchase that lasts for six months. It doesn't automatically renew, but after those six months are up you can purchase Tweetium Pro again to regain the features.
Everything else Tweetium does is available in the base app. The in-app purchase enables pro users to get the features they want. Plus Twitter now limits the number of copies of apps that third-party developers can offer. Adding multiple accounts to Tweetium will reduce the number of additional Tweetium downloads available to other users. Tweetium Pro enables Brandon to continue to develop and add no features to Tweetium without working for free. It's a win-win for everyone and we're happy Tweetium Pro users.
Want to take Tweetium for a spin? You can grab it in the Windows Store for $2.99 (free trial available).
Tweetium is our favorite Twitter app for Windows 8. If you have any questions just ask us below and we'll do our best to help you out. Enjoy!
Get the Windows Central Newsletter
All the latest news, reviews, and guides for Windows and Xbox diehards.