Twitter app Peregrine updated to version 2.5, brings stellar streaming function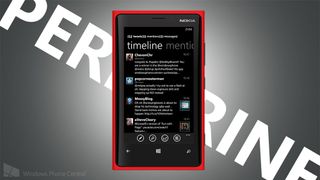 Windows Phone doesn't lack when it comes to options for a Twitter app. You're bound to find the right app for you between the official app and the numerous third-party ones. Peregrine is one of those third party Twitter apps that needs deserves a bit more attention, especially after the latest update. Let's check it out.
Peregrine is made by Morten Nielsen, the same developer that made that lockscreen app we highlighted last week that shows your location – Map Wallpaper. Like most Twitter apps, Peregrine has its selection of fans that love the minimalist, no non-nonsense approach to Twitter. It's latest update, version 2.5, adds some features that you'll find on competing apps, but the way it works with Peregrine has made me a fan.
After loading your timeline, tweets keep instantly streaming as long as your app is open. Keep your phone plugged in and on the timeline and it'll prevent the lockscreen giving you constantly updated tweets all day. No more manual refresh!
Orientation Lock now available in settings
Bug fixes
Some other apps, like Rowi, have the ability to stream your Twitter feed. But a big complaint from a lot of you in the community is that those apps don't keep your current position. Peregrine solves that little annoyance. Your last read position is held even as your Twitter feed is streaming. Put your phone on a wireless charging stand (like the Tylt Vu) and keep a little tab on Twitter through the day. The app is free and I highly recommend you guys give it a download to see what I'm talking about.
Another feature new feature in the latest update is one that nearly everyone app and the Windows Phone OS itself could benefit from – orientation lock. In the settings of Peregrine you can turn on orientation lock to keep the app in either a landscape or portrait orientation. Really handy for when you're lounging on the couch or bed and checking up on Twitter.
Those are the two big new addictions in the latest version of Peregrine, but the app also has some other compelling features. It's really fast, always remembers where you left of, Instapaper support, and you can use voice control to read your tweets. If you're on Windows Phone 8 you'll get specific features like double wide tiles and lockscreen support.
I switch between Twitter apps on Windows Phone a lot so I can get a feel for what's out there, but right now I'm liking Peregrine a lot. And I'm not alone, out of 500+ reviews in the Windows Phone Store the app is averaging 4 out of 5 stars.
Tell us what you think of the app below. Ask some questions and provide feedback/ideas for the developer. He'll check it and answer you guys and gals.
Peregrine is available for both Windows Phone 7.x and 8. The app is free and ad-supported. You can remove those advertisements for $0.99 through an in-app-purchase in the settings. Grab it here in the Store, use the QR code below, or swipe to the right in our Windows Phone Central app.
Get the Windows Central Newsletter
All the latest news, reviews, and guides for Windows and Xbox diehards.