Twitter app Peregrine updated to version 2.5, brings stellar streaming function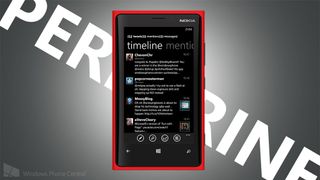 Windows Phone doesn't lack when it comes to options for a Twitter app. You're bound to find the right app for you between the official app and the numerous third-party ones. Peregrine is one of those third party Twitter apps that needs deserves a bit more attention, especially after the latest update. Let's check it out.
Peregrine is made by Morten Nielsen, the same developer that made that lockscreen app we highlighted last week that shows your location – Map Wallpaper. Like most Twitter apps, Peregrine has its selection of fans that love the minimalist, no non-nonsense approach to Twitter. It's latest update, version 2.5, adds some features that you'll find on competing apps, but the way it works with Peregrine has made me a fan.
After loading your timeline, tweets keep instantly streaming as long as your app is open. Keep your phone plugged in and on the timeline and it'll prevent the lockscreen giving you constantly updated tweets all day. No more manual refresh!
Orientation Lock now available in settings
Bug fixes
Some other apps, like Rowi, have the ability to stream your Twitter feed. But a big complaint from a lot of you in the community is that those apps don't keep your current position. Peregrine solves that little annoyance. Your last read position is held even as your Twitter feed is streaming. Put your phone on a wireless charging stand (like the Tylt Vu) and keep a little tab on Twitter through the day. The app is free and I highly recommend you guys give it a download to see what I'm talking about.
Another feature new feature in the latest update is one that nearly everyone app and the Windows Phone OS itself could benefit from – orientation lock. In the settings of Peregrine you can turn on orientation lock to keep the app in either a landscape or portrait orientation. Really handy for when you're lounging on the couch or bed and checking up on Twitter.
Those are the two big new addictions in the latest version of Peregrine, but the app also has some other compelling features. It's really fast, always remembers where you left of, Instapaper support, and you can use voice control to read your tweets. If you're on Windows Phone 8 you'll get specific features like double wide tiles and lockscreen support.
I switch between Twitter apps on Windows Phone a lot so I can get a feel for what's out there, but right now I'm liking Peregrine a lot. And I'm not alone, out of 500+ reviews in the Windows Phone Store the app is averaging 4 out of 5 stars.
Tell us what you think of the app below. Ask some questions and provide feedback/ideas for the developer. He'll check it and answer you guys and gals.
Peregrine is available for both Windows Phone 7.x and 8. The app is free and ad-supported. You can remove those advertisements for $0.99 through an in-app-purchase in the settings. Grab it here in the Store, use the QR code below, or swipe to the right in our Windows Phone Central app.
Windows Central Newsletter
Get the best of Windows Central in your inbox, every day!
I find, for a simple no nonsense approach to Twitter with vertical orientation lock that People hub works great.

For a light user and maybe quick checking of your timeline it will probably do the job. However, it really lacks numerous features that heavy twitter users want like quote tweeting, lists, push notifications etc.

Quote and lists are available. Push would require running servers which would prevent Peregrine from being free.

I think they were referring to the twitter feed in the people hub.

Always on the hunt for a better Twitter app. Giving this one a DL right now.


Never heard of it before, but I'll give it a shot & see if it can take on Mehdoh !

Is there a Windows Phone twitter app that doesn't have (or can at least hide) the huge headers at the top of the screen? I like to have my TL view as clean and simple as possiable devoting as much real estate to show the actual tweets.

metweets has smaller headers. Try it out.

Thanks, I'll give it a try.

I'll have a go of it looks cool, i wonder if it can poach me away from Rowi the speedy little twitter app.

its my main twitter app. i love it and now i love it more for orientation lock.

Downloaded and then quickly uninstalled it, horrible twitter app very cluttered :/ I'll stick with Rowi by far the most reliable twitter app Medoh coming in a close 2nd.

It keeps crashing -Lumia920

Seems like a nice little twitter app. I'll definitely give it a download and try it out. Who knows, I may end up liking it more than gleek (my current daily use twitter app).

Would love to give it a try but my "Other" jumped from 1Gb to 3.8Gb, which on a NL820 is more than half the storage (with OS). My phone is useless, not going to reinstall the entire system, losing games and apps data, just for it to happen again. No more apps for me, unfortunately.

This isn't a bad app but I like Rowi the best.

I'm a big fan of Gravity on Symbian because it has an integrated "browser" that can display just the text from a tweet's URL (e.g., a New York Times tweeted article), with the text nicely wrapped for phone display.
I've tried the stock Twitter client on WP. It works OK, but it forces you out of the app and into IE to read the web articles contained in the tweets. This is fine until you finish reading the article and want to return to Twitter. I have to wait several seconds for the Twitter app to "resume." Since I have to do this for every article I access from Twitter, it's really annoying.
Is there a Twitter app for WP that has its own text-wrapping browser/reader like Gravity does on Symbian?
Thanks

Try Rowi. It even has a free lite version if you can manage without push notifications

The update's timing couldnt be better. I just got my Lumia 720 and trying to get the best twitter app for me. after trying out quite a few of them, this one is sticking with me just because this app keeps my current position after streaming and its a big win for me!!!