Twitter update for Windows 10 changes stars to hearts and favorites to likes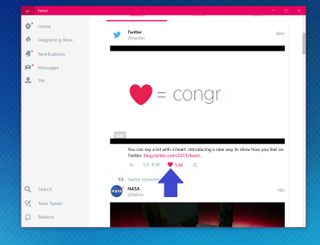 Twitter has updated its official Windows 10 app today, and while there is no change log, users of the app will see that the "favorites" label has been changed to "likes", and the star logo for likes has also been changed to hearts.
The official version number of the Windows 10 Twitter app is now 4.2.5, but it is the user interface changes, which are also available on other Twitter platforms, that are sure to get the most attention. Here's what Twitter had to say:
What do you think about Twitter ditching the star for a heart and renaming favorites to likes? Let us know in the comments!
Download Twitter for Windows 10 (opens in new tab)
Source: Twitter
Windows Central Newsletter
Get the best of Windows Central in in your inbox, every day!
It's a universal app; when we go to Windows 10 Mobile officially it'll be rolled out. ...and really, you care this much about hearts? lol Just be thankful that mere hours after they announced a new feature the Windows 10 app got the update. That's rather huge.

+100... Complainers gonna complain

I think it sounds better as "'plainers gonna 'plain" ;p

A million times better 8-)

Well Windows Phone has an official app

Well they could let us beta test the wm10 app!

WP8.1 apps can run on W10M. The opposite is true?

Things only carry forward, its too hard to go the reverse path... =[

What about moments though?

ballmer shares must be talking to twitter

How about removing the favorites entirely ? i never understood why people "favorite" a twitter post

Just like "liking" on Facebook. Did you ever like something there?

Not only is it like the facebook like button, you can also see your favorited posts anytime. Makes them useful for reference later on

Sure you can see you likes as well in the activity feed and the advertising you get in the future :P

Haha true. But as a marketer myself, I find that amazing that you can present offers only to people who could be interested in them. For the customer also, they get to see advertising that could relate to them, instead of advertising that's completely irrelevant. Of course, if customers do not want to see any type of ads then that's a different story :)

Exactly. Also makes it easier to stalk a potential "bae" and find out what they're into.

All i see is twitter bots and teens "favoriting" everything :P

You're supposed to report those so they can clean house...what kind of user are you? lol ;p

For the same reason you favorite / bookmark a website: to find it again more easily later on.

I use the feature as a means to more quickly find a tweet again.

They have. It's now likes. Do you not read? Faves have always meant like, it was never used as it was intended.

Is there actually no way to integrate the desktop version of Twitter into the desktop version of the people hub just like Windows 10 Mobile is doing?

Facebook and twitter removed their integration which was awesome. Now a person has to download fb messenger which is forced by facebook.

Are we talking desktop here

Holy cow that was fast. This is more dedication to the platform than Microsoft has shown at times.

I was shocked, and surprised but happy also. Well-done Twitter devs for Windows 10 for pc

Yeah this is a time to rejoice!

Twitter is the old Facebook that's going to be the new

Lol we get the heart update but not the important updates

do they plan on adding the moments feature to the app?

Not a dedicated twitter user. Can you enlighten me on the moments?

w/e Twitter...I still call them Faves! U-U

Probably, they will downgrade messages length from 140 to 50 characters to all OneDrive users

can we keep the timeline where we left it last time? It always syncs to the last tweet. :(

You all should be thankful! U_U Thank you, twitter team for updating the app! I like it!

....140 char still, isn't it? Puah....

Can't wait to use it on my Lumia 730.
Windows Central Newsletter
Thank you for signing up to Windows Central. You will receive a verification email shortly.
There was a problem. Please refresh the page and try again.