Uber Racer now at the Windows Phone Store after spending time with iOS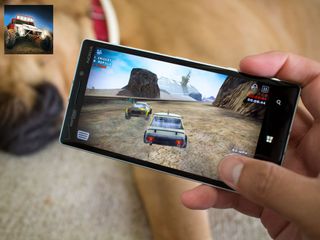 Take a break from playing with all the new features of Windows Phone 8.1 and play some actual games. If you're into racing games, it may be worthwhile to check out Uber Racer. The game has been available for iOS for a while, but now Windows Phone users can play it too. It's not related to the popular car booking service, in case you were wondering.
Head past the break to watch our gameplay video.
The game is set in the future where mankind is burning its final resources. A few fearless warriors race for the last drops of oil.
Here are some of the features:
10 unique environments.
Highly detailed graphics without repeating textures (i. e. every rock is painted differently).
Career mode with 31 race days, some of them featuring up to 10 events. Several hours of playtime.
3D menu, completely integrated.
Realtime shadows
4 race modes: Time Trial, Elimination, 1 Vs 1, Race.
Thumb tracking: Don't care about hitting the gas pedal. It's wherever your thumb is.
Select your favorite camera: Third person, hood or bumper.
3D sound with stereo output and positional audio
Realistic motor sound, engine simulation, backfire
3D car physics with suspension, damping and drifting
15 cars individually upgradable. Ranging from buggies to race cars and trucks.
Damage model based on real impact damage, flapping doors, loose hinges
Tilting your phone left or right does steering. Accelerate with your right thumb. Avoid turning sharply because it slows you down. To win the races, make smooth turns, avoid collisions, and look for shortcuts. If you think you see a shortcut, it probably is a shortcut.
The other racers like bumping into others, and if you get bumped, your car usually goes out of control. It's hard to catch up after that.
Uber Racer's season mode provides plenty of gameplay hours, but it will feel repetitive. Race, win points, update car, then repeat. Uber Racer is available at the Windows Phone Store for $1.29. There's no free trial in this initial version. Check it out and let us know what you think!
Windows Central Newsletter
Get the best of Windows Central in your inbox, every day!
Apps are coming... Faster

Developers should get serious about wp now.

Wait, so windows phone got it ahead of Android?

wp before android.hope other apps and games follow this trend.

What about the other Uber app we want? ;)

I saw this game the other day on my iPad Air and liked the graphics..wished this game was free here

If you want apps to come to windows phone, stop complaining that they aren't free

Right. Lets pay the developers if u r comfortable with the app price.

$1.29 is not alot of money for a good game. Developers like to make money. Supporting them supports Windows Phone.

Developers need to buy bread and butter too...

Wait for red stripe deal . We are lucky we have it

Nice line to start the article..!!
But not a worth game to stop playing with new features of wp8.1

Death Rally on WP would be nice :D


Moga support for racing and FPS games should be mandatory!

Great intro (announcing the device that you're using) and video demonstration, Mark. Your presentation skills are, by far, the best here at WPCentral. Keep up the good work!

When will windows phone get a real racing game for free

Asphalt 8? TrackRacing Online?

Looks pretty though the gameplay looks average. Shame there isn't a trial, though 99p seems fair for what you get.

At least give us a trial of some sort. I'm not going to buy a game unless I can try it.

OK, let me ask, 512MB support?

Whoppa..impulse buy alert..downloading now

Seems like those cars are clipping the ground? Or just funny looking cars.

Missing shadows under the car. Looks good otherwise.

Disappointing. It's a shame. Look at tires how they look - horrible! But in store on screenahots there are better shadows and textures...

I find the premise amusing - waste increasingly precious fuel racing cars in order to win fuel. Hope these guys are better coders than they are storytellers. :D

Still waiting for Real Racing 3.

Maybe when RR4 comes to iOS and Android XD

I would love to have real racing here :D but let's hope this one will satisfy my racing needs lol

I just bought it, its good. Got to support the new games so maybe more will come!

Ditto. Bought it. I want to do my part to encourage developers to keep bringing quality apps

Any news about Dead Space for WP?

Ac 130 zombie shooter would be nice

Forza or Real Racing 3!!! For that way I thing back to IOS

At least we've got asphalt 8 to enjoy!