Uber app gets updated for Windows 10 Mobile with new layout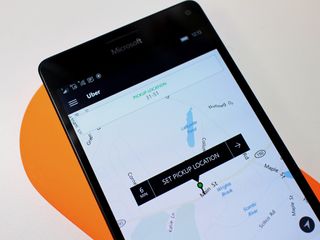 When taxi drivers don't want to drive me home because it's too far, I know I can always rely on Uber. If you're an Uber fan as well, the good news is that the app has just been updated with improvements in stability. It's also now a Windows 10 app, which looks great on the Lumia 950 and 950 XL. The Windows Phone 8.1 version of the app remains intact.
For Windows 10 Mobile the app is now version 2.0.17 while the Windows Phone 8.1 version - also updated with bug fixes - is now at 3. 2.6.4.
Uber features:
Request a ride using the app and get picked up within minutes.
Compare rates for different vehicles.
Add a credit card to your secure account so you never need cash on hand.
Easily set your pickup location on the map, even if you don't know the exact address.
Get connected to your personal driver and check the progress of your Uber at any time.
Emailed receipt when you arrive at your destination.
The most noticeable change is the hamburger menu on the top left corner. Previously, the menu was accessed through the three-dot menu on the lower right corner of the screen.
The Uber app also works with Continuum. You might see an error initially and it is greyed out, but we can confirm it still works as you can see above on our 32-inch 4K monitor. It's not available for download for PCs right now, but who knows, maybe it'll be released there too.
Do you use Uber? You should! If you haven't tried it yet, your first ride is free up to $15. Use the code uberappfree (opens in new tab).
Download Uber for Windows 10 Mobile and Phone 8.1
Glad to see that they have updated their app! Haven't used it before, but it's nice to have the option.

Still waiting for Official Twitter app for Windows 10 mobile, Jeez how come these guys are treating me like this. Please, just bring it.

Hasn't it been out for some time now?

Only for the desktop. Not sure what's taking them so long to release it to phones too (even as a beta).

I have an official Twitter map on my 940 XL (And had it on my Win10M Lumia 920) It's made by Twitter Inc.

Now we can set wallpaper theme of uber and lock screen also

Yes. I liked the way how we keep getting the available cabs and approximate ETA on the live tile once the location is enabled in the background. No need to open the app to check if cab is available or not.

Can we add the destination like in the iOS an Android versions?

FINALLY - it was a huge waste of time (and, quite frankly, embarrassing) to have to look up the destination separately and give the driver the address to enter into the driver app. It also wouldn't let me split the fare the other night (pressing the menu option did nothing), so hopefully that bug was ironed out, too. Can't wait for the universal app and Cortana integration - I think that it will showcase what is a big differentiator for the Windows platform.

I've always been able to do that. Even with the old app.

Tap "Fare Quote" and put your destination.

I could do it at one point before earlier this year, but my wife can attest that it has not been an option for several months on my phone - it looks like it was a bug on my particular installation, but I had uninstalled and reinstalled several times with no luck, so I assumed that they removed it. Either way, it is working on my phone with this update.

This was always there, just badly implemented. Go to Uber, tap "Request to Location" and then tap the small (+) at right side of the text bar. (This the Pickup location bar).

I had the small + previously, but not after an update earlier this year - even uninstalling and reinstalling didn't fix it for me.

Probably should have deleted your back up. It may have saved the bug. Just an FYI.

Interesting, and good to know - thanks

The important thing is missing. The Uber Driver app.

Have you contacted them and asked about it?

Yes, I contacted them. The usual no Windows Phone at this time but it's on iOS and Android.

Exactly as I am a driver myself. Nice little way to make a few extra bucks weekly. One picture at a time -- LG V10

I had to go buy a cheap android phone just so I can drive. I hate it (android)... Btw, I was introduced to Waze through the uber app and got for windows, love it!

it looks like things are starting to walk

It's time for a Windows Central universal app.

Daniel has said that it is being worked on.

it has been in private beta for a while now, it IS time for public beta.

It's only time for a public beta when it is actually ready for a public beta. You don't know how buggy it may still be. If it's released too early you will complain it shouldn't have been released yet.

Did you see the Lumia 950 review video? There was a sneaky peek of it being used there so it is coming. Hopefully soon! :)

Does it add the ability to see your past rides and get support in app?
What about other payment options for India?(Airtel money, debit/credit card)
I'd personally pursued their developers many a time to improve the app... Looks like my efforts didn't go in vain

No history view yet. You can add a credit card in the payment section

No, I'm talking specifically for Indian market... The present app only supports paytm payment option along with international credit card. They introduced Airtel money and debit/credit cards for Indian market few months back, android and ios has it, windows doesn't yet.i hope this update fixed it.
Thanks for the article mark

How would Mark know that? Ask Abhishek/Harish that :P

Does this add the MS Band 2 App like it was said at the Oct 6th event? Hopefully it comes to PC soon as a universal app. I know Uber and Windows are doing a lot together. (Don't they have some outlook addon too?)

I wish I lived in an area where I could get an Uber. The nearest one is in Pittsburgh.

Awesome! Keep the official and universal apps coming!!!!

Won't let me sign up. Maximum sign up limit on this device. Whatever that means

Is Uber installed by default on new Lumias? I've never downloaded Uber, but I noticed an update on my new 950 XL this morning. I restored my phone from a backup, so not sure how this app got on my phone.

Yes, Microsoft pre-installed Uber on the 950 and 950XL.

Remember how crappy their first app was? Times change.

Just in time - I would say! Waiting for my 950XL white, hope it lands on my hands this weekend :) Uber is doing well in India. Uber is planning something big in Hyderabad. Let all the app makers pledge to upgrade their apps, rest will follow once Xiaomi launches new models :)

Waiting for Instagram universal app which is going to be available his month ( as they said)

That's good news. The biggest complaints are about SnapChat and Tinder even though alternatives are there

UWP for Snapchat just doesn't make any sense. They want it to be a mobile service and no way they and their crackpot CEO would change that policy now.

Yup snapchat is needed alot

doesn't work with continuum

...and yet my photo says it does? Weird, right?

Well, I'll be, it worked for me too....lesson learnt, even though it says "We can't open that app here" you should click Open to see if its lying or not.
Thanks for pointing that out as my brain saw you're photo and figured it was a Windows 10 thing.

Am waiting for the universal Window app Now.... Quite a few others are already in. And instagram is on the way... Hopefully sooner than later

Calculator just got an update.

I live in Denmark and a few days ago it got illegal to be a uber driver. Get caught and you get a fine for aprox 670 EURO. Get caught twice, police takes the license plates on the car :(

Wow how would they know if you were one? Posted via the Windows Central App for Android

either stopped by police, involded in accident and then theres the "registered" cab drivers stopping uber drivers and makes a scene and police is called :( cab drivers are really ****** here in DK and has a anti "Pirate Taxi" campaign going.

Great. Crashes every time I try to open it. Already tried an uninstall and reinstall and it still won't open. Running the latest Windows 10 Mobile 10586.29 on Lumia 1520.3

Same for me on my 950 with latest updates. Also tried uninstalling/reinstalling, reboots, etc. Works fine on my old 1520 with all Win 10 updates installed.

Only difference I see is the exact same menu being moved to the top of the screen, great

Uber is illegal in The Netherlands. So ... no need here for a app.

When I try to register I get the error message that "on the device are already too many accounts created", although I didn't register any account yet.

The biggest lol of this app is that it requires keyboard as hardware requirement and thus we cannot review the app
It crashes very often and how should i tell uber about that if review is only closed

Is that hard to bring that freakin hamburger menu to bottom left?! :P

Uber supporting Windows is great! it's probably the only reason I speak highly of uber and also became a parttime uber driver. Just wish they have an 'uber driver/partner' app for Windows. Had to purchase a $10 Android phone and tether it to my windows phone using at&t mobile share, to be an uber driver. Kinda sucks, but found a workaround without having to get a whole separate line. It'd be better if I could use my actual Lumia 950 to pick up passengers!!!

Second the need for the Uber Partner app. I had to buy a cheap Android phone too but just switched the SIM card, which is a huge pain.

Just use mobile share (if you have it)

Crashing for me on 10586.29. Lumia 830. Uninstalled and reinstalled. Same thing.

The live tile now shows how far away cars are from your current location. That's pretty cool

Just came here to post this. Yup its awesome

The app is still not at par with ios and android can't open history and log complaints for past rides.
Once cab is requested you need to go to date quote or share eta to put destination.
Using Bing maps and unable to find many destinations.
Add home and office address bookmark to call the cab or as easy destination location.
Have friends added as emergency contact.
Cash feature in India.

What I really, desperately need is the Uber Partner app. The one for drivers.

I can't see the update on Windows Phone 8.1, but in the store are now new screencaps and a new version numbers and everything, but I can't download it on Windows Phone 8.1 (the update, I have the old app installed).

"We're sorry, you've reached the maximum number of activations on this device." Cool, first time I've ever used the app. That's a prompt uninstall.

It looks like fare quotes are no longer provided in the app.

Won't let me sign in. Error. If I try and register then says device has reached maximum number of activations ???
Lumia 950. Also the app when in the store says my device is missing hardware needed for performance.

Won't open on my 920. Says I'm missing required hardware? Also says rating and reviewing is turned off.

It doesn't matter how many features it has. If it uses Bing Map, it's still crap. At least in my country. Almost 90% of the places I set the destination is in another country. I refuse to pay for airfare just to get drunk!!!
Windows Central Newsletter
Thank you for signing up to Windows Central. You will receive a verification email shortly.
There was a problem. Please refresh the page and try again.