UC Browser Preview lets you try out new features before they launch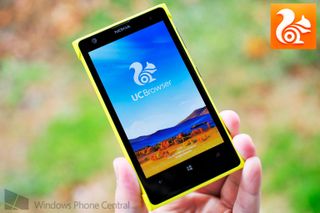 UC Browser is soon set to enter version 4.0, and if you're interested in taking a look at the new features that the browser is set to offer before they launch, UC Browser Preview is just the thing you need.
UC Browser Preview features most of the utilities available in the latest stable client that include:
Desktop mode
Various modes of use, including night mode (with brightness control), speed mode, incognito browsing and text-only mode.
Customizable lockscreen themes and backgrounds
Multi-tab management
Speed ​​Dial
Built-in QR code scanner
Native sharing buttons
Version 4.0 will likely feature a new user interface, similar to the one we've seen on the Android version of the browser. Head on below to download UC Browser Preview, and do let us know if you like what you see.
Thanks everyone for sending this in!
Windows Central Newsletter
Get the best of Windows Central in in your inbox, every day!
Harish Jonnalagadda is a Senior Editor overseeing Asia for Android Central, Windows Central's sister site. When not reviewing phones, he's testing PC hardware, including video cards, motherboards, gaming accessories, and keyboards.
This seems cool...
Downloading it now..!!

Swoosh..!!! so smooth and so good looking Interference

Wow! That browser is just awesome!

yup much smoother than official one

give your best shot UC before opera browser arrive :D

Opera Mini is NOT the same as the regular Opera browser.

yah i know. just too lazy typing the mini. well opera is opera.

I'm gonna wait for opera mini..

they mailed me that they will provide a link for the beta version of opera in the near future.

Jap. Waiting for the link/mail, too. So time to test UC ...

now the only update I'm waiting for is the watsapp update

Yeah its been so much time since last WhatsApp update .!!

And it would continue going on.... :(

I am eagerly waiting for opera mini..... :)

Downloaded.. Looks nice.,

I just literally sent the email about this to wpc cool

Wooow just woke great job

Will Microsoft ever provide an option to set a certain application as default? Would like to see that :)

Bruhh... I thought I was the only one who wanted that

Whatever,but i like IE a lot *_*

Sounds cool! Heading to the store ! Yada yada yada... :)

Preview, alpha, beta, register for beta, and repeat again.... Sincerely windows Phone ecosystem :D

Nah! Sounds more like Linux to me

Waiting for opera preview after I signed up....

Add background downloading in 2g network with no limitations

What's the difference between the preview and beta versions of uc browser?

Its same they just changed the name "Beta" into "Preview" in latest update..and read the article for update..

New UI and smooth browsing

I feel like it already had most of these features

Uc is better than ever..hell yeah...awesm work here

Is there any way to make it the default browser?

Wow wow wow wow wow!! Just downloaded and the UI is super awesome..

Nice design, but I prefer the other one. The very first thing I checked was my college web site -I can't even login. I can login with other one, but its almost useless. And where is 'Find text on page' function? Couple versions ago it was there, now I have to use IE for this

Think you have to long press and its only available on speed mode...seems most of the features are only available in speed mode

Is there a tuturial for this browser? The first time i downloaded it, it felt different from IE and i didnt quite liked it, tutorial about its features and where to find what?

What tutorial?? That doesn't even make any sense.

About the new features, how to use them and when, tips and tricks

Now to wait for Kik to update

Honestly I prefer the user interface that they have now. I didn't like it at all

I love this new one, and if you'd prefer just tap the big round icon at the home screen for a more simple design

Dude! I didn't notice that one. Cool, thanks.

Well, All those features are already there in old version. Well so whats new in this version? only the UI has changed?

Ah finally. They improved the UI like Android. Their UI for WP was undergrad :/

The best browser I ever had on WP8.1. Sorry IE11... Ure no pair to this browser...lol

Anyone know if there's a way to move my bookmarks and home page links over from the standard version instead of recreating?

This one is really nicely done. I especially like the navagation buttons in the browser itself. I think night mode is a little too dark and it would be good to be able to adjust it. I really like the main navagation of this app and could replace Surfy which is really saying something. And man is it taking advantage of 8.1 meaning, Its fast and its clean. I hope there will be an ad free version. I'll keep this one around a while. Very nice update. Very nice.

its awesome give awesome download speed

Really nice browser puts ie to shame

But I think this version helps to drain battery quickly then previous one....am I right guyss???

Clean, resemblance of live tile, love the design!! Choosing default search engine is just a click of an icon, thats a quick option.

I removed it 2 months ago, because it was causing to make my lumia 820 exteremly hot, the features were so good and usefull. trying this one i hope they have solved that problem

On websites the browser stutters like an android browser. On same sites IE is butter smooth. Please fix and I'll switch.

Prefer Maxthon to this but eagerly waiting for Opera mini.

The new UI looks fabulous. Good competition to the upcoming Opera Mini. ;)

It's a very nice update (just before we go crazy about opera mini). The UI is superb and smooth as butter. Just ONE complain, while scrolling through the web page, its not as smooth as it should be... It lags like its frames are getting skipped at very awful rate. Anyone feeling the same problem? Or is it just because I have a Lumia 520?

Excellent browser but why all browsers use same engine bcoz their html5 test score is same which is about 372 which is low as compared to android browsers. I used IE,SURFY,UC. they all seem to be same.
I love the interface of uc and surfy. I hope MS will also improve the UI

Hello..guys one thing i share u...plz made a" mobile antivirus app"....to be scan.and smooth our windows phone.

I've been using the non-preview for some time. It is a great browser.

Will it make WPCentral pages load faster on Windows Phone?

The best feature in the browser, spoofing UA string of ios or android.

Just started using UC Bowser and now have been playing with the preview... For me it's the best browser out there, truly awesome!

Very nice app for windows phone..

I think this preview is not optimized for wp8.1 .. Developers should start compiling there apps for wp8.1. Specialy apps that can take advantage of new functionality as the new webbroser control of Wp8.1

Very nice......smooth at butter, just like Wp

How can I find text (usually ctrl+f) in any desktop browser?

THIS! is exactly what i always wanted from my WP! Iam super-excited. Best part is using google while just tapping into adress bar and going to last page by just pulling of finger. Its way better then in IE. IE refresh the whole page which makes whole interface slow and laggy. This is smooth as butter. I love my WP even more now :)

Awesome UI
Very fast
New design
But here in Iran not open FACEBOOK YOUTUBE ..
Thanks.

Even me too downloading it now n happy to get a preview as like the WP 8.1 Update 1.

Awesome work by uc developers. Amazing interface
Windows Central Newsletter
Thank you for signing up to Windows Central. You will receive a verification email shortly.
There was a problem. Please refresh the page and try again.