UC Browser update brings Cortana integration, picture passwords, background downloads and more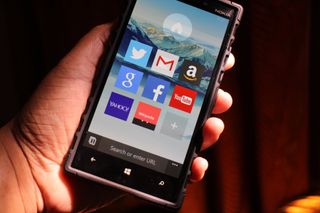 UC Browser has received an update that sees a host of new features added to one of the best browsers available on the platform. Cortana integration allows you to control the browser through voice commands. And then there's the ability to create a picture password, which you can set up by swiping down from the speed dial menu. A background download feature has also been added, which ensures that your downloads aren't interrupted even after locking your screen.
Here's the list of changes in version 4.2.0.1 as detailed in the changelog:
Cool and Sleek UI: Totally new speed dial and better tab switching.
Smart Downloading: With WiFi, downloading continues even after locking your screen.
Download to SD Card: Save downloaded files straight to your SD card.
Bluetooth File Sharing: Conveniently share downloaded files to others via Bluetooth or QR Code.
Visit as PC: By entering Desktop mode, you can now experience the full features of webpages as if you were on a PC.
Flexible Modes: Include Night Mode, Speed Mode, Incognito Browsing, Text-only Browsing. Added a brightness control for Night Mode.
Customized Themes & Lockscreen Wallpaper: Change the browser skin from the UC Theme Center. These can also be used as lockscreen wallpapers.
The ability to set picture passwords is certainly interesting, and you can set your own images as the password. Cortana integration (on devices where Cortana is available) allows you to browse hands-free. For instance, if you want to go to Facebook, all you have to do is say, "UC BRowser, Facebook" to Cortana and the website will be loaded on the browser. The background downloads work through a dedicated utility called UC Downloader.
Download the update from the link below, and let us know how you like the new changes in the comments.
Thanks for the tips everyone!
I want that picture password in WhatsApp and other apps! As no good applock is there for us!

But the companion app UCDownloader is unable to download even a 1 mb file! Because after downloading the download resets and restarts and the cycle continues forever, i have wasted 1GB+ becuase os that! This is caused due to a bug in WP as said by UC

Dude, I don't even know how to use it, any idea?

What do you mean by 'good' applock . There aren't any apps for applocking at all right :-/

I meant to say those sucking applock which are fake, which have a loophole,iin which one can open the app from side menu!! But you are right!

Windows phone doesn't allow any app to access the data of another app. This is because of privacy concerns and Microsoft itself should create the app lock feature. Hope it will do it in window 10

HOPE thats what we have since mango :p

That will be a welcome feature

I want that picture password on Windows Phone as security along with many other security methods/options

"The ability to set picture pictures is certainly interesting" - Harish, you mean picture passwords?

That's what I was going for. Thanks. Fixed it.

If someone can tell me how to enable Picture Password, that would be great...!!!

Slide down from the home screen, your thumb must be above that little block links and then slide down

Internet Explorer is way behind third party browsers, even on Windows Phone...

No, actually IE is better, it is faster and UC Browser tend to close more than IE.

Ie is bad. I can't even go into my banking and make payments because it wont let me type in numbers of his much. I hit the button and get no response. Half the time I can't even display facebook properly. IE is really bad in alot of ways. Especially compared to chrome on android.

IE is extremely buggy when I'm on YouTube

Still wish I could stream Amazon prime. Anyone with a 1520 stream Netflix at 1080 yet?

Yeah even I like IE better than any browser, but when it comes to downloading I prefer UC.

I'm just sick of ie right now. Every now and then it crashes. Pathetic.

Well I see everyone telling that IE crashes a lot, but haven't experienced it personally :-/

Same here, ie never crashes for me. Uc crashed in 10/15 min of browsing

May be it's got something to do with the RAMs, I got a 1020, what about you?

Try visiting the following website. Insta-crash on my 1020 :)
https://www.windowscentral.com/e?link=https%3A%2F%2Fwww.awin1.com%2Fcrea...

Well it did crash , then I tried it on UC and it crashed again. But opera mini opened it fine :-/

That's because Opera Mini renders the page on their own servers, then they send a heavily compressed version to you....
Point being, there is a long way to go before Internet Explorer can be considered stable.

uc is better than IE in term of loading page

Since hubs are being decoupled from the OS and considering how bad the default apps are, how about MS allows 3rd party apps to be set as defaults?

Good joke, ie is much faster and much better than this browsers.

I find IE makes the phone warm, chews through my battery and often has display issues, but UC has always run warm.
But it's not jus IE that has problems, I've found that Safari and Chrome are crashing a lot on the Ipad, far more than IE.

The biggest joke I see here is that the features of this browser were previously in Internet Explorer, now inexplicably are not...

Background Downloading. Torrent Pro am looking at you.

Torrex Pro does allows you to download under lock screen. Just open the info page of any torrent and lock your phone, it works for me this way.

I can download torrents with my 730?

Yeah, there are apps for that.

Wptorrent . The best torrent client.

True even the UI is good Torrex Pro just looks really shit

IE crashes, UC doesn't, nuff said.

IE11 on my ATIV S i8750 (wp8.1.1) is runnig as a charm, it's fast, it's accurate, stable, never crashed so far, and trust me, i am doing some heavy browsing on it. From time to time I use Surfy, imo it's better in browsing than UC, but UC is almost there. But when i am on mobile data, I tend to use Opera Mini Beta, if i am about to read some news, seeing some pictures, etc. Opera Mini Beta with the latest update is way more stable on my phone, never ever crashed on me. And it saves mobile data a lot. Bottom line, I am glad for any developer or company supporting WP. :)

One problem with Opera Mini Beta, downloads like music or videos do not download to the phones memory or sd card, it stays in the app and can only be played from there, but other than that Opera really is great and I'm glad it finally came to Windows Phone

Uc crashes, ie never crashed for me

UC can access blocked websites (Reddit and Imgur are blocked in my country) and that's the reason why I switch from IE to UC from time to time.

IE is fine, all the people hating on it are just jumping on the hate IE bandwagon carrying over from early windows for PC days.

Try visiting this website;
https://www.windowscentral.com/e?link=https%3A%2F%2Fwww.awin1.com%2Fcrea...
It has NEVER loaded on my 1020. Youtube often crashes too. I just use Metrotube now for Youtube duties.

Cortana integration should use only 'UC Facebook' rather than whole UC browser Facebook

Is it better than IE, never really like uc browser even when I was on android

It is featuristic, but yet I like IE better.

Nice... Lock screen while downloading..

Most of the features were present from ages in UC Browser.

+1 (except picture password)

Bye bye IE maybe..? At least this time I didn't use you too download another browser

I think updating a browser isn't only changing in UI, They should improve the browser engine.....

This is "Not" related to the topic. But to anyone out there with a lumia Icon. We need to bug the shit out of microsoft/verizon.... we should make a poll or something.... Bug the shit out of both microsoft and verizon asking them if they are working on denim or "NOT". As lumia cyan still isn't out we should request them to proceed to denim. Seriously. I don't want to wait till like 2018 till verizon start delivering windows 10 to "us" users................................................................................................................................................................................................................

Yes, that isn't related to this topic at all...
Why not talk about it in the forums instead?

I like the features in this but find it runs a hell of a lot slower than IE!

Could someone tell how to set picture lock screen in UC browser

Open UC browser. From your UC browser home page,swipe down.

I didn't get it
I'm on home page and swipe down where??

Wow what an update loving it.Thank you Uc ultimate browser for windows phone. Posted via the Windows Central App

This browser keeps crashing on my 925 :(


Nice update, now waiting for them to update the wp8.1 version of the app

We have merged the UC Browser WP8.1 and UC Browser. There may be more features for WP8.1 version in the future. But as for now, please use UC Browser

This browser is better than IE in speed mode and download management.

They need to make this a universal app based on the WP code. The Windows 8.1 version is lacking while the WP version is pretty awesome.

I hope they implement background audio streaming. Microsoft removed that feature from Internet Explorer.

app link is not working :/

Has anyone got any problem while downloading some file from UC on wifi? It used to work great for me but after these previous updates it doesnt download on wifi ! While IE does.
Any suggestions?

Thanks for the coverage, Harish! But the Windows Phone Store link is wrong. Here is the correct url: http://www.windowsphone.com/en-us/store/app/uc-browser/6cda5651-56b9-48b...

The picture password is very nice but what happens to the downloads?? Why now songs are opening in a separate player? Previously it was my best way to play the new songs playist without any problem but now due to this update it will not be possible.

Uc downloader not working?

Wow picture password?? Very nice move...

The link to update/download the app is not working

Seems the download tab in the WindowsCentral App for this update is not working..

Does UC crash out back to the start screen like ie? Does UC decide to click on a random link on for newspaper websites for example just because your finger hovered 10 feet above it for a nano second like ie? Does the UC back button work consistently unlike the back button on ie which is dodgier than a used car salesman with a drug problem!
Shall give UC a whirl see if it's as infuriating to use as ie

It does crash back to start screen. Your right about that.

Some of the features were already there.I guess there just improved.

I hope they bring re open closed tabs or re open last browsing session like in chrome

Can u please give us names of those apps....

I want picture lock on my phone !

How to keep picture password?

Pull down navigation button at start screen of uc.

Slide down on your home page...

How to set picture password I don't see option in settings?

M$ should make Cortana open web page by voice command like this

My most favourite browser

I hope picture password will be there in w10

stupid background downloading.... we want real background downloading even on switching apps

Already using these features on uc browser preview

now opera mini has to get back on track with windows.

Who cares about Chinese nonsense like UCBrowser. Surfy rocks.

I use both UC Browser (preview version) and IE. They complement each other well.

What is the case on phone on this pictures? Is it Lumia 930?

IE and Opera load pages much faster. The app is really laggy as a whole. Not that impressed.

Application is Crashing not able to use for 1 Min also in my lumia 520 Pls help

How do I set a picture password?

Worst browser experience and worst look In wp10
Windows Central Newsletter
Get the best of Windows Central in in your inbox, every day!
Thank you for signing up to Windows Central. You will receive a verification email shortly.
There was a problem. Please refresh the page and try again.