UK MVNO giffgaff to sell a range of Nokia Lumia Windows Phones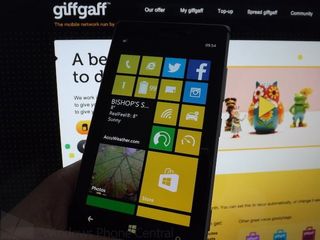 Over in the UK it's normally just the big four mobile networks that make the headlines on a regular basis. This time around though it's MVNO giffgaff - which runs off the O2 network. For the first time, the carrier is having a change in direction and from the end of November will sell smartphones in addition to just SIM only deals.
The good news for Windows Phone is that giffgaff will be selling four Nokia Lumia devices - the 520 (opens in new tab), 625 (opens in new tab), 925 (opens in new tab) & 1020 - something for every price point. Where things get even more interesting is the options available for payment of each handset, which utilizes peer to peer finance. Customers will be able to purchase the phone outright if they so desire or split the payments over a term - ranging from 6-24 months.
In addition, none of the Windows Phones will be network locked and the monthly payments can be increased/decreased to suit if required. Prices are yet to be confirmed, but if they are anything like we have always seen from giffgaff on their SIM only deals then they should be very competitive.
Whether you prefer to buy your phones the traditional SIM free way or spread the cost, it's another great option for the UK smartphone market.
Source: giffgaff blog (opens in new tab)
Windows Central Newsletter
Get the best of Windows Central in your inbox, every day!
This is ace! Love giffgaff, amazing community of people, amazing team of mentors, paybacks are very useful - network is awful.

Sounds great, very interested in picking up a 1520 on their network

I LOVE GIFFGAFF OH YES I DO!!!

Does the 1020 come with 64gb?

Still, i want to sell my L520

Really glad this is happening and if I remember rightly they are getting 4G in March next year, a little late perhaps but good that its coming. Gives me no reason to think about leaving GiffGaff now and I may step up and get the 1020.

That's good to hear. I had to unlock my phone from EE in order to use my L920 on giffgaff but it has been definitely worth it. Although the network may go down quite often, paying only 10 pounds a month is great.

Well Tmobile costs 18£ for unlimited texts 1000 minutes and 3gb... not to expensive either

£12 unlimited data, 250 mins, free giffgaff 2 giffgaff calls, unlimited texts.

EE £15 unlimited everything and half price cinema tickets (15gb tethering included)

Same for Virgin Mobile (sim only) - apart from the cinema tickets, lol! Unlimited tethering as far as I know...never had an issue everytime I use that feature. Have EE started any good sim only 4g plans yet? +1020

This EE deal was with Orange 3G with free Lumia 925 ;)

"You cannot share your data connection with other devices - known as "Tethering" - or use your phone for peer to peer file sharing" http://store.virginmedia.com/virgin-media-mobile/sim-only/pay-monthly-sim.html

I did it on my 920 (bought from phones for you, locked to EE) and continue to do so using my 1020 (fully unlocked). My dad's 620 also does it without issue - he has a 2 year contract with Virgin Mobile and they provided the phone. I have the £15 sim only deal (previously £17) and so does my bro - also a 920 owner. None of us have ever had a problem sharing our data connection.

Wow, the plans in the UK are amazing. We don't even have unlimited data plans in Australia

Can you give me a link of this plan? Is it PAYG?

Three UK £15 - 2000 minutes, 5000 3 to 3 minutes, 5000 texts, all-you-can-eat (truly unlimited data), unlimited tethering, free 4G from december and use your allowance in several european countries, and in Sri Lanka, USA, Australia too. No other network can beat 3's DC-HSDPA 3G network either. No other networks deal can beat Three and they invest in their network which is why they can offer truly unlimited data at a low price, and which is why they are the only network (a long with EE) who offer HD voice. Virgin's "unlimited" is speed capped to 4Mbps at all times so is T-Mobile, Virgin's reduces to 384K if you exceed 3.5GB in that month, as for giffgaff which uses O2's piss poor network wasn't their network down 3 times in 1 week a few weeks ago, and also been down for several days earlier on in the year and 3 times last year?

Lol funny, this is what I've been doing since I bought my Lumia 900 and now my Lumia 920. Buy the phone and then jump on giffgaff. A match made in heaven :D

This only came to light yesterday should be very interesting i think :)

Have been using my phone on an mvno for 3 years and would never go back to being locked to a carrier contract. I wish the US mvnos would offer something like this.

I have only ever heard good things about this company. Even before this announcement if I was back living in England I would be with them

I'd be very grateful if anyone who hasn't already, goes to https://twitter.com/nokia_uk/status/397785504592064512/photo/1 and RT's that link - basically Nokia have said that if that link gets 1,020 retweets, then I get to keep the 1020 they sent out to me. Also I will pick one person who will receive a Lumia 520 if I am successful. I've already had George and Richard from WPC RT it, and I assure you it is completely legit! Thanks in advance, and get RT'ing!

Retweeted. Enjoy that free 1020. ☺

Great to have Lumias in the range

I use giffgaff on the £12 goodybag like mentioned above unlimited texts, 250mins of calls, unlimited giffgaff to giffgaff and the biggy unlimited internet with no contract absolute bargain! Giffgaff has the odd outage but nothing no human being cant handle, use the plan on my 620. Great deal and phone :-)

That's fantastic! I was thinking about switching too! Awesome xD g'bye 920. Hello 1020 xD wooooop

I used to be on giffgaff great network themselves, love the forum etc.. But they use in my eyes the worse network! Bloody o2 with there rubbish just 2G network..