UK retailers Carphone Warehouse and Dixons to announce £3.7bn merger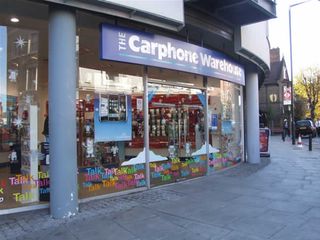 Carphone Warehouse and Dixons are set to announce a £3.7bn merger that will create one of the biggest high street technology groups in Britain. Further details regarding the merger will be made available to a Takeover Panel ahead of the May 19 deadline.
The merger will create a new organization that will focus on mobile phones and electrical goods. While a name has not been finalized by both companies' boards, it is believed that the new entity will be called Dixons Carphone Group plc.
Both companies will enter into a merger of equals, which means that Carphone Warehouse's 800 stores will be merged with Dixons' 500 retail outlets. Sir Charles Dunstone, co-founder of Carphone Warehouse, is poised to become the chairman of the combined group, while Dixons executives Sebastian James and Humphrey Singer will serve as chief executive officer and chief financial officer respectively.
An unnamed source revealed to Sky News that the merger would follow a round of lay-offs at both companies' head offices, and that there is a possibility that a new location would serve as the head office.
Source: Sky News
Windows Central Newsletter
Get the best of Windows Central in your inbox, every day!
Harish Jonnalagadda is a Senior Editor overseeing Asia for Android Central, Windows Central's sister site. When not reviewing phones, he's testing PC hardware, including video cards, motherboards, gaming accessories, and keyboards.
Another new writer at WPC!!

Yes, from India! Shows how much WP has grown in India! Harish, welcome to WPCentral :)

Yeah welcome to an 3 day old member at MN :-P :-P

Yes, another writer, another subpar to WPCentral front page quality article. Sorry to be harsh but that photo says ANDROID CENTRAL on bottom right. May I suggest, this site called Windows Phone Central as that name fits more to this website rather than Android Central?!

Carphone Dixons? Dixons Warehouse?

I thought dixons was bought out by currys-PC world?

Yeah and also the fact that some phones4u shops operate within some currys pc world shops too...I assume that will be over, lol

No it is other way round. Dixons bought Currys. It operates Currys, PC World and Currys Digital brands.

Ah, I wonder why they renamed all the Dixons stores to Currys, instead of the other way around.

Dixons owns pc world and currys, if you apply for a job in pc world and currys you have to do so through the Dixons website :)

Typo -> Humphrey Singer will serve as will serve as chief executive

Thanks for catching that! Fixed it.

Um... wasn't Dixons already the biggest high-street technology group already? So the biggest just got bigger, rather than creating "one of the biggest high street technology groups in Britain".

I love carphone warehouse! This is great!

Darphone Wixons! I sort of feel uneasy purchasing things from carphone warehouse due to them fobbing you off to the "relevant" company if things go wrong. I wonder of this is the end of them giving ps3s and decent tablets free with certain phones?

I thought dixons was online only? And it's currys/pcworld that are the retail outlets. Not sure how I feel about this personally, I've always found the staff at cpw and currys/pcworld lacking knowledge, and I personally try not to shop there unless desperate - either way, good luck to them in their endeavours!

Me thinks the Competition and Markets Authority should be brought in (the new name for the Competition Comission). All this leads to is less choice for consumers with price rigging.

Not really, Curry's PC World don't sell phones so no competition is being lost by merging two company's that sell different things.

Cos neither sell tablets or mobile broadband either.

Guys will 630 be a hit? Moto E is launching in ₹8500. So we need another good phone to kick that off

As if I didn't hate Carfraud Whorehouse and Pissy Werld enough they come together.
Just one less entity on the high street to hate and divert ny funds from. Currys & Pissy Werld are horrendous for anything; and as mentioned before CPW will fob you off to anyone but their own support structure.
More of my business will be going to John Lewis and Vodafone retail. As if it didn't already.

What about the SUPER trained staff that Currys and PC World has? They are so TRAINED and CUSTOMER friendly that only going inside the shop makes me want to go out and kick a cat for 3 hours! Good Lord....

2 awful companies tie up to create the definition of mediocrity.

Please die high street. But seriously I hope wages or bennies go up, PC World is scrapping the bottom of what it can pay.

I honestly thought Dixons had gone broke years ago, turns out they were hiding behind Curry's and PC World all along. Unfortunatly however much I don't like either, it is hard to find another retailer in the UK that sells PC's as a commodity (Almost cheaply) so it was from them I bought our Surfaces and Laptops recently. You just have to remember to tell the salesman that they are idiots and just give me the box so I can get out of here, and no I don't want to give you any more money for extras that are worthless. Never been in a Carphone warehouse, I don't drive cars But I would guess they are as crap as the rest of them..... Bob

Its always pretty awkward when the staff in there ask if you need any help...

The last time I remember I was in Currys and I was there like looking for a camera to buy, I have to ask for the help cause no one asked me... Pretty bad....

Historically, in my opinion DSG Retail was stronger in litigation than customer service. Hopefully the merger will improve this, but the pair of them, merged or otherwise, will remain firmly as my last choice of supplier. Bigger does not necessarily mean better.

Just what we need, less competition yaay [/sarcasm]

You are reporting this as fact. I thought it was a Sky News report.

Each of these are a set of c***s. Now we will have the complete set all in one place.