The ultimate guide to Microsoft Band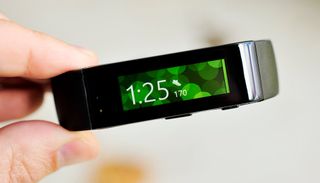 The Microsoft Band is the Redmond-based company's first foray into the ever growing new wearables category. Part smartwatch, part fitness band, with the Microsoft Band on your wrist you can tell the time, see who's calling you, track your run and even pay for your Starbucks.
The Band has enjoyed early popularity despite being incredibly hard to get hold of. Initial stocks quickly sold out, and it's been hit and miss ever since as to where and when you can get your hands on one. But now, Microsoft has a much wider retail network to sell through and has even expanded availability to the UK. So more people than ever can get one, so we're here to help each and every one of you.
This is our ultimate guide to the Microsoft Band.
What is the Microsoft Band?
Before you go out and buy one you might want to see what it's all about, first. If you're buying in-store, you can play around with it first and try on the different sizes, but online shoppers don't have the same luxury. If you just want to see what it is, what's in the box and how it all gets set up and running, then this is exactly the place to start.
Microsoft Band: Unboxing and hands-on tour of Microsoft's new 'smart' wearable
The Windows Central Microsoft Band hub
Microsoft Health and using the Band with your devices
Thanks to the Microsoft Health app being available on Windows Phone, iOS and Android as well as companions to these for Windows and Mac, the Microsoft Band can be used by a wide range of people. Using the Band with a Windows Phone does open up additional functionality, such as Cortana, but it's also a good experience using it paired with an Android phone or an iPhone. Microsoft won't judge you, honest.
To get the best from your Band, such as notifications, calendar, Twitter, even Starbucks, you need to be paired to your mobile device. But, you can also get some basic functionality, including updating the firmware, from the desktop apps for Windows and Mac. You'll need at least one of these, and we've got all the download links you need below.
With your activity data all being stored in the cloud, it's always accessible when you sign into Microsoft Health on a new device. But it's also available to view in the web app, too. Through the browser you lose some of the functionality, but all your fitness and sleep tracking data will be there along with some interesting report functions you don't currently get in the mobile apps.
Hands-on with the Microsoft Health web app
As if all that wasn't enough, Microsoft Health will also integrate with Microsoft HealthVault and Xbox Fitness on the Xbox One console.
Xbox Fitness now synchronizes with Microsoft Health
Microsoft Band apps
Slowly but surely the Windows Phone Store is filling up with a number of Microsoft Band applications from third-party developers. From a simple flashlight to a translator and many points in between, the collection is varied and ever growing.
Fortunately we've got you covered with a collection of the very best Microsoft Band apps on offer, and we've got them all in one handy place. Bookmark our dedicated portal to always keep up yourself up to date!
The best Microsoft Band apps
Help, tips and tricks
With any new product comes the initial learning curve followed by the mastery of it. Fortunately, we can help everyone from the beginners to the more experienced Band owners. The video playlist above and the link below are both chocked full of useful tips and tricks to get the most out of your Microsoft Band.
Whether you want to know how to add your Starbucks card, pair it with your phone, use the keyboard or any number of other things, we've got something to help you on your way.
Microsoft Band help, tips and tricks
Where to buy a Microsoft Band
Currently there are only two official locations you can buy the Microsoft Band: the U.S. and the UK. One constant for purchasing is the Microsoft Store in each respective country, though American buyers have the added bonus of physical retail locations, something the UK doesn't have.
Other retailers include Amazon in both countries, Best Buy in the U.S. and Currys PCWorld in the UK. Prices are $199 and £169.99 in the local currencies, though it's worth pointing out that the UK price is also inclusive of 20% VAT.
We've got some links below to help you on your way.
The Windows Central forums
The Windows Central Forums are a bustling place of enthusiasts all talking about their favorite Microsoft products and sharing the benefit of their own experience and expertise. To really get the best from your Microsoft Band, there's no better place to chat away with fellow owners about anything and everything Band related!
As the Microsoft Band continues to evolve this document and all linked within will also continue to be updated. Be sure to keep checking back for the very latest!
Richard Devine is an Editor at Windows Central. A former Project Manager and long-term tech addict, he joined Mobile Nations in 2011 and has been found on Android Central and iMore as well as Windows Central. Currently you'll find him covering all manner of PC hardware and gaming, and you can follow him on Twitter and Instagram.
Never too much of something like this when its launched outside the U.S. If you're not interested you don't have to read. Would it be too much if it had launched where you are? Probably not.

Spot on. But we need this badly world wide not just US & UK.

Absolutely agree. I'd love everyone to get chance to try it out. Today is an important step towards that.

To be honest, there is nothing stopping anyone outside the US or UK from getting hold of this. Here I sit in Japan. I use a Lumia phone despite no carrier featuring WP. I order from the US MS site trying PayPal. I have a shipping company that ships it to me from there. I buy my phones like Thurrott from Expansys. I do wish it showed the proper characters for mail I get in Japanese. But everything else I do is in English. Get off your butts and be a bit creative. MS usually sports free shipping, so I make that up in international and customs fees. I wound up getting by with about $216 plus another$10 for customs. There you have it. Quit your whining.

Well you already pointed out few things: you have a company that ships it to you. You need to stick to English language (that's fine with me but not everyone would feel comfortable with this). Moreover that happens if band brakes down? Who handles warranty in your country? I guess you need to ship it back to the company that sent it over to ya. That definitely will cost you few bobs. I want to go to the shop, check the stuff bymyself, buy it with real money without any man-in-the-middle, you get me?

"I do wish it showed the proper characters for mail I get in Japanese." What do you mean by it, proper characters, and mail? It = the Band? Your Lumia? Proper characters = Japaneses script--hiragana, katakana, kanji? Or Japanese emoticons? mail = snail mail or email / text messages? What carrier do you use that supports Lumia in Japan? I'm curious to know more about using Windows Phones in Japan.

Nah man, let those territories soak up this 1st gen/beta demonstrator model's inventory. Then, if one is released, order a proper successor.

I'm glad you guys stick up for yourselves when it comes to unnecessary criticism. Keep doing what you're doing, we love it all. And if we don't, well, we shouldn't read it ;)

Normally, I agree with the "don't care don't read" sentiment but 7/16 first page articles? A touch much.

And what if those numbers represented a hot new flagship phone from Microsoft? What then? Yeah.

Still wouldn't warrant more than three or four. Yeah.


Mr. Richard I just made a general statement, it wasn't negative. So please don't go hard on me.

Well, it was kinda negative.

It depends on how you read it. A negative person would surely take it as a negative comment. I wrote it in a state of awe/wonder. Cause saw Band news all over WP, when I opened it. Any problems..?

You wrote "too much", which is an accusation of "excess". That's a negative statement. I'm not a negative person for recognizing negativity; I just read what is written. Nope...no problems here. How about you?

You are manipulating my words. "Excess" maybe negative for you, but not for me. "Surplus" is what I'll call it. Think whatever you want to.
Yes, I have a problem, it's you bugging me with no good reason at all. Yes, you are entitled to your opinion, but keep it with yourself, especially when I have made myself clear to Richard.

So you can spout off your opinion, but I can't? Hmmm...no thanks.


There is a difference between expressing your opinion and insulting/cornering others.

"that's kinda negative" isn't an insult. It was clarifying that you were being critical. Whatever, if you're sensitive try not being critical, yourself.

"I was clarifying" You're the teacher, admin or the lawyer here..? That is called as cornering, if not an insult.

If you don't see "too much of band today" as you criticizing someone else's work then not much a teacher or lawyer or admin can do. Words have meaning.

As I said earlier, that I wasn't criticizing anyone, but just making a general statement. It can be taken in too ways by positive and negative folks--
1)-Positive--'Too Much' of happiness.
2)-Negative--'Too Much' of sadness.

Ahhhh, makes sense now. I think it's a language issue. "Too much" is critical.
I think you meant to say something like "There's a lot of Band news today" or "Lots of Band" Even "Too much happiness" sounds negative, if that makes sense. It would be like a sad person complaining that too many people are happy and it makes him even more sad. No worries. I understand what you meant now. Cheers! :)

Well you couldn't get it earlier and I couldn't explain it earlier. Fault in our stars. Cheers..!!

I'm behind u fully 100%
Looking like The Verge when Apple Watch was launched. Richie U guys doing a great job tho, but some articles could be combined into one!

Wen in India? 256MB support pls?

They should make band in watch form.

As an Asian, wanting this Band right now is... Impossibruuu.

Looking forward to seeing the first Windows 10 flagship phone. Would be great to pair it with Band... or maybe Band 2!! Hehe

Microsoft presents the band and flagship ultimate device with ability to round into a band and open up as an smartphone...

No Windows phone app, but they support the Band? HA HA...so much for "number of users" being the deciding factor.

Why doesn't pressing dismiss on my watch stop my alarm from going off on my phone?

Thanks for the extended coverage I got my band about a month ago and my go to source is and always has been windows central! Thanks guys

Why thank you :) And thank you for keeping coming back!

Thanks for keeping us well informed! :)

@MS: make it waterproof and bring it to Germany.

You can order from the UK if you are in Germany.. You know, European trade and all..

i know but its not the same :-) and still i think such a device should be waterproof.

It's water RESISTANT, so you can still run in the rain. I wouldn't shower with it on or obviously go swimming. Since I'm not willing to use mine as a test, I defer to a YouTuber who tested the water resistance:
https://www.youtube.com/watch?v=ANcH-eLv9jw

I don't feel we have had enough Band posts. And you posted all the Band tips I could need, but it is still not enough. I need more or I'll die. No, really! My Band became sentient and is threatening to inject me with a toxin if I don't feed its thirst.

Microsoft really needs some work to do esp marketing/advertising. I've seen android ads everywhere in our local television but not a single Windows, Windows Phone, Surface, nor Xbox ads, etc. Microsoft, MOVE!

What's an iPhone doing here?

WP is dead. Look at the TP Build. Looks like Android now. Next best Phone is an iPhone, so yeah.

Don't say so.... WP10 is the upcoming baby of the trio windows 10,ios, android....

Seriously, that's all you have to say. Read the post. Not even all of the post. Just the bit below that image. Microsoft Band works with EVERYTHING

Maybe its to demonstrate how the Band works with not only WP, but also iOS and Android.

Nah, that couldn't be it.

Assuming you pair using Bluetooth... Does this run the phone battery down very quickly?

Doesn't seem to, I've even used it for a bit with an iPhone which has horrible enough battery life as it is and it didn't seem to make any noticeable difference. It's connected to my 830 every day and I still end the day with nearly 50% battery most days.

"an iPhone", "my 830". You r safe Richard :D
Be careful, we are ready to attak hahahaha

Bluetooth 4/LE is remarkably power efficient. My other 4/LE devices didn't seem to make a dent in my phone's battery.

I agree about waterproof! Would be the cherry on top! Really need this to come to Australia so I can get one! Looks and sounds like a great device! Come on MS!!

As for the platform being dead, no chance! If the unity of windows 10 works and they can get the top 50 or so apps from ios and android then it will be fine! Already some manufactures stirring about phones, and all the insider experience stuff is looking good! MS has chosen an interesting path of developing a cult following by including public insider experiences and developing a publicly developed product! Brilliant!

Still would like to see a smartwatch only version..

I really, really want one of these!

Just signed for mine from the UPS guy. Wow! Its amazing, the dogs wotsits..

The Best Buy link does not work. Here is a good link. http://www.bestbuy.com/site/searchpage.jsp?id=pcat17071&st=microsoft+band Weird..the link was working but now its not?

I need this the day this band comes to canada. I wont import it I am worried about softwear versions and localisations when it comes.

I m using it from Italy, works perfectly :)

I live in the US by use a Lumia 930 from the UK. I had a small syncing issue, but it was resolved by the recent firmwear update. I wouldn't expect that you'd have any problems.

I just received mine today in UK.Wohoo!! I bought the small version and I'm using 3notches from the widest setting. Still feels quite loose/tight whichever you wear it,but not much of an issue for me. And Cortana integration is awesome! Wish it'd had a speaker to talk back to me..LOL

I live in the US and have had the Band for about 2 months. I absolute love it. I would add that, as a WP user, the Band experience is better due to integrated Cortana, etc. For me, I can easily go 2 days without a charge, and sometimes 3. You're experience will vary though if you use GPS heavily. I wish Microsoft would do a better job advertising this amazing product.
The only con is that it took almost a week to get used to wearing it. At first, it seemed bulky and was not confortable. I stuck with it though, and am glad I did.
Personally, I'm not a huge fan of the styling of this -- or any -- fitness band. I would prefer a watch style device. I hope the popularity of the Watch prompt MS to do its own Surface Watch. In any event, being what it is, there is no fitness band that can compare.

PCWorld in the UK have the Band in stores now for demo and sizing!

The battery only last 48 hours.... I've had mine since Sunday and it's still holding a charge

Richard your article did not mention screen protection which I think is very important. I live in New Zealand and ordered my band over the net thinking it would come with the band cause people in store get one with their band. Any article about buying the band should mention how easily your band will get scratched without screen protection. BTW LOVE MY BAND !!!

No Band here. No Cortana here. Yeah.

Now that people can start getting Bands in the UK they should definitely check out Band Translate to do language translations directly from their Microsoft Band http://www.windowsphone.com/en-us/store/app/band-translate/3acce9a4-d158-48f1-936f-a192e6fdadd8

What happens if I buy MS Band and use it in an unsupported regions?

Nothing. I live in Mexico and bought a Band from Amazon in US. I have been using it without any problems at all, everything works as it should. I have the region in my WP set to US so I can use cortana and it works perfectly too. Hope this helps! If you can get a Band from US or UK, I strongly suggest you do.

Just bought myself a Microsoft band... So far so good
Windows Central Newsletter
Thank you for signing up to Windows Central. You will receive a verification email shortly.
There was a problem. Please refresh the page and try again.