How to connect the Microsoft Band with HealthVault & other services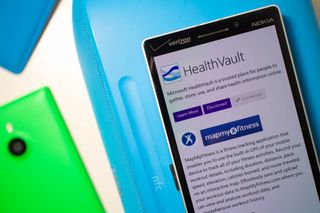 The Microsoft Band is not widely available, but lucky owners got treated to an update earlier this week. Some of the new features include the Bike Tile, virtual keyboard, Quick Read, and much more. It also lets Microsoft Band users integrate their data with two additional services: HealthVault and MapMyFitness. The Microsoft Band originally included just two integrated services: RunKeeper and MyFitnessPal. We'll show you how to integrate your Microsoft Band with these services.
Open Microsoft Health app on your phone
Tap the menu button on the top left corner
Tap Connected Apps
Tap the Connect button under HealthVault or any of the other integrated services
That's it! You'll be asked to log in depending on what service you've selected. With HealthVault, you can sign in with a Microsoft account, Facebook, or OpenID.
Microsoft HealthVault (healthvault.com) lets users organize their health information in one place, and helps them gather, store, use, and share information and records with their healthcare providers. By integrating with the service, the data from Microsoft Health is automatically uploaded to the HealthVault account, including workout and sleep data. It may be a little confusing because Microsoft Health and Microsoft HealthVault are two different things. Keep in mind that you do not have to connect with HealthVault to access the new Microsoft Health dashboard (dashboard.microsofthealth.com).
The other integrated service introduced in the latest update is MapMyFitness. It's a fitness tracking social network that lets users know where they're going and where they've been. There are over 20 million members. The integration saves and uploads your workout data from the Microsoft Band to MapMyFitness.com.
We're glad to see more services that can connect with the Microsoft Band. Are there any others that you would like to see on the list? Let us know in the comments!
Windows Central Newsletter
Get the best of Windows Central in your inbox, every day!
Microsoft Band would be cooler if guitars and drums were involved.

Agreed. This is how smart/fitness watch should be, not like some pathetic junk like Pebble.

When can I buy one in Europe?

How about connecting to their own app, MSN Health & Fitness?

Doesn't that use Microsoft HealthVault, though? Meaning this update effectively does let it sync with MSN and Kinect?

Oh nice!! I just recently started using MSN Health & Fitness and after I get enough points in DVLUP, I'm cashing them into a $200 MS store voucher which in turn becomes a Microsoft Band lol.

Don't quote me on that, but yes, I /believe/ MSN and Kinect both tie into HealthVault.

No longer... now Health nd Fitness syncs, sporadically, with MSN. Of course the change was implemented to improved the experience.../s

"How about connecting to their own app..."
Healthvault is their own app.

But he mentioned Health and Fitness....

Connection to MyFitnessPal is still wonky

Anyone get this working yet? I was able to get the band connected to Health Vault but, still not seeing any new data coming in. Last I see if from my old fitbit. Nothing on this new update that puts the band in sleep mode automatically yet? So want this. I forget all the time.

Not working for me either. Connected everything, see that it's connected, but nohing has sync'd over to the Healthvault app. The auto-sleep mode is exactly what I need too - hope they add that at some point!

same, I tried syncing and nada. Maybe it only pulls data every 24 hours?

Bad news when you need a walkthrough to get things done. Why IOS is better.

Doesn't work if you're in Canada. Anyone else outside the US have any luck?

They need to consolidate their apps, Microsoft Health, Health Vault and Health and Fitness all strive for kinda the same thing, but yet they're all separate services. Not sure who chose to do this, but I cannot understand why they did it this way. Too much redundancy, too much reminiscent of the Microsoft of before.

Yep. That's my biggest complaint. Too many Microsoft health and diet apps not talking to each other, but it seems to be getting better.

Needs Strava integration.

It s incredible @ms Band team at the end did not support the development of an app to help children affected by Duchenne dystrophy.... Bad thing, really...

MyFitnessPal disappeared from Connected Apps.....anyone aware on whats going on?