How to use the Microsoft Band keyboard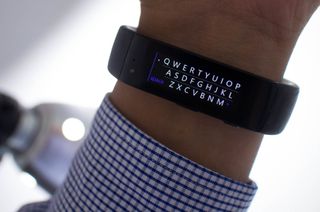 The Microsoft Band received an update earlier today and one of the cool new features is the virtual keyboard. You can type your replies from your Band. While it sounds silly, it works really well. The keyboard uses Microsoft's World Flow technology, which predicts commonly used words and phrases. Want to see it in action? Go watch our hands-on video.
The only way to bring up the keyboard on the Microsoft Band right now is by replying to text messages. After tapping the reply button, you have the options to use the keyboard, voice dictation, or quick reply shortcuts.
The main keyboard includes the standard letters with a period on the top left corner and a space button to the lower corner. You can't see what you're typing until you swipe towards the right. Don't worry if you think you are tapping the wrong letters. As long as you're tapping within the vicinity of the correct letters, Word Flow automatically predicts what you've typed.
Swiping towards the left lets you change what's being shown on the keyboard. You can change it numbers or symbols.
If you see a typo, tapping the word displays three suggestions above it. You can tap one of the suggested words or tap the backspace icon to erase it. There's also a plus sign to the left of the word you tap on. This lets you insert more words to the left.
It seems the keyboard is currently restricted for text messaging. We'd love to see this option for replying to tweets as well. It's still faster to type replies directly from your smartphone, but it's nice to have another way to do it. How do you feel about having a keyboard on your wrist? In what situations would you type with the Microsoft Band instead of taking out your phone? Let us know in the comments!
Windows Central Newsletter
Get the best of Windows Central in your inbox, every day!
It is actually pretty neat.

yeah, if you want to send something quick, thats amazing. if you are fighting with your girlfriend though :P

Really? Just pick up the phone and make that call lol.

I was surprised by how well it works. I'm sure I will use it when my phone is charging :)

My hands are usually full at work. It's nice to be able to send off a quick reply without digging for my phone. I'm very surprised with how well it works.

No swipe but the screen is so small you really only need to type in the general area of the word. Works really well, better than what I was anticipating.

Yeah I think the display size is too small for swipe. But swipe is easier

It would be pretty amazing if they added swipe.

You can also reply to emails!

I thought I tried that and I couldn't.

U sure? I don't see that option. Have a pic?

Just sent you an email with a video of it

E-mail is not working here. Only text messages.

I dont see the option to reply to emails?

Another set of Microsoft Band articles wave, just because of the new keyboard. This could be Microsoft Band Central

Great idea. Registering that domain right now.

WindowsAntiVirusCentral.ninja WindowsSuperFishCentral.joke WindowsUselessAccessories.biz ^ Register these too!

Don't forget to register yazenisalimpdikkedmaggotcant.cum

And your complaining why?

Look how many articles on SuperFish. Annoying to see homepage cluttered with useless journalism ... Seems like a huge waste of time :/

Going to register 'whiny babies in comments central'. Annoying to see articles cluttered with useless comments...Seems like a huge waste of time :/

Did not think that registering my concern was a waste of time, but if you think it was than I certainly cannot argue. Keep the fillers coming :) I remember a time when this site was called WPCental, and I actually enjoyed reading 9/10 of the articles. How many people actually read each AV article from top->bottom?

Yazen, I learned long ago not that the "editor" of this site doesn't take kindly to criticism. Especially if the criticism is exceedingly accurate as yours was. Then all of his fanboys will attack you and that's not worth the effort of reading. They have some good info here when they're not off on a useless tangent of SuperFish or the rant of the day, so just read the good stuff and keep quiet please. (Sarcasm) Regards, Dell

So if the news of the day is the band we should not talk about. Oh I get it you like Fox News or tabloids people should just make up news too fill the day. This site caters to windows news which is only so much. Not like Android central which does have alot. Hell they could make a sub group called Android virus central.

If you could please read the OP it is not a matter of having an article about the keyboard. It is about the recent practice WC has adopted, i.e several articles about the keyboard. Not bashing this particular article, it is useful :)

You were making sense until you threw an unrelated Fox jab. Adding politics isn't going to help.

Pretty useful for people who go to Bing (or Google, if you're into that sort of thing) and type: "How to use the Microsoft Band keyboard" or something similar. Windows Central, as the editors have stated many times, is aimed towards to veterans and new folks alike. For someone who's just unpacking a Band for the first time, an article like this can be very much appreciated. My apologies if it's too much work for you to scroll past an article that doesn't interest you.

Just going to copy paste :p
If you could please read the OP it is not a matter of having an article about the keyboard. It is about the recent practice WC has adopted, i.e several articles about the keyboard.
Have to agree, THIS article is great.

I only see one other article, where it's announced there's an update with new features. Not sure that's "excess."

The OP is referring to a future period in time which he expects that there are several band articles related to the keyboard.

I'm not sure that's the best argument, but I'll give it to them. But I still maintain that's easy to scroll past news that doesn't interest you, and not as big a deal as others might think. I'd personally rather have a surplus of content rather than lack of it.

Then Windows phone kinda died outside of a small minority. Then Microsoft transformed into a different company offering new and great products. Ask your mom to stop forcing you to read the articles you hate.

I wouldn't consider any of those articles journalism. Real Journalism has been dead for a good time now. Posted via the Windows Central App for Android

None of us call ourselves journalists either. We work much harder.

Raising awareness for privacy and security's sake is not a waste of time.

Slightly different this time ;) If you could please read the OP it is not a matter of having an article about SuperFish. It is about the recent practice WC has adopted, i.e several articles about the SuperFish.

Firstly, it was a very serious matter that needed pressuring Lenovo into an official apology. Secondly, not everybody reads WCentral 24/7, and some only have time to check it once a day, and probably only the first page or the scrollable news banner above, so it's good some important articles are reiterating the issue. If you have too much time to read every single article through and through, then you must not have much of a life.

Another stupid comment. There's nothing bad with some extra info Microsoft and tech related.

And to those of us who have a Band, is really nice to find out new features before you figure it out on your own.

Going to keep the copy/paste going lol, the irony :p
If you could please read the OP it is not a matter of having an article about the keyboard. It is about the recent practice WC has adopted, i.e several articles about the keyboard.

Microsoft band is a wonderful device and to actually have people reviewing and talking about it who know what they are talking about instead of some isheep or droidbot who is an idiot, this is welcome, very welcome

Almost achieved maximum pasta
If you could please read the OP it is not a matter of having an article about the keyboard. It is about the recent practice WC has adopted, i.e several articles about the keyboard.

Now that's how it's done. Thanks Mark.

Wow... Just updated my band and it works surprisingly well! I don't think I would use it often but for times my phone is not near me or I can't use it, this will work great! Good job Microsoft!!

I know, right?! I was really surprised at how well it works.

I'm surprised you guys haven't mentioned the reading mode yet!! Another cool feature!!!

Already used it several times, it's come in handy and works great

woooo!! mark guim making use of what he learned at ESL! represent kababayan! lOL

BTW WHERES THE UPDATE?! I HAVEN EVER HEARD OF ANYTHING!! omg!!

I wouldn't call this neat but horror.

it works very well and I love that it also gives you suggestions when correcting errors.. I will be using it daily (before the keyboard I was using my quick set messages) to do quick replies and regular messages.. adding it to email, tweets, Facebook, and Facebook messenger (WHICH STILL DOESN'T WORK BTW) would be a win to me...

they shouldve made this swype. its faster.

Swiping drags the screen which is why they didn't. Because the keyboard is so small you can tap out letters really quickly. Not for most texts, but ok for the odd reply.

make sense. BUt remember the App microsoft made for samsung gear? You swype the letter individually.

I love it. I wish the same dialogue worked with making new texts, and not just replies. But still, wow. What a difference!

Omg that's like actually pretty awesome. I would use this and have been wishing I could use this when I leave my phone in the other room and do something in another. Very handy and great to know all the little things, I didn't know you had word choices yet! Amazing stuff MSFT! Now give the w10 preview to my 1520 with a nice huge update to the build and I'll love you guys and gals even more.

I usually have my phone in my bag when I am working (photo assistant) so being able to see and now reply to messages makes the band really, really useful. Holy crap. I am so surprised that a keyboard that is this tiny cam be this accurate. I can actually use it! Not to mention the ticker mode that shows you the message. This is a fantastic update.

Like said above this will make work a lot more fun! Lol. Also the ticker above mentioned that displays the word chosen that you typed after hitting the space bar, or even of you scroll to the right. Something also I just now learned that I haven't seen mentioned is what scrolling left does! You can choose abc, 123, or .?*, meaning alphabet, numbers or punctuation characters! Awesome!!!! Back button cancel the text. And when replying, the choices are a little keyboard symbol, Cortana's icon, and then presets. Tapping Cortana calls upon her without having to hold the button down to initiate which is now. I am stoked to be able to use all these features throughout my day. Good stuff! :)

does this only work for Windows phones?

Because they're the best!

So worth the buy before, even better now, huge surprise, I'm super stoked about this.

This will be handy for those meetings where I can't take out my phone and reply to texts. 007 texting.

I didn't see anybody mention the word preview in the bottom right corner as you're typing. Look at it while you're typing a text and it will be all stars and then as soon as you complete a word, it will show in the bottom right corner of the keyboard. Handy preview.

How do I get the update???

You can obtain the update through the Microsoft Health app. Good luck! :)

Makes sense especially for quick replies

HELP! I updated it and I have the tutorial in settings but there is no reply button under text messages. If I press the action button on the message it just makes the font bigger for a second and then goes back to normal. I just want to type on my band!! :(

While it seems neat, it's probably faster just to use cortana to respond.

Except in situations where you can't talk!

What is extra cool is that messaging works in the background so you don't have to see the full screen Cortana interface when you're responding! So you can actually watch something on your phone and write back on your band.

poor camera is gonna get a hell of a neck pain, and that band looks like it went through hell

Okay so I updated my band but whenever I press reply to a massage, and the keyboard it just says "connecting" forever, is anyone else having this problem?

Why would you reply to a massage? Just relax man.

What version of Windows Phone are you running?

Cool, now I have a reason to buy one. Do people really wear their band with the screen showing below the wrist instead of on top of the wrist?

Much more comfortable with the screen on the inside wrist

How do you get the update??? I've opened the Microsoft Health app and nothing is prompting me to update like the previous update. Help please!

Simply update your Health app, when u open it, the band will update automatically. If you have the cycling tile now, it's the latest version.

Thanks for the info. Sadly the update hasn't come through... Pretty odd. I'm on att in Los Angeles. Anyone else here get the update thru att in LA?

Go to the manage tiles menu and it will sync and push the update.

Thanks for the help, but I'm still not getting it. I've tried everything to make it happen, and nothing works. :'(

I followed DETRO1TJAY's advice. Going thru windowsphone.com enabled the update to show up by searching for the app!

I have the cycle tile now after update but I do not have the keyboard. Is anyone else having this issue?

I'm having the same issue as you. No keyboard available.

Solution! I had the same issue and I am trying to help as many people as I can lol. Make sure your phone is updated to at least Windows Phone 9.1 Preview or Denim. Itherwise you will not have the reply function. Then reset the band and you should be all set. Message me if you need help! :)

@Brendan Hansen
Yeah, I'm running 8.1 Dev Preview on both devices. Still no go on the keyboard. Thanks for your help though.

I only get the keyboard when given the option to reply to a freshly received text. No reply options (keyboard included) on older texts. Edit... scroll up on any text message and tap Reply

Factory reset the Band. It does not take long at all and once you sync it up with your phone you will still have all of your data. This is what I had to do and then once I reset the reply button was there. If this does not work I don't know. Best of luck!

Is your phone running WP8.1.1?

Is that denim? If so no. I have WP8.1.

You don't have to have Denim to have 8.1.1. But I think some carriers are waiting to release both at the same time. On your phone, go so Settings>About. If your phone has the word "Update" at the end of the OS name then you've got 8.1.1 (so it'll say "Windows Phone 8.1 Update"). You need this to have the keyboard working since the Band relies on some backend parts of the phone to make the keyboard work. Basically, even though you're typing on the Band, the phone is the one actually processing and interpreting your taps. Earlier versions of Windows Phone doesn't have the backend functionality to handle something like this. You can always install the Preview for Developers if you want to bypass your carrier and force it to the latest version of Windows. But if you do already have the latest version, then that's really strange how it's not working...

Thanks for replying WhiteNiteLite. I appreciate your time. It's very strange. I do have the Windows Phone 8.1 update and I seem to have some of the features. Such as the fast reading of text.

Awesome feature. Now I feel that I am not left alone as an early adopter..

I don't have a Band, but this would be nice riding in the car (my vision keeps me from driving, I'm forever a passenger) because sitting down, the 1520 is really hard to get out of your jeans pocket, at least for me.

If you go to windowsphone.com you can get the update there if it does not come up for you automatically.

Thank you for that tip! Going thru the site enabled the update to show up!

Love the new keyboard. Anything that keeps me from always having to pull out my phone is a plus. Great time saver for me.

Also noticed that it doesn't unlock the screen when you plug it in now, which is great. And when its plugged in it had 3 modes now. Unlocked, clock, and black screen.

Nobody said it seams faster yet so ​ ​ SEAMS FASTER ​

keyboard only works if you paird with windons phone, for my case with galaxy note it dosent shows at all :(

Sweet, just in time for my replacement band. FYI, you can pay $19 when you get a replacement (assuming you had MS care on it to begin with) and it resets the 1yr clock. No other fees. Just trade in your broken band, pay $19 again and you have a new one with another year. Band only, no box or charger. Nice!

Can't try. We're in Europe there

After install the update, de app on my Nokia 930 crash

This is in Europe, Holland

This smart band is a joke,how can you keep hand like he did ? Who created this???

I'm not sure what the joke is. I love my band.

Umm show stopping issue. I was using my band on my Android Note 4. Got the firmware update today. Tried to find the keyboard feature. Realized its WP only. Cool. Booted up my 1520, hard reset my band. Installed MSFT Band, logged in, paired. Got it all synced up. Trouble is, even after a hard reset of my band, the firmware my Android version flashed has superseded the Windows Phone pairing firmware. I don't have the keyboard at all. Only pre formed replies. Damnit. If you use both platforms, proceed with caution. Looks like you can only have one or the other depending on what platform you do the OTA firmware and there doesn't appear to be a way to change. My firmware is showing 10.2.2610.0 09 R. Can someone please confirm the flashed windows phone firmware version?

Crap. Coming to the grim realization that since I did the firmware update on Android, my band is now an "Android Band" even though I primarily use Windows Phone. So irritating. There is zero way to get the native Microsoft features for WP until the next firmware update comes out. May? August? Who knows. I'll probably dunk it in water and go get a new one for $19 more bucks. Bonehead move, Microsoft. There needs to be a way to re-image the firmware to Windows Phone. Guess when buying a used band, you need to make certain the seller was running updates on iOS, Android or Windows Phone. That makes three different band versions out there, all very different in functionality. Aggravating.

Son of a $%($%)!!! I did the same thing CoolBreeze. My primary phone is a 1520, but been using my Xperia Z1s lately for grins & giggles. Android is as annonying as always. Did the update w/ my Android app and it sounds like I'm screwed. My only hope is that I'm having issues sycing w/ the desktop app on two different PC's. I might bring it with me to the MS Store and see whether they can get it to work. If not...new Band...and I'll pair/update w/ my 1520 ;-)

I've got the same firmware version as you and I'm on WP. Do you have the latest version of the Health app installed and WP8.1.1?

Everything is fully updated and freshly reset/paired. No sign of any keyboard when replying to a text on my 1520. Oh well.

I don't know if I saw if you did this or not, but be sure to UNREGISTER the band from within the Apps, yes apps. I had the same problem with my band because I had it tied to my iPhone for a while. That's the best way to 'start fresh'. May need to reset the band again too. After I unregistered, reset, and repaired, the keyboard started working for me.

After three connect/unregister/reset cycles between my Band and my 1520, I'm still not getting the keyboard option. I'm still only getting the two text reply options. Checked to see if the Band was updated...it was. I installed the update the other day when my CV Malaysia rom 1320 (using on AT&T) was paired with my Band. When I noticed I wasn't getting the keyboard option, I switched over to my AT&T 1520, but still...no keyboard.

So while i was expecting this to be something that I'd use when my phone wasn't nearby, I discovered another use for it while I'm actually holding my phone: during phone calls. I was on a call recently and someone had texted me. Without having to wait until i was done talking, I was able to basically have a second conversation going right there on my wrist! And the keyboard is so accurate I didn't feel inconvenienced at all. I hope that someday support for 3rd party apps comes too.

I noticed quick replies on the band, are there any which are "sport related"? Like - "I am out running/cycling/spinning" instead of "I am in a meeting"?

Those are actually totally customizable and are set by the user. I believe you can create up to 5 custom replies.

The Band alow setup language other than english?

I belive you can set it up in a few other languages. Sorry for the lack of information.

Is it possible to change the Keyboard language? Wordflow works great but it support only US English....

Wordflow supports brazilian portuguese very well (on the phone, off course)!

That is the most ridiuclous, unintuitive, laborius UI I have seen in a while.

Pretty simple to use for me. Do you personally have one or does it just seem that way from the video?

I'm glad you have found it usable. From a UI design point of view the ineractions required are too simply soo small for our stubby fingers to do without considerble effort. The bmount of interaction with touching and swiping required is also too much. The screen is simply too small for this level of interaction.

So, you have used it? I think part of the excitement is that it works even though the screen is so small.

No I haven't to be fair, and perhaps my opinion would change then, but even with some added excitemnt, it doesn't change the issue of use difficulty.

Trust me, I thought this was the most idiotic thing to be on a device like that.....but then I used it, and I was wrong.

hey Mark, can you change languages withing the keyboard?

Not sure if this is new but when I press the action button when looking at a text or notification it will display one word at a time nice and large for easier reading.

That's cool. I did not experience that before either. Thanks!

Interestingly, I was given the option of replying to an email on the Band, and it worked. But now I'm not finding the option on other emails. It seems to be only available on some emails and not on others. No logic to it.

Just figured this out. I have the option of replying to emails on the Band if the contact is listed in my VIP list. It actually works.

I take that back. It acts like it is sending out the email, but nothing arrives at the other end.

It would be great if it was enabled for Facebook Messenger as well.

Under manage tiles, there is an option for a facebook messenger tile. I don't know how well it works though since I don't use fb messenger.

The only issue I see with this and even replying with your voice, it registers it as a new text message on your phone. So it looks like you've received a new text message, from yourself.

I've been seeing that I have an update since yesterday, but for whatever reason it won't download.

lovely... i love microsoft surface!

Extraordinarily random, an outlier.

I have to say that the banner image for this article really shows how ragged the Band has become. Hrm, I wonder what wear and tear on a gen 2 device would look like under the same care. I realize there isn't a gen 2, but lets face it the wear does look pretty terrible.

Agreed. I don't do very much and my band looks like it went through WWII.

I was thinking the same thing. We hope a version two will come. Thinner, maybe better battery, I cant see how anymore sensors could be added, it is already a technical marvel. I haven't bought one yet because the size of my wrist is big (always had thick forearm muscles; keep your jokes to yourself) and the only way the band fits is if it is on the very last "link," however I wonder if there is an aftermarket extension, I doubt it.

I was thinking the same thing. We hope a version two will come. Thinner, maybe better battery, I cant see how anymore sensors could be added, it is already a technical marvel. I haven't bought one yet because the size of my wrist is big (always had thick forearm muscles; keep your jokes to yourself) and the only way the band fits is if it is on the very last "link," however I wonder if there is an aftermarket extension, I doubt it.

How would I use a keyboard on my wrist and in what situations? Well, if I could get a hold of a band, I would probably use it when the situation arose ...probably use it like a keyboard...im just guessing here...

I'm still waiting for the update for my band. does it come automatically? how do i force or obtain this new update? any suggestion as to how to get this latest update for my band, i would greatly appreciate it.

It should tell you an update is required when you launch MS health.

I received an ipdate to my windows phone app, then it told me theremwasman update to the band. I couldnt do the update right then so I cme back later but couldnt get it to offer the update again. I restarted the phone, and then went into the app and it offered the ipdate again.

I just used this to have a conversation through text with my wife while I was in a meeting yesterday, I was surprised at how accurate it is! It's very effective for quick replies when you don't want to pull the phone out. Hopefully they advertise the features, even though the Band is still in limited stock it can't hurt to have the public interetsted if they put the word out!

Should be a great addition de ability to reply messenger and emails. Please microsoft please.

are these feature operating base dependant? i'm in uk . i have the band paired with a androip phone (sony z1c) . but don't seem to have the keyboard option to reply to texts actualy on the band.- ony 2 oredefined messages to chose from.

On my bands keyboard the x types a. Any ideas thanks