This is what you get when you connect the Microsoft Band with RunKeeper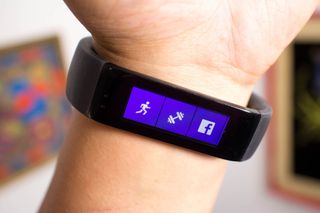 There's no official app for RunKeeper (runkeeper.com) on Windows Phone, but Microsoft Band lets you have a connection with the popular service. Over 30 million people around the world use RunKeeper to track workouts. Do they play well together? Let's find out.
How to connect Microsoft Band with RunKeeper
Follow these steps to connect your Microsoft Band with RunKeeper:
Tap the menu button on the top left corner
Tap Connected Apps
Tap Connect under RunKeeper.
After connecting them together, you get a nice email from RunKeeper that you now have a free month of RunKeeper Elite. It's a $9.99 per month service that adds advanced reports, insights, comparisons, and even live broadcasting of runs. It's a nice perk, but iPhone and Android users get the upper hand for actually having a RunKeeper app that take advantage of these extra features.
Windows Phone users can check their stats on the Microsoft Health app and the RunKeeper website. Data is automatically uploaded after your run. Here's how it looks like on RunKeeper:
Depending on your RunKeeper settings, your data will also be automatically shared on social networks. For example, here's a tweet from my account that went up a few minutes after my run:
Running with RunKeeper vs. running with Microsoft Band
The run data from the Microsoft Band that goes to RunKeeper includes distance, duration, average pace, calories burned, and average heart rate. It does not currently share the GPS map, elevation, and splits with RunKeeper. You can see those data within the Microsoft Health app.
RunKeeper doesn't just get data from your runs. I've checked my RunKeeper profile and see my sleep data, daily calories burned, and daily steps there too.
It's great that there's a connection between the Microsoft Band and RunKeeper, but it isn't perfect. There's no official RunKeeper app for Windows Phone yet and not all of your run data get transferred to RunKeeper. This is still a new product from Microsoft, so hopefully we'll see some updates with improvements and new features.
Do you use RunKeeper? Do you plan to connect it with the Microsoft Band? Let us know in the comments!
Get the Windows Central Newsletter
All the latest news, reviews, and guides for Windows and Xbox diehards.
Anybody else remember the official Runkeeper app back in the day? I had it on my Verizon Trophy and my Lumia 900.

I think when microsoft health has their website, thats all I need. I don't use run keeper.

Yes this, who needs 10 ways to manipulate the same data? Just one good app that makes it clear what is going on is fine.

Yes, been using Caledos runner for years as it is the only win phone client for run keeper... Hope they keep up the integration points! (FULL heartrate log and GPS data)

I use Caledos app too and it great! Hope Runkeeper starts supporting WP once again (I believe they had a WP7 app).

Does it link with Virgin Healthmiles? I know fitbit does.

It doesn't. That's one of the reasons that I ended up selling mine. Virgin Healthmiles does sync data from Runkeeper, which syncs data from The Band however the number of steps taken never seemed to get pushed to Runkeeper or inevitably the Virgin Healthmiles site. I had to go back to Fitbit for now.

Shame on you RunKeeper for not having an app for Windows Phone! (unless one is in the works)

They had a WP7 app, but due to OS limitations it was pretty useless (couldn't run when phone was locked or in the background). Maybe they'll come back now that 8.1.1 is a much more solid platform for these types of uses.

If Endomondo can do it the so can RunKeeper

Especially considering they want $9.99 a month.

Switched to Endomondo when Runkeeper left Windows Phone. I didn't miss the service until now. It'd be cool to have an app from them again. Or have Endomondo connect to the Band. Maybe press them to see if with this new partnership a Runkeeper app may be coming? Just saying.

Agree, I have some ongoing challenges on Endomondo. Right now I'm tracking with both the band and the phone. Wish I only needed the band.

I left my phone and Endomondo behind this morning for the first time. It was great!

I asked Endomondo thru thier support link and they said "Integration with the band was not in thier short term plans". I wish the Band would export the GPS data. Then, at least, we could upload it to any service.

Define "short term" LOL. That's cool though. At least you got a response. Ditto on the exporting workout data. I wouldn't be surprised if that feature came when they expand the Band's services like through a website, APIs and such.

I did use it but since disconnected. I walk and run, both using 'run' on the band which then made my runkeeper data flawed because it was treating run and walk the same.

There actually was a Runkeeper app a while back but the app was pulled after they stopped development/updates for the app.

I've been using the McDonald's health app to track my caloric intake and heart rate but I might switch to the Pizza Hut app since there a Windows Phone edition now.

Oh yeah, the McDonald's health app is great... "You have eaten 9 Big Macs and 12,000 calories worth of french fries today." "You have burned 15 calories and have taken 4 steps today." "You have reduced your life expectancy by 7 weeks today."

Looking forward to the Mountain Dew heart rate tracker for Windows Phone!!!

LOL at the old MS Passport sign out button.

Yeah what's the deal with that?

Up next... Microsoft Health's integration with MyFitnessPal.

Do you use it? How's ur experience with it?

Runtastic support please!

Yes! Runtastic has done an awesome job supporting their WP apps, maybe not as much effort as the other mobile OS's. But much better than Run Keeper!

There used to be an app that was Ok but they pulled an AA way back in the day and pulled it. I told them then they'd never have me as as customer again, hope endomondo gets engaged

This is a little off topic but something I have been wondering since I got my Band. What OS is the band running? I am wondering if it is the first device to run Windows 10 (since Windows 10 is meant to run on all devices).

Here you go ;) http://www.zdnet.com/microsofts-fitness-band-what-kinds-of-software-and-services-are-inside-7000035344/

Thanks for that! :) It was exactly what I was looking for.

on gps... can't you upload a GPX file to RunKeeper? I haven't used Microsoft Health yet but would assume downloading a GPX or TCX file would be an option...

Extracting a .GPX file from the Band or Microsoft Health isn't currently an option. I even tried plugging the Band into my computer to try to see it as an external storage device, but couldn't do that either. GPX export and a dedicated cycling app are my two most desired features, in that order. I trust they will eventually come, and then I can fully get away from having to use my phone+Endomondo or Garmin devices.

I switched to Runtastic when Runkeeper abandoned WP. I want to see 3 things in a running app: Duration, distance, & pace. And I want them BIG! If I had a HRM, I'd want that too.

i'm hoping the next FW update on the band will share GPS data, also note if you run with RunKeeper you get duplicate entries from MS Health and the existing activity on RK. I've asked their support to see if there's a way they could filter that out or merge the 2 data files

I have been running with Garmin and Nike gear for a couple years. I am less impressed with runkeeper using my hand and windows phone. I would like to see Microsoft Health share the run map when posting to social media.