Unable to install Windows 11 Insider preview builds? You're not alone.
Minimum requirements continue to be a thorn in the side of Windows 11. This time, some Insiders have been unable to install the operating system's first preview build.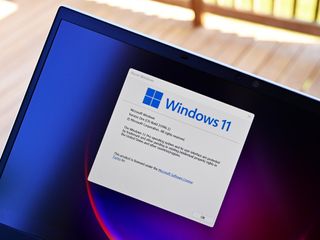 (Image credit: Daniel Rubino / Windows Central)
What you need to know
Some people with PCs that appear to meet the minimum requirements of Windows 11 have been unable to install the first preview build of the operating system.
Microsoft acknowledges the issue and has rolled out an update that should fix it.
Some Insiders with PCs that should be exempt from the minimum requirements of Windows 11 have also been unable to install the preview build.
The first Windows 11 Insider Preview build started rolling out yesterday. Many eager would-be testers went to install the build, but were met with a surprising error message. Despite PCs seemingly meeting the minimum requirements for Windows 11, many Insiders were unable to install the preview version of the OS. Microsoft appears to have resolved the issue.
An update to Microsoft's post on preparing for Insider Preview builds of Windows 11 (opens in new tab) acknowledges the issue:
Microsoft also promised that certain Windows Insiders would be able to test Windows 11 on hardware that doesn't meet the minimum requirements of the OS:
Insiders that meet these requirements have also run into issues installing the latest preview build of Windows 11, as highlighted by MSPowerUser.
Have you run into issues installing the first preview build of Windows 11? Let us know in the comments below.
News Writer and apps editor
Sean Endicott brings nearly a decade of experience covering Microsoft and Windows news to Windows Central. He joined our team in 2017 as an app reviewer and now heads up our day-to-day news coverage. If you have a news tip or an app to review, hit him up at sean.endicott@futurenet.com (opens in new tab).
Not at present, was able to install it in a VM to test late last night using vmware workstation 16.1.2.

Installed it just fine on my Surface Go despite not having a "supported" CPU after I couldn't get it to activate in Virtual Box. Runs much better on the Surface anyways.

I installed it on my Go too - not sure why the CPU isn't supported because the near-identical Pentium Gold CPU that's in the Go 2 actually is supported. And the fact that that's there makes the whole "experience" thing a bit of a joke because let's face it, the Go CPUs are dogs and easily outclassed by several-gens-old i3/5/7 CPUs.

I downloaded and installed it and restarted to finish and it decided to uninstall it and roll back to Windows 10. Luckily on my 2nd attempt it fully installed.

Installed fine on my Lenovo 120s n4200 cpu..

It took forever to install on my GO 2, but it finally made it!

Installed on my SP7 like a dream
My desktop came with TPM error - Richard Devine's TPM article was the 'saver' - just enabled PTT in BIOS and it started downloading as soon as I switched back to DEV Insider
Thanks Richard - really helpful :)

Crazy... I have an old YogaBook with an Atom processor. Just installed W11 - took ages - but working fine
I remember when I got this off eBay some years ago and it was really sluggish, but as windows slimmed-down over the years it worked really well. Was hoping at some point Win10x would make it even zippier before it was debunked, but W11 is looking OK so far - Excel loads in 5sec; can't complain :)

I have a HP EliteDesk 800-G2 Mini Desktop, Intel Core i5-6400T 2.2GHz, 16GB DDR4, Solid State Drive, Win10Pro. I went to my BIOS turned on TPM then went to HP's site and upgraded to 2.0. Then, I enabled insider and it installed no problem. Running fine besides the widgets.

Sadly my Surface Pro 7 is coming back with a 0x8007042b error message after trying to install. The **download** goes through successfully, then the **install** process gets to above 90%, then as the excitement builds and anticipation escalates,(Oh boy!!!😃😁😃) I got the message - UNDOING CHANGES MADE TO PC. (What!!!😠😡😠) 😰😢😰😢 The PC restarts and I'm still on Windows 10 and I have the above mentioned error message.😞😞 Anybody have any insights to help a fellow geek out. 🙏🙏🙏

Out of all the gin joints... It just had to happen to you Jason lol... Don't suppose you're willing to refresh the Windows install? Don't think it will work but you never know with W10. Personally, You'd be better off testing W11 on a VM imo.

😅 Yeah man. Had to happen to me!😃 I really don't want to reinstall Windows. I've been having issues, install errors, with installing apps from the Store too, on my Pro 7 and Book 3 for a while. The Book 3 is my main PC. I'm trying the Windows 11 build on the Pro 7. Man, I'm upset now! 😃

I was having the same issue with my desktop not installing the latest W10 Insider Builds - so I did a fresh ISO install yesterday morning, configured TPM/PTT in the BIOS; configured DEV on the Insider Page and it started downloading W11 straight away. Installed, did the restart, stuttered, restarted and reverted back to W10 - frustrating. Trouble shooting indicated USB issues, so I pulled all the devices and just kept the ethernet in. But alas, same problem! No idea what's up, but hope someone can help as a clean install didn't :(
Windows Central Newsletter
Get the best of Windows Central in in your inbox, every day!
Thank you for signing up to Windows Central. You will receive a verification email shortly.
There was a problem. Please refresh the page and try again.