Microsoft releases first Windows 11 Insider preview build 22000, here's what's new
Refreshed UI, new Action Center, updated File Explorer, and the new Store are top billing for today's build.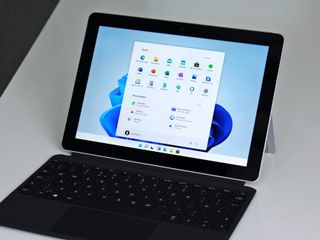 (Image credit: Windows Central)
What you need to know
Microsoft has released the first Windows 11 preview build to Insiders in the Dev Channel.
Today's build is 22000.51 and features most of the new Windows 11 features announced last week.
Android app support, Microsoft Teams chat, and some of the new in-box app designs will come in a future build.
Microsoft has finally released the first preview build of Windows 11 for Insiders in the Dev Channel! This initial preview is build 22000.51 and includes most of the new Windows 11 features that were announced last week. This includes the new Start, Taskbar, and Action Center experiences, as well as the new Microsoft Store app, redesigned Settings, Lock Screen, File Explorer, and much more.
Microsoft says that it will be adding more of the announced Windows 11 features in upcoming preview builds released over the summer. Some of the notable features that aren't present in this first build include Microsoft Teams chat integration, Android app support, and most of the other refreshed in-box app designs not mentioned above.
So, with that out of the way, let's get into what's new.
Windows 11 build 22000.51 new features
Desktop and File Explorer
This build includes the new centered Start, Taskbar, and Action Center that was revealed last week. Taskbar Jump Lists now include rounded corners. Most notably, this build also includes an updated System Tray area that splits Notifications and Quick Actions into two separate flyout controls.
The battery, Wi-Fi, and volume icons are now one big button that opens a new Quick Settings flyout, and the Date and Time is another button that opens a calendar flyout as well as your notifications.
The new Quick Settings panel consolidates all of the old Windows 10 system tray flyouts into one easy to view UI, allowing you to configure things like Wi-Fi, Bluetooth, audio devices, volume, brightness, and much more.
Also new in this build is a modern design for the Windows File Explorer. Gone is the old-school Ribbon UI interface that was introduced back in 2011 with Windows 8. Now, we have a modern, simplified UI that matches the rest of the Windows 11 UX.
Along the top if a single row of icons that provide access to File Explorer's most common tasks. This includes cut, paste, copy, rename, share, and delete, as well as drop down menus for things like resorting files in a folder, and gaining access to File Explorer settings. There's also a big "new" button for access to things like creating a new folder or file.
The new UI also includes Microsoft's new "mica" translucent blur effect, which allows your desktop wallpaper to subtly shine through the new modern UI just like Acrylic Blur does. It's a nice touch, and really adds to the modern feeling of the new File Explorer.
Microsoft is also introducing a new modern context menu for the desktop and File Explorer, featuring a new, rounded UI and a prioritized list of most common tasks. Users can still access the old Windows 10 context menu if they wish by clicking the "Show more options" button at the bottom of the context menu.
Microsoft says developers will eventually be able to access and use these modern context menu designs as well.
Settings
Build 22000.51 includes a brand-new Settings app, redesigned from the ground up with Windows 11 in mind. It's moved around some of the old options, and even introduced new ones. We're not going to go into everything, as we'd be here all day. But here are some highlights:
There are new battery features in Power & battery that include a new power usage graph, screen on / off time statistics, and a list of what apps are using the most battery during any given hour.
Bluetooth & devices now shows you all of your connected apps in a beautiful grid at the very top of the Bluetooth settings page. Your Phone configuration has also moved into this category.
Devices with a precision touchpad now have access to a new feature called Advanced Gesture Control, which allows granular control over what three and four finger swipes on the touchpad can do. For example, you can now set a three finger swipe to the left to snap an active window to the left side of your display.
Windows Pen Workspace settings have also been updated, and depending on your pen peripheral, you now have granular control over what a single, double, and press and hold does on your pen. You can choose these button presses to open any app of your choice.
Personalization has a bunch of new and improved options, including quick access to different Windows Themes, a number of new options for the Taskbar, and more.
The touch keyboard now supports themes, and there's a number of in-box themes to choose from. Users can also create their own themes if they'd like.
The Windows out-of-box-experience now includes a page that lets you name your PC before reaching the desktop.
Windows 11 features Wi-Fi 6E support.
Windows will now try to estimate how long a pending update will take to install when a restart is initiated.
Windows now supports Dynamic Refresh Rate displays and can switch between high/low refresh rates depending on content to save battery.
The new Windows 11 Settings app is beautiful and fresh, and also includes that same "mica" blur effect that lets your wallpaper blur through the background of the app very subtly.
Widgets
Windows 11 features a new Widgets panel that's now full working in the official preview build. You can rearrange different widgets, customize your Microsoft News feed, and expand the widgets panel to take up the full screen.
This build includes the following widgets:
Calendar
Weather
Local Traffic
Microsoft To Do
OneDrive Photos
Sports and eSports
Stocks
Tips
Microsoft says that more widgets will be added over time, and the widget panel will eventually be opened up to third party developers.
Microsoft Store
This build comes bundled with Microsoft's new app store experience on Windows 11. The app features a brand new icon and design which matches the rest of the Windows 11 UX. Support for Android apps will be coming at a later date, so for now this first look includes only Windows apps.
Check out the full changelog
That's our highlights for what's new in Windows 11 build 22000.51. There's much more to explore, and we'll have a hands-on video showcases the biggest new changes as soon as possible. It's important to remember that Windows 11 has a set of new system requirements, which you will need to meet if you want to test Windows 11 optimally.
In the meantime, check out the Windows Blog for the complete changelog, including a list of known issues.
Get the Windows Central Newsletter
All the latest news, reviews, and guides for Windows and Xbox diehards.