Microsoft releases first Windows 11 Insider preview build 22000, here's what's new
Refreshed UI, new Action Center, updated File Explorer, and the new Store are top billing for today's build.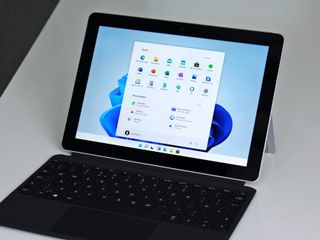 (Image credit: Windows Central)
What you need to know
Microsoft has released the first Windows 11 preview build to Insiders in the Dev Channel.
Today's build is 22000.51 and features most of the new Windows 11 features announced last week.
Android app support, Microsoft Teams chat, and some of the new in-box app designs will come in a future build.
Microsoft has finally released the first preview build of Windows 11 for Insiders in the Dev Channel! This initial preview is build 22000.51 and includes most of the new Windows 11 features that were announced last week. This includes the new Start, Taskbar, and Action Center experiences, as well as the new Microsoft Store app, redesigned Settings, Lock Screen, File Explorer, and much more.
Microsoft says that it will be adding more of the announced Windows 11 features in upcoming preview builds released over the summer. Some of the notable features that aren't present in this first build include Microsoft Teams chat integration, Android app support, and most of the other refreshed in-box app designs not mentioned above.
So, with that out of the way, let's get into what's new.
Windows 11 build 22000.51 new features
Desktop and File Explorer
This build includes the new centered Start, Taskbar, and Action Center that was revealed last week. Taskbar Jump Lists now include rounded corners. Most notably, this build also includes an updated System Tray area that splits Notifications and Quick Actions into two separate flyout controls.
The battery, Wi-Fi, and volume icons are now one big button that opens a new Quick Settings flyout, and the Date and Time is another button that opens a calendar flyout as well as your notifications.
The new Quick Settings panel consolidates all of the old Windows 10 system tray flyouts into one easy to view UI, allowing you to configure things like Wi-Fi, Bluetooth, audio devices, volume, brightness, and much more.
Also new in this build is a modern design for the Windows File Explorer. Gone is the old-school Ribbon UI interface that was introduced back in 2011 with Windows 8. Now, we have a modern, simplified UI that matches the rest of the Windows 11 UX.
Along the top if a single row of icons that provide access to File Explorer's most common tasks. This includes cut, paste, copy, rename, share, and delete, as well as drop down menus for things like resorting files in a folder, and gaining access to File Explorer settings. There's also a big "new" button for access to things like creating a new folder or file.
The new UI also includes Microsoft's new "mica" translucent blur effect, which allows your desktop wallpaper to subtly shine through the new modern UI just like Acrylic Blur does. It's a nice touch, and really adds to the modern feeling of the new File Explorer.
Microsoft is also introducing a new modern context menu for the desktop and File Explorer, featuring a new, rounded UI and a prioritized list of most common tasks. Users can still access the old Windows 10 context menu if they wish by clicking the "Show more options" button at the bottom of the context menu.
Microsoft says developers will eventually be able to access and use these modern context menu designs as well.
Settings
Build 22000.51 includes a brand-new Settings app, redesigned from the ground up with Windows 11 in mind. It's moved around some of the old options, and even introduced new ones. We're not going to go into everything, as we'd be here all day. But here are some highlights:
There are new battery features in Power & battery that include a new power usage graph, screen on / off time statistics, and a list of what apps are using the most battery during any given hour.
Bluetooth & devices now shows you all of your connected apps in a beautiful grid at the very top of the Bluetooth settings page. Your Phone configuration has also moved into this category.
Devices with a precision touchpad now have access to a new feature called Advanced Gesture Control, which allows granular control over what three and four finger swipes on the touchpad can do. For example, you can now set a three finger swipe to the left to snap an active window to the left side of your display.
Windows Pen Workspace settings have also been updated, and depending on your pen peripheral, you now have granular control over what a single, double, and press and hold does on your pen. You can choose these button presses to open any app of your choice.
Personalization has a bunch of new and improved options, including quick access to different Windows Themes, a number of new options for the Taskbar, and more.
The touch keyboard now supports themes, and there's a number of in-box themes to choose from. Users can also create their own themes if they'd like.
The Windows out-of-box-experience now includes a page that lets you name your PC before reaching the desktop.
Windows 11 features Wi-Fi 6E support.
Windows will now try to estimate how long a pending update will take to install when a restart is initiated.
Windows now supports Dynamic Refresh Rate displays and can switch between high/low refresh rates depending on content to save battery.
The new Windows 11 Settings app is beautiful and fresh, and also includes that same "mica" blur effect that lets your wallpaper blur through the background of the app very subtly.
Widgets
Windows 11 features a new Widgets panel that's now full working in the official preview build. You can rearrange different widgets, customize your Microsoft News feed, and expand the widgets panel to take up the full screen.
This build includes the following widgets:
Calendar
Weather
Local Traffic
Microsoft To Do
OneDrive Photos
Sports and eSports
Stocks
Tips
Microsoft says that more widgets will be added over time, and the widget panel will eventually be opened up to third party developers.
Microsoft Store
This build comes bundled with Microsoft's new app store experience on Windows 11. The app features a brand new icon and design which matches the rest of the Windows 11 UX. Support for Android apps will be coming at a later date, so for now this first look includes only Windows apps.
Check out the full changelog
That's our highlights for what's new in Windows 11 build 22000.51. There's much more to explore, and we'll have a hands-on video showcases the biggest new changes as soon as possible. It's important to remember that Windows 11 has a set of new system requirements, which you will need to meet if you want to test Windows 11 optimally.
In the meantime, check out the Windows Blog for the complete changelog, including a list of known issues.
Windows Central Newsletter
Get the best of Windows Central in in your inbox, every day!
Zac Bowden is a Senior Editor at Windows Central. Bringing you exclusive coverage into the world of Windows on PCs, tablets, phones, and more. Also an avid collector of rare Microsoft prototype devices! Keep in touch on Twitter: @zacbowden.
Haha, checked just a few minutes ago and saw it downloading. Immediately went here to post.

Downloading on my Surface Pro 4. I haven't felt this excitement for Windows since Windows 10.

Can surface pro 4 run windows 11? I hear that the minimal requirment is 8 gen CPU

Exactly. Well it probably can run it well. That thing about the processor gen cutoff sounds like an artificial thing. I'll check it out and tell you how it runs, I expect it to run exactly as well as Windows 10.

Runs perfectly, try it, it's cool :)

I wouldn't say perfectly, but ok enough ;) On my officially supported desktop, it's smooth as butter. On my SP4, there is some lag every once in a while and everything is instant/snappy/animated.. I can clearly see why they recommend newer hardware as the experience on supported systems is awesome

How were you able to download? I tried on mine and it just says my pc doesn't meet the requirements with no option to download.

You need to enroll into the Insider program and opt into the Dev channel.

If you have unsupported hardware, you need to have enrolled in the Dev channel before June 24. That said, there is a hack that will allow you to enrol unsupported hardware now and still get Windows 11. https://mspoweruser.com/how-to-get-windows-11-dev-builds-if-your-pc-does...

Is it available for arm machines too?

Well it's downloading to my Pro X

Any indication of what MS might use the beta ring for? And when?

Beta Channel for Win 11 comes later in July/August.

I mean, the effect of Panay on the OS is clear.

Downloading now to a Surface Pro 6 and a desktop rig with a 10600K. Pretty exciting but I want to hear more about new Surface hardware.

Making poor choices on YOLOing on my daily driver Surface Pro 6. Do not worry as I always have a back up device that I could use in a pinch!

May the force be with you. I'm dying to test it in my main desktop but I might wait a bit and go for the beta channel instead when it's available.

So far my main programs are working well, stability is fine, and the UI is pretty snappy. There are some minor annoyances with the widget bar (e.g., cannot update my time zone).

I cant install it yet, since i use my surface go 2 for office work. Does anyone know if we can make the taskbar big, like Ipad bar big?

Everything was going good on all these comment here until I met you... "like Ipad bar big?" So. take it back
The best compromise I have for you is to switch that "Ipad" word to anything else, I'll even take "like Chrome bar big" As you can tell, these are good times.

I did not literally mean that big icons but bif enough for fingers to not play hide and seek. I think one of the reason for keeping start at middle is making it more touch friendly. And if we can make the i ons big it is not a bad wish. I like the surface go 2, but it is in weirdnplace, it is neight good for tablet since windows 10 is not for touch nor good for laptop due to screen size. I just want to use surface ho 2 as a tablet one day.

There are new touch screen gestures to bring up the app switcher, show the desktop and switch desktops. I think Microsoft should also set a gesture to bring up the Start menu.

my surface Go 1 although has 8mg Ram is unable to run Insider release? anyone else getting the message.
Could be be the 1.6 processor?

I have an Android .apk I am anxious to try to run...is there an APK installer built in..I couldnt find any..ideas?

Waiting for the beta ring as I'm testing on my main machine. I'm really looking forward to this OS.

What a bummer ): It seems I'm not gonna be able to try this build, my 7 years old ASUS laptop with a humble AMD A6-5200 APU with 6 GB of RAM it's not up to the task, and I believe my desktop, with an aging AMD FX-6300 with 8 GB of RAM (and a Nvidia GTX 950) it's not gonna be elegible for that either. And for that matter, I don't think either of my machines are gonna get the final update at all. And here I was, thinking I could send feedback about including an optional Windows 10 Start Menu or something like that. Oh well, gonna wait to see Zack's video walkthrough of the build.

Have you tried? Both my laptops fall way short of the requirements, yet it's installing on both.

After 5 minutes strolling around the new UI I already see inconsistencies in the basic UI. Lots of other stuff too. Delete dialogs with square buttons, Spotify still hasn't minimize animations and misses a rounded corner, quick lists fly above start but window previews are fixed on the start bar etc. Quick lists has other hover animations than the desktop context menus and much much more. Most of the stuff will probably be better within the first year. We need updated apps cause most of them feel disjointed with the general UI now. All the Windows apps are still the Win10 versions. And stuff like the grey top bar in Edge needs to be transparant like explorer. It is a good start but still a long way to go.

Now the questions is which app style should be used to update apps? A mix like File Explorer or like the App Store or like the Settings App? I think most developers won't even care because MS is a mess with UI frameworks.

Just looking a the video Zac Bowden posted, it is bad. Like they must have started this a few months ago. They got nothing. This essentially started when Panos took over for Windows or something. Dark Mode is not improved it seems.

It's unfinished. That means it's not done. That means there's more to come. Let's see how it looks in August or September as the finishing touches are added and feedback is compiled and used. Then I think it's appropriate to judge. Best thing to do is provide feedback.

Installed on sp4, working good but new file explorer is missing 😒

I had the same issue. Just go to the "Folder Options" in File explorer and then under the View tab click on "Restore Defaults" and then close reopen the file explorer. If it still doesnt work then go back to "Folder Options", then View tab and "Reset Folders"

It came back for me after a reboot 😒

Is there an ISO available for testing on a VM?

@Paul Warner - a little late and you may have resolved your query by now. If not, only option is download the 21H1 isobusing the W10 21H1 media creation tool or Rufus. Then enrol onto dev channel. Also enable secure boot and virtualisation in the virtual host program before installing W10. I'm currently installing it on a fresh VM using the above method (via Vmware workstation 16.1.2).

One of my sons downloaded it on his Surface pro 6. It installed smoothly. It looks pretty impressive already now - I see a taste of Linux here and there.

I hope that the battery icon in the task bar is a little more nuanced with the battery level. Feels like on windows 10 there are only 100, 75%, 40%, 0%. Not particularly useful, especially with older batteries.

I have been testing 22000.51 for about an hour now on my Surface Pro 4. Still a little quirky, but fairly stable. The main thing I have noticed is that it requires way more mouse clicks to complete tasks than Windows 10. I have tested pinning folders and files to the Start Menu successfully, but not being able to organize pinned items into groups is unnerving. Also, applying default apps for the browser, mail, etc. is way more difficult. The Feedback Hub will be inundated with feedback. I hope they can handle it.

How is it difficult? You just go to Apps -> Default Apps.

My installation does not have the Settings>Default Apps>Choose Default Apps page like Windows 10 where you choose the default apps for Email, Maps, Music Player, Photo Viewer, Video Player, and Web Browser which makes it easy to choose the apps you use everyday. All I was saying is that it will be a little confusing for the average user to make these changes. Does your installation have this page and my installation is missing it?

" but not being able to organize pinned items into groups is unnerving.", I really hope MS will re-add this. Its something I use a lot on W10. Even Android has it (though less advanced / less options how to cluster).

"Microsoft has finally released the first preview build". Finally?!?

Yeah, this is the first time EVER where they announced something and shipped a preview a week later.

Have it on my SPX and runs well. Looks good for the most part. I swear someone at MS needs to get their heads adjusted though regarding the all aps list being a single line. USE THE GD SPACE better you wanks! Seriously how hard is this to do?!! I would also much prefer if they combine the time, action center and taskbar apps on the bottom right so there is only one place to click as opposed to 3. Too busy and why are they separate. I know this sounds like a lot of whining and it is, but the update looks so nice to be spoiled by the weird implementation of the info on the bottom right of the taskbar. Just copy chrome already and be done with it.

The new 'modern' file explorer that replaces the 'old-school' Ribbon UI with just icons, isn't that basically just the old 'old-school' pre ribbon 'classic' way it was arranged?

Yes. Turns out the old ways are the best. Hoping for a bit more change below the clean new toolbar as development progresses. Dare we hope for tabs?

I think that is also related to how touchscreens are more mainstream now so you will want to use less but slightly bigger buttons (and moving advanced / less used settings to some sub menu). For explorer this seems perfectly fine because you only need to use a few buttons regularly (eg you are not going to toggle 'hidden items' every time) in contrary to for example Word or Excel where you often use a variety of buttons / functions.

Just installed on my Surface Go with Pentium Gold 4415Y processor and appears to be working fine.

I am missing notification on start bar...

W11 build 22000.51 works perfectly on my haswell-based Surface Pro 2. Probably will work on my spare Surface Pro 1st gen as well.

It looks and runs well on my Blade, but I'm little underwhelmed by the lack of tabs in file explorer. Mac and most Linux DEs have had this feature for years now. And I still see the migration from control panel to settings isn't complete yet either. Guessing it won't ever be.

Runs on my Surface Pro (2017). Seems faster.

I think MS lost the source code of Windows 🤣🤣 I only see superficial patches at runtime (like a third party developer) and extra programs. I you look closely, Windows 11 looks odd.

@Zac
Listening to your podcast brought couple things to my attention. Firstly, Microsoft Store, with so many potential malware, viruses, fart app, and tech support scam apps designe to lure user into its trap. What's MS position into letting this getting a pass. If Amazon is the first store within a store, so is Google play store with malicious apps. Secondly, tied into the first one. I recalled at one point MS introduced features in which apps or program can be installed in virtual machine and can be deleted without harming core windows. Will this part of Window 11 features?

It seems that hard/soft floor requirements are still valid, and a current processor and tpm2 is not required for insider program.

Alrighty...let's get it on this Pro X and kick the tyres 😁

My Surface Go updated overnight. I haven't looked closely yet but did take a quick look at the desktop stuff and File Explorer. The latter did not have the new look so not sure what's up there.

Opening the Widget panel to 3rd-party developers is not a good idea, Windows 7 gadgets were a similar thing and MS decided it was a security risk so they removed the Gadgets platform. Widgets need to stay MS-only for the same reason.

I agree on the importance of security, but disagree with your conclusion on this. Widgets are like super-improved Live Tiles and somewhat similar to their Android counterpart. I have never heard concern over those being a security risk. To limit these to MS-only would largely defeat the entire purpose of having a Widget bar. I expect 3rd party weather and news widgets, Facebook and other social media feeds, media players, etc.

Apparently, you can no longer choose to never combine taskbar icons. Can you anyone confirm if that's true in this build?
From a productivity point of view, combined taskbar icons without labels make Windows almost completely unusable for me and will probably mean I won't switch over to Win11, which is unfortunate cause I love everything about it so far.

A bunch of toolbar features aren't currently enabled, so likely will return.

Last I knew, my machines were not up to the minimum requirements. Yet, here it is, on these two systems. Someone is funnin' with me. ;-)

Well, its too bad that i only have one laptop and im having a lot of work to perform that involves some picky apps that crush often even in the main release mode, not to mention insider preview >_<
On a side note, i COULD use Hyper-V, but there is neither an ISO posted somewhere, nor i know of any key product to activate windows 10 in HV to upgrade it to 11 and then try to understand it without receiving activation errors every 5 seconds. >_<>_<>_<
Just for the record, i have an asus rog g15 from 2020 with intel core 5 10th generation, and 16 gb ram so i am more then compatible with win 11

So it appears they're tinkering with literally every single UX feature, completely new store, adding Android app support, and improved performance among so many other things (haptics with pen for instance) yet the haters are saying this isn't worthy of a new name number?

To use an old adage "Haters gonna hate". Every time there is a new development you get the same reactions. As the Great man Mr. Adams said: "I've come up with a set of rules that describe our reactions to technologies: 1. Anything that is in the world when you're born is normal and ordinary and is just a natural part of the way the world works.
2. Anything that's invented between when you're fifteen and thirty-five is new and exciting and revolutionary and you can probably get a career in it.
3. Anything invented after you're thirty-five is against the natural order of things."

I have the Dev build of Windows 11 running on my Surface pro 4, Pro 7+, and and my Gaming Pc, which has a ancient Cpu running at 4.6 mhz , a i5 3570k, 16 gig ram, and a Gtx 3080, old Asus Rog motherboard, and it runs fantastic on all of them, super fast on my gaming pc, and smooth just runs so much better than 10 did, really hoping that insiders will continue to get these insider builds of 11 even after the official release of Windows 11, if they stay a insider, I have been a insider for 6 years, I see no issues what so ever on my Gaming Pc, the motherboard does have a 20 pin slot for a tpm module chip, so may have to pick one up, if its even possible lol, if Microsoft does indeed push for tpm to be a requirement on actual launch, but I think they may crave to the feedback about the tpm requirement. I am loving the gestures with the touch pad on the Surface pros, the two finger, and especially the three finger swipe up which brings up, all your windows that you have open, swipe down , goes down to the page that is open at the time, and down again to the home screen, really smooth I hate to say it but apple smooth, and the little details like app icons that bounce when you go to the home screen, looks nice, I like the fresh direction Microsoft is taking with Windows 11, i know a lot of people think its just a pretty skin on top of Windows 10, and its Windows so also will be to a degree, buy you have to give credit here its a great effort.

Seems like there is no way to enable 24 hour time. Runs like **** on a surface pro 3 i5 256gb which is sad. I know it's older hardware but it at least ran regular windows 10 fine. Power and volume buttons don't work either. I didn't get the new store until another reboot. The UI to unlock with pin needs to be updated so the keyboard is rounded

After reading the Insider explanation of why some machines received W11, MS is being passive aggressive about it all. They've mishandled the whole thing, from creating excitement most cannot experience to these incessant warnings that if people roll back, never again W11. Treat people with a bit more respect. Had they announced a variant of Windows with specific necessary criteria and kept everyone else feeling like the main Windows track was regarded equally, I doubt any of us would have an issue with it. But they made W11 sound like a must have, and when a company waves tech around as The Thing to Have, people are going to want in, want their machines included. We are Insiders for a reason. Tech people should build. Someone with a bit more people savvy should be deciding how to present it after both tracks figure out the technical stuff.

What nonsense is this? If you don't have TPM 2.0 enabled you should make sure you do. If you're intent on running an old computer, we'll, enjoy the old OS. MS has supported all kind of legacy HW for years and years, now they make a few demands, based on security, and ppl go ape ****. Other HW requirements are for the current build, if your CPU is not supported now, chances are it will be a few builds down the road. If you can't run it now, wait, easy. Why should they treat W10 equally? And, the main track, W10? WTF. W11 is the main track.
Windows Central Newsletter
Thank you for signing up to Windows Central. You will receive a verification email shortly.
There was a problem. Please refresh the page and try again.