Unicorn Rush, a fun endless runner on horseback for Windows Phone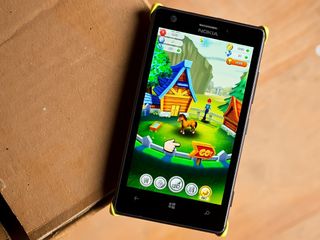 Unicorn Rush is a fun endless runner styled game for Windows Phone that puts you on horseback in an effort to save the fantasy Kingdom of Grant.
The back-story has a riot occurring at the Kingdom's border and as soldiers are dispatched to deal with the riot, the evil Duke Hogan has snuck into the Kingdom's Capital and captured the King and Princess. You play the role of one of the King's Knights who will have to rush back to the Capital and defeat the evil Duke. The ride back to the capital isn't a gingerly stroll in the park with a wide range of obstacles, traps and monsters to overcome.
Available for low-memory devices Unicorn Rush makes a nice impression. Graphics are nice, game play challenging and if you can overlook that the game's Knight looks more like a farm hand, it's a Windows Phone game worth trying.
Hi Ho Silver and Away!
While Unicorn Rush is an endless runner, the game is laid out with 100 levels of game play and you do your running on horseback. When you first launch Unicorn Rush, the game will walk you through the first few levels of play in tutorial fashion. You'll learn about game controls, game dangers, how to equip your horse, etc. Once you've completed the tutorial, launching Unicorn Rush will send you to the game's main menu.
The game begins at the stables, which serves as the game's main menu. Along the bottom of the screen you will have button controls to visit various game features that include:
The Game's Store where you can buy power-ups, new horses to race, new scenes for your stable or sell some of the gear you no longer need.
The equipment menu where you can fit your horse with the gear you collect or earn during game play. The gear you use will increase your horse's abilities.
Access to the game's network, which includes your online leaderboard, daily gifts, any sales in the store and any gaming notices.
The grooming or dress shop where you can customize the color of your horse, change the main style, wing style and change your rider style.
Access to the game's settings that cover sound/music on or off, changing your player name, sharing the game via email, visiting the game's Facebook page and view the About page.
At the top of the main menu you will find your gaming stats that include your experience ranking, arrow count, energy count, gold count and diamond count. Gold and diamonds are earned during game play, gifted through the daily rewards or through in-app purchases. Arrows can be purchased using your gold coins.
Playing a game of Unicorn Rush will cost you one energy unit. Fully stocked you will have ten units of energy and these units will automatically replenish at a rate of one unit every ten minutes. If you are in a hurry and cannot wait, you can recover energy by asking a Facebook friend for an energy unit or spend diamonds.
At the stables there is a large "GO" sign that when tapped will send you to the game play map. Unicorn Rush has 100 levels of play that are progressively unlocked and will become more challenging as you play the game.
Game Play
The game mechanics for Unicorn Rush involves a series of screen swipes and some levels will rely on your Windows Phone tilt sensors. When you are running down paths, swiping left or right will move your rider left or right. Swiping up will have the horse jump and swiping down will have the rider duck. Tapping the screen will have your rider shoot arrows at monster that appear.
There are levels where your horse sprouts wings in Pegasus fashion. With these levels, you will use your Windows Phone tilts sensors to control left/right and up/down movements.
With each gaming level, you have to steer your Knight and their horse down a path filled with obstacles, traps and monsters. Additionally, the path is filled with coins you need to collect and power-ups that will help you survive each level.
Each level will have a goal to reach (e.g. collect a set number of coins, take out a set number of monsters, etc.) and a treasure chest you can collect just before you reach the finish line. The treasure chest can hold anything from diamonds to coins to gear for your horse.
Dangers include rock pillars, wild boars, man-eating fish, giant thorny vines, flamethrowers, crevices, rivers, and more. You also have wooden barricades that your horse can crash through.
Should your rider smack into a rock pillar, fall down a crevice, get eaten by a monster or fall to some other fate you can use a diamond to save your rider and continue with the level. Otherwise, you'll have to start from the beginning of the level.
Game play has a brisk pace about it and visually, the game reminds me of the Temple Run series of Windows Phone games. There are unicorns involved with the game but you'll need to save up your gold coins to buy one from the game's store (lowest priced unicorn is 90 diamonds).
Overall Impression
Unicorn Rush makes a nice first impression with nice graphics, challenging game play and plenty of customization features. With 100 levels of play, Unicorn Rush shouldn't get stale too quickly.
I'm not a big fan of the in-game cost to play but this feature will pace your game play and allow the 100 levels last a little longer. I'd rather pay $.99 for the game and drop the in-game cost all together. But it is what it is.
I'd like to find something to complain about with Unicorn Rush but there isn't much to be picky about. Sure, I would like all the horses to be unicorns from the start but that doesn't affect the gaming experience.
Overall, Unicorn Rush is a fun game and a nice addition to the Windows Phone gaming library.
Unicorn Rush - Windows Phone 8 - Free - Store Link
Windows Central Newsletter
Get the best of Windows Central in your inbox, every day!
George is the Reviews Editor at Windows Central, concentrating on Windows 10 PC and Mobile apps. He's been a supporter of the platform since the days of Windows CE and uses his current Windows 10 Mobile phone daily to keep up with life and enjoy a game during down time.
This Sounds great. But would like to have similar games like Robo Unicorn Attack 2.

This. Robo unicorn attack 2 is the best endless runner, period. I have to start spamming adult swim. I need their games on my Lumia

what i would give for RUA2 on windows phone it would be sooooo good on my 1320

I like the new banner for 512 Mb ram support

Yeah looks cool! But at first I thought it's an add :D

I was hoping the endless amounts of endless runners was coming to an end.

Nice banner for idiots with 512MB RAM

Please learn to respect our community. How does owning a low spec phone make one an idiot or a genius? There are many rich folk who are price conscious as well. Love all hurt none.

At least we met your mother.

Hello Greece2014 It's good to hear that you met ur grandmother for the first time

@TheFFK786 Well...idiot or not, i am really proud to own a device with such low RAM....and guess what? All i need is more functional and more fluent than on my defunct S5.

Okay sorry for what I said

Thanks. I got a new game to add in my collections.

This game does not work on my Lumia 520 , game is forever loading...

Me too. And the screen is acting weird, the menu looks like it's meant to be on bigger screen.
I'm on Lumia 720

Wow its fun. Looking forward for more upgrades.

Am I the only one being tired of all those endless runners? Are devs really that lazy nowadays?

Oh look! Another endless runner while android and iPhone are getting better