Unlock Nokia's Car App on all Lumias now and have convenience at your finger tips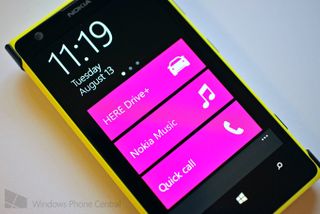 Back when the Nokia Lumia 925 was announced, we brought you an early look at Car App, a forthcoming app from Nokia that was enabled via NFC and used in conjunction with their wireless CR-200 car mount. The app provided the time, weather, battery life, quick call access and easy taps to HERE Drive + and Nokia Music. It was not only well done, but seemingly very useful for when you are otherwise occupied with driving.
The problem is, we never really saw that app materialize in the Nokia Collection. Well, as it turns out, it comes with the Nokia Accessories app (found under Settings) and is in fact, hidden. The app can evidently only be activated by scanning an NFC tag that is found on Nokia's CR-200 car mount and is similar to the Desktop App that is only accessible by Nokia's Qi chargers. That $100 car mount though is hard to find and let's be honest, quite pricey.
Now, the developer behind the popular app NFC Interactor, has a release called Car Mode that enables that app. Achievement unlocked! (See the Nokia Car app demoed in the above video).
Car Mode enables Nokia's Car assistance app
Car Mode launcher is simple enough. It allows you to directly launch Nokia's Car App on command but more importantly, it goes even further by allowing you to scan an NFC tag of your own for quick launching in your car. If you don't want to bother with NFC, simply opt for the Tile creation ability and you're good to go for one-click launches.
The app is free to try in its basic form (launch Car App, create Tile) but costs $0.99 for the NFC feature and to get rid of any purchase reminders. Note: You need Nokia Accessories app to enable this
Nokia's hidden Desktop app
Similarly, the developer also had a Desktop Mode app that enables Nokia's Weather-Clock combo screensaver. That Nokia creation works when you tap the NFC section on their Qi wireless stand and acts as a quick reminder screen. With the Desktop Mode app, you can enable that at any time. Likewise, you can create an NFC tag for home use or create a Live Tile for easy access.
Both apps can be found in the Store for Nokia Lumia phones with Windows Phone 8. Grab Car Mode here in the Store (You need Nokia Accessories app to enable this) and Desktop Mode here. Both are free, though a $0.99 unlock will enable advanced features (NFC tagging). This will not work on non-Lumia handsets.
Via: AAWP
Daniel Rubino is the Editor-in-chief of Windows Central, head reviewer, podcast co-host, and analyst. He has been here covering Microsoft since 2007 when this site was called WMExperts (and later Windows Phone Central). His interests include Windows, Microsoft Surface, laptops, next-gen computing, and for some reason, watches. Before all this tech stuff, he worked on a Ph.D. in linguistics and ran the projectors at movie theaters, which has done absolutely nothing for his career.
Except that Nokia's Car app has a fatal flaw- once you get into HERE Drive and start navigating, the only way to get back to the Car app so that you can use Quick Call or the third shortcut (e.g. Nokia Music) is to long press the back button on the phone. So you're driving 70mph/110kph and now you're supposed to execute a long-press on a 2mm target? That kind of kills the whole point of the Car app, which is supposed to give you extra large touch targets so you can do this stuff at a glance. At that point, you could just as easily long-press Start and use a voice command to do dozens of things. What we really need is a Car Mode where select apps are re-designed with a simpler interface and you can easily jump across them without needing to go back to a central screen first. Or else Nokia needs to build in music and communication links into HERE Drive so you can execute those things through some kind of overlay or pop-up window without actually leaving the navigator.

Car Mode is coming with WP8.1, so while it doesn't solve this problem today, it is being worked on.

Oh is there a list of confirmed/rumored WP 8.1 features that I'm unaware of? Thx ahead of time Mr. Rubino

I thought "Car mode" was coming in GDR3? Why is Nokia doing it?

Because they are the brains of wp8 not Microsoft duhh ! Lool :D

no car mode was already available, but you needed the CR200 nfc to activate it

+920 Car mode was there before GDR2.

stop plusing things with model numbers. it's stupid.

You're thinking if something else.

that is a different car mode that is coming through microsoft

is NFC the only advanced feature that is enabled with the pay app or is there something else?

Just a nag reminder to buy it, sorry for the confusion

Doesn't work on my 928 either

What doesn't work? Desktop Mode certainly works.

Desktop nor Car modes work on the 928.

Yep, same here. I have no Accessories app, and when I attempt to launch Car or Desktop mode (from either of these apps) it searches the store and comes up with no viable apps.....
[edit] and I just saw the GDR2 requirement... bah.

Ergo only lumias that meet a software requirement. In other words all lumias tentatively.

Actually, I had no Accessories app on my 928.. installing that rectified the situation. Both modes are working now.

I am unable to locate Nokia accessories on the market.

Daniel posted the link for the accessories app.

Interesting to hear, thanks for the information! So the accessories / "extras + info" app is not pre-installed on the Nokia Lumia 928? Can someone please confirm that manual installation of the accessories app solves the issue?
In that case, we'll add the link to the accessories-app with the next update! We tested on pretty much all other Nokia WP devices and it was always pre-installed (including for example on the Lumia 520). But as the 928 is US-only, we unfortunately don't have that phone to test.

Version 1.1 of the apps is already in QA - in addition to linking to the accessories-app in the instructions and about screens, the new version also checks the phone manufacturer for an additional info message if the app is running on a non-Nokia-phone, as well as improvements to the in-app-purchase flow.
Thanks again for your feedback and comments!

"accessories" is separate from "extras + info". I had the latter installed, but not the accessories app (both show up under "Settings" when installed). I have the Lumia 822, which is on Verizon along with the 928. Both Car Mode and Destkop Mode work now with accessories installed. However, I had a problem with the Car Mode app. I changed the default Nokia Music app with Pandora. When I go back into Car Mode, I only see a "+" sign instead of Pandora. When I go into the settings, it shows Pandora is selected. When I hit the back arrow from there, then the link to Pandora works. Please fix that! Thanks.

Ok great, thanks for the info!
I can also replicate the behavior you described.
Unfortunately, there is not much I can do about that issue right now, as it is a bug in the car mode of Nokia. If you launch the car mode through our app, it's exactly the same as if you would tap the NFC tag in the Nokia car holder -> the bug would also appear there.
If you hit the "+" sign in the car mode where the app should be, and then get back to our car mode app, this means that the Nokia car mode app crashed. Nokia should get bug reports about that through the automated bug reporting feature of WP. Hopefully Nokia will fix that issue soon!

The "extras + info" is available under the "Settings" on the 928 (pre-installed), but not as a standalone app - and I couldn't "Start Car Mode" initially either
Following Daniel's link to install "accessories", the store already showed that I had it installed, but I reinstalled it anyway. While it was installing, I could see it (briefly) in my app list as "accessories" but then disappeared after it had installed.
Car Mode worked just fine after that.

Excellent, thanks for confirming that! It's fine that the "accessories" item disappears from the list - you can then find the Nokia Accessories app from in the phone settings (towards the end of the main settings page).
When you then use our car mode / desktop-mode apps, they register an accessory with the Nokia accessories app, enabling you to launch the associated app.

It doesn't need GDR2, just the accessories app. The only way I found it was the link in this article.

If it needs GDR2, it can't work on the 928 as GDR2 hasn't been released for it yet.

Both apps work on my Telus L520 and I dont believe I have been updated to GDR2 (on 8.0.10211.204).

Both app até working fine for me.
Nokia Lumia 920 GDR1 with "accessories" updated. Thanks!

Working here! 822 without GRD2. Nice apps but they didn't do as much as I expected.

Can they release "Internet Sharing" next, since NFC interactor is the only app I know of that lets me jump to that specific control panel (and I'd rather do so without a NFC tag, with just a tile)?

+822 (Just to annoy the guy a few posts up)

I installed the Car Mode app and tried to launch the car mode. I guess Nokia's Car App is available as part of GDR2? Car Mode cannot find Nokia's Car App.

Update: Just saw the "Note" was added after I posted this confirming the GDR2 requirement. Hopefully "All Lumias" will get this feature soon.

Just tried the Desktop Mode app, same message. Looks like it requires GRD2 as well.

GDR2 is not a requirement for Car Mode, I don't know where that's coming from.

Try updating your Nokia Accessories app.

Yep, this will likely fix it... thanks jhoff.


I added the Nokia Accessories link/qr code to the post.

Thanks for update. I thought Accessories was installed by default under Settings, which is where it gets installed to... I didn't have it installed before. Both the Car and Desktop Modes now launch on my 822.

I don't know that "all lumias" is correct. Does not work on my 928. It says I need do download another app because it is missing. And the app is not there to download.

It's correct. Make sure you update Nokia Accessories (linked in the post).

Car app works fine on my non GDR2 920.

My 928 also says its not available when prompted.

For the people all saying it's not working, I'd be curious to hear if their "Nokia Accessories" app is up to date:

http://i.imgur.com/CUirL.png

I had no Accessories app (and searching for it was fruitless). Thanks for the QR. With the accessories app installed, both Car and Desktop modes work.

I'd be interested to know if the desktop and car modes "move" on the screen slightly every minute or so. I'm very concerned with burn in on my 1020; every amoled screen I've used gets it eventually.

The desktop app does move around the positioning of everything about once every minute. The car app doesn't (at least not that I can notice).

I wouldn't be concerned because it doesn't appear to stop the screen from timing out. I have the CR-200 and a L920. When I tap the NFC tag it asks to launch the app. This is annoying, but I think this is going to be fixed in coming updates, so that it remembers that I trusted the tag and will no longer prompt to launch the app. As far as the burn in, It doesn't mater if I touch the screen or not, it will eventually turn off the screen after the timeout period. IMO this is an issue and not acceptible, since having to fumble about to swipe and enter a pin to unlock the phone while driving isn't ideal. Also, to address the pricing for the CR-200, it can be easily purchased online in the US for $75.
http://www.mobilefun.com/38310-nokia-wireless-charging-nfc-car-holder-cr...

Yes, it would be great if Microsoft gets rid of some of the NFC related prompts. Especially problematic for many app scenarios is that the OS always asks to launch the app, even if it is already running. Unfortunately, there is nothing an app can do against that.

It's strange that the only app I can't create a shortcut to is the default music player.

That is interesting, since I see games are available which you probably won't want to be playing while driving! Nokia obviously did that on purpose, since they want you to use Nokia Music, not Xbox Music. I switched up Nokia Music for Pandora. The video demo failed to point out that you can switch the 3 default apps (Drive+, Nokia Music, and Quick Call).

I recommend an app called Swipe Tunes. It can be used as a shortcut in the Car app; it accesses your local on-device music collection; the "swipe" UI is good for use while driving.

I was waiting for the Car Mode App, excellent!!!

WP7.X is broken and buggy and the hardware was underwhelming. If you want the new software, then get a new phone. The HTC titan was a beast when it came out, but the $99 Lumia 520 is a better user experience imho. My titan and all its accessories are on ebay right now and it has 4 days left. 32 bids and its allready at $76 it will easily top $100 when it sells. i almost feel sorry for the poor guy who buys it. At least i included 2 spare batteries.

Thank you. The "Car Mode" app is very useful and very nicely developed.

All Lumias? No, its only for WP8 Lumias. Sad face.

Yes, unfortunately Nokia didn't release these accessories-apps for WP7-devices (and even if they did, the platform wouldn't support registering a new accessory & launching it via app-to-app communication). Therefore, it's Nokia WP8 only.

In desktop mode and car mode it can't fetch the weather for me and doesn't show my calendar entries like in the picture in the article
Any ideas why? I have 3g and WiFi but haven't got the Nokia weather app if that's required and am in the uk.

If I replace one of the default apps (Nokia music) with another (audible) in the settings, I get a problem. If I launch cat mode through the settings page it works, but if I launch it through the Car Mode app or live tile then the app I've replaced just shows a "+" on the button and doesn't work.

I am getting that too. I replaced Nokia Music with Pandora. However, when I launch Car Mode, I just get a "+" to add another App shortcut. When I hit the +, I see Pandora is selected and I just hit the back button and then Pandora shows. However, now I try to do that and I am sent back to the Upgrade Info screen. I have to click on the "..." and select Settings, then the back arrow to get it to work! Oh well, hopefully they fix this bug quickly.

Can you stick a NFC tag directly onto a Nokia charging plate so that it activates this (or another) app directly?

I don't think it activates the app "directly", but I haven't used it in a while. I think it just gives you a prompt (like all other WP8 NFC actions) to open the app. So if you're imagining you'll pop your phone onto the tag and have it just switch into Car Mode I think you'll be disappointed.

Sort of. I tried it out, and it works, but the NFC tag will register again (bringing up a dialog window and causing the phone to vibrate) every minute or two. It's kind of annoying... seems to be a better set-up to put the NFC tag near the charging plate, but not directly on it.

True, this is also the reason why Nokia placed the NFC tag at the bottom of their accessories, instead of the top so that the app would launch automatically (after the prompt, which is mandatory from the OS).
To launch any kind of app, you could use for example NFC interactor, which integrates an app store search for finding 3rd party apps, as well as a list of all the included system apps / settings pages.

I have 920 and Qi Nokia Charger that was given to me free with the purchase of my phone. I have never been able to get the Desktop Mode to ever work.

Is it the charging stand or just the plate? The desktop mode only works with the vertical stand

That would explain it. I have the plate DT-900. Did not know there was a stand DT-910

Everything work on my L920 ATT without Amber update. These are great apps. Just what I needed, This def took my mind off the amber update. Nokia is on point always.

Dude. WPCentral. If you didn't exist I swear I would be lost. This is awesome. I just ordered some NFC tags after searching for a good deal. Www.buynfctags.com is the cheapest I found for US. Other rape with shipping. I'm going to go nuts now :)

So why are my keys staying lit in Desktop Mode.......... I feel like the screen isn't working like Glance does. That's what I would expect it to do....

Desktop mode is pretty cool . But i cant see the next appointment . it simply shows 00:00 - 00:00

Yes, noticed that too sometimes. The Nokia standby screen app seems to have an issue with certain all-day events. Time-specific events should always show up correctly.

This is nice but I want to use Spotify rather than Nokia Music. It would be nice to see a 3rd party app like this with configurable buttons.

Ok nevermind, you can swap out the buttons with whatever apps you want.. I like it.

No dice, it doesn't seem to save custom buttons.

Hit three dots --> Click Settings --> Choose apps 1, 2 and 3. Although I can change the apps, the 3 apps out of the box are EXACTLY the 3 apps that I wanted in a CarMode screen! Thanks Nokia! Thanks Developer!

yeah the problem is that when you set an app like spotify it works until you close the app and re-open it.

Will it work with Xbox music? Because that's what I use.

Respect!!!!Nokia!!!!
This is awesome!!!:)

Desktop app is working fine on my non-GDR2 Lumia 810, though I'm guessing it only shows appointments from the primary account's calendar? I have a few appointments across various calendars in the next 24 hours, but the one that's showing is the one on my main account for tomorrow night.