Unsurprisingly 6Snap won't be coming back to the Windows Phone Store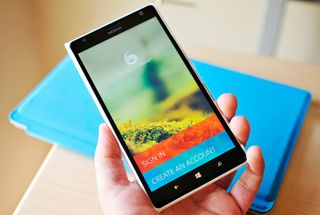 File this under no surprise, but developer of popular third-party Snapchat app, Rudy Huyn, has confirmed that there is no hope of a future return to the Windows Phone Store. Snapchat still isn't playing ball, but Huyn has teased something for the future.
Sadly Snapchat remains one of the most high profile services not represented on Windows Phone, and that doesn't look like coming to an end any time soon. Looking to more positive news, Huyn will have more new apps for us soon, and the message posted today has us intrigued as to what they're going to be.
Feel free to vent in the comments below.
Source: @RudyHuyn
Windows Central Newsletter
Get the best of Windows Central in in your inbox, every day!
Managing Editor - Tech, Reviews
Richard Devine is a Managing Editor at Windows Central with over a decade of experience. A former Project Manager and long-term tech addict, he joined Mobile Nations in 2011 and has been found on Android Central and iMore as well as Windows Central. Currently, you'll find him steering the site's coverage of all manner of PC hardware and reviews. Find him on Mastodon at mstdn.social/@richdevine
That's totally unfair. :(

Are they having some problem with windows phone platform?? Some kind of rivalry? If they cant make an app then its fine... But banning 3rd party apps too... Damn...f**k em.
With this stupid attitude they won't last any longer.. :/

They just want cold hard cash from Microsoft to develop a beta app and never update it for years after

They stopped third party apps after an exploit was found in a third party so. They weren't sure which shop it happened to so decided to ban anyone from making a snapchat app.

They can just, eh, fix their side of this sh*t and let loose... They prefer doing nothing and keep the security hole rather than allow 3rd parties and increase the user-base? So f*ck them.

Or maybe fix their crap api

Does not matter how they fix their API... As long as 3rd party apps exist, there is a greater potential security risk xD Not saying their apps are fullproof either Snapchat is lame anyways, what is their demographic?? Seems like their userbase is comprised of horny teenagers ...

Exactly! Snap chat is a childish app anyway. Hope it goes under! Posted via Windows Phone Central App

As 3% of the market, they are still going to last a long time. We are a grain of sand in a beach front to them. I hate to throw this downer because I would like to see them suffer for what they did.

The low marketshare in China and US keep the global average down. Elsewhere WP is stronger and that does matter. It's close or over 10% in many markets, which may seem insignificant, but it isnt too far behind the iPhone. The platform has seen brighter days, but it isnt as bad as it's presesived when you look at it more granular. No doubt the US and China numbers need drastic improvements, but WP users do represent some signifigance of the market.

People love to throw out "market share". It's still millions of users, plus my guess is that WinPhone peeps are more vocal about what they use and have influence with their iOS and Droid using friends. I know I do. Analysis based on market share is short sighted.

I ignore the marketshare when it comes to just using a device. I love Blackberry OS, so I wouldn't mind buying one regarless of its place in the market. This is what held back games being developed for Linux, the marketshare. Now, we do have tons of games for it, but many of those that aren't ported I wish were there to begin with. WINE only goes so far.

Analysis made on market share is the one you have to do when you're deciding which platforms to invest your time and money in. It's absolutely irrelevant if there are a couple of million people on WP. 2.7% marketshare tells developers that there are a couple of millions on WP...and a billion on Android. Guess where is the money going to? Exactly. The one with the billion users and billion potential customers. To ignore market share's importance isn't shortsighted, it's just plain dumb.

The same can be said about solely relying on it. Which I believe is the point of the arguments raised in the previous comments.

DJCBS, not just couple of million. 40-50 million people are using WP.

Again, if 40-50 million only give WP 2.7% market share, it means there are billions on Android with >80%. Which makes those 40-50 million neglectful numbers.

I raise your downer with a fantastical, magical Happy Mo Fuggin Easter to those it applies!

Great reply. They are well supported by other platforms but I hate them for neglecting windows phone users.

They banned all 3rd party apps on all platforms, because they don't want another "Snapgate" where they got mega hacked. So from what I understand, it's either official app or nothing to them. And the head of Snapchat has a personal bias/vendetta against Windows Phone and he said he won't support us.

Yes, they wan't to remain "unhackable" (doink)!

Facebook and microsoft....this rivalry is new...not new now
Still MS create facebook apps for facebookInc. In windowsphones store

Ummm...what? I think maybe you've got who owns what mixed up.

They banned third party Android apps as well, which was the root of this whole exploit they had with leaked images. I can understand their reason to ban third party apps but at least meet Rudy halfway and give him the OK on the app. He was even willing to GIVE them the source code of the app, so it's obvious that Snapchat has a problem with Windows or Microsoft in general.

Wow yeah what a bunch of Dbags at snapchat.

I've a galaxy note 4, and I send the "team snapchat " a video message everyday about how my lumia730 doesn't have snapchat . This is extremely disappointing. Also bombard their social feed. This is the best way to humiliate them.

Give this man a cookie XD

I'm sure their sick of seeing him, but excellent enthusiasm..

Thank you. I appreciate it. I also tweet them at Snapchat Support.

That's the logical thing to do, but most people here prefer to cry wild in the windows central forum. The only real unity came when free prints was pulling their app; everyone posted messages on their page or twitter account which prompted them to change their minds.

Its time for me to gibe Snapchat a stern word.

Wow, you just gave us all an idea

Brilliant. I might start doing that, too

LOL, somebody already did that, but he was just blocked in their email, twitter, and their Insta feed. Nothing happened, and the guy just showed them how desperate we are to have that SnapCrap. Some Windows Phone users were actually doesn't care about this app. It is not important to me. But I gave it a try because of 6Snap. But I don't really care without it.

From now, I'll tweet this everyday: @snapchatsupport bring Snapchat to Windows Phone!! Or 6snap by @RudyHuyn

Add this to it after Rudy's name, "who does a better job anyway".

Evan Spiegel is a misogynistic bigot that doesn't believe women have rights. He is a disciple of Google and bows to all things Apple. I guess being a billionaire does that to you. Maybe he needs to take lessons from Bill Gates on philanthropy - oh well - we all have our thing...

Being a billionaire one should think about how to grow his business further, right? This CEO is really surprising.

3% users of massive market don't dent their business. They don't care. Simple. Blame Microsoft for not giving Universal Apps and Windows 10 when they released Windows 8 and 8.1 - Microsoft's lack in marketing, slower development cycle and arrogance has cost their users official app support. Have you looked at first party app support on Windows Phone? It sucks. If that's Microsoft on its own platform, can we really bully other company CEOs? No.

This is Evan Spiegal's overinflated ego and if you think Microsoft hasn't done everything in their power to get them on board, you are delusional

Would your take a 3% raise at your job or pass on it and get nothing? An increase in revenue is an increase

You don't take 3% increase if you have to work twice as many hours. That's suicide.

Windows 8.1 and Windows Phone 8.1 supported Universal Apps. Not sure what planet most people are on...

But WP8 and WP8.1 should have been W10 feature wise. And universal app in W8.1 are crippled compared to W10. They should have engineered things faster after WP7, WP7.1 and WP7.5 fiascos. They are slow and will support other platforms before their own and no one can deny this. Not even Nadella himself, if he makes a Windows Central account right now.

Blaming MS doesn't solve the problem...

That 3% doesn't include the 100's of millions of devices that also run windows though =S

Meh, Cyber Dust is better anyway... and they actually have the security/destructive conversations Snapchat lies to people about having. Unfortunately Snapchat is the one that's high profile.

Pretty sure that's exactly what they did.

They really are pieces of shit. I hate snapchat. Its obviously personal. There's no reason to disallow Rudy Huyn's app if they just didn't want to make one. They are a bunch of low life scum. Can't wait to see the next fad knock snapchat out

Yeah like its gonna matter if 3 percent of the smartphone market didn't use their app...no1 gives a fuckk about windows phone including Microsoft ..thats the truth just accept it

In Europe WP has 10.1 % of market.

Europe is not the only continent now is it

Windows phone is pretty good in Europe, India, Brazil. Of course, like snapchat ppl, rest of the world doesn't exist

And windows phone is growing after the launch of lumia 535 and the numbers are increasing rapidly here in pakistan too. Dont forget that here in asia population is way bigger than any other part of the world. Windows phone will kick ass after the launch of 430 in pakistan and india. Windows phone has a bright future. Android would be fucked off.

Its about 10% in Australia also, I see people everyday using a WP device without fail.

+925x2, 930 and soon the next WP flagship when available.

Now what matters is profitability. Guess what. iOS is the most profitable OS even if it's market share doesn't exceed Android. Windows Phone might have mediocre market share here and OK in other places but market share doesn't matter, it's the profitability. Posted via the Windows Central App for Android

Ya, Microsoft doesn't care one bit about their smartphone line up they've spent millions on!

If they did why are the apps of Microsoft far superior on other platforms....and don't say windows 10 will solve it..

Windows 10 will solve it.

Just like Windows phone 8 will solve it, Windows phone 8.1 will solve it; now Windows 10 will solve it...

Ain't gonna happen, been saying 10 is waste of fucking time for over a year...

Developers not updating with the same or similar features.... Microsoft didn't write the apps you're speaking about

Because they know that there's a larger market share that other platforms have? I think Microsoft should do celebrity endorsement ads vs the stupid "what can you do" ads they have right now. Like the clash of clans ad with Liam Neeson, so many people loved that and started playing because of that(as well as their others).

Superior ? The only superior app on other platforms is the office app, since our hasn't been updated yet. Yes win10 will solve this ;) Any other app works better on WP at least in my experience with OneDrive and Skype ;)

Cortana and MS Office is far superior on Android?

3 percent world wide is a million people dude.

Um..3 percent of 7 billion is 210 million.even if one tenth of those use smart phones its gonna be 21 million.I do know math.Do you?

"maths" in real English ;)

How can there be 1 million WP users if there are only 7 million people in the world :-S

Lol! There are 7 BILLION people in the world

Dude there are 7 billion people in the world.Do u know reality lol.

Trololol I was mocking his maths skills

There are 7 billion people on the planet.

What the fuck are you doing here, then?

Don't worry just a week and ill be using android after 2 years

I will be glad to see you go, less whining in the community

Didn't you post the same thing a couple of weeks ago on another article.Saw your 'desperately attention seeking' post there.God...just move already.Tired of seeing you bash the os on every article just to feel that you're doing the right thing.We love the os here despite its shortcomings and will stick with it till the end(if it has one).PLEASE LEAVE.

Oh! Do enjoy your time, then.

You knew you were gonna get virtually assaulted by writing that comment.... You still did it. Why? It didn't brighten up your day or anything.

Why not iPhone? Miles better than Android

Don't tell him that. Let him drag on...

Bugger off then.........you'll be back

Ohk, out of the rest 97% how many use SnapChat..??

Cry me a river wilsonblaze I bet my buck ull do the same soon

Still here, you must be lost. You see the little downward pointing arrow next to the Windows Central logo, be a good chap and click it and then click Android Central would you!!!!

Nah I won't go until they kill the OS, I'm in for the long haul buddy and I wouldn't cry over a phone;)

I'm sure many a man and gal alike would like to do that very thing...

Yeah why would I use a snapchat when I have whatsapp. Snapchat is a bad idea. Any one can take pictures by taking a shot of the screen by any any other phone.

This. The self-destruct feature of Snapchat gives people a false sense of security. They think they can safely share nude photos that will go away by itself, but every iOS, Android, and WP phone/tablet I've ever used has an easy-to-use screenshot function.

I don't use it but it is nice to have apps for everything

Whenever i convince people to buy windows phone. They say there is no snap chat even in your windows phone store. How sad :(

And some of us don't even understand the fascination with the service. I have no desire to see the sort of pictures some of my friends would send me.

Exactly! It's just another social network with nothing unique except a MIND-BOGGLINGLY stupid web series.

Exactly...don't care for this app at all

Like I said there will be a day when we see "windows phone central to discontinue it's app due to lack of users" and that's the day we know windows phone is fuckked..but till that day all these apps leaving don't matter

Shut the fuck up with your endless bickering, if you don't like Windows Phone go to the Snapchat CEO and suck each other off about it. Nobody needs you or your attitude here.

I love the jovial Easter banter today...

This! Happy Easter, everyone.

Windows "Phone" Central? U wot m830?

That day is not coming soon my friend, I see new users everyday on Windows Central.

In your dreams ! One app doesnt decide the fate of the entire Windows Phone ecosystem. Though i agree some of the major apps are buggy and few of them are missing but it doesnt mean it is doomed. And i am being quite logical while saying this.

STFU and GTFO, we don't need a waste of space like you here!!!!

Give me a call when you figure out the point of Snapchat, will you? 'cause I can't for the life of me understand it.

totally agree with you, I used Snapchat once and didn't understand it at all

You do realize that people use this app for communicating more than any other messaging app right? That includes normal texting

I don't know anyone ove 20-21 that use it.

Its only for teens to send pictures of their genitals to each other and live in a delusional world thinking that it cant be saved and posted all over the internet, you do know this right?

@DJCBS How much are you earning trolling here?

Its a stupid app for teens,

You wouldn't like to laugh?

I say the same thing but that's just to cover up the wound my friends make when they say windows doesn't have snap chat

Yep. My friends are like: "they're good phones but they don't have any apps". Still thinking of a decent reply to that. Which sucks bearing in mind Snapchats the only way my friends communicate. :'(

I tried to get my friends to use qik for Skype but that faded fast because it wasn't snapchat

Yeah. I tried with Chadder but why move when all of there friends are on the other service :/

its pretty simple. if you need Snapchat or another app WP doesnt have, WP is not right for now. "dont have any apps" is flat wrong. There's a lot apps. The question is if apps are what's important to you and if the apps you need are available.

Maybe. But the point is if wp is ever going to be right? That's the soul reason I have 4 WPs. If the app situation doesn't change, they can kiss goodbye to market share growth in developed countries...

Hey Richard, I hope it's just your personal opinion.
Again, we have got no other option than finding one good reason to hate Snapchat now. :(

Any photo you need a service like Snapchat to send probably doesn't need to be sent in the first place.

Lol its like vines but u can message them :|

Some of us have friends... who use the service a lot! U guys are raging about the fact that SnapChat is crap! (makes WP fans look like a bunch of A holes btw) The fact is that you guys SHOULD be caring about this! Make big developers join the WP platform instead of booing them. I love Windows Phone, i've defended it since it launched! But honestly, the community behind it needs to change. WPcentral used to be fun, and the comments were not biass and honest. Nowadays it's just a bunch of sad know it all butthurt WPfans.

I really couldn't give a crap about it. It serves no useful purpose for me, unlike OneNote, WhatsApp, Skype, Office, Facebook

People aren't stupid to use snap chat if its a waste of time and has no point

Cause that never happens and people always do things that have a point.

Yeah people are stupid, not all but some and for some snapchat is required just like for some fb is the lifeline.....I wish snapchat is available for those who want...but for others it's a waste of time and resources to talk about a app which you wouldn't even download..and btw none of my 200+ FB friends is using snapchat...small smaple size but for a single person circle its a big one....

The point is that their friends use it and if you have a Windows phone you can't be part of that circle. To be social, you need the tools. Stupid or not, it's lacking and it is a consideration point for many people. Luckily it's at about 10minutes of its 15 minutes of fame. Something new will come along. Hopefully we'll be part of that.

People are most definitely stupid. No one likes the candy Peeps, but they still sell tons of them...to stupid people that won't even eat them. :) Best Easter reference I could muster.

i never heard about this app where i live currently. Its very strange that so many are interested in this app. what exactly that it is different from another social related apps?. crazy people

Rudy Huyn is going to create an app soon that blows people away on all platforms. I'm pegging him as a millionaire founder in the next five years at max (if not two).

Wish it will be a Weed Delivery Service

Snapchat? More like snapcrap!

I still don't get Snapchat.

The CEO said about a year ago, "Nobody uses Windows Phone." B**ch you makin for Apple Watch and people don't use Windows? What bull.

This.Stole the words right out of my mouth.

The hypocrisy is high with this one.

Snapchat is really silly... I really don't get why people are so head over heels over it.. But its still sad to see that no official app is gonna come.. Maybe things will change over the universal app programme comes in

Maybe this is Rudy's way of hinting that the 6Snap code will end up in the official Snapchat app for Windows Phone/Windows 10?

i thought of that too... i don't care for the app itself, but do want for MS store to get bigger, so there is more of us with WP..

What official App...? It isn't coming.

@Rudy... Stuff snap chat... Help Garmin get there Garmin Sport apps to Windows Phone so I can sync my VivoFit and Garmin Edge 1000 without the need of a wretched iPhone....

Rudy seems to work hard. We need more rudys

Rudy will be having kids! You heard it here first!

Mr toes? Do you have a foot fetish dude?

There will be Rudy Jr., the second, the third, IV, V, VI and so on........

I'd rather have an updated Instagram than Snapchat.

who cares about it, we love you Huyn

Snapchat has said it has now blocked all third party apps, so I don't expect Rudy to bring up a Snapchat based app. Instead he might bring an app based on the concept of Snapchat. That's my best guess.

Isn't that the same thing!! O_O

Unless it taps into Snapchat's network, then its not the same thing.

Eh, depends on the features and looks I suppose. Hopefully he'll expand what snachat can do. Include text messages that can self-destruct after a few seconds and the such. I'd imagine something closer to what BBM can do.

I believe he's already developed an app, for a different company, which is basically like Snapchat. Messages that self destruct. It's already on Windows Phone Store.

The internship comes to mind

I'd really like it if he released a photo editor like the one on 6snap. It was hella useful and I really missed it.

I don't think that you're right. There is already a clone app of Snapchat named Cyber Dust. It's available on Windows Phone, iOS, Android. Rudy was(is?) helping them to develop an app for WP. Sadly this app is unpopular and most people still choose Snapchat over CyberDust. It wouldn't make sense to develop another similar app.
I hope that they've removed "support my incompatible device" from their website because they've started working on Windows Phone app at this very moment, and Rudy just helped them out. Then in fact 6snap wouldn't come back into the store, but we would have an official app based on 6snap instead. *just dreaming*

I got an email from them telling me to stop using 6snap as I know many other did back a few months ago...so I stopped using it. I wonder if I use it again they're still out there looking for us and will notice?

Evan Spiegel has evolved! He is now a level 149 douchebag! (although there isn't a big difference between level 148 and 149)

This isn't even his final form

Nice Pokemon reference there :P

What does is it mean that he has 2 apps derived from 6snap? , does he mean that he will publish two apps that is like 6snap or what? Anyway good job Rudy , you're the best dev ever !!!

Considering Snapchat banned usage of the api by 3rd parties, the only thing i can think of, is maybe they gave him the ok to use his code for an official Snapchat app for Windows as a universal app? So while we might not see 6snap, we might see Snapchat?
----------
It would be dumb to try to create something that competes with it, because no one is going to use it on other platforms.

Yeah, no way. He's just going to be using the code for an app like snapchat, but without using their APIS and design.

All of you will learn "one day" that Windows phone are not considered cool to school aged and women consumers. Smartphones and apps are targeted at a certain group, not class, and Windows phone has not reached that circle of conversations yet. When the marketing is better then it will be the new trend. CBS shows are full of Windows tech but goes unnoticed because of HORRIBLE marketing. Marketing will change Windows when Microsoft changes marketing!

" ...and women consumers" Wat

Yes women. They consume more than men.

Um... Men spend more on apps than women so idk what you're talking about lol

More like packaging. Sometimes I think MS takes on so many things at the same time that they spread their energy. Apple on the other hand does one thing at a time and does it thoroughly well. If windows 10 has all the functionalities in the world, it would mean nothing without good packaging and marketing.

WTF are you talking about? I'm a woman and I use Windows Phone, have been since November 2012. My mother and two best friends are also women and they use Windows Phone - one of my friends has used it since early 2012. I've seen women out in public using Windows Phone. My supervisor, also a woman, was considering getting a Windows Phone (okay, so she went with a Galaxy Note, but that's beside the point). Please know what you're talking about before spouting off such nonsense!

You named a hand full of women. My statement is that woman and school age consumers make up the mass of smartphone consumers and the numbers speak volumes for other platforms and not Windows phones. Don't take the numbers to seriously but for every ten android and iPhones users there maybe one windows phone user that I know, if it was a popular platform, Microsoft would be a contender and apps would not be leaving or never showing up in the app store. And to speak upon your woman comparison, start to look at the number of non windows phone users you come in direct or indirect contact with and keep count of women and school age consumers. I use women as a example because we all know that the female population out number the male!

Huh, WTF are you talking about!!!!!

Sad for the users
But am not getting why they use that app
What are the advantages over facebook or WhatsApp

Its a trending app that can affect the windows platform. It may be useless, but its making waves.

It is completely different platform? I do not use it myself, but the interesting things appears to be the fact the snap is relevant in the moment it is shared. And then dissapears. It does not hang forever like it does on your timeline.

Thanks for all your efforts, Rudy!

I'd rather have an updated tumble app

That really is mean from SC! I mean, I understand it from economical point of view, but still.. It is google but then different -_-.

Why aren't any of his apps universal? Such a shame that such a high profile developer won't clone apps as universal apps. It's not like he has to make new ideas or services.

It's not that simple still requires some changes depending on how much of his code is reusable, its easier to build from scratch then figuring out what to keep

Either these devs are making it up or Microsoft is. They just talked for 3 days at a stretch about making universal apps and how easy it is if you already have a WP8.1 app! If its so hard, Windows 10 wont save Microsoft.

He said that he's waiting for Windows 10 to release them as Universal apps. He's already confirmed that 6Tag will be universal.

Guess what? I don't care!

Why bother posting about this, then? If you didn't care, you would just read the article and move on.

Maybe a periscope app from rudy?

All my friends are on snap chat except me. I myself am not so keen of snap chat but at the end of the day, it's a popular application. I haven't told them yet that there's no snap chat for Windows (keep making excuses that there's no front cam in my phone that's why) but I don't know how long will this go on. I keep convincing the world how Microsoft in general (and Windows/Windows Phone in particular) is the best platform but things like these really hurt.

Bro to be honest..windows phones future look very bad..i won't be surprised if Microsoft throws in the towel after windows phone 10

No reason to throw the towel in. Is that what you do when things get tough?

That's what anyone would do since windows phone has been the same for the paste 4 years with no growth in any form

Well Microsoft and blackberry didn't do it, I hope you never start a company, b/c a lot of investors will lose money in a liquidation sale

Where is blackberry now with loss after loss every year

They don't work for anther company yet

No they dont. They just miss sales projections. They are mostly still profitable. Companies can't stay in business with year after year loses.

Turning a profit now, actually. That's where they are at. As is Microsoft. Their "devices" division isn't exactly losing money either (Microsoft itself has been earning record profits of late).

@Mohammed I feel u bro. However, things are really improving for windows phone trust me. For instance there was no file manager before, that was a show stopper, but now there is. There was no VLC, there were limited functionalities on windows phone 8. There was no Candy Crush!!! Could u imagine that!!!! And Cortana! A couple of things are coming on windows 10. After MS has got it right the next thing is to package windows phone and make it cool. And also focus on emerging markets. The US is not the only place that use smart phones in the world. Get the numbers and snap chat will come beging

@tchaikie I've had my hopes rested on Windows 10 big time!!

You can't read the latest Kantar's report, bro?
The world isn't only Murica...

Serious question - why are you here if you hate Windows Phone so very much? Are you that bored with your life that you have nothing more interesting to do than troll this place? It's a beautiful day and it's Easter - go out and get some sunshine or something.

Everyone I've ever let use my phone has asked why more people people don't use windows, or that it is the best. The only thing holding them back they say are the apps

That's really sad , so sad , for some users an app missing is a deal breaker

I miss a couple of apps, but I love this OS.

I wonder how much Rudy makes from his apps. As a new developer I wonder

I think I paid for the app to exclude ads. So, there went a few dollars down the drain. (Don't take the sentence as a downer, but I paid for a product that has no use...at the moment)

I don't give a crap about it but there must be a reason for them for not making an official app and for blocking those third party apps. That's strangely rude.

The founder of the service is notorious for acting like a spoilt, petty, child and it's rumored he's got it in for MS. I doubt there's ever going to be an official app. They really were just being rude.

They haven't made an official app because the CEO is a douche who thinks nobody uses windows phone and they removed third party app support after 'the snappening', basically a huge leak of images from a third party app on IOS.

Just wondering.... If Rudy just publishes the 6snap code as open source, saying it is open sourced for "learning" purposes for newbies :-) since windows phone developer account is free and any one can just side load that... May be, that will burn some of snapchat's ego... I never used snap chat, and with such an attitude from the company, I will never use it :-)

Your account will still get banned, so it's a moot point. I still have 6snap, but I can't use it or my account will be banned.

You will have the code in your hands :-) modify the user agent and you will be good to go :-)

Yep he should take matters into his own hands & publish for sideload on sites like xda

Yes! Cause then we can at least use it for a few weeks at a time and just make a new account. Sideloading the other snap chat apps don't work :'(

Change the user agent in the code and you can side step the ban :-)

That wont matter, at all. You still have to tap into Snapchat's servers, which they can tell. That will get your account banned. Being in the store or sideloaded changes nothing.

But you can still use an account for a few weeks before it gets banned. Then just create a new account each time :)

Having the code helps you :-) change the user agent that connects to the snap chat server and you are good to go. Heck, just get the user agent snap chat uses to connect through a proxy server and use it with our phone :-)

Snapchat is stupid anyway. We have Instagram for that already. It just makes sexting easier. Snapchat's company is even dumber for not cooperating. If they don't want any third-party apps floating around, then they should MAKE AN OFFICIAL WINDOWS PHONE APP. Quit treating us like we don't exist!

Like our instagram app is good..can't even be compared to other platforms...we just have to accept the simple fact and you know that is

SnapChat is not stupid in itself. The CEO needs to allow Third-Party apps if he refuses to make an official client for Windows Phone. I was gladly using it when my friends were badgering me about it, but I won't miss it

Unfortunately everything today has to target 13 to 17 year old girls they are the ones who will waste money on crappy products.

As an adult I don't care, but all of the younger audience around me use snap chat, tinder and other social/dating apps. By not having them WP are actively losing new users, which will never switch from iOS/Android once they're hooked into the eco system. That's a real problem, and no "universal app" or a new mail client can fix that.

Nonsense, we'll entice all those horny teens over with a flashy new email client. Yeah thats right.. multiple account support bitcheeees, come over to wp

Lololol hey fanboys, it doesn't matter if *you* don't like snapchat just like it didn't matter that *you* didn't like instagram. They're popular services, they're popular for a reason, and windows phone will fail without them. So please, quit making excuses about how snapchat is such a stupid service because guess what? Exactly zero people care about your opinion.

You make one and that means something entirely, you are taking time to post about this gives you automatic care, regardless of your view.

This is what sucks about a lot of the windows phone community, they make excuses for missing apps, saying that they suck or have no point. The fact of the matter is that they are popular and people are clearly using them. Even if you don't care about it, obviously a ton of other people do, so it's important that the platform provide access to these services if it is to grow.

It is blocked on my network anyway.

Whether you understand it or not, people love it. The fact that its not on WP is going to hurt growth. People tell me all the time they want to switch to windows, but with no snap chat, no deal. Lol smh

A lot of women used it. It was paradise for men to get pics from girls. That's the only reason I used it.

You should change your name to stevopaedophilo lol

Lol I didn't mean it like that. I'm only 22 and when I say girls I mean women my age. =P Also I need to change my username.

Like seriously?!!! Naked girls? I'd die to see my colleague;-)

You guys need to get out and talk to actual girls lmfao

No need to assume the worst! I do talk to them. How do you think I get their snap chat?! That's the fun/playful stage!

Imagine once windows 10 is well adopted by the world, the same companies who are ridiculing the platform will be running around to get the customers and revenue from W10. Still Microsoft may not say that our store wont accept your apps! Die haters. You can't even allow an unofficial alternate?!

Really no reason to ban his app. I understand a lot of the others being banned because they circumvented functions to allow the ability to save snaps without the snapper knowing but 6Snap was playing by the rules. It really looks like a personal vendetta by the Snapchat developers against Windows Phone.

Seriously: Fuck snap chat and its moronic developers. It's a dumb service anyway.

It's large user base says otherwise

Not really. The Indiana business run by bigots has a huge hence that's donated almost a million dollars to them for *nothing at all*. The Transformers movies troubles make hundreds of millions of dollars. Does that mean they're suddenly good? No. No, it does not. Large crowds do not infer quality.

McDonald's outsells every burger joint on Earth. Does that mean they have the best burger?

twitter client, Rudy? i'd like to try it from you, make it low data app

I don't think we'll see a Periscope or Meerkat app either, in the Windows phone or Windows 10 store.

What is periscope. Its been very popular in twitter.

I'm curious too, a quick Cortana search says its a live streaming app, but I don't get why there's so much of a hype surrounding them?

They're both live streaming apps that are really taking off in the U.S. Periscope is owned by Twitter; Meerkat is a fairly new service that became popular during the SXSW festival in Austin, Texas. As of now, they're on iOS only, without plans for Android, much less Windows phone *or* Windows There were previous live streaming apps. The difference is, previous efforts were complicated to use, and most of the time didnn't work well. Meerkat and Periscope are extremely simple, point-and-shoot easy to use. I think it's going to revolutionize citizen journalism, of on the scene events as they're happening, before the large network news vans arrive.

Is their CEO the one butthurt because Microsoft bought out his business in the 90s? Or is that Pebble

Well good thing I'm on Android now.

Yeah ill be joining you soon with the m9 or z3..cant decide

Hmm Z3 or M9 hell idk how I can't decide either. After 4 years with this OS I was done already.

Well stay off this site them.

Then why the hell are you on here, Android Central exists for you fandroid users!!!!

In other news, sun usually rises in the East, and sets in the West. All joking aside, I'm glad to see Rudy working on new apps for us. Maybe he'll create the next big thing. Also gotta say. Some of the comments here are not likely to endear any theoretical snapchat employees here. There is no need to insult every single slight our OS has receieved. It makes the community seem more salty than it is.

Yeah ..but people are running out of patience bro

Correction, YOU are running out of patience I don't see other bitching like you are in these comments!!!!

I guess I'm too old to care about snap chat.

I really don't care about this app.!

Microsoft will through them in garbage. The developers aren't the problem but the CEO will get his ass kicked.

I don't get what all the fuss is about Snapchat, just use Telegram, WhatsApp or Messenger.
Or am I missing something?

There is a reason its very popular

I'm using windows phone so I don't use it so I don't know....u should ask those those lucky people in other platforms

Well I do have it installed on my ipad and me and my friends sent pictures the first few weeks when it was in full hype but then everyone including myself stopped using it because there was no need for the app but maybe we just dont get it :p

Share a self destructing 60 second video... No one can save it.. That's about what I know..

Doesn't Phantom circumvent this?

Personally I don't know what beef snap chat had with Microsoft for not releasing ita official app on windows but that been said I don't really use it, haven't installed it even wen I was using Android phone, but I bet all this crazy app will come to terms with Microsoft later wen they find the platform unresistable.

Fuck snapchat. I hope I can see snapchat ending its service someday.

I hope too + I want to be one of those who killed the service

I wish that too, and I have already told all my colleagues who use SnapChat to remove it because it is dangerous to their privacy and some scary things, and they all deleted it. Hehehe

It would be awesome if rudy's new app smashes snapchat :p

That guy jumped ship.I saw his 'attention seeking' comment on another post the other day.He regularly comes back here to troll people and probably wants to feel that he did the right thing.

I think companies are sad because Google's plan isn't working, Google made a deal with them, like the day when they prevented him from naming his profile 6Studio.
Fuck Google + Apple Note: On someday, companies will ask us to let them share their fucking apps in our store, waiting for build 2015

Why don't we use Skype Qik? I think it is quite similar app, available on all platforms.

Its about ecosystem bro. My friends use Skype for video calling for voice calling when we play games online. But not Skype qik.

qik can only take videos, not pictures. plus, people tend to stick with snapchat cuz there's no other reason to change apps.

The best way is to just boycott the app & try & convince ur non WP friends to try out some of the other apps, very hard I know, but worth a shot

I know, but what's the harm in trying...

Can't he strike a deal with snap chat like he did with drop box and maintain the official app?

Snapchat must shove that arrogance up their ass. IDGAF to Snapchat. Rudy for life.

Why don't you bring the regular apps instead of 3rd party apps.

Time to move on to QWIK Skype

Just hire Rudy to make an official app for you like dropbox did. Come on, I don't use snap chat, but there are so many people asking for a damn app and you can't even do this. You're not professionals, you're kids and the worst is that you don't even allow third party apps! Disappointed.

I think that the Pet Rock has more significance than Snapchat does. How that worthless app became so popular is way beyond me.

I still use the app and have had no issues. Some of you who don't understand the app and don't think we need out, the fact is, we do need it as it will be a factor to help is grow.

Gee what's the big drama? Its another just another sucker social media . Is it really hard to ditch snapchat?

If taking pictures of your junk is that important... Switch to ios or android already...

Good riddance. At least people wont it on windows phones anymore. I never got what it is and don't know any friends using it either..

Yeah , soo .... F*ck U Snapchat ... They just don't want to let WindowsPhone make any progress. That's okay .. it's normal , Android and ios feel some fear i guess

Thank God I never used Snapchat and none of my friends use it. So I don't have any problem about this app

New folder: 'No Surprise' successfully created.

Windows Phone like any other phone had snap chat built right in. Is called MMS!!! You snap and send, I receive and chat!!! Simple!!

MMS and SMS are fading into obscurity. Nobody does it anymore bro. It's ancient history. Why send stuff on a crappy LTE signal when you can send it instantly on wifi?

What an utterly STUPID comment. Congratulations on that.

What planet do you live on where they have WiFi everywhere and smartPHONES have no MMS and SMS capabilities?

LTE is faster than most people's Wi-Fi

I'd rather have my Denim update! When on AT&T? Never??

Snapchat is stupid anyway, so it doesn't bother me directly. Although I do feel bad for Rudy, who is a great developer, and those who are still wanting it on WP. It is still not good for the community as a whole to have popular apps missing, so that is an indirect effect on all of us.

Am I the only one here who thinks bombarding their social feeds is the only choice we have left.Lets bust their balls off on facebook,twitter,and whatever their is,post about how fucktardingly stupid they are for ignoring us,I mean c'mon already,how long have we been waiting huh ? They stopped playing nice when they removed the "support" page, so why are we still behind their buttocks like puny peasants, let's fuck these assholes up, shall we ?

Lets get em! Full frontal assault im with you!

Thats just wrong! I just finished setting up my L930 & I get back SnapChat. 6Snap made me the cool dad with my step daughter. Guess I need to find another way

Yeah they suck.. It's a shame, but they will fail one day. And they will want all of the customers to support them then, but it will be too late for them then.

I will buy an Android and install Snapchat, and rate 1 Star. And review, "YOU'LL BURN IN HELL"

Hhhhh, I'll do the same on my mother's iPhone

Kind of scary that rudy single handedly keeps the Windows Phone app store filled. My daughter just told me she's leaving Windows Phone for the lack of snapchat......the WP os continues to be one step forwards and then two steps back........sigh.
.

Rudy should just make an official app similar to SnapChat and release it to iOS, Android, and Windows Phone to compete with SnapChat and kill it eventually.

Rudy can't fight alone with this facebook devil.....no one on android and ios will download Rudy app when they have same features an a facebook app....

F@#% SnapChat, they will see one day when WindowsPhone is growing fast and they try to put it on there then and no one likes them anymore but by that time it will be to late for them and we will tell them to kick rocks! They will fail one day, when a better app comes along. It honestly should be against the law for them to impede Microsoft OS like that.

Yes I use that, but I don't know anyone else that does. I would love to see more people using that service, because I simply think that it's better than StupidSnap.

The whole point of Snapchat is the *social network*, so mentioning another app with similar functionality, but with zero users is.......pointless? It's kind of like how when Instagram was becoming big, people pointed out other photo filter options, without realizing that the whole objective was sharing photos with your group of acquaintances and followers, without going to Mom-book, i.e. Facebook.


Surprised that MS don't incorporate some kind of self destruct into Skype or Outlook for photos or messages. Wouldn't need Snapchat then!

They are working on an app called xim...may be they could include it with outlook app in windows 10....

Go search for the app on WindowsCentral app or in the stare, it's called XIM. I have it on my phone now.

Done it, nice app. But the self destruct bit is important.

And wat the fuck MS is doing

Many things, but being the snapchat developer does not rank among them.

I have posted on my FB to all my friends to avoid this app.

Tell them to use Skype Qik

I so wished this company even stopped using any of Windows products as well.. But then its Microsoft that needs to stop them from doing it.

Just let us sideload Android apps

i'm sorry for any app that miss windows platform.... sooner or later they will find that what they miss... I will use any Microsoft Product or Services even if it have only 1 App... cuz i like the idealogy of Microsoft...

I mean I would pay for the app if that's what would it take.... I guess everyone else would too... They just to create it and just charge the window phone community.... I know I would buy it...

The ceo of snapperchat is Steve Jobs reborn...

This is why I'm done with windows! All of this dumb bullshit

Bye! Don't blame Windows blame whoever make the apps.

Bye, do let the door hit you on the way out!!!

Y cant MS just buy snapchat

Why would they, it's not cross platform and misses the biggest market share.

This is so freaking annoying.

Snapshot with the mentality: Don't need you Windows Phone so don't care about you. Wish WP could developed its own worldwide snap chat like community but I guess if most of our buddies have snapchat then what's the point? No way to stick it to snapchat which is frustrating.

If they make it better they will care. Put it on every platform, it's a wrap for SnapChat.

It's ok. Five years from now no one is gonna even remember what Snapchat was, so the CEO of Snapchat can go suck it. Hehe.

Unfortunately, this app might make me leave the platform. I'm 23, and literally all my friends use snap chat, its just a fun app to use, and 6snap was a great app as well. It's really a shame. I don't see snap chat ever making a WP app unfortunately. Even with universal apps, there is no real incentive for them to make one. They don't care about all the windows desktop users that will have w10, they have plenty of users with ios and android. Unless w10 mobile gets over 15% market share, they definitely won't make one

Dude they do care, do you know how many Windows users are out there? Now imagine if they all upgraded to Windows 10. Windows has more market share than they could ever imagine. They would have no choice but to care and make an app.

Windows 10 for desktops and Snapchat have nothing in common; the latter is a mobile only app that would have no point on a desktop workstation or a laptop, so the number of users that will be on Windows 10 is irrelevant.

What do you mean that it has nothing to do with Windows 10 desktop? Dude do you really think that if they had the opportunity to make a desktop website they wouldn't? Plus people still have mobile tablets that will get windows 10. That's what's wrong with small thinkers like yourself, you have to think outside of the box. So what you just said is irrelevant to any of this.

What you are forgetting is that Snapchat is owned by a belligerent CEO who has publicly stated that he will not make a Windows app

Go be the same as all your friends... No probe... Wear a wool hat in the summer... Get some black rimed glasses, buy an Apple... Just so you can snap chat and share pics of your junk. Whatever...

I might be heading for a different OS as well. I know a bunch of people on here are saying that this app sucks anyway, but it is a huge app when it comes down to it. It's how many of my friends keep in touch with each other and I'm always hearing "ohh, did you see so and so's snap chat story?" 6snap worked great, but with no hope of an official app or a return of 6snap, it's a pretty easy decision to leave even though the OS itself has been good for the most part.

At the time they announced that they were banning all third party apps they mentioned about a Public API. Not a single word since about it...

This. I remember really clearly about the public API. I was looking forward since public API + Rudy = resurrection.

Glad I never deleted the app!

Yah but they will lock ur account if u use it

I still have the app as well. But they blocked the ability to send and receive pics. I can see and post stories but that's it.

At this point, Rudy can copy snapchat and be the most successful app on windows phone.

It will come back when everyone stops using it. :-(

The good thing is there won't be a windows phone platform, it'll instead come under windows 10 devices... Making figures more accurate. After all tablets are never included in the figures, despite this being the case for iOS and android, making the platform look artificially smaller and slower growing than it actually is.

I started using cyberdust

Everyone go to twitter and ask for an app. We have to make our presence known!

What snap chat? Use cyberdust

I will not stop until we get Snapchat back. Even if it takes me years

Maybe if Microsoft ditched Plan A (Universal Apps) and went on to Plan B (Android apps on WP), we would have Snapchat. That would kill the platform, though.

I once checked out SnapChat and my basic response was along the lines "What the eff is this about ?".

Madarchodo mar jao...
Store me hila hila k he kuch bharo bc...

"High profile".... Please. Moving on.

We are getting an Android emulator some time soon. Stupid simple apps like snap chat will work fine in an emulator

What's an emulator? Can you confirm?

I suppose you have a source for that information?

Stop complaining and just ignore that Snapchat thing. There are plenty of alternative similar services, right? Then just move on and use Line, Whatsapp, FoobarChat or whatever. Oh, and of course, continue ignoring them when Windows 10 starts kicking some 'sses and they finally develop an official app.

The problem is that it's not just Snapchat. The app-gap is still just as large as it was when Windows Phone first came to the market. Not only that, but we're always put on the backburner when it comes to app updates. No SoundCloud, no Pinterest, no YouTube, no Tinder, etc. Vine JUST got updated to bring feature parity with iOS and Android. Instagram is STILL in beta. Facebook on iOS and Android have chat heads for easy messaging and we're still using a painfully slow and buggy separate app. Twitter is just a huge inconvenience to use especially with their backend changes to host videos differently. I have to go to the desktop site to see embedded videos now. And don't even get me started on Tumblr...
But that's not even the half of it! There are plenty of other apps that have second-rate half-ass experiences on Windows because companies are too lazy to hire dedicated and professional developers, or even put work into their apps.

Some guy created a snap chat petition on change.org. The reality though is that if WP is going to get apps, it needs more users. Period. Find those people you know where the apps they use are on the platform. Suggest a 2nd line just to try it on a low end phone. Use a pay as you go carrier like GIV/T-mo to try it. I use a BLU WinHD for this very purpose. Cheap phone, cheap service, and I show it off and lend it out regularly. It has changed the minds of a few iSheep already this year. The biggest problem I run into are A-hole admins who are very misinformed or simply afraid of change (old fogey admins). If we all started sharing out experiences, it would draw more interest. I say we all make it a point to tweet, fb post, ello, etc to make it a trending topic across social media as a whole. I wish this could be a contest which would encourage more people to join in. If we drive interest, it will drive market share. Those who use it as an excuse have no reason to avoid it once it gets big enough.

i don't give a damn about sc! My friends (they are wp users too , some of them at least) kept on asking me to get 6snap even when it was available i was just not into this silly waves that sweeps away the 'kids' these days (though i am 18 myself) fb and insta are enough for me . . .

Job well done Rudy and it's not your problem. It's Snapchats inability to solve security problems on their end that should be a redflag to everyone else. Thankfully, the other OS's only makeup a small market share when including desktops so wash your hands and let the majority of us never worry about their security problems again.

Obviously someone is paying them big bucks to not develop for a rival OS...

Even after 20,000+ on Change.Org and it isn't happening. Say bye for good.

I hope Rudy comes up with a Tumblr app! 'cause the official one sucks big time.

Rudy has shown that it's possible to make an app for Windows and with the new capabilities of Windows 8.1/10 apps, there's no excuse for the app not being compatible or possible to build.
It would be nice if someone could call them out on it in a live interview or something to see what they can get out of them in terms of an unexpected response.

Google and Apple pays off snapchat for not developing a WP app.
I know several people buying android phones instead of a WP just because of missing snapchat.

Bad news for some but not the end of the world.

Pretty much my take on this.

I wish we could somehow quit this meme that one app breaks the platform,,,especially a sexting app created by a couple of fraternity pervs.

Honestly screw them. Snapchat is a worthless fad of an app. It'll be forgotten soon. I'm worried about Bank of America and Chase being gone.

Trust me, inside the damn snap chat team, there must be a lot of Microsoft haters, that's why whey don't develop and banned the third party. We as the Windows phone user, should resist to use it on any other platform, and we also make public pressure to them, for instance, we all twitte to their official twitter account for days. For me, I have no interests in using their service at all.

Firstly I can not believe there are people asking what is snapchat for. It's a way for these younger people to show there naughty bits and have them self destruct a few seconds later. As these idots think it will never appear on the internet. That's the first mistake !!!! If you know people who use Snapchat, ask them just how safe they feel about sending a naughty pic......then show them Google and search toppless snapchat pics.......all the pervs posting the snaps they get on their Android and Apple Phones. Like with most things chat app related, it starts out with a good intention, and mostly sinks after a short time into a porn related issue. At least here in Canada we have Ads on TV telling teens and pre teens sending naughty pics can hurt them later, and breaks the Law. It's going to be fun watching the Fall of Snapchat when parents in the US start a Law Suit after they learn their teen daughters are sending out naughty pics. After which Dr. Phil and Dr. Oz will do shows on the danger of this crap. Really Windows Phone does not need Snapchat. It's a useless app for chat IMHO, Whatsapp is what everyone needs. Who cares if they don't support us......I look at it more as I don't support snapchat.

Whats the use of this useless app?

I'm really sad Snapchat isn't here - But I can live without it, I much rather use this platform (I just recently switched from Android)... All I see them doing is losing current and potential consumers. I can't wrap my head around why they refuse to support us. 10% market share in Europe, and they don't care.

Windows 10.... I pray u can turn things around.