Upcoming PlayerUnknown's Battlegrounds (PUBG) patch addresses movement, lag, textures, and teamkilling [updated]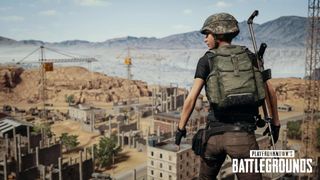 PlayerUnknown's Battlegrounds (PUBG) is a third-person battle royale being developed with the help of community feedback. Starting with absolutely no gear, players must fight to locate weapons and supplies in a flight to be the only one alive.
Updated July 31, 2018: It seems that the promised changes are being split into numerous patches. Today, the developer only released analog movement alongside performance and stability tweaks. You can read the entire patch notes on the game's forums.
Even after nine months, the game still suffers from numerous bugs on Xbox One. Today, PUBG Corp. detailed some of next week's upcoming changes. You can read about the major ones below. Analog movement has to be the biggest addition because it gives players more control over their character and results in smoother animations. It seems like this should've been part of the Xbox One port from the beginning.
Analog movement has been a popular request and it's going to be patched in next week. The current movement system resembles playing with a keyboard, where the character is only able to move in eight directions. With analog movement, players will be able to move freely in 360 degrees with the left thumbstick on the Xbox One controller.
The "PUBG Official Club", a new messaging platform for a wider audience, will launch on Xbox One in early August. This seems to be the result of the changes Microsoft is making to the "Game Hub" function.
Teamkilling players will be banned for up to two weeks for repeated offenses.
A ping-based matchmaking system is coming soon which should reduce the instances of desyncing lag.
Detailed textures will load faster on Xbox One X.
Hopefully the next patch will also bring frame rate improvements for Xbox One owners. It's been months and performance is still rocky. Games like Fortnite are witnessing unprecedented success because many players are abandoning PUBG due to its problems. The performance fixes need to come out before it's too late.
Keep an eye on WindowsCentral.com/Gaming for all the latest in Xbox and Windows 10 gaming, accessories, news, and reviews!
Windows Central Newsletter
Get the best of Windows Central in in your inbox, every day!
Asher Madan handles gaming news for Windows Central. Before joining Windows Central in 2017, Asher worked for a number of different gaming outlets. He has a background in medical science and is passionate about all forms of entertainment, cooking, and antiquing.
You guys are so lazy. All you do is cut/copy/paste new update lists into the same article over and over again all year.

Then why are u here? Are u the article police or something? Not everyone finds out what a patch may hold. So what if they do that.

Yes, everyone can find out what a patch holds. The makers of PUBG post it on their blog and Twitter. Pretty sure I'm here to read articles. Pretty sure that this sites purpose is to write articles. I click on the articles for knowledge right? As in 'oh here's something I'm interested in, let's see what it's about', only to be greeted with a regurgitation. It's just flat out lazy and indicative of a site you cares little about content because their only concern is clicks and revenue.

Link is here. What are you complaining about?

I can't help with your reading comprehension. Try an adult literacy program.

Agreed... Let's crap on the game then explain the patch items, then crap on the game again. Oh and tell you how Fortnite is wonderful. Oh and thanks for all the ads!

The game is a mess. It's a joke. They even gimped the Xbox One X version (low textures, draw distance, sillouette in the inventory screen) so much compared to release. The Devs suck and the game sucks screw them.

Lol u can enable high graphics on xbox one and X via a trick that has been shared on day 1. Keep up man!

Is that the "o" key on the keyboard trick? Don't think that works anymore.

It never worked. It showed options but you couldn't change them

Does this fix the issue with missing limbs and body parts? Or missing parts of buildings and automobiles?

I have to agree with you, though I only played on PC. It's just as terrible. Cheaters and problems left right and center, I tried to get a refund but fell outside the time frame :( sad times. PUBG Mobile is another story though, it's quite good and I get the impression is getting a lot more development attention considering all the cosmetic microtransactions.... $$$

Mobile is done by a completely different developer.

The game doesn't suffer from numerous bugs anymore. I haven't had any problems in over a month since the patch fixing crashes. Just need to increase frame rate. You guys sound like Fortnite fan boys. Which Fortnite fans are, 13yr old boys. Keep buying those VBucks!

No problems here either, granted I am on the One X.

You mean, apart from the gimped textures, draw distance, and ugly sillouette in the inventory screen? Nah. No problems.

Man you really hate this game.

I do. I bought this game at the request of my nephews while they stayed with me for the summer. I wish I hadn't. I couldn't believe the experience. I've seen the game played on Xbox One (original) and my Xbox One X. I see virtually not difference in the game and worst part of it isn't that, its the fact that even characters heads and limbs appear missing only to phase in and out through drop and combat. Its insane that I paid for this product. It is also no wonder my 13 yr nephews argue incessantly about whether PUBG or Fortnite is better. As far as polish goes, it's no contest anybody with eyes can see that.

No difference between the game on the One X? The difference is night and day, I mean it's huge! Makes me wonder if you've ever even played the game.

Textures haven't been gimped. They are still the same level textures. They are experimenting with a texture load in solution to perserve frames when initially dropping. Draw distance has been the same since game launch. Foilage rendered distance was changed. This is what happens with an early access product, they game is literally being developed in real time. This is not an alpha, this is not a beta, its literally a game still in development after being quickly ported from PC to console.

Yep. I have none of those.
Windows Central Newsletter
Thank you for signing up to Windows Central. You will receive a verification email shortly.
There was a problem. Please refresh the page and try again.