Windows Phone 8 Update 3 now available for the Nokia Lumia 925 on T-Mobile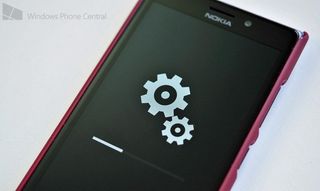 It's been a busy day for Windows Phone OS updates. Earlier we sat AT&T customers pick up firmware and software updates for their Nokia Lumia 1020s and Lumia 1520s. The Lumia 1020 is currently getting the Lumia Black update (and an OS patch for Update 3) on Windows Phone 8, while the Lumia 1520 is getting a firmware update. Not to be left, there's an update for the Nokia Lumia 925 on T-Mobile. What's new?
Update 3 is new. We weren't running the Preview for Developers on our T-Mobile Lumia 925 and noticed an update for it. What update? A few of them:
Microsoft Update 8.0.10521.155
Microsoft Update 8.0.10512.142
Microsoft Update 8.0.10492.116
Microsoft Update 8.0.10501.127
Microsoft Update 8.0.10517.150
What's that mean for T-Mobile customers with the Lumia 925? Today you're getting Update 3 for your phones. This update is notable for a handful of new features and improvements like:
Accessibility. We've made several improvements for customers who are visually impaired.
Storage. Now you can easily free up storage space on your phone and manage temporary files. New categories show what's taking up space.
Driving Mode. Feeling distracted behind the wheel? Driving Mode allows you to minimize incoming calls and text messages to help you focus on the road.
Screen. Reading emails in bed? You can lock your screen orientation so it doesn't shift when you move your phone around.
Wi-Fi. Start preserving cellular data on your phone right out of the box—you can now connect to Wi-Fi during set up.
Internet sharing. Now you can use your phone's cellular data connection from your Microsoft Windows 8.1 devices by pairing them over Bluetooth.
Bluetooth. Several fixes were made to address known issues, and improvements were made to connection quality for Bluetooth accessories.
Ringtones. Do more with ringtones now. Assign ringtones for text messages, so you'll know who's texting you without even looking. Use your custom ringtones for more things—text messages, instant messages, emails, voicemail, and reminders.
App switcher. Don't look back. Now you can use the App switcher to quickly close apps when you're finished with them.
Other improvements. Includes many other improvements to Windows Phone.
Our Lumia 925 is currently updating, but we'll let you guys know how it goes. But if you're rocking a Lumia 925 from T-Mobile, check to see if you have an update!
Did u get the update? And this question is for WPCentral will Nokia Lumia 925 get the black software update? Thanks

Nokia will make "Black" available to all Lumias. Whether your carrier will allow it is of course another matter. As of now, it's Update 3 from MS that's rolling out to the 925 at T-Mobile.

Thanks :) Any idea when the unlocked user will get the update.

Yeah that's what I'm wondering. I'm on the GDR3 preview on my 925 so I was hoping that the official release would come with Black!

Woooo first. I just did the L1520 update. Rockin with my SOL Republic headphones picked up the MS store the other day on that killer early bird sale.

No Black update? Only GDR 3?

Yeah, just Update 3 and still on Amber, no Lumia Black.

Would be a nice Christmas Present! Lol

Dangit took too long to type. Lol

Just checked my 810 & no update available.

same issue with a T-Mobile HTC 8X.... zip, zero, nada

Its only for Nokia Lumia 925, NOT HTC X8

HELLO!! An 810 WP T-Mobile user checked and noted that GDR 3 has not been released for their phone and I did the same with my HTC 8X. Did you not see that pattern? Yes we are well aware that the article is about GDR 3 releasing on T-Mobile for the 925, yet what harm is there in checking if there was a release for some of the other T-Mobile WP8 devices?

Thanks for reminding me why I avoid the 810 forum

I like cookies, since we're just throwing in off topic comments.

Yea sure, if talking about GDR 3 updates on WP 8 devices on T-Mobile is "off topic". So go take your cookies and go play on the freeway.

Is it available for t-mobile 925 with GDR3 Preview installed?

Nope, this is pretty much the update to bring it up-to-par to the preview. :)

Just checked too... that is a no :( Dang it lol I always like having the official stamp of anything but I guess the last Dev Preview is exactly like this official update.

Pretty sure the second Dev update was the one that made it RTM and added what was missing. So there's no difference.

(and an OS patch for Update 3 on Windows Phone 8, while the Lumia 1520 is getting a firmware update. Not to be left, there's an update for the Nokia Lumia 925 on T-Mobile. What's new? Syntax error , close the parenthesis please!

I want Black for my 1020. In Sweden thou :(

Dammit, i envy you guys getting these updates. I have an unlocked 1020 in the UK but i haven't got anything :-(

Awesome sauce! Rockin a NL925, no update yet. Eagerly awaiting...

No update yet for me but I'll check back later tonight. Ohio, USA.

wtf why is verizon the last to get the update for the 928 or do they have something against verizon

We got it quickly for GDR2. It will come in time

Yeah, wtf Verizon? When is it coming to the 928?

Could be worse. You could have sprint

I was going to join in with the WTF VZW bandwagon until this comment...Nicely handled.

They were pretty quick with gdr2, so my guess is that they'll take there jolly good time releasing update 3. I long for the day market share is high enough so the carriers won't have a say in the updates like the iPhone has.

I'm compulsively checking for the update for my Lumia 920 on Rogers Canada now. Hope it comes soon! :D

I've been doing that for a few weeks on my Rogers Samsung Ativ S :-)

Sooooooooooooooooooooooo no update for HTC 8X on T-mobile...............................

I know right. Nearly every other 8x got the update. What's the hold out for tmo's 8X :-/

yea, I've got a T-Mobile HTC 8x as well... I don't mean to be snarky or Mr. Obvious but clearly the hold up with GDR 3 is in fact T-Mobile.... Now if they were going to bring back Wi-Fi calling then I would be ok with the delay, but we all know that is unlikely.

Well at least you know Update 3 is on the T-Mobile server

What for L520 without provider? Any release dates so far?

I'm already on update 3 thanks to the preview but I NEED BLACK THO lol

Guys need some help... I have an unlocked Lumia 925, with a pre-paid carrier. But its the 32GB version, so its Vodafone-branded, when I turn it on, it shows a Vodafone logo. Where will I get the update from? Vodafone?

I wonder if the Lumia 810 will receive the update.

Woohoo! Have the preview on my L925...downloading the "official" update on my wife's L925 now. :-)
I really hope Black is coming soon!
Thank You, T-Mobile!!!

Lets hope that Nokia get the GDR3 update over to us here in Europe soon too. Looking forward to it. A nice Xmas present for you guys over in the States!

Can someone confirm if this update turns off Bluetooth with a power cycle?

Nice.. Here's hoping for Nokia black soon on my T-Mobile 925, wanting those camera improvements ;)

What about the unlocked one??? I want it so bad, I feel like crying!

No update on my TMO 925 yet.

Hmm still no update. Probably because I have the preview but I'd rather have the official update. Oh well, it looks like they're the same!

I have this phone on TMO and I have no update.... I have preview and got the update that came out a week or so ago but nothing right now... Ehhh?? Confusing. Three updates for the same software lmao. Black im waiting for you

Still not showing up for me, I'm in Seattle.

Says I'm already running 8.0.10521.155, but got that from the developer preview. So will I still get this update even though its the same exact version?

Will this update allow me to set who gets sent my caller id information under the phone setting that I lost when recovering my NL925 from the blue screen of death?

Xbox video is finally here!

Has any found a way and is it nessary or better to go from GDR 3 Preview to the T-Mobile release of the same?

I just checked and there's no update for my tmobile Lumia 925...

Still no update here in NYC...oh well.

Same, i'm eagerly waiting

Nothing in Az. Maybe they will bring it bundled with Black!!!

Still no update. Phoenix 925 tmo

I still don't have the update on mine Indiana tmo

What about those of us on T- Mobile using a L521? Hopefully it'll be released soon also.

Nothing here tmobile Los Angeles.

Yup, LA+T-Moble+925 = No update for me yet either. I'm also not running the preview as some commenters are.

Now next post goes to Verizon L928 waitiiing...


Checked on my tmo 925 nothing yet hope it comes soon! NJ

Just checked my T-Mobile Nokia Lumia 925 and no Updates yet.

When is it coming to Lunia 920, Rogers network in Canada?
I asked them but all they would tell me is check our site http://communityforums.rogers.com/t5/forums/forumtopicpage/board-id/Gene...
It is useless, they don't update it and no info listed.
I can't wait for the up date, I check on a daily basis.

Just update my factory unlocked L820 and to the 10521.155. Maybe Black is on the way

Any word on when the GDR3 update will be rolling out on T-Mobile's Lumia 810?

But there still remains other storage issue.what about that??

What version are you running? There is no other storage issue for me

Still nothing in Michigan

Still got nada as well. Has anyone on TMO successfully downloaded the update?

Anybody from Houston get their update on the 925?? I'm not seeing it.

I g'et the new update, im on Nokia Lumia 920 (Denmark)

Hello there, Do you have Preview for developers installed?

Ugh still nothing at 2 am now ha..hopefully it'll be there first thing when I wake up! ;)

Nothing yet here in California

I am in California...you didn't get it yet?

No idea, what part of California are you in? I'm in SoCal.

Nothing here as well. Its 6am here in GA and there is still no update on my L925

I've got a 925 Vodafone UK. I have already got GDR3 developer preview, however I've received a further update, which has removed 'Lumia Amber' from my phone's OS details.

Still no update here, its 8 am in CT, did anyone actually get the update? do I have to be on preview to get the update?

Must need to have had the developer preview first??? Still nothing in AZ

Any one actually getting the update? no once seems to be reporting they got it in the comments

Hopefully soon we will all start posting that we got it

I just tweeted Nokia and Tmo and this is what Tmo had to say: https://t-mobile.jive-mobile.com/#jive-document?content=2Fcore%2F...

This must be an early April fools joke.

Still no update in Charlotte, NC. Not that it appears to do much without the black update for L925 anyways.

More than 24 hours and still no update. I tweeted t-mobile and they just gave me a canned response sending me to the support page, which shows there is an update available but doesn't allow me to download it. Very irritating.

Can you share the link to that support page?

I believe he's referring to this one http://support.t-mobile.com/community/phones_data_devices/windows/nokia-lumia-925#

That's the one. Still no update.

So a grand total of two people on WP Central got the update...

Yes thats what it looks like, and no one from wpcentral is comenting about it and givng us an update.

I'm thinking that someone is mistaken...