Microsoft publishes Update 3 changelog on Windows Phone site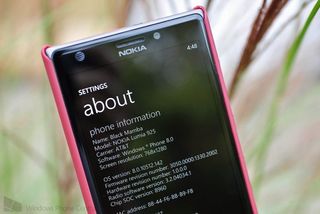 It was just over a week ago that Microsoft announced Update 3 (formerly known as GDR3) for Windows Phone 8. The update, due in the coming weeks for many Windows Phones, features numerous mid to low level fixes and improvements, including new hardware support for devices like the Lumia 1520.
Microsoft glossed over many of the changes in their official blog post, but they have now published the full changelog on the Windows Phone site.
The update refers to OS version 10501 and 10512, both of which are considered Update 3. While there are no surprises in Microsoft's changelog, it's still handy to have and to peruse in case you're curious.
Windows Phone 8 Update 3 (build 10501, 10512)
Accessibility. We've made several improvements for customers who are visually impaired.
Storage. Now you can easily free up storage space on your phone and manage temporary files. New categories show what's taking up space.
Driving Mode. Feeling distracted behind the wheel? Driving Mode allows you to minimize incoming calls and text messages to help you focus on the road.
Screen. Reading emails in bed? You can lock your screen orientation so it doesn't shift when you move your phone around.
Wi-Fi. Start preserving cellular data on your phone right out of the box—you can now connect to Wi-Fi during set up.
Internet sharing. Now you can use your phone's cellular data connection from your Microsoft Windows 8.1 devices by pairing them over Bluetooth.
Bluetooth. Several fixes were made to address known issues, and improvements were made to connection quality for Bluetooth accessories.
Ringtones. Do more with ringtones now. Assign ringtones for text messages, so you'll know who's texting you without even looking. Use your custom ringtones for more things—text messages, instant messages, emails, voicemail, and reminders.
App switcher. Don't look back. Now you can use the App switcher to quickly close apps when you're finished with them.
Other improvements. Includes many other improvements to Windows Phone.
While none of those may blow anyone away, it's the little things that matter for the user experience. We recently hard-reset one of our phones and having Wi-Fi available during the setup/out-of-box experience was tremendously helpful for restoring our phone's settings, so we're glad to see it there.
What do you folks think of Update 3 so far, if you have the Preview version?
Source: Microsoft (opens in new tab), Thanks, nawzil, for the tip
Daniel Rubino is the Executive Editor of Windows Central, head reviewer, podcast co-host, and analyst. He has been covering Microsoft here since 2007, back when this site was called WMExperts (and later Windows Phone Central). His interests include Windows, Microsoft Surface, laptops, next-gen computing, and arguing with people on the internet.
It means we can have it in our lumia soon? No need to wait till 2014 for Black?

It mean I already have it in my Lumia.

Me 2. Just updated my Lumia 1020 to GDR3 (Preview), not Black though.

you can get it now (without custom Nokia stuff) if: your phone is developer unlocked, you're a registered WP developer, or you have a WP app studio account

Ya i already hav the developer preview in my lumia from the day it was released.. I was talkin bout 'Black' from nokia.... Hopefully it'll be out soon..

So basically the preview release we have is the final release?

Well they will not change much between a preview release and a final release.
But at least you can install it yourself and dont need to wait for your carrier. Hope the temp storage cleanup works now

The developer preview is the same build as what will be released, or what was already pushed out by Sprint last night. NS is done with GDR3.

Still doesn't work for me. ATIV S. No matter how long I wait and keep the screen on for.

True. Its the final release that is why we are not seeing any bugs.
They just allowed enthusaists to get the latest update directly as the promised.

I, and other people, including Tom Warren from The Verge, are facing a bug with the Update 3 Developer Preview: high data consumed by People. Did you hear anything about that?

No problem here with high data, just a small bug in deleting the Temporary Files.

Yes, I have this as well...when I try to delete temp files, it just runs and runs...have tried several times...the people hub data usage I have not previously noticed, but I will check if I can...lumia 920 w/ update 3 preview

I have noticed that also, I was checking Data Sense and it was in the top four apps for data usage. I hardly use people hub, not to big a deal for US customers but I can see that being a huge problem overseas.

why the fuck do you think it's not a problem for US customers but for europeans? Do you think we dont have flatrates or what?

So now overseas is europe...

"overseas" is everything oversea from his prepective, including europe. As I live in Europe, I can of course only speak for us, but if he say it will be a problem for poeple oversea... WP has 10% market share in EU...

In the day that Tom tweeted about this bug I checked my Data Sense and in less than 6 hours my People Hub became the top 1 for data usage with a increase of 70mb just in that time!! Since that it didnt stop to grow and now I already have 218Mb of data consumed and I never user People Hub!! I used to use a lot before the Twitter app became usable, but this was almost a year ago...
I hope Microsoft fix that.
For what Tom said, and others too, is releated to the Twitter account. Removing it seams to solve the problem.

Did you have to remove the Twitter account completely, or was turning it off in the People Hub enough? In reference to the poster above, I live in Europe, and I only have 200Mb data/month. Not all of us want to shell out big bucks for internet flat.

Hi. I completely removed my Twitter account and now, more than 24h after, the usage only increased by 1mb, instead the 15-20mb/day that was before.

Is the update released all over the world

Basically the release is done. They might make minor changes that you would never see but that's about it.

oh no, not here too.. :D (http://forums.wpcentral.com/windows-phone-8/246744-so-no-gdr3-till-early...)

Lumia 920 Wireless charging seems broken or unreliable in this release (its not strong enough to keep up with whatever is sucking the life out of my battery) also having some strange battery issues.. Almost like something stays stuck running in background and eats up all battery. I hope they finally get this right in 8.1

Wireless charging working great, and battery life appears to be improved over GDR1 (didn't really have GDR2 long enough to say.) L920 on T.

Agreed, think mine is the same.

You're on a Lumia? Should really be specific... ;)

Live tiles updates seems working smoothly and background tasks works as it should.

I have experienced a couple of wonky charging issues w/ GDR2 (Lumia 920). I'm thinking its related to tap to wake and Glance.

Even on a wireless plate, it seems like the phone is struggling to get to 100% battery. I only get 100% overnight when the phone goes into a complete sleep mode (Glance on peek).

Also, when placing the phone on the charging plate, it now seems to connect and disconnect and connect and disconnect (so you hear that 'ding-ah-ding' sound over and over again) until I go and move it a little. I never experienced that prior to GDR2.


I have also had similar issues with wireless charging. I finally had to stop using wireless charging in my bedroom because I was tired of that stupid ding you can't turn off waking me up at 4 in the morning.

Mine has always done that, but only when I place it on the plate at too much of an angle. It seems to have to be relatively straight and centered most of the time. If not, you get the continuous dinging. L920

Haven't had any issues with charging my phone on the plate since GDR3 and I do agree battery life seems to be improved over GDR1 on my 920. This update also fixed my live tiles which were broken for several months and was waiting to reset if needed to fix them till att finally released GDR2. The only issues I have noticed is the home screen locking up more frequently, a random reboot while accessing some app but don't remember which and probably the most annoying is my audio will completely stop working so I miss incoming calls and texts. I have the feeling this is after I have disconnected from the Bluetooth in my car. Powering off the phone is the only way I know how to fix it right now.

Restart your phone and see if the battery drain goes away. Usually if it's bad, something is hung up and only a restart will reset that.

Can't wait for the final build, my camera is stuck after the Nokia Camera update ,can't take pictures in low light conditions .... The picture will be alll black :( i'm also talking about the built in camera app ... This was after the camera app update and i hope final GDR3 update is gonna fix this...

The developer preview IS the final release. Look at the build number and compare it to the update site.

Go to settings, swipe, go to photos and camera, go to end of screen, hit reset camera. Restart. Take photos of food for instagram.

Picture me ROFLMFAO! All thanks to your comment!

Hope the Bluetooth will finally work with my car stereo sony

Check to see if there's a firmware update for your stereo...

The Bluetooth audio always works great with my HD7 and L925 in my car, my friends cars, and other Bluetooth audio equipment. Always had issues with android devices against the same Bluetooth audio receivers. Have you checked to see that its not an issue with your Sony receiver?

what Sony do you have? my MEX-BT3950U has been working great with my HTC Mozart (wp7). hopefully there's no issue with Bluetooth on wp8, I won't upgrade if there's any.

It fixed the issues with my Kenwood with Parrott Bluetooth.. So there is hope.

That's only from Microsoft's end, now the OEM partners will introduce their firmware updates to get the most out of the hardware now that the OS has been upgraded.

I don't have it yet....but I am not impressed by those changes that are coming......they need to roll out much more then that....notifications.....and more

You mean until they make the Windows Phone an Android phone or iPhone..? =/

Basically! I just dont get why these people dont get that WP is WP!! Like damn!

No....i mean windows with features that the windows phone users want....

I'm judging Daniel for naming his phone "Black mamba".

My xbox gametarg is blackmambo lol

Make no mistake, these are very nice user experience improvements, bringing the platform more maturity and further solidifies a seat at the big boys table.

It's embarrassing to see those improvements on the list only now. And it's even more embarrassing to see what's still missing. Volume control, calendar, video player...

Huh? Last I checked the calendar worked fine as well as the video player.

Calendar works fine but the app is so basic that even the stock one I had on my WM seems a masterpiece compared to the one in WP.

How do we use custom ringtones for Text and IM? There seems to be only one common ringtone for both.

You set it based on individuals in your contacts list (took me a little bit to find this, too). The options are there once you tap Edit.

Didn't know that too...thanks

Option is for only "text". Edit text. How do you change it for IMs. And by IMs does it mean inbuit chat? Or all IMs ie whatsapp, kik, line from that contact?

Still its the same for Text and IM, its different per individual. That's it.

Oh...I'd assumed it was universal text&IM custom tones... =s

My L920 has that: Settings>ringtones+sounds>New text or IM.
(AT&T, GDR3 with Amber)

So will at&t finally let you teather with Bluetooth to use your data the way you want or will they block this too?

Its ATT. They would block you dropping a deuce if they could

That almost made me spit out my coffee

I'm thrilled Microsoft is picking up steam and giving us options that should have been there ages ago. :) And I am extremely happy to be on Nokia's team as well, because those firmware updates really make a difference. I can only imagine what Nokia's packing for WP8.1. Speaking of, I sincerely hope Microsoft will push Windows Phone 8.1 Preview like they did with Update 3.

Offtopic: I just talked an elderly lady, my friend's aunt, into buying Lumia 625. She was drawn to Live Tiles on my phone like a moth to a flame. "So neat! So organised! Oh, look, they flip!" Plus, she's a painter, and once she saw Fresh Paint on my VivoTab... Well, she'll be buying a Windows 8 tablet soon as well. ;) Microsoft, where's my cheque? ;)

Your reward is continued support for devices you like :P

I think it will never come to international version of unlocked Ativ S.

Yeah us international unlocked ativ s will probably never see the light of day of any update in the future. I had a lovely conversation with a Microsoft tech support lady the other night about the updates and she said we would get them just be patient, we had a good laugh when I pointed out how we are still waiting for gdr2 and gdr3 is about to come out

Unless Microsoft start loving Windows Phone as she loves Windows OS and roll out its update via Windows Update servers, everyone will be struggling like that.

Among all other regions, Latin America needs some real love for GDR2 roll out. Nokia needs to send a team there to escalate the update. http://www.nokia.com/global/support/software-update/wp8-software-update/availability-in-latin-america/

Nokia promised delivering updates to all phones globally by Sep 30. Those dam hypocrite carriers are making things slower (perhaps because they don't care about Microsoft as much as they care about fucking Apes and Goofs!!)

Even if your phone is off contract, it seems like you will be getting update from Country Variant branch, which is again an overhead.

There are improvement on Music+Videos where the list won't lag anymore when swiping to songs category (Especially on phones with SD Card support) Anyone noticed this?

Absolutely! It's really fast now. No lagging when browsing the music library from an SD card. And I have a 32GB SD card with thousands if songs.

It still lag on my 520, but way shorter lag than before. So still call this as improvement :)

I've got the preview, and they're all really welcome improvements. I hope there's some tweaking done to the screen lock though, because at the moment some apps (like camera and streaming video) which SHOULD rotate whatever the circumstance either don't rotate, or rotate the wrong way (I'm left handed!) when lock is enabled. During browsing, fine... but it should be aware of what app's open and temporarily allow some rotation based on that.

What ever happened to being able to attach PDFs? Wasn't that one of the assumed features?

This and also the ability to edit and attached files when replying or forwarding email

+1 Really was looking forward to these two things. Why is it SO hard to implement in 3 yrs is out of my mind!

Yeah. How the hell are they marketing this as a business device when you can't edit forwarded email?

You can't attach directly from the email message. It's still only pictures from there. You have to find the file in the office app and share it from there. A new option in the share menu allows you to select your email.

Yeah but it still is crazy to have to do it that way.. I thought that WP was suppose to be minimum and easy, not cumbersome.

I was expecting to be able to add multiple, non picture, attachments to emails.

Yeah it's so stupid of Microsoft.

We need an update for the " APPS POWER CONSUMPTION" repair the battery issues :/

What about the ability to have more control over volumes? The ringer and stereo volumes being separated? Or ability to control volume of voicemail separately?

I agree... i miss this too...

what does this mean??
Internet sharing. Now you can use your phone's cellular data connection from your Microsoft Windows 8.1 devices by pairing them over Bluetooth.
what's the difference between the option already there in GDR2 which allows to network access in our laptops by just enabling the internet sharing option and this bluetooth thing??

WHERE IS THE CUSTOM SOUND LEVELS FOR RING TONE, ALARMS & MUSIC???

The current option allows sharing the data connection via WiFi, this option allows the same via Bluetooth, like other smartphones. However, looks like the WP implementation is limited to W8.1 devices.

So now we can turn on our wifi while using internet sharing??
in other way, we can share wifi network???
am i right?

Yes I agree that having the ability to have seperate volume controls for the ring tone, alarms and music would be huge improvement. I can not even begin to count the number of calls I missed because I forgot to turn the volume back up while in the car. I have to turn the volume down at night so the e-mail and music do not distrubt the entire house.
I am really hoping this is part of the 8.1 release, that is if AT&T lets the update come through.

Same problem here dude.... Listening to music at 21 at night and missed alarm in the morning !!!!

This is interesting, Ive just checked for updates and i have one. On unlocked lumia 1020, T-Mobile UK, from phones4u. I think its gdr3.

Cool let us know I'm with T-Mobile idiots that got the iPad & not the Surface 2..smh!

The only glitches I've notice... Occasionally the battery will drain fast... And the GPS is a little quirky when switch apps. But the new toys are nice !

I am missing the most simple of functions.....the ability to charge my phone whilst its turned off!!

From my understanding, the phone will turn itself on once it has enough charge so you don't miss a thing. But if you don't want it doing anything, you could turn off the vibrate and set it on silent?

Where is the full change log published?

Do they ever publish them?

Will bluetooth keyboards be supported?

Can we have it in lumia 520

Attaching files is huge if possible.

Confirmed. I edited and attached an excel spreadsheet for work the other day via my exchange email account. Feels good man!

Directly from your email on your phone when you hit attach??

Seems to be working well, but it would have been much more useful to developers if it had an SDK update to go along with it.

Pdf and office files attachments in mail not available????

Is available I have attached excel spreadsheets successfully.

You have to find the file itself and share it. A new option allows you to select email from the list of destinations.

I tried to join the developer thingy, it won't let me sign in to give the ok to let my phone receive updates.

I just want working Bluetooth. My new SE Smart Wireless Pro Headset is crap for calls, cant hear shit the first 5-10sec in call because of connection/activation disturbances. Cant wait for this to be fixed.

Yep that wifi setup did help me out

Not spamming the back button anymore is by far my fav!

And the notification center?

GDR3 is working like a charm for me - The changes implemented have sped up my workflow & user experience on WP8.
Always loved WP8, and it keeps getting better :)

Simple question, any person here with htc8x updated gdr3 preview received the new one ?

Storage! Free up storage doesn't work for temporary files. Nothing happen. I have HTC 8X...

We've learned that GDR's are general fixes, so for anyone expecting reolvutionary features will be disappointed. I think the feature updates are sufficient, I just want them to stabilze the OS as much as possible...its getting there slowly, im hoping this trumps so of the minor backend problems (that cause processes to stay alive, when they should be killed/dead).

This part is not working
Storage. Now you can easily free up storage space on your phone and manage temporary files. New categories show what's taking up space.



go to >>settings>>phone storeage>>phone>>temporary files>>delete
you are going to see a message "Deleting temporary Files...." that never ends... end the temp files size doesn't change

It's a bit wonkier in some places than GDR2 (IE, some games), but after all it is a unsupported developer preview, so taking into consideration that fact, it works pretty damn well.

Hello .. Just new here .. About The new update .. All Lumia with WP8 amber ca update with this??? I got my lumia 520?? Thanks In Advance ..

WP desperately needs an official APP BATTERY USAGE/MONITORING setting built into the OS. Something that tells us what apps are killing the battery. And something that punishes their dumb asses for doing so (okay mabe not that).
Every day there are updates to 10 or 20 random apps. No way to know which one(s) are killing the battery...My Lumia 920 battery goes all skitzoid periodically. Dies from full charge within a couple of hours of doing nothing. Then after some random app updates it's fine again...Bonkers...

I've had no issues with GDR3 and it's the first actually useful update from Microsoft, to me. The ability to just pick an mp3 track and use it as a tone for calls/sms etc. is something I've missed since I left Symbian. And the closing Apps in multitasking is also a life saver, even though I would prefer a swipe down gesture to close them. Now all I hope they fix for the final release is the temporary files clean up cause that clearly isn't working.

Will i get update 3 prior to the nokia black in 2014 or is it bundled like amber
unlocked lumia 620



I don't an option for wireless internet over Bluetooth in the gdr 3 preview. Anyone else?

It is really great to see more focus from Microsoft on the accessibility features. I am really pleased that there are more improvements in accessibility for the visually impaired. Thank you. Look foreword to the update.

Try this and see if it is Working for you

go to >>settings>>phone storeage>>phone>>temporary files>>delete
you are going to see a message "Deleting temporary Files...." that never ends... end the temp files size doesn't change

Mine added a little more rather than removing some.

I dont have GDR2 yet in Mexico!!! WTF u.u

-This is BS...why pay for the "flagship high-end" phones if I'm selectevly not reciving the high-end treatmen. What's the point of paying extra if my phones are to look like any Tom Dick & Harry's will. I want the 3rd column, and it shouldn't have to end up with me buying yet another phone. That ain't green for the planet, I'm already rocking 3 Lumias.

One thing I noticed is that the field settings ##3282 is back with this update on my Nokia 920 through AT&T. Now I can easily disable LTE to save battery life when in a fringe area.


Looks like they forgot to add that call quality is now miserable when using the phone next to your ear during a call (works fine in speakerphone or Bluetooth)

ATT Lumia 920 on GDR3. Call quality was fine (normal) before GDR3 - now my phone is only useable as a phone while on speakerphone or Bluetooth.

After having used GDR3 for about a week, I must say it feels much nicer than 8.0, and even noticeably better than amber. The "X" to close multitasking is a favorite tho...))

My favorite feature is Metro Radio not crashing after a few songs. However IE has started crashing a couple times a week.

This is great, hope Microsoft keeps up the updates!!

After I installed GDR3 preview I happened to try and logon to my Exchange online mailbox via OWA and to my surprise, I saw the "modern" interface. Anyone know if this was enabled by GDR3 or not? I don't remember trying that before GDR3, I had only accessed on premise Exchange 2013 OWAs (and got the light a.k.a. incompatible browser detected interface), so can't really tell if it was enabled by GDR3 or by Exchange online.
Also just noticed that I got a "Reduce data use when browsing by sending URLs to the Data Sense service" checkbox that I believe did not have prior to GDR3.

Very much need OS update. I wonder what Nokia Black will bring :o

Hi all,
Any one knows about notification center includes in gdr3 or we have to wait until 8.1 blue release, i have not seem any where about notifications

Oh, I also seem to have less than stelar call quality after GDR3, a collegue of mine keeps complaining that I sound far away. I followed the advice of a WPCentral forum member who cleaned his mics with a needle (forgot his username to offer credit), I used a toothbrush, pressing multiple times onto the little holes on both the top mic and the lower one, did some testing calling myself (it's late now) and it seems to be better. My guess is that some accumulated dirt, along with some software change in GDR3 resulted in this, but this is just me speculating.


"Internet sharing. Now you can use your phone's cellular data connection from your Microsoft Windows 8.1 devices by pairing them over Bluetooth."
I have unlimited data on Verizon with the Lumia 928. I also have a Surface Pro with Windows 8.1. Does the internet sharing actually work? I would really like to be able to tether again without losing my unlimited data.
I haven't installed GDR3 yet.

Is the update released only in US or all over the world

BT Upgrades! Will be helpful for my project.

Since updating to 3 my live tiles actually update properly! Here's hoping notifications are fixed properly in 8.1

Does anyone know if i will be able to update my Lumia 810 with GDR3? anyone here with an 810 that has done this already? any info would be greatly appreciated, thx.

Still no SMS Preview On/Off option for the lock screen. This has been a deal-breaker for people I've spoke with who wanted to give Windows Phone a shot.

will it automatically ask for update 3 for every phone out there? or do we need to do it manually?

These are good improvements. In a future update I hope MS will:
1. completely remove the over the air download limit. I have unlimited data and it's my only Internet connection.
2. insert a setting in Internet Sharing to keep sharing on until I manually turn it off.

I wish they would implement the swipe to close app rather than the X. Not only does it look better but it more closely matches the swipe to close apps in Windows 8.1. It's like the never used their own operating system.

The Wi-Fi option should have already been there, but at least I'm glad they're adding it, finally. Useful when you have to reset your device for whatever reason.
Windows Central Newsletter
Get the best of Windows Central in in your inbox, every day!
Thank you for signing up to Windows Central. You will receive a verification email shortly.
There was a problem. Please refresh the page and try again.