Updates incoming for Windows 8 Mail, Calendar, and People apps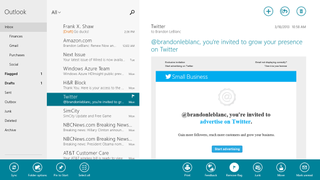 Update: A lot of you are reporting they're available (me too). Go download them in the Windows Store.
The built-in Mail, Calendar, and People app have received nearly universal criticism from both tech reviewers and users since their inception. While they aren't getting a huge graphical user interface overhaul, there is a nice update coming in tomorrow that should help alleviate some, but not all, concerns.
You've got mail
The Mail application in Windows 8 is fairly basic, which might be adequate for 'most' users, but if you're reading a site like Windows Phone Central it probably has a feature or two (or three or four) you really need. It's also getting some of the bigger updates this round. So, what's new starting tomorrow?
Folder creation, deletion and renaming
Mail syncing faster
Mark as spam (Gmail users will move the message to the spam folder, while Outlook.com also puts the offending message in Microsoft's spam filter
Flagging support
Search mail on the server
New compose feature– contact suggestion
Improved draft messages
Easier to paste formatted charts and edit bulleted/numbered lists
All of the above features are functionalities we would have liked to see back in October when Windows 8 first launched. One feature I'm looking forward to using (and might get me to use the Mail app more) is the ability to check for emails on the server. I don't like email taking up space on either my Surface RT or laptop, so I usually have it only download about 2 weeks' worth of messages for my most popular email accounts (personal and WPC). Starting tomorrow the Search charm becomes a whole lot more functional. What are you looking forward to the most in the Mail update?
What day is it?
For the Calendar, Microsoft is dropping syncing support for Google Calendar. There also isn't any news on whether or not they'll support CalDAV and CardDAV like they plan to with Windows Phone. Bad news for some, but if you've migrated to Outlook for your needs it shouldn't be a problem.
The other changes to the Calendar app you'll notice are some changes to the user interface. Fonts and colors have been worked to improve legibility. Microsoft is also adding in a 'work week' view in the calendar, this will allow you to focus on your Monday through Friday appointments. Additionally, there is better support with scheduling and handling meetings in the Calendar app. For example you can now forward meeting invitations, send an email to all meeting attendees, more recurrence options for recurring meetings and more.
Peeps
The People app doesn't get a lot of changes in this update. If you swipe down from the top (or right-click) you'll see a new app bar has been added. Here you'll be able to navigate between home, me, and all the new content in your feed. Speaking of the "What's new" feed, you can filter what goes in that feed by social network.
This probably isn't the major overhaul most of you were hoping, but it's something. What else would you like to see fixed/improved in all the above apps? We'll be playing with this ourselves tomorrow and add our impressions.
Source: Windows Experience Blog
Windows Central Newsletter
Get the best of Windows Central in in your inbox, every day!
Need to make an Outlook app for RT....

just need to bring certain outlook functionality to the mail app, who cares what they call it.

A lot of people actually would care.
The lack of Outlook on RT has been a deal breaker for quite a few businesses. Getting Outlook on RT with full EAS support would potentially be a big boon to that eco system.

This was the primary reason I returned my Surface RT. I was shocked to see that Outlook was not part of their MS Office offering. Then I waited and spent couple more hudred bucks and got myself the Surface PRO with the bundle. Getting Outlook to RT would have made many users dump their iPads and jump on the Surface Ship.

Completely agree. Outlook is one of the killer Metro app that is missing, which I agree with the CEO of Nvidia saying the same thing last week when talking about Windows RT.

So far the only Office application that went metro is OneNote. It's probably going to take a while for Outlook and others.

I am well aware of it, and use it on my Surface Pro. I just wish the Office team would hurry up with a Metro-fied version already!

It took years to develop the Ribbon for Word, Excel and PowerPoint. And another few years to ribbonize Outlook.
I can't imagine metroying it soon. There's so many features in those programmes, that I'm not sure metro can handle them.

It didn't even have to be metro they could do a ARM program like office for RT. Office for RT feels stripped without Outlook. Surface RT would be a big hit in the enterprise market if it had Outlook or the ability to install it. Also wouldn't hurt to be able to join the domain.

Well it is understandable, that they obviously don't want to give away Outlook 2013 for free.
Now the issue is Microsoft decided to target Windows RT at students only, and didn't make a Windows RT Pro version.
However, that actually might also be a technical decision - one does not simply recompile Outlook for RT and expect it to support Connected Standby. That has to be done right from scratch. Desktop Outlook 2013 on ARM is not ready yet, and maybe never will if they skip it in favour of a Metro version.

That would be a shame if they don't. Even Crapple is targeting enterprise with a 128GB iPad. This is Microsoft's market they should defend it. Take advantage that Apple doesn't know two hoots about enterprise before they start learning.

Microsoft is aiming Surface Pro and other Windows 8 Pro devices at the enterprise market, so they actually have it covered.

And do you really need domain join for the RT? Nobody's complaining at not being able to domain-join their iPad. And Windows RT is managable using latest SCCM and Intune.

Oh got so not going after the iPad in enterprise is having it covered. From a IT prospective join to domain is great. I wouldn't expect a end user to complain about iPad not joining the domain. If you read the forms regularly you would see a lot of post from corporate IT admins having to order iPads over Surface RT. And they all say the same thing outlook and join the domain.

IT admins are choosing iPads over Surface? Why?
Does iPad have Outlook? Can iPad join a domain?
WTF?



No they can't but when you have executive's over you making the call what can you do. If RT had outlook and domain abilities they can push out like laptops as a all in one. Have you tried using a pro as a tab only? Its a little heavy and 3h battery didn't cut it. RT can do so much more.

Well that's why I chose an RT. I have enough "real" PCs, and wanted a light and fun tablet, from which I can RDP to the bigger ones from the comfort of my couch.
I would have chosen the Pro it was to be my primary workstation.

And the executives who still order iPads are obviously clueless.

The Pro is my primary system. I was looking at the RT version, but it couln't run any of the Desktop apps I need to run. The Pro is slightly heavier than the RT version, and it has a better than 3hrs of battery life per charge (I can almot get 5 hours.)

The rumour is that Outlook RT already exists, but the politics is getting in the way (again):
http://www.zdnet.com/microsoft-said-to-be-testing-an-outlook-client-for-...

Now way they are gonna give it away for free. And they are to slow and clumsy to quickly start selling it as an addon. Or maybe a Home&Student RT to Standard/Professional RT upgrade SKU would be cool.
However, bearing in mind that the primary user of a corporate workstation is eligible to put Office Pro Plus on his mobile device for free, simply releasing it free of charge through VLSC to eligible customers could make Surface RT sales boom.
Nah, that would be to easy and succesfull. MS will find a way to fuckitup.


Lack of joining a domain or support for Intune is a deal breaker for most. I'm not a big fan of the Office 2013 touch feature. I LOVE the OneNote MX wheel. But, with Windows RT, it includes Office 2013 Student Edition, which doesn't have Outlook to begin with. So, I really hope the upated Mail client becomes more feature complete, and put's it on par with the Mobile Outlook found in Windows Phone.

They tried, but it's a battery hog. They probably just ported x86 version when they should have re-wrote it. Hopefully their doing the latter now.

Congrats for the first comment.
yeah great update for mail app im loving it

Does Outlook include the touch mode like Word does?

Been forcing the store to update and I can't see the update :(

Right, I knew that... *bad poker face

What about windows phone? I figured I would be the first one to ask this question. What say you?

I would like this as well. The calendar is not nearly customizable enough. I haven't bothered myself to see if there is a better calendar app out there yet.

A big +1 for Chronos Calendar! So much better than the built in Calendar app on WP, especially the wide tile! Its tile is better than the Calendar tile on Windows 8 as well. The developer should totally make a Win8 version... I would buy it straight away!

Mail needs to have an option to stop syncing folders with EAS accounts. If you accidentally tap on a folder it starts syncing it along with your Inbox automatically. The only way to make it stop is to remove the entire account from your PC and re-add it.

This /\ *1000
Also, hiding folders you don't want cluttering up the screen.

No drag and drop for Mail, really?

let me check... nope the music app is still rubbish on my surface. now that these apps are updated they will turn their attention to it.

Honestly I don't get it. Xbox music is soo much better on my phone than my computer I end up just using my phone and computer at the same time. Come on really, I can't download all my DRM'd music for offline listening, even though I can through my phone?

I still have certain cds that refuse to show up under artisits even when named through zune and working through zune it refuses to show up as even existing in the view all albums section of xbox music under artist

The last time round Music and Mail apps were updated around the same time. If the level of upgrade to the mail app over that time is anything to go by, the long awaited next Xbox Music update I fear is going to lead to mass disappointment. BRING BACK ZUNE FFS.

Slightly off topic....but any word on when they are going to do something with Xbox Music and Video (is that what we call the app?). In the time that Microsoft has done nothing with that mess, Music Info has had numerous updates that has turned that thing into a Juggernaut and embarrasses Xbox Music.

Welcome changes...now lets fix XBox Music...

Need to be able to update to Facebook & twitter at the same time.

+1.... should work very similar to Windows Phone IMO.... Microsoft needs to work better together or something. I would have thought since these to OS are supposed to be similar, they would have similar features like that....

Annnddd also Xbox music needs to be able to detect and auto play music from SD.

The SD card needs to contain your library easier. The work around don't work so well for many of us.

Well, the problem is that Libraries doesn't support removable media. You can always create what is called a Hard Link (mklink.exe, which you can search for numerous sites showing how to do this), which today is the only solution. MS really needs to relax that restriction for libraries.

What annoys me is that if my theme is set to dark, opening an email inores that. Why? Is this going to be changed?
Also, I really wish support for my me.com address was supported better. I can get my email, but changes I make aren't synced so it's kind of pointless to use it for anything other than reading my emails.

Do you mean on phone? This post is about Windows 8. I think the white background in messages is because it's a requirement for email to be displayed on a white background by default, just like websites. I guess they could make the rest of the UI on that page dark, but I suspect it would look a bit weird.

People often embedd images, logos and stuff in their email, hence a black background would suck.

Im glad to see the Mail app updated - it is pathetic right now. I find myself going to my email website more than I use the app.
I was hoping to see the calendar update to the way it is on WP where you can choose what calendars to show (including Facebook events), but I will take what I can get!

Fairly certain you can do that in calendar settings.

My bad...I didnt see the option to do that before.

Hopefully, we'll be able to see live tile notifications for all the folders too and not just inbox.

you can do it now by splitting your individual accounts using the pin option after swiping slightly from the top or bottom from whichever account you want a lice tile for.

Ugh, when will they change Hotmail calendar to something like this? Hope the visual overhaul's coming soon.

I really would like to see task/to-do synchronisation. I'm fed-up with having to use the old Windows Live UI when I don't have Outlook desktop available.

Xbox Music licks hairy leaking pus sacks garnished with wet lint covered cat fur balls = it sucks!!!

Wow....stuff I say gets removed and this remains... LMAO

Easy dude...that's sooo eewww!!!

But I suppose it is technically accurate.

Awesome. I refuse to use XM over Zune. Been using Zune since 06 or 07. Had an original 30gb and now an HD. Without expandable memory my WP doesn't have the space for music/movies/etc. Also, there was an update to W8 smartglass. Hate that there doesn't seem to be change logs in w8, unless I just don't know how to find it.

I can see this being a set up for further changes that will come with the Blue updates.

Off topic but maybe someone has the answer. I use Smart-Code VNC manager and thinking I'll have to get Surface Pro over RT for this program. I've looked but haven't found any apps to manage multiple companys and with in company computers to connect to with VNC. Any pointers are welcome. Keep in mind I have to use VNC per in house IT requirements.

I don't give two shits about those apps, improve Xbox Music already!

Still MIA is import support for Outlook Contact Lists with large numbers of Contacts and data in the contacts' "Notes" field.
Longtime Outlook Users still can't migrate Contacts to Outlook.com as a result. "Microsoft no love you Longtimes!"

I would like to see the ability to open the mail app without marking the first message as read. And the calendar app SHOULD have the option to make Monday the first day of the week! I mean really people!

Interesting to note - the Messaging app isnt mentioned. I bet they remove it in favor of Skype.

Does Skype on RT do Facebook chat?

Yeah, I didn't think it did. So Messaging will stay until it does.

Good to see update coming, but still no sign of multi-selection option (bulk) and also something that would be useful is having on the notification a Trash Bin to delete from notification - similar to Outlook desktop version

just swipe to the right and you can multi select

All I want to be able to do is click links within emails!

Agreed! How that is a missing "feature" I'll never know.

Couldn't agree more. How the heck did this one get missed?

Really? That's not in there? Holy sh!t that's sad.... (I'm not a w8 user)

Most links work in my Windows Mail. I'm not sure what the FUD is about.

I have always been able to 'click links'....

If the link isn't embedded, it will not be clickable. So unless the author writes the code in, it appears as text and has to be copy and pasted.

pop3... POP3... GIVE ME POP3!!!!

While I completely agree with this fact (POP3 is retarded) a lot of established freemail services in Germany that sport nice, short URLS (web.de, GMX.de etc.) only allow POP3/SMTP unless you choose to get a paid email plan (seriously? Who does that?) in which case they also allow IMAP.
I only use gmail and outlook, so I am fine. EDIT: I just realized, I have my fathers email synced to my device as well and that uses POP3. So, POP3 works in the windows 8 email client. What is this fuzz about again?

Yes. The lack of POP support is stupid.

Add your POP/SMTP-Account to your Outlook.com account.

Need to be able to add pictures to contacts.

+1000
And people Pictures should sync through SkyDrive. Not like it is now in windows phone where the pictures stays in the phone and gets lost if you change phone!

Im hoping for adding emailappointments to the calendar, something part if outlook which should be part of the calendar app as well. Its also not on Windows phonw, a big shame.
Im hoping to see people email and other apps integrated more. Such as send email to onenote or word or choosr to send email from the peopleshub.

Im also looking forward to improved inking experience, such as inking an email or contact details. It used to be part of outlook 2003 with Windows XP 2005 inkversion, also would be nice to have an app to fill in forms with a stylus and then embedding them and saving them in the document. Ink to text Translation in app would be awesome!

Does the spam/white list sync to the hotmail server? My experience has been that each pc needs to set that up.

Sounds like it does indeed sync up.

All welcome improvements. If they improve the mail app enough they can rebrand it as "Outlook RT" or "Outlook Metro" or go apple status "Outlook Mini" jejeje

And yet, still no multi-action rules for outlook.com. You are killing me MS.

Still waiting for the ability to set my own profile pictures for people in the people app... I can do this on my Windows Phone (7!) on day one. It's actually baffling why this isn't possible on Windows 8... Oh well... Hope they get this fixed in a future update. Like the rest of the update though! Keep it up MS!

Do you mean your account pic in people?

No he means the contact picture

I don't have an issue with a contact picture, are you using a Microsoft account to login because it should pick it up from that. I've noticed that Mail seems to have stopped grouping by conversation in this update though

they should let u post to facebook and twitter at the same time like u can on windows phone, and wheres the update to xbox music that is TERRIBLE and needs the update more than anything else!

I am downloading an update for mail, calendar, and people app right now! Its THE update, woo hoo!

They work super fast now. Finally smooth on Surface RT.

How are u guys getting the update?

People app needs a way to import contacts from windows7 or xp

Can you even add contacts from an email? I can't figure it out.

O don't understand why MS keeps doing a half ass job releasing there OS's #dumbfounded

I understand it is frustrating but you'd be surprised how often this happens without you noticing. I'm I'm the automotive industry and we push out updated products every few months. We have to be seemless though so that a product doesn't look or function any differently to one six months ago but solve an issue that the company noticed.

If you can't see the update yet, open the Store>charms>settings>app updates>search updates

Thank you downloading now!

Can anyone explain to me why the Google Calendar no longer can be synced? It sounds as if Microsoft dropped support for it? For me that's my entire college calendar and I don't have control over switching services. I like the updates but it really limits me to not have my calendar sync. Why would the mail, but not the calendar still be able to sync?
And why does that only affect Windows 8 and not my Windows Phone 7 then? (Will Google Calendar support be added again in the future?)

You have to talk to google about that. they dropped support for calendar and contact sync. mail sync is still available albeit via imap. if youve already been syncing with google on your phone, it continues to work but if one day you decide to delete and re-add the service, kiss goodbye to google calendar and contact sync.

Incorrect! As part of the update, mail app enforces you to re-add your previously added google account, and at this time it explicitly says will no longer sync your calendar.

I've noticed a few things that aren't mentioned in the article. The text seems to be a bit sharper, you can now filter email by all or unread and auto migration of Gmail accounts to imap as well as syncing of google contacts. They also seem to have removed the erroneous reference to POP3 email. I've also noticed that messages through the messaging app seem to sync a bit faster as well.

Where's there update for the Live calendar?
Windows Central Newsletter
Thank you for signing up to Windows Central. You will receive a verification email shortly.
There was a problem. Please refresh the page and try again.