US and EU want to avoid 'subsidy race' over chip manufacturing
Coordinated efforts by the U.S. government and EU could increase focus on fixing the global chip shortage.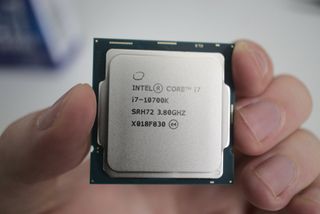 (Image credit: Rich Edmonds / Windows Central)
What you need to know
The U.S. government and EU will announce a joint effort to prevent a "subsidy race" in the semiconductor industry.
The move could help prevent countries from competing in semiconductor manufacturing rather than addressing the global chip shortage.
The governments aim to ensure a supply of semiconductors in a "coordinated fashion," according to an official.
The U.S. government and the European Union will take steps to avoid a "subsidy race," according to a report by Reuters. The outlet stated that the U.S. and EU will announce a joint effort at the second meeting of the U.S.-EU Trade and Technology Council, which will occur on Monday, May 16, 2022.
"You'll see us announce... a transatlantic approach to semiconductor investments aimed at ensuring security of supply" said a senior administration official.
The joint effort will be made to prevent a subsidy race that would see countries compete for chip manufacturing.
The ongoing global chip shortage has caused supply issues across a range of industries. Several governments and large companies have committed to investing millions of dollars to alleviate the shortage. Without cooperation, however, countries could end up competing rather than focusing on fixing a global issue.
An official told Reuters and other reports that the EU and the U.S. government want to promote chip investment in a "coordinated fashion" and that they don't want to "encourage a subsidy race."
The U.S. government is considering a $52 billion funding bill for chip manufacturing, but it has not passed through Congress. The proposed European Chips Act could also see significant funding put toward chip production.
At the same meeting, the governments will announce an early warning system to identify and address supply chain disruptions in the semiconductor industry, according to the report.
Secretary of State Antony Blinken, Commerce Department Secretary Gina Raimondo, and U.S. Trade Representative Katherine Tai will headline the event. An official also told Reuters that EU trade chief Valdis Dombrovskis and EU antitrust chief Margrethe Vestager will participate.
Windows Central Newsletter
Get the best of Windows Central in your inbox, every day!
News Writer and apps editor
Sean Endicott brings nearly a decade of experience covering Microsoft and Windows news to Windows Central. He joined our team in 2017 as an app reviewer and now heads up our day-to-day news coverage. If you have a news tip or an app to review, hit him up at sean.endicott@futurenet.com (opens in new tab).
This is good, because throwing tax money at huge, very successful companies to address a short-term supply issue is crazy.

Thing is, the supply issue isn't short-term nor is the *need* to restore manufacturing outside of east asia. Semiconductor nearshoring is only the first (and biggest) step in the restructuring of supply chains. The cordination in the OP is necessary but the need has nothing to do with the profitability of the industry players. Rather it has to do with ensuring the subsidies address both sides of the industry, the cutting edge IT side (CPUs, GPUs, SOCs, AI chips, etc) as the trailing edge side that supports other industries (cars, industrial machinery, pretty much everything this side of manual tools). There are many reasons to diversify supply chains away from east asia and China aggresiveness towards Taiwan is the least of it. One of tbe more prominent ones is the top five countries with aging, declining populations (and working age cohorts) are Russia, China, *Taiwan*, *South Korea*, and Ukraine. Most of continental europe faces a similar issue, just not as acute or imminent. (The US is sort of an exception because fertility varies by state and with time and immigration, legal and less so, ensures a growing and age balanced demographic distribution.) Back to semiconductors: government intervention in businesses is rarely good but this is one case where it is needed to address a growing problem before it becomes a *real* crisis. (As bad as things have been, a lack to act now would lead to a way bigger problem than just gaming console shortages.)

Your demographic story just doesn't make any sense. Still watching GEOPOP? While the semiconductor shortage isn't as short term as many expected, it's showing signs of recovery. That's still more than a year of huge windfalls for the semiconductor industry. I don't see any good reason to give them more money. "Shorter" supply chains are only shorter for some. They become longer for others, not making supply any less risky. Plus, they don't stop supply issues due to things like pandemic worker shortages or lockdowns, which have little to do with long or complicated supply chains. Baby formula shortages in the US are ultimately due to - wait for it - tariffs on baby formula. The opposite of globalization. And we should look at chip on-shoring in the US not in the light of supply chain risks but in terms of lower overall costs, just like how decades ago foreign car manufacturers moved production to the states. This was going to happen anyways. Long supply chains and high geographic concentration of production aren't the endgame of globalization; high competition and *widely* distributed production are. That doesn't increase supply risks, it lowers them. If this is what the beginning of the end of globalization looks like, then globalization has a bright future. Not even a global pandemic, an inward-turning China and a bizarre war of conquest in Europe are going to stop it.

The demographic numbers are the same all over: from Wikipedia to the UN. They all point to the same thing. If you don't want to believe facts, that's up to you. Doesn't change the numbers and what they mean. You are, right, however, that supply chains will shorten only for some.
It's how the next wave of winners and losers will be determined. It is already late in the game: smart players were reworking their supply chains since before the pandemic. They got first dibs at the cheaper nearshore locations and workers. If you don't buy the demographics, how about transportation costs? Oil prices will not be getting any cheaper any time soon. (Years, not months.) Those costs are already offsetting any gains from east asian labor, which is no longer as cheap as it used to be, anyway. And shrinking in most of the more prominent countries. Take CPUs: the wafers are made in Taiwan or South Korea, shipped to Malaysia to package the chips, shipped to China to assemble the device, to ship the computer or console to Europe. That is neither fast nor cheap at today's container and shipping prices. Now, will the new semiconductor foundries in the US and Europe be sending their output to Malaysia or China to be assembled to come back as finished products? Or will tbey stay closer to where they'll sell? If you look at the Euro EV market, Hungary is getting billion euro investmdnts from VW, Daimler, BMW for new battery and car plants. Slovakia and Poland and other Eastern countries. Tesla moved first and their (heavily automated) plant is in Berlin. Less workers needed, higher production, right next to a train station. First mover advantage. Look west and you'll find American market factories in Mexico and the southeast states. And where are the US foundries going up? Arizona and Ohio. Just hundreds of miles by rail to Mexico, Texas, and the south. Where is Tesla? Texas. Ford? Mexico. Same story for other industries. Big pharma has Puerto Rico. Microsoft has been in Mexico since tbe 360 era. And the contract manufacturers like FOXCONN are setting up shop in Mexico and Brazil. And the US. Globalism was built around cheap labor and shipping; the latter is gone and the former is fading and less relevant. If you're building new production sites to be closer to the customers, you have more and cheaper automation ootions than previous decades. The economies of manufacturing are shifting in favor of building where you sell. Whole new era for manufacturing.

I'm not saying the demographic numbers aren't real. They're obviously true. I'm saying they're not relevant to supply chain issues and notions of de-globalization. As countries develop, they stop exporting some things and start exporting other things. They change their specialization. As industries become more capital intensive, requiring more high-skill labor, they're more likely to end up in rich countries. As industries standardize and become more competitive, they're more likely to spread, reducing the pressure for national specialization. As poorer countries develop their domestic market, they become less reliant on exports. None of this is de-globalization. It's the normal development of the world economy. And seriously, FOXCONN setting up factories in Mexico and Brazil doesn't constitute globalization to you? Can you really forecast long-run real prices of energy? I can tell you for certain, Peter Zeihan can't. "Globalization is over" is massively overstating the situation, even with all of these headwinds we're seeing right now (pandemic, China turning inward, Russian invasion of Ukraine). You're saying lots of smart sounding stuff that doesn't add up. GEOPOP is full of crap and smart money is on ignoring self-professed experts with no real expertise.