US Postal Service banning international shipments of smartphones and more...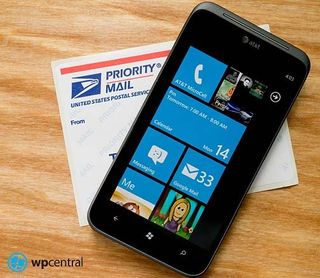 If you need to ship a Windows Phone to a friend overseas, you'll need to hurry if you plan on using the U.S. Postal Service. It's not that the US Post Office has anything against Windows Phone but rather the power source. You see after May 16, 2012 the USPS will prohibit the international shipping of packages containing lithium ion batteries.
That includes:
Smartphones
Cameras
GPS devices
MP3 Players
Laptop computers
Tablet computers
Bluetooth headsets
Power tools
While the USPS does not offer a reasoning behind this prohibition, it may be due to instances where these batteries caught on fire in transit when not packaged correctly. Third party carriers (FedEx, UPS, DHL, etc) will continue to ship such packages internationally.
The USPS will review the ban may change things on/after January 1, 2013 to allow customers to mail packages containing the lithium batteries when the batteries are properly installed in the device. For those wondering about orders from the Windows Phone Central Store (opens in new tab), we use UPS for international shipping and you shouldn't see any interruptions.
Source: USPS (opens in new tab) Via: CNet (opens in new tab)
George is the Reviews Editor at Windows Central, concentrating on Windows 10 PC and Mobile apps. He's been a supporter of the platform since the days of Windows CE and uses his current Windows 10 Mobile phone daily to keep up with life and enjoy a game during down time.
I'm using DHL here in Germany :)

I meant I'm already using DHL here in Germany :)

I had forgotten that DHL still existed outside of the U.S.

Meh, they still won't know what's inside the package. They never open your package (against the law) and if they ask, all you have to say is that it's some jewelry or something.

Not only is it illegal for them to open your mail, it is also illegal for you to mail banned items. Just a thought.

Sure. But going back to my original point, who will know?? Heh??

You Rebel you! Lol... Stick it to the man!

Yeah, until they "accidentally" use his "package of jewelry" as a trampoline...

Guess you haven't been to an airport in a very long time.

Postal workers could always x-ray your mail for prohibited items though? Customs already do that for vast quantities of packages. I didn't think opening mail was illegal if by postal/customs/police officers, but perhaps the law in the US is different to other countries.

hmm if they have a DOUT for any reason about whats in the box.... im pretty sure they are 100% going to open it before it reaches final destination...not to menshon they scan EVERY THING now.....

They don't need to open your package to know what's inside. They x-ray everything that goes through their system.

Customs can open whatever they believe may have potential for legal issues. I've imported a number of airsoft rifles and they always check them to make sure they have a permanently-attached orange flash hider.

It's called scanning, and like in Australia they can do that. Australia Post hasn't been shipping items with lithium batteries for a few years now and that sucks because they are the cheapest when it comes to shipping.

Really? I've sent and received phones via Aust Post only 6 months ago... It was within Australia though (Sydney-Perth)

I literally just received my phone from them today (I live in Canada) :P

And the USPS loses out on more money. (I know other governments don't allow their posts either, it's a long and complicated issue. Surprisingly. Or not surprisingly because it does have the government involved.)

hmm ,
cause battersy BLOW up every day right? not!
this is sorta dumb.... ah well take out the battery from the BOX and charge the person 50$ less ( cost of battery minimum )
ah well go CANADA post! . lol

I just hate that this includes APO, FPO, and DPO addresses. UPS, FedEx and the like don't ship to these addresses at all. Glad the tablet I bought is already on it's way or I'd be screwed over on it.

It seems like some sort of technology ban for every other country.
=/

I'm glad I live near the border with USA so I can go and buy my elecronics personaly if I need to.

It might as well be. I've bought several things with batteries from the US and shipped with USPS. UPS is not an option.

just an FYI, it is multitudes more expensive to ship via a traceable carrier than the cheapest international priority with USPS.....this is a big blow to the used market....its gonna jack up shipping rates overall.

These packages are international so if the description does not match what is seen on the scanners expect your parcel to get opened.

They don't need to open it since all international mail gets scanned on a x-ray machine

Mrbacon42,where you bought your phone from?? I got one friend living in toronto need to buy nokia lumia 900 but most of them also dont want to do international shipping

Poor troops...USPS won't ship anything with Lithium batteries and UPS and Fedex don't ship to AFO/APO.

This! I'm so ticked about it. There's literally no other option for those of us who are deployed. This is, for lack of a better term, a garbage move by the USPS.

Darn, no more ordering phones from the US for me I guess (I live in Canada). I will NEVER again knowingly ship with UPS because their pricing and service has always been terrible so that's not even an option. This seems like an incredibly stupid move on USPS's part.

how high is UPS pricing?? i was thinking about getting one and getting it shipped with UPS. btw i used UPS to send my xbox 360. it just stoped working so i called xbox here in mexico and told them about it. cus it was they fault and i cus i got a faulty xbox 360. some day this box came in. it was empty they told me to send it to them and i did. they send me another xbox console with cables and stuff and they took very good care of it. but now that i saw your comment iam thinking it twice.

also to the guy that wrotte this. could i buy a samsung S3 and would it work with local mobile companies like telcel, movistar or iusacel?? cus that is another concern of mine. like would hate to buy it and then realize it cant work with mobile companies here.

Seriously? Well then this is one more reason why they probably go bankrupt. I have no idea why they decided to do this but this is not a smart move. It will effect millions of people for sure.
I bet they will eventually review and change this stupid idea.

But it is ok to ship batteries, say, from Los Angeles to New York. But not from New York to London?
Because batteries only explode on international flights? :-)

Take out the battery... Just a thought.

I suspect the is a greater agenda here then meets the eye. Many countries are trying to protect their locally own business and are working on banning goods from overseas. Just look what is going on with some of the clothing companies in Australia. They are putting agreements together for the same reason. The Nok 900 in Australia is close to 800 USD.

I went through this when trying to ship a cell phone. There was and is a misunderstanding that should be clarified. First, there is a difference between primary (non-rechargeable) and secondary. Second, they will permit batteries less than 20-watt-hours. The Samsung Focus battery is 5.55 watt-hours. Third, it makes a difference if the battery is built in and cannot be replaced (iPhone and others).
Here is the quote from the US Post Office web site:
10.20.6 Secondary Lithium-ion (Rechargeable) Cells and Batteries
[Revise 10.20.6 as follows:]
Small consumer-type lithium-ion cells and batteries like those used to power cell phones and laptop computers are mailable domestically under the following conditions. Mail­ing batteries internationally, or to and from APO, FPO, or DPO destinations is prohibited regardless of mail class. See IMM 136 for details.
a. General. The following additional restrictions apply to the mailability of all secondary (rechargeable) lithium-ion cells and batteries:
1. The lithium content must not exceed 20 Wh (Watt-hour rating) per cell.
2. The total aggregate lithium content must not exceed 100 Wh per battery.

hey i see you typed you use UPS for international shipping. i have one question because i´d like to buy a samsung S3 and i live in mexico. would you happen to know by any chance if i could use it here with the local movile companies like telcel, movistar or iusacel?? i know it might be a weird question but i dont want to buy something and then realize i can not use i. it would suck. thats my only question i hopeyou can reply. thanks in advanced for the response
Windows Central Newsletter
Thank you for signing up to Windows Central. You will receive a verification email shortly.
There was a problem. Please refresh the page and try again.