USAA app gets an all-new look as a universal Windows 10 app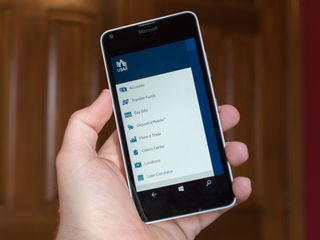 The United Services Automobile Association (USAA) banking app has received a major new update. Not only does the app have a new design, it now supports the universal Windows platform, meaning it works on Windows 10 PCs and Windows 10 Mobile smartphones.
The features in the USAA Windows 10 app for its customers include:
Manage your finances. Pay bills, transfer funds and more with secure access.
Deposit checks. Qualifying members can use USAA Deposit@Mobile to deposit checks from your phone.
Use helpful tools. Try our loan calculator and ATM locator.
Since online banking has become more and more popular, it's great to see that one of the major national banks in USAA has decided to fully support Windows 10 with their new app version. Let us know what you think of this update in the comments.
Thanks to everyone for the tips!
Download USAA in the Windows Store
Windows Central Newsletter
Get the best of Windows Central in your inbox, every day!
Hope more banking apps jump on the UWP.

They will be! I'm about to release a bunch over the next year!

Myrandex Bank Probably. Bitcoin based - Just transfer some money onto his wallet and he will manage it for you :)

W10 and UWP start to work. The pressure is on all the app developers now with the exploding growth of W10. By this time next year, W10 installs could surpass 500 millions. The traffic on the app porting bridges will be awfully busy.

Great. I don't know what's wrong with other US banks. In the Netherlands all banks have Window phone apps and we are just a small country compared to the US.

Developer bias. Most of the bank devs I talked to all had the same line of "MS is going to die off soon anyways".

MS will be around longer than many banks.

USA Banks are dickheads.. That's all.

It looks like USA bank are dickheads, mobile carriers are dickheads, nothing works good for customers on that side of the ocean? :)

I use the Rabo app. And although it is functional, it could use a refresh...

That's awesome. Hope to see more popular apps jump on board.

I updated my 1020 today to W10M, 10586. It can be used as a daily driver. Can someone give a list of apps which are updated to W10M universal design, for eg, some readdit app is updated. What other apps are there which are updated?

Download from the store an app called '' appraisin " and there, you can find almost every single UWP app available ;)

Older apps generally work without issue, though you may want to contact the publisher of your favorite non-UWP apps about what their plans are, if for no other reason than to let them know there is interest.

This is a massive redesign of the old app and it includes more feature than the old web wrapper that was available. It's a step in the right direction, however, i do hope that with iOS app porting they simply just port over the app from iOS to Windows as those apps are more future complet. Still like i said before i great step in the right dirction.

I agree that the iOS USAA app is absolutely beautiful and I would love if it if they brought that, in its entirety, over to Windows Mobile. This update is a fresh look and has been optimized for HD displays but is still the same web-like wrapper. The transaction list is still just plain unformatted text with no ability to interact with a single transaction like you can on the iOS app. I'm not complaining because at least they're putting forth an effort and updating it. It is a step in the right direction and I hope future updates will bear more fruit. :)

So I take it no photo check deposit?

This has been available since the WP 8.1 app and is still present this new iteration

Both this and the older app are 50/50 web wrapper/code. The check deposit and calculator are app. The account details are web site wrappers. Would look a lot nicer if they spent 10 minutes more on it and got rid of some of the web site wrappers. As a bank without stores they pretty much have to support all platforms else they are not being fair to their customers. If only the other big banks making millions a second could find a few $100 to write an app too!

It's a pretty well built app. Now, hopefully more banks follow in their footsteps. Bring it on Wells Fargo!!!

Wells Fargo app is an app. This is a web rapper app.

It is an app with some web wrapped components. Regardless, I'm just happy to be able to do mobile deposit.

YESSSS!!!!!!!!!!!!!!!!!!!!!! Downloading now to my Windows 10 PCs, Tablets and Phones!!!! I have a Live Folder on my Lumia 950 called "Desktop Programs" and I am placing Universal Windows Platform apps in there and showing users the same app on the desktop and phone and via continuum. Great times.

On my W10 pc it shows this app isn't compatible with this device. I have it on my Lumia 950 though at least. Maybe just need to let it fully propagate to the store?

I may have to switch banks to USAA now!

Best bank ever and hands down, the best customer service in the industry. Nearly 20 years with USAA of total membership between my wife and I. We've had Bank Of America, Washington Mutual (our second favorite for local branches before the were bought out), Chase and many other banks throughout the years and USAA has always provided us the best customer service and financial protection.

Nice...Now Bank of America and I'll be happy...

USAA Love it, thankful that I can have an account with them because of my brother who served in the Marines.
They have been on the cutting edge of mobile access.

Anyone can open an account with USAA. I'm not Armed Forces, neither my wife and we have accounts with USAA. It is the BEST bank I have ever dealt with !!

They opened it up for a time, but they closed it and now new members must qualify, unless they've changed again since 2013.

Would be nice of they added the Retina scan option.

That would be a really nice way to login.

Fave bank continues to support my fave phone!

Have been with USAA since 2001, very happy they are supporting windows 10 mobile! Very good day!

If they had a branch near me I'd switch away from the Bank I have been using for the last 30 years, just to reward them. UWP is going to be the hail mary we needed, I can feel it. Devs can't ignore the #'s anymore. The pressure is on.

Yes! I will download this as soon as I get home.

USAA is the best. Love to see app support continue. Especially since they pulled the app once before.

As a USAA customer, I'm delighted that they continue to support the Windows platform.