Use Postcard on the Run to send cards in the real world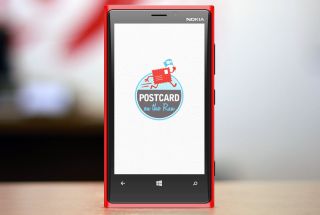 While the internet and electronic communication may have been a dent in the postcard business, it also seems it might have a bit of a revival thanks to technology. Nokia just announced Place Tag, an app to help create digital postcards from our Windows Phones. We had some hands on with Place Tag during the 2013 Mobile World Congress and was impressed.
Another company, Postcard on the Run, is also offering a postcards app for our Windows Phone that share's the same name. What's unique with the Postcard on the Run app is that you actually send physical postcards. Postcard on the Run just got a little update bump and we decided to take a closer look.
Postcard on the Run (www.postcardontherun.com) first popped onto our radar last year when they were announced as a future app on the Windows Phone platform that would come with Aviary editing built in. Unfortunately I didn't come across any of the Aviary magic when I played around with the app. So how's it work?
With the app you create a postcard. First by snapping a picture, adding some text and voilà - you've made a postcard. From there you load up a home address for a recipient pay the fee and a postcard will be made and sent to them. Prices aren't too shabby either – either $0.99 or $1.69 depending on where you want the card to go.
Postcard on the Run snuck into the Windows Phone Store back in September for Windows Phone 7 devices, but recently got an update that includes support for Windows Phone 8 (resolution, fast app resume, lock screen, etc), a new video feature, new borders, and bug fixes.
The app is fairly simple worth checking out if you want to send a personal note to someone back home the next time you're on holiday.
It's free in the Windows Phone Store for all Windows Phone users' right here, QR code below, or swipe right in our app.
Get the Windows Central Newsletter
All the latest news, reviews, and guides for Windows and Xbox diehards.