Use Postcard on the Run to send cards in the real world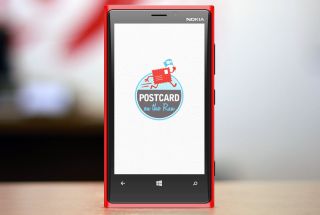 While the internet and electronic communication may have been a dent in the postcard business, it also seems it might have a bit of a revival thanks to technology. Nokia just announced Place Tag, an app to help create digital postcards from our Windows Phones. We had some hands on with Place Tag during the 2013 Mobile World Congress and was impressed.
Another company, Postcard on the Run, is also offering a postcards app for our Windows Phone that share's the same name. What's unique with the Postcard on the Run app is that you actually send physical postcards. Postcard on the Run just got a little update bump and we decided to take a closer look.
Postcard on the Run (www.postcardontherun.com (opens in new tab)) first popped onto our radar last year when they were announced as a future app on the Windows Phone platform that would come with Aviary editing built in. Unfortunately I didn't come across any of the Aviary magic when I played around with the app. So how's it work?
With the app you create a postcard. First by snapping a picture, adding some text and voilà - you've made a postcard. From there you load up a home address for a recipient pay the fee and a postcard will be made and sent to them. Prices aren't too shabby either – either $0.99 or $1.69 depending on where you want the card to go.
Postcard on the Run snuck into the Windows Phone Store back in September for Windows Phone 7 devices, but recently got an update that includes support for Windows Phone 8 (resolution, fast app resume, lock screen, etc), a new video feature, new borders, and bug fixes.
The app is fairly simple worth checking out if you want to send a personal note to someone back home the next time you're on holiday.
It's free in the Windows Phone Store for all Windows Phone users' right here, QR code below, or swipe right in our app.
Cool App!, Btw guys Camara Extras also got Updated to 2.0.0.8

Thanks! We saw that earlier but didn't report on it because we didn't see any significant changes. Anything you see that's new with it that we don't?

I think Smart Shooter is new, cause i don't remember seeing it before, but i could mistaken & new number build that's it. but I'm 75% sure it's the smart shooter

UPDATE: The updated version of Smart Shoot uses burst mode to take a sequence of photos so you can choose your favorite shot and the remove unwanted moving objects. And when you're done, share our pictures directly with friends.

Thanks! I'm going to grab dinner and will check it out after! :) PS. I think Smart Shoot has always done that. But I'll double check.

Alright cool, & Bon Appetit :)

Checking this one out. Will be great for my return home to San Diego this summer.

Does it work for international addresses or just the states?

They do both. Double check with their FAQ, but I think the higher priced one is for international.

I think the Nokia version is in the collection but only in Chinese.

The Swedish mail company, Posten, has a similar service with a WP app: http://www.windowsphone.com/s?appid=aeab532f-a68a-4e86-8d14-8951f6c645ab

So it's only postcards from the US? It'd be great to be able to send from outside the US for those go travel internationally.

I don't see the novelty here. Vodafone Portugal has a postcard App since WP7.5.

We don't all live in Portugal. ;)

I wonder about the quality of the paper they use as well as the print. I may have to send one to myself before I use this to send cards to anyone else.
Windows Central Newsletter
Get the best of Windows Central in in your inbox, every day!
Thank you for signing up to Windows Central. You will receive a verification email shortly.
There was a problem. Please refresh the page and try again.