More Xbox Windows Phone games drop Nokia exclusivity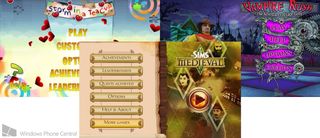 Less than a week ago we reported that two former Nokia exclusive Xbox games: Dream Track Nation and Tiny Plane become available to all Windows Phone users. Several more former exclusives have just followed, right in time for the weekend: Vampire Rush from A-Steroids, Storm in a Teacup from Cobra, and The Sims Medieval from Electronic Arts. Okay, The Sims Medieval actually went non-exclusive a little earlier but we're just getting to it now.
With three more Xbox games available to all Windows Phone users, the list of Nokia exclusive Xbox titles grows ever shorter. Head past the break for details, Store links, and an updated list of the remaining exclusives!
Vampire Rush
Windows Phone 7 or 8 – 137 MB – $2.99 – Store Link
In Vampire Rush, players take on the role of Captain Greg, a British swashbuckler. Only Greg can stand between the gates of the city and armies of the undead in this mix of tower defense with hack-and-slash action.
You'll run around each map, hunting down vampires and their kin on the map and swording them into oblivion. Sometimes they drop gold, which can then be used to build and upgrade turrets or purchase character upgrades. Just don't let the enemies reach the gate or Greg and the village will meet an untimely demise. Check out our full review for more details.
Vampire Rush features both a campaign mode and survival mode, the latter of which was added in an update. That same update fixed a broken Achievement, but failed to fix another broken one. A-Steroids has told us they would like to get the final Achievement working, but only time will tell if that actually happens.
Storm in a Teacup
Windows Phone 7 or 8 – 32 MB – $2.99 – Store Link
The game stars a little boy named Storm who hops around in a teacup through fanciful levels dreamed up by his brother Cloud in this touch screen platformer.
Storm in a Teacup is extremely simplistic in the graphics department – the backgrounds don't even use parallax scrolling, which they sorely need. And yet the frame rate is somewhere in the 10-15 FPS range. It's like Gameloft's 3D Windows Phone 8 games, only nothing complex is even going on under the hood. Blame Cobra, whose port of iBomber Defense also runs quite poorly.
Still, if you can tolerate crap graphics and love platformers, you might be able to put up with this one. I'd definitely play Sonic CD and Little Acorns first though.
Sims Medieval
Windows Phone 7 or 8 – 139 MB – $4.99 – Store Link
With all the love we've given The Sims FreePlay lately, it's a shame we haven't reviewed Sims medieval yet. Don't worry, it's coming eventually!
The Sims Medieval is much closer to Windows Phone 7 launch game The Sims 3 than FreePlay. Players control a single Sim as he completes quests and lives his life in a rural fantasy setting. This medieval Sim will perform traditional Sims tasks like fishing and decorating his house, but he also takes part in a story-based adventure.
The mix of Sims gameplay and light role-playing elements should appeal to players turned off by FreePlay's real-time-based gameplay.
Nokia exclusives update: current exclusives
Here's the full list of Nokia exclusives.
DaVinci Pinball - Released: April 23, 2013
FIFA 13 - Released: July 8, 2013
Mass Effect: Infiltrator - Released: May 22, 2013
Monopoly Millionaire - Released: April 23, 2013
NBA Jam - Released: May 22, 2013
Real Racing 2 - Released: May 22, 2013
Tiger Woods 12 - Released: May 22, 2013
Former exclusives
Blobster
Dream Track Nation
iBomber Defense
Jet Set Go
Parking Mania
Picnic Wars
The Sims: Medieval
Spy Mouse
Storm in a Teacup
Tiny Plane
Trivial Pursuit
Yahtzee
Zuma's Revenge!
Paul Acevedo is the Games Editor at Windows Central. A lifelong gamer, he has written about videogames for over 15 years and reviewed over 350 games for our site. Follow him on Twitter @PaulRAcevedo. Don't hate. Appreciate!
Tiny people making tiny corrections

It's not a tiny correction you imbecile. It's a completely different game that happens to only be on IOS.

You got tinier and called me an imbecile. I think u mad.

http://www.change.org/petitions/microsoft-nokia-release-updates-to-windows-phone-on-your-own-not-through-the-carrier#share
c'mon help out

Yeah!!!! Oh wait, I have a Lumia

you lucky git!!! why the fuck did i by the bloody htc 8X?! if i had known that allmost all the good games and apps would be on nokia only i would have 100% got the nokia 920 :,(

That's what you get for choosing Asia over Europe.

As much as I hate the Nokia exclusive idea, without them we wouldn't have these games on our platform. Thanks Nokia, keep bringing apps and games to Windows Phone :-) ;-)

Question Paul... I've gotten apps when in the Nokia exclusive time frame. Had to get a new phone and since those apps are none exclusive anymore it won't let me re download them. The apps are still in the store but there the everyone versions now. Is there a way for me to get them back without buying again?

Contact Microsoft support.

Hmmm yea I'll try that. Thanks.

If you click "buy" it should do some checking and change to "install". But if the next screen is to confirm the payment then cancel out and contact MS.

I don't even have that option. On the site you go to to reload apps the install/buy tab isn't there. It says unavailable. Because it was from Nokia collection. And now isn't there. But it is as a reg app now. But I have to find the reg app in the store and it says to buy.

For instance the sonic cd exclusive without achievements that was in the Nokia store isn't now. Now its the full thing. I don't care for achievements but it will only allow me to buy the full Xbox version now. I just want my game back.

Which game are you talking about giving you problems now? The Sonic CD giveaway was always just some weird glitch, so I wouldn't count that as the same as being unable to redownload a game you really own.

Hmm I have a wondering question... could these exclusivities end quicker due to the Microsoft purchase of Nokias division? In other words, maybe some one at Microsoft is contacting some of these game publishers and trying to bring these games to the whole WP audience? I am not sure if that's even possible or if these exclusivities are already written in stone with a set date? Any info on that Paul?

No I don't think so , the exclusives are time limited so with or without the deal they would have been made available for other devices eventually. Until the Nokia / Microsoft goes through things will remain the way trey are. Nokia is still an independent company.

Storm in a tea cup was the best $2.99 I ever spent.

Nah, the best $2.99 I ever spent was for your mom last night.

Looking forward to when Mass Effect and Real Racing 2 lose exclusivity.

Can someone post the direct link to Tiny Wings? I cant find it in the store OR the Nokia Collection...

What is tiny wings. Are you drunk ?!?!??

These games weren't Nokia exclusives. They were HTC/Samsung exempt. Which is only about 10% of the people reading this.

I have a Smsung ATIV S and not only is it a wonderful phone priced at a more than acceptable level (unlike lumias which almost all of them are overpriced) it is also a windows phone 8 device.

I don't understand why microsoft would want to make people who support the platform feel like foreigners when what they need is the exact opposite. They should end these lumia exclusive games now.

I have the same phone and I know how you feel, but the fact is that without them being timed exclusives to Nokia then they wouldn't be on our platform ;-)

The question is , will there be more XBox love games once Nokia leaves the scene ? Most of these game came because Nokia was willing to pay for them, I have a feeling MS will not be so generous .

I want Tiny Wings on Windows Phone :'(

Well at least I'm not the only person... ;)

Anyone playing the battlefield 4 beta?

I had access to the BF4 early beta 10/1/13 but my GPU died a few weeks ago so even though I have it downloaded...I cannot play it. :( GPU RMA will take about 3 weeks....BF4 will be out by then...oh well.

Shit, I'm more excited about the steambox beta

Can we play battlefield 4 on steambox?

i don't know many details, but i'm assuming PC games will be playable. and the official steambox probably won't be released for another year :(

This really is relevant /s

So glad I went with the L920 on opening day and supported Nokia since.

Now, if could also drop the AT&T "exclusivity" deal sometime next would be great. Thanks,

Waiting for fifa 14..... When I got fifa 13.. I made my android friends jealous.... Bt now they got fifa 14 that's heavily different... They are making me jealous... Though I dont play fifa... Just get some points to make wp8 look better than others...

You want it to make people jealous, but have no interest in playing it? That's quite sad.

Jealousy of cellular new fangled devices are all the rage these days.
same goes for these so-called "applications"
------------------
if the apps are all released at once, they would not have this problem.

I dont like sports ... But like to play all other action games bt get irritated due to storage limitations... They should soon release the update for installing or moving games to sd card

Its a war going between is fans.... As android users consider them superior I try to convert as many with special points... Its 4 months down the line and I got atleast 13 people who purchased wp8 handsets likely 520... Mine is 820... After seeing mine...

Barbie Dream House just came out for WP first. Quick, show your friends.

Ty mike... :) I dont know why sales persons... Try to deviate the customers from Wp8 platform... They provide negativity abt the platform to the people interested.... In big stores like croma... One big retail in india

Sims Medieval is a kids game... I played it on IOS and it's mainly just fetch quests and fights with no challenge. The fishing is lame (like in most games). The home decorating is very pointless and limited. You can't build your own house from scratch, which for me was the only interesting thing about Sims many years ago.

The big question is whether MS will drop all the Nolia exclusive apps after the acquisition is completed. My bet is that they will definitely do that to promote WP phones under different brands.

Parking Mania is $.99 right now.

Yeah, it's the DOTW. We covered it Wednesday night instead of Thursday because the deal went up early.

All good Paul, was able to reinstall the payed app and access my account, thank you for everything today, your a gentleman.

Sweet! Good to have you back.

I think windows should update frontline commando
Windows Central Newsletter
Get the best of Windows Central in in your inbox, every day!
Thank you for signing up to Windows Central. You will receive a verification email shortly.
There was a problem. Please refresh the page and try again.