Vector Runner Remix and the TreSensa game engine arrive on Windows Phone 8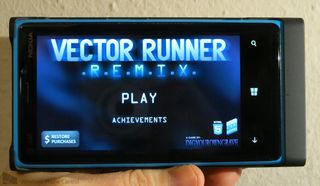 It's always good news when a new game engine adds Windows Phone 8 support. Game engines make it easier to develop games for a platform and increase the number of games that can be ported from other platforms. Win-win.
We mention this because the TreSensa Platform engine officially began supporting Windows Phone at the beginning of this month. The first game to use the engine is Vector Runner Remix from DigYourOwnGrave and TreSensa. Vector Runner Remix is a simple, stylish endless running type game (though the levels aren't endless). Head past the break to learn more about the game and TreSensa's future plans for Windows Phone!
The road to Remix
The original Vector Runner is a 3D flash game that can be played on the developer's site and other Flash portals. It uses vector graphics (hollow line-based artwork) for 3D effects and gameplay. Players frantically dodge obstacles while grabbing power-ups and chasing high scores. Vector Runner is also available on iOS and Android, but porting it to both platforms on his own took the developer more than two years – not a fast process.
Developing the sequel Vector Runner Remix in the multiplatform TreSensa engine took less than 30 days. The engine, which utilizes JavaScript and HTML5, allows developers to port their web-based games to Windows Phone and other platforms with no additional work on their part. Once a game works with TreSensa, it can be published directly to the Windows Phone Store, iTunes, and other storefronts.
Running in two dimensions
Vector Runner Remix makes the unusual switch from the original game's 3D perspective to a 2D perspective and gameplay, not unlike the Windows 8 Ty the Tasmanian Tiger game.
Players can now see their character – a little blue car-like shape. Many of the same obstacles from the original game return: red triangles and steep orange cones. Only now they must be leapt over instead of dodging from side to side. Tapping the screen once jumps, while tapping in mid-air performs a double jump.
In many endless runners, falling or striking an obstacle results in death and a game over. Remix is more forgiving though. Fail to jump over a triangle or fall off the track and you'll simply lose a unit of energy and restart from the nearest checkpoint. Checkpoints! Getting hit five times will end your game though.
The player's final score is based on both distance run and pick-ups collected. Green cubes provide a small score bonus and purple cubes a greater bonus. The elusive white cube (which you can score by carefully dropping down at the beginning of the first level) gives the runner a big speed boost.
Also different: Remix's levels are not endless. It will take practice and skill, but players can reach the finish line in one piece. The first level is free, while the second and third levels can be unlocked by a single In-App Purchase.
Room to grow
Vector Runner Remix is a fine little running game, but the Windows Phone version does have a couple of minor problems. First: the online leaderboards of the iOS and Android versions are not present in this version, nixing the competitive aspect that games like this thrive on.
Second, Remix has a handful of non-Xbox in-game Achievements for players to unlock – a couple of which are quite challenging. But at the moment, it doesn't save which Achievements unlocked after players exit the game. Who wants to work towards unlocking an Achievement that they're just going to lose anyway?
On the plus side, the developer does plan to add new levels in a future update. The Achievement bug will definitely be taken care of before long; hopefully TreSensa settles on a leaderboard solution as well.
Vector Runner Remix is a cute and approachable running game. The neon vector art style and music work well together, creating an AudioSurf-ish vibe. I can see kids and running game fans spending plenty of time on the free portion of the game, trying to master that challenging level. Players who really get into it will find more levels are just a single, affordable purchase away.
Vector Runner Remix – Windows Phone 8 – 2 MB – Free – Store Link
More TreSensa games in the wings
A total of 45 games run on the TreSensa platform. The lineup includes both original and licensed titles such as Happy Tree Friends: Run and Bun (another endless runner). All of these can be played via web browser on a PC and even Windows Phone 8. Playing web-based games on the Windows Phone browser leaves something to be desired, though. It took me quite a few tries before I could zoom the Run and Bun display out to an appropriate level.
TreSensa can't do much about our platform's web browser, but they can continue to release standalone games like Vector Runner Remix. And that's the plan! The company is still honing their engine's Windows Phone support, but once it's perfected we can expect to see several more titles from the publisher.
One of the next games TreSensa promises for Microsoft's mobile phone is a match-3 puzzle game called Magic Monsters from Codewalla Studios. Magic Monsters plays very much like Candy Crush Saga and features 50 individual levels to beat. The focus on In-App Purchases is much lighter than Candy Crush, meaning that players never really have to spend money to succeed.
TreSensa Platform for developers
Compared to a typical game engine, the TreSensa Platform has a real personality of its own. First, it's designed for developers who work with JavaScript and HTML 5 rather than C languages and the like. But developers can build on top of it using a plug-in like architecture. The scale of games that TreSensa can support will never rival Unity, but it could be perfect for smaller indie developers or those desiring a strong web presence.
Indeed, developers who are used to working with Flash and browser games in general will feel right at home with TreSensa. The engine can export Flash animations to JavaScript files, detecting repeated animations and keeping file sizes as light as possible. Any game made with TreSensa will work on desktops but mobile web and native mobile games are the engine's first priority.
Monetization is an important concern for any mobile game developer. TreSensa games are designed around two revenue forms: ads and In-App Purchases. Ads are important because many people play these games through browsers and might not be used to spending on browser games. A single TreSensa game gets played on many different platforms and devices, allowing ads to reach a wide assortment of players.
Ads also help keep IAPs from becoming too obtrusive. One of TreSensa's missions with IAPs is to keep them benevolent. They don't want players to reach a frustration point at which IAPs become mandatory, nor do they want to pressure players too much in general. The ad/IAP combo allows games to make decent revenue with creating animosity from the player. Developers aren't required to implement IAPs, either.
Finally, TreSensa helps reduce or eliminate the need for marketing expense. TreSensa has deals in place to push games through a variety of channels, including carrier stores and even Kik Messenger. Kik users (on iOS and Android) can play games and make purchases without leaving the app. TreSensa reports that Vector Runner Remix has been played over 750,000 times since it debuted in July, and Happy Tree Friends: Run and Bun has over a million plays.
Developers can visit the TreSensa website to learn more.
Get the Windows Central Newsletter
All the latest news, reviews, and guides for Windows and Xbox diehards.
Paul Acevedo is the Games Editor at Windows Central. A lifelong gamer, he has written about videogames for over 15 years and reviewed over 350 games for our site. Follow him on Twitter @PaulRAcevedo. Don't hate. Appreciate!