Vector Smartwatch has released a large update for its app on Windows phones
The Vector Smartwatch companion app has been updated for Windows phones, bringing it into feature parity with Android and iOS.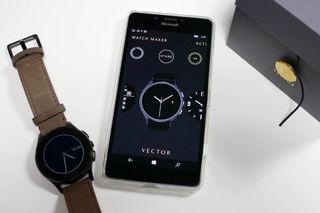 Vector smartwatches buck the battery life trend, boasting around 30 days of usage. The company supports Windows mobile devices with an app designed for WP8.1, but it has always been behind in features and polish when compared to its Android and iOS counterparts.
Today's update brings it up to speed with the latest features, in addition to stability improvements and other fixes!
The changelog is as follows (via reddit):
Now supporting Vector OS version 1.7;
New available watch apps: Camera App, Uber, Find my phone, Calendar, Agenda app;
New streams: Watch Battery, Phone Battery;
Improved apps: Activity Tracking, Evernote;
Improved streams: Daylight Savings Time, Timezone;
Introducing the Watch Settings section: adjust the watch backlight intensity and time-out;
Personalize the Low Battery and Link Lost watch experience;
Long text notifications;
Improved Daylight Savings Time and Timezone Streams;
Many bugfixes and improvements.
If you'd like to know more about the Vector smartwatch, Daniel Rubino gave some extensive impressions you can read right here or using the links below.
Following the cancellation of the Microsoft Band 3, for those of us who use the Band primarily for its glanceable notifications and rudimentary app support, the Vector smartwatch line might be a viable alternative thanks to this update.
Are you interested in wearables? Let us know in the comments!
Windows Central Newsletter
Get the best of Windows Central in in your inbox, every day!
Jez Corden a Managing Editor at Windows Central, focusing primarily on all things Xbox and gaming. Jez is known for breaking exclusive news and analysis as relates to the Microsoft ecosystem while being powered by caffeine. Follow on Twitter @JezCorden and listen to his Xbox Two podcast, all about, you guessed it, Xbox!
trying to see if i can get this for my mom for X-mas

You've been a good boy. You should buy one for yourself. Really. Since the Band 2 has been irritating my skin and the 3 is probably cancelled, I just went and bought it - the rectangular face with the rubber wristband for only $160 at Amazon. Add in $10 GC via Bing Rewards, $16 in courtesy credits and $25 in Amazon CC credits, it was a really great deal. At $160 it's a great deal. Due to this post about the software being updated, I finally got around to supporting this company.

Never heard of the brand but looks awesome

Everyone says this sadly. I've no idea why they aren't marketing this, 'cause it's the best smartwatch brand out there IMO. I replaced my band 2 with Vector Luna as soon as I discovered it.

Is the Vector able to determine heart rate or has it gps? The band isnt a smartwatch, it is a fitness tracker...so i looked at it and it looks great but as fitness tracker the silicone one misses too many features i think. anyway, for what it looks like it seems to be really unkown to the ppl (for me, too...heard the first time of this brand)

It doesn't track hear rate, but it does track steps (I think it uses phone's gps for that)... If you need fitness tracking then stick to Band or Fitbit. This is a watch for people who don't care about fitness tracking, who want a watch that looks like a watch, but has productivity features too.

They focus on making a great product, not a great marketing. So they are exactly the opposite of Apple.

Is it 100% confirmed that the band 3 is cancelled? Perhaps it'll be replaced with a totally new watch like product.

Unless you're a fitness freak, then don't bother with Band 3. Vector is SIGNIFICANTLY better than band 2. It lasts a month, while band dies in 1.5 days. It has a lot of apps that work on their own, while band 2 can hardly do anything on its own. Screen is always-on and it shows time on almost every app, including when it's updating. It actually looks like a watch. ​It's waterproof. Music controls actually work, instead of getting stuck on "Connecting".

Depends on your needs. Can you reply to texts from the vector?

No. Though from my experience, Band 2 would get stuck on "connecting" 60% of the time when trying to reply to texts anyway...

I am far from positive about this, but I believe that may be an OS specific issue. 8.1 always seemed to work fine for me, and works well still for my fiancee. 10 seems to have brough that on, anyways, my point is the features that are important to you are what make the watch better. I know people that swear by the Apple watch, and it does do most everything I want/need, except there's no way I'd get enough battery time to use it as my alarm in the morning (actually I'm not sure it does sleep track either). I'm not saying the vector is bad, I really do like the style, I'm just saying it's not the perfect solution for all.

Nothing is a perfect solution for all. Personally I'm just glad to see a watch that I don't have to charge every day and one that's not obsessed with tracking all kinds of (in my opinnion) irrelevant data.

I believe it does not have a touch screen

No it does not... and other than replying to texts, I don't see why one would need it.

I have the band 2 and I had the band 1 as well. I honestly don't really like It much anyway, which is why I said in my other comment, which for some reason is getting down voted, that perhaps Microsoft will make something more like the vector.

It's Windows Central. Comments often get downvoted for obscure reasons here. And yeah, I'd really like to see Mcirosoft release an actual smartwatch, rather than a fitness band.

I know, but I didn't want to be as direct to avoid upsetting said fanboys.

Just ignore the votes. Wouldn't mind an option to just turn them off in the app lol

Would you please elaborate on "music controls"? I can't find much description on this feature...

There's an app called "Music", which let's you see the artist / song title, play/pause, skip forward / backward and isnrease and lover volume.

Can you activate the music controls by tapping a button on the watch itself? I'm sticking with my Band 2 whilst it still works but I like the look of the Vector as more of an actual watch - Potentially a future purchase. Does it do SMS notifications at the moment? or are they waiting for GATT like fitbit?

Yes, it does SMS notifications. Basically, all the notifications that appear on the notification bar on the phone can "fly" to the watch. You can configure which ones do you want to receive, or just all.

Pressing the centre button will do an action of a current watchface... so no, you need to be on the music watchface/app. If you need music controls often, then just put it next to your main watchface.

This is where I am too.. I've just had a Band2 replaced (strap split issue) and I am deciding where to go if/when it fails again. I'm leaning very much towards this watch. At least I can use this fully functioning on whatever phone I get next, depending on what happens with Windows Mobile for Consumer (I need a great camera in my phone).

Nice to see that this is out there :)

Nice to see that this is out there :)

There are significantly more new apps than the two mentioned. This truly is the best smartwatch out there.
The only issue is that it is STILL impossible to change the order of watchfaces (while it's been possible on Android an iOS since the very beginning). However devs have confirmed in the forums that this feature will be coming in a Novermber update along with major UI improvements.

I like the rich features of Vector, but I just wished the watch line had better resolution as their competitors. Hopefully they'll introduce a better model soon.

I think the resolution is part of what allows them to have a smartwatch with a 30 day battery life as opposed to the Apple watch which does less than one day, or Android smartwatches that barely do one-and-a-half days.

For some reason, I was able to get this update days ago... It still needs a lot of fixing. I turned on the notifications of the apps I wanted on and it doesn't show up like they did before the update. Also... The find my phone feature needs fixing, don't receive phone calls or text messaging notifications any longer, after this update... This app needs plenty of fixing for the price of these watches.

Settings > Notifications > Notification System - Turn this off. Reboot the phone and the watch.

Taking your advice, that did work... But now, how can I choose which apps I would like to receive notifications from, with this turned off?

I think the major point we are failing to talk about is THIS would be the ideal customer to configure all of Microsoft sensors into their product. This would be an awesome player with all feature set announced in the band 3. But I can dream :)

If they tried to build all the various sensors and stuff that were included into one of these, we'd end up with a huge, ugly watch-like thing with 14 hour battery life that breaks a lot. I prefer the simplicity of 30 day battery life, notifications and telling the time.

Don't own a vector but love how "watchy" it is - Just about enough features to make it a smart watch but still look and feel like a normal watch

Got the update a few days ago. Great new features added, but still some work to do. Running app it's been working very accurate in terms of distance. Battery life still the best with 30 - 40 days.
Hope to see a new version of Vector Watch with HR sensor.

Was looking at the reviews for the app and it doesn't look good. Is there any significant lag in notifications? My watch is due to arrive tomorrow and if it takes a minute for a text notification to reach the watch, I'm not going to be happy about that.

I like these watches. I just might get me one for Xmas.

Don't know if this may be affecting just me because of my Lumia 930 or because of been connected to other Bluetooth devices, but I'm feeling the connection with the watch was better before the update.
Also, I still unable to get the sleeping information

I agree.. It was working better before the update. I like the new features added, but majority of them isn't working properly. I especially like that they've added the ability to brighten the backlight. But it still needs major work

I got the update a few days ago.
I don't know why some here are complaining:
The new app is brilliant, very exciting and it works great with my Vector Watch!
The developers did a great job.

Are you able to get the full sleep tracker information?

The android version has removed the option to not dismiss a notification on the phone when it is dismissed from the watch. I'm wondering if they did the same omission in the new WP update. If they do I'll give the update a pass.

It's still there... No idea if it works or not though, as I've always kept it off.

Great to know! Thanks! Updating now!

Mmmm, perhaps it's time to show some support and got one myself.

Looks nice. But I'm holding out for a ver. 2 of the Tag Heuer.

Speaking of smartwatches here:
Is there any way to find a BT Notifier for Windows Phone? Thanks in advance

I just ordered this watch seeing the Windows support from the brand and feature parity with other platforms :)

If you are wondering: Yes, it is awesome. :)

I love that they look like a "real" watch

Can it send data to Microsoft Health? I know it's a semi-open platform so would love to get one of these in the future when my Band 2 dies but continue to get the MS Health experience for the insights etc. Looks like it does the exercise tracking and sleep tracking etc. I always found it easy to get my MS Health data OUT but never saw many examples of other apps putting the data IN. I send my MS Health exercise data to Strava for example so get the social side of that along with the personal data in MS Health Dashboard. Can other devices do it the other way round? I want Vector data INTO MS Health

Both I and y wife have stopped using our band. The initial novelty took only a couple of months to wear off. The battery life was simply too much of a hassle. I like the new 1 week/30 day battery smart watches from other manufacturers. I am glad they decided not to make any more of the band 3. I have also not seen another person in all of our frinds and family use these devices or even know about them.

I know people who know of them but not many who own them. I think whether it's a novelty or not all depends on the person. I had a Band 1 since the UK release date and since then there's only a handful of days where I haven't worn it - I got the Band 2 in July and continued to wear it every day. I know plenty of people who bought Android watches or Apple Watches and don't use them daily - The Band is a really good device for me personally but can see why it would be a novelty for some. The vector seems similar in a way to the Band in that it can be used just for the odd glanceable notification. I don't want "full" smart watch apps which is why I like the Band and Band 2 - Vector seems similar and the 30 day battery life is great. Band 1 battery was fine for me, Band 2 not QUITE as good but can still get by on a 30 min charge a day (Unless you have a faulty one like I got haha, it's in for replacement now so back on my Band 1 and battery life is great)

The Band was great for me as I used the Guided Workouts to help me train for a half marathon. I also used it extensively to monitor my sleep and for the silent smart alarm to wake me in the morning. During the day, it was mainly about getting text notifications and deciding if I was going to take a call or not. Everything else it did was just a bonus. For just those few things I needed it to do, it did well and was worth the purchase.

It looks like there will be another huge update in november, based on the comment of a Vector forum moderator from yesterday: "@Timothy the next version dated in November will include a face-reorder feature and a HUGE update as far as UI/UX is concerned. At this point I cannot disclose more info, however I can, without a shadow of a doubt, that it will be worth the wait.​" https://help.vectorwatch.com/hc/en-us/community/posts/208379249-Windows-...
Windows Central Newsletter
Thank you for signing up to Windows Central. You will receive a verification email shortly.
There was a problem. Please refresh the page and try again.